Seoul actively supports and provides incentives for business events held in Seoul.
Required
100 nights
Stayed in total

2 consecutive
Nights in Seoul

Use two or more MICE Alliance member companies
Download MICE Support Brochure
Please submit your application not later than one month from the start date of the event.
Only the Korean local organizing committee, related Korean organization, local PCO or DMC is allowed to apply via SCB website
After results reports and expense documents are submitted, grants will be paid directly to the vendors (e.g.: restaurants or car rental companies)
Support program may end when the budget runs out
Support Details
Bidding Services

Bidding consultations
Site inspection support when corporate executives visit Seoul
Arrangement of meeting with Seoul mayor and relevant organizations in the bidding process
Joint bidding activities (support provided after consultation)

Core Benefits

Details
Accommodation, meeting facility rentals, transportation, charges for tourist facilities and services
* Additional support may be available for groups over 1,000
(Please contact us)

Conditions
For groups that stay at least 2 nights in Seoul
and 100 nights in total
Must use at least two Seoul MICE Alliance companies
(including one paid company)

Customized Experiences

Conditions
More than 50 international participants

Groups using Seoul's "unique venues" or revisiting Seoul within five years can receive support for one additional program
Please refer to MICE Support Brochure for more details
How to Apply
Application for a financial support must be made via the SCB's official website. As all forms must be completed in Korean, only the Korean local organizing committee, related Korean organization, local PCO or DMC is allowed to apply for theprocess.PleasecontacttheSCBatleast1 months prior to the event begins.
Application and support process
01

Apply

(At least one month
prior to the start date)

Automated
on-line application

02

Approval notified based
on the SMG support standards

03

Notification of the
approval status

(Within four weeks from
application)

E-mail notification on the
approval status and support
details

04

Event execution and
preparation of supporting
document

05

Online submission
of results reports

Within three weeks
after event completion
(activity)

06

Final decision issued
on support and
grant amounts after review
of results reports

Final decision to be
notified through email

07

In-kind support

(paid directly to the vendor)

Payments within
one month after notification
Withdrawal of support decision and reduction/return of grants (reasons)
Grants were determined or paid based on false information such as overstated attendance (withdrawal, reduction or return)
Application documents or results reports are incomplete (withdrawal, reduction or return)
Certain conditions for grants (indication of SMG sponsorship and exposure of its English logo) are not met (withdrawal or reduction)
Unauthorized indication of SMG sponsorship or use of logo for events other than ones approved (withdrawal, reduction or return)
Grants were determined or paid for general tours not for corporate conferences or corporate incentive tours (withdrawal or return)
Events that have caused public outcry after support decision was notified or grants were paid (withdrawal or return)
Conditions
Financial support recipients agree to credit Seoul City for sponsorship, and also adhere to guidelines regarding publicity of the Seoul City logo.
Organizer must pay for expenses first, and will receive financial support upon conclusion of the event and submission of the required post-event documents.
Contact Information
Corporate Meetings ‧ Incentives
TEL : 82-2-3788-0849(​

Bidding

), 8143(​

Hosting

)
E-Mail : plusseoul@sto.or.kr

Customized MICE support program
that can only be experienced in Seoul
Seoul Convention Bureau offers various benefits to make your MICE event more valuable and
sustainable through PLUS SEOUL. Experience Seoul's special MICE support program right now.
Learn More

Hospitality Services
Promotional Materials

Seoul welcome kit contains souvenirs
and Seoul guide mapLearn More

Seoul MICE Supporters

Half of labor cost covered with each supporter
working 8 hours dailyLearn More

Airport Greeting Message

Welcome message at baggage claim areas of
Incheon Int'l Airport Terminals 1&2Learn More
Seoul Promotional Materials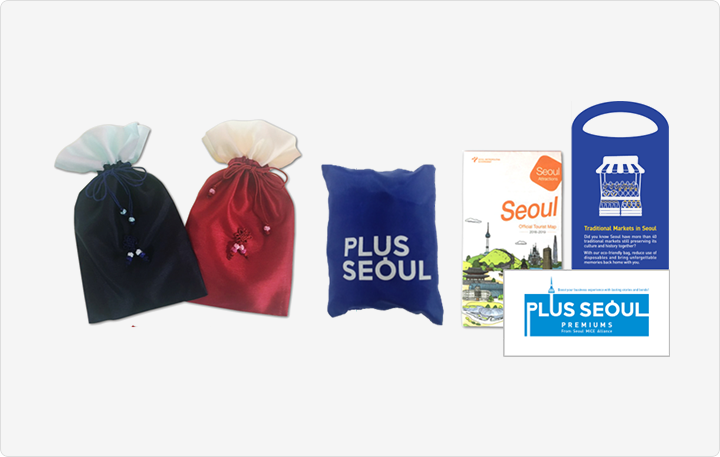 Seoul Welcome Kit

SCB support Seoul Welcome Kit including souvenir and Seoul guide map for groups with at least 50 international participants.

How to Apply

Local agency can apply via our One-stop Service athttp://korean.miceseoul.com/
Please complete your application at least 1 month before
Contact

Promotional Materials

(+82-2-3788-8142, lihwanam@sto.or.kr)
Seoul MICE Supporters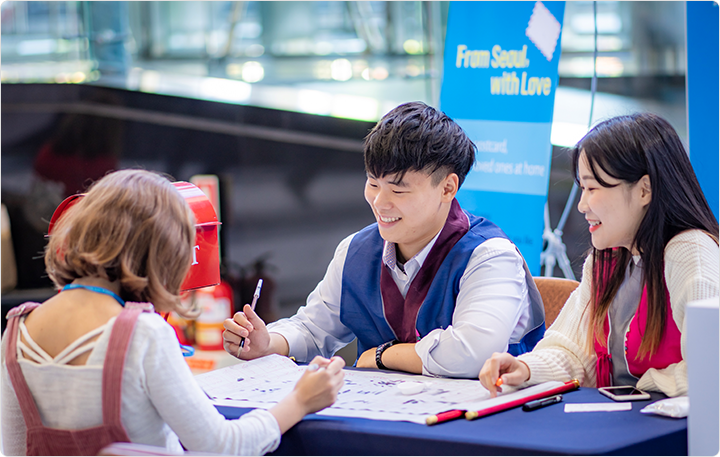 Seoul MICE Supporters

A highly trained and dedicated pool of multilingual personnel chosen from convention-related departments of universities able to provide support for a wide variety of operations for your international conferences or corporate meetings in Seoul.

How to Apply

Local agency can apply via our One-stop Service athttp://miceseoul.com/Korean
Please complete your application at least 1 month before
Contact

Seoul MICE Supporters

(02-3788-8161, jm.cheon@sto.or.kr)
Airport Greeting Message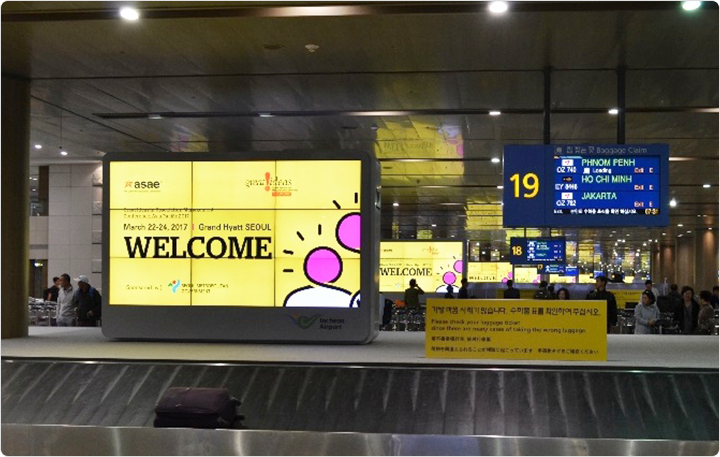 Seoul MICE Supporters

A highly trained and dedicated pool of multilingual personnel chosen from convention-related departments of universities able to provide support for a wide variety of operations for your international conferences or corporate meetings in Seoul.

How to Apply

Local agency can apply via our One-stop Service at http://korean.miceseoul.com/
Please complete your application at least 1 month before
Contact

Incheon Airport Greeting Message

(02-3788-8159, echo1@sto.or.kr)