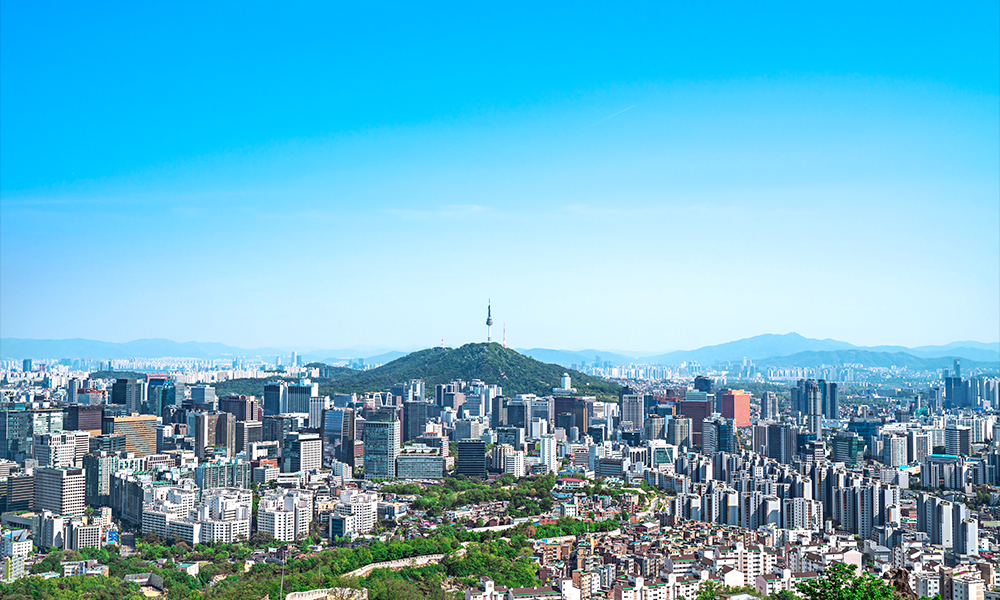 Please click the hashtags below to find out more!
Exploring the Joseon Dynasty
#The Five Grand Palaces of Seoul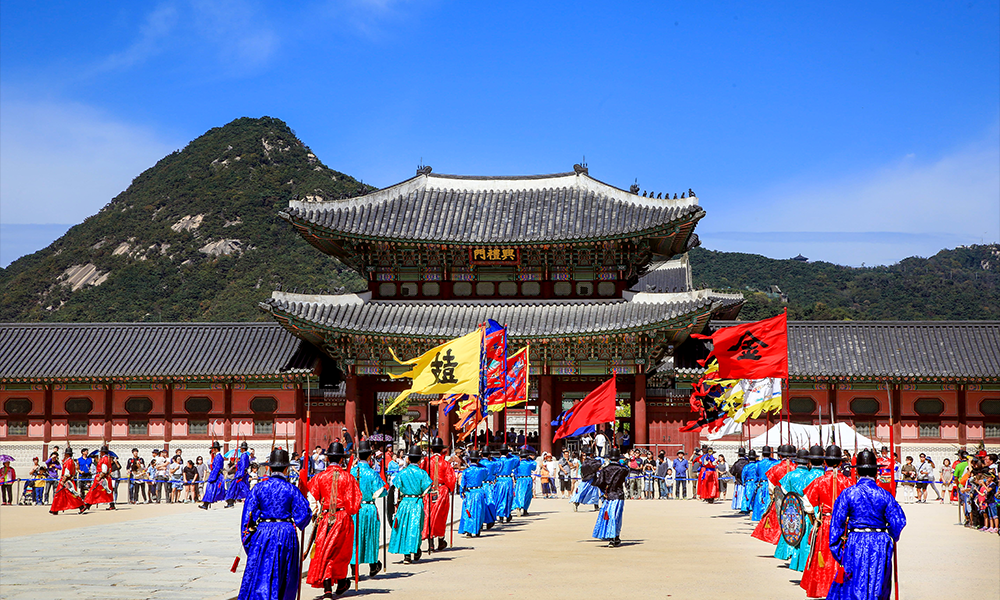 A must-visit for any traveler seeking a glimpse into the history of the Joseon Dynasty, which preceded today's Republic of Korea. Wearing some hanbok (traditional Korean clothing) rented from one of the many stores around the palaces will grant you free entry to all five palace locations and add immeasurably to the memorable photos you take at and around Seoul's most historic sites.
Gyeongbokgung Palace

Gyeongbokgung Palace, built in 1395, served as the main Joseon royal palace for most of the dynasty's history. The largest and most magnificent of all the Five Grand Palaces in Seoul, Gyeongbokgung Palace displays traditional Korean architecture and landscaping as well as the royal culture of the dynasty. The palace is also home to the National Palace Museum of Korea and the National Folk Museum, both of which showcase historic artifacts used in daily life during those times.

Address

161 Sajik-ro, Jongno-gu, Seoul (Gyeongbokgung Station, Exit 5)

Website

Inquiries

+82-2-3700-3900
Gyeonghuigung Palace

Gyeonghuigung Palace was used as the main royal seat by ten kings of the Joseon Dynasty after its construction in 1617. At the height of its glory, the palace was a large complex with over 100 buildings. During the Japanese colonial period, the palace was ruined and only a third of the original buildings remain, including Heunghwamun, the main gate, and Hwanghakjeong, the pavilion in the back garden. Visitors interested in history and culture will also enjoy the Seoul Museum of History on the palace grounds.

Address

55 Saemunan-ro, Jongno-gu, Seoul (Gwanghwamun Station, Exit 7)

Inquiries

+82-2-724-0274
Changgyeonggung Palace

Changgyeonggung Palace was built by King Seongjong, the 9th king of Joseon, as the royal residence for three queens. The only east-facing palace from the Joseon Dynasty, Changgyeonggung Palace is architecturally beautiful. During Japanese occupation, the palace was converted into an amusement park with a zoo and a botanical garden, but became a palace once again after undergoing a series of restorations in the 1980s.

Address

185 Changgyeonggung-ro, Jongno-gu, Seoul (Hyehwa Station, Exit 4)

Website

Inquiries

+82-2-762-4868
Changdeokgung Palace

Changdeokgung Palace, designated as a UNESCO World Heritage Site, is praised as the most beautiful of the Five Grand Palaces from the Joseon Dynasty. With its unique architectural style and garden designs, visitors can feel the essence of Joseon's royal gardens, particularly in Huwon, or "Secret Garden," where the pavilions blend in with the trees, ponds, flower beds, and other aspects of the natural surroundings.

Address

99 Yulgok-ro, Jongno-gu, Seoul (Anguk Station, Exit 3)

Website

Inquiries

+82-2-3668-2300
Deoksugung Palace

Deoksugung Palace, the smallest of the Five Grand Palaces, was originally built to be a royal residence for the relatives and queens of Joseon kings. Deoksugung earned its status as an official royal palace during the Gwanghaegun era after its temporary use as a royal seat by King Seonjo when Gyeongbokguk, the main palace, was destroyed by fire during the Imjin War. Deoksugung features a blend of traditional Korean wooden and Western-style architecture. Don't miss the picturesque Deoksugung Stonewall Walkway that runs next to the palace.

Address

99 Sejong-daero, Jung-gu, Seoul (City Hall Station, Exit 2)

Website

Inquiries

+82-2-771-9951
A vantage point from which to enjoy Seoul's four seasons
#Namsan Seoul Tower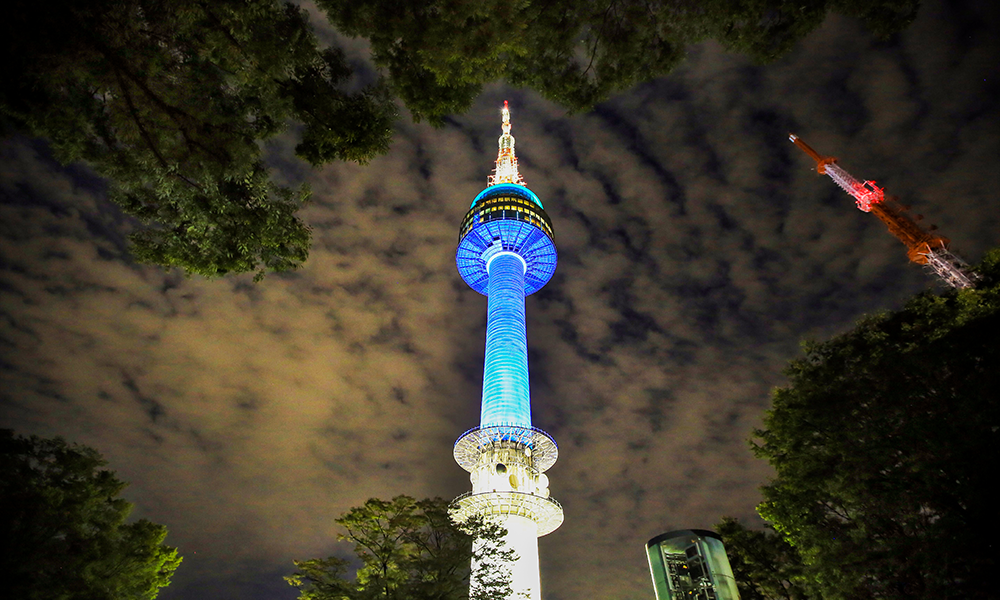 Rising a further 236.7 m from the top of Namsan Mountain (which itself is 262 m above sea level), Namsan Seoul Tower is one of the city's most famous landmarks and beloved cultural attractions. Offering 360-degree panoramic views of the metropolis from its observatory, the tower has been used as a filming location for many Korean TV shows and dramas, increasing its popularity and recognition among international visitors.

The tower houses a cafe, a restaurant, a VR (virtual reality) experience hall, exhibition halls and an observatory. Of these, visitors to Korea seem to enjoy the digital observatory and the Hanbok Culture Experience Hall, where you can try on hanbok the most. The tower also attracts courting couples and visitors to "Locks of Love" - thousands of padlocks attached to the fence by those in love, with their names written on them, as symbols of their "everlasting love".

For access, get off at Chungmuro Station or Donguk University Station and take a shuttle bus to the tower. For those arriving at Myeongdong Station, a cable car can be used to get to the tower. Whether you visit in spring, summer, autumn, or winter, day or night, each visit will reveal new charming aspects of Korea's largest city.
Address

103 Namsan Park-gil, Yongsan-gu, Seoul (Chungmuro Station, Exit 2)
Website
A village of traditional Korean beauty
#Bukchon Hanok Village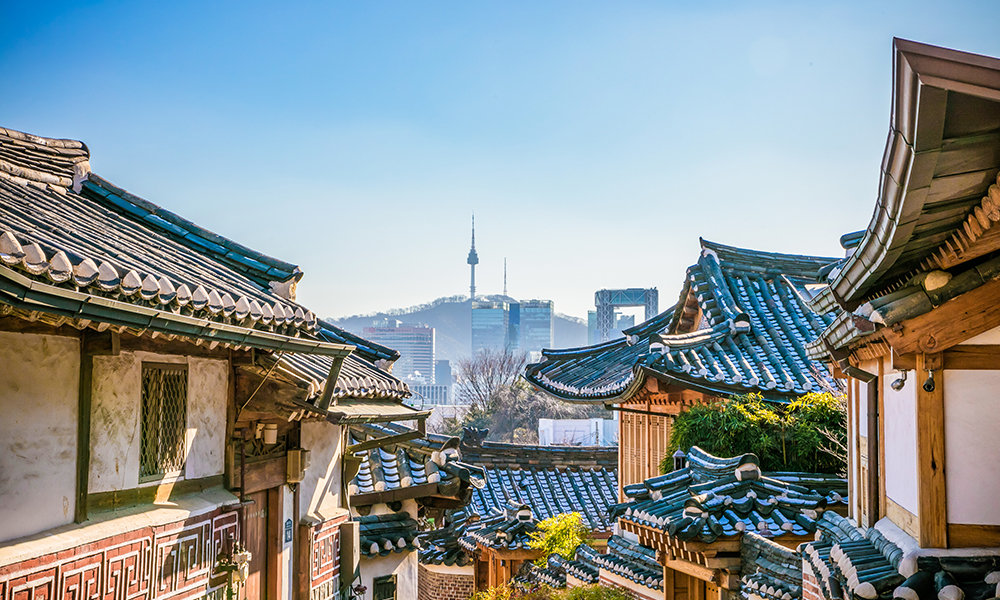 Hanok is a unique Korean-style house with maru (a wide wooden floor area for cooling) and ondol (an underfloor heating system). In the heart of downtown, surrounded by high-rises, Bukchon Hanok Village has survived more than six hundred years.

The name "Bukchon," which literally translates as "northern village", came about as the neighborhood lies north of Cheonggyecheon Stream and Jongno. Bukchon Hanok Village was a residential neighborhood for many in the ruling class, royal family members and elected officials and currently houses nine hundred hanok including many luxurious examples. A walk through the village alleyways will awaken your senses to the traditional beauty of this unique architectural style.

Although the village is an actual neighborhood where people still live, many of the hanok homes operate as cultural centers for visitors to experience a variety of cultural programs such as making flower tea, playing gayageum, a traditional Korean string instrument, and muninhwa(Korean portrait painting) classes. Guided walking tours are also available. Be sure to check out the Seoul Hanok website prior to your visit.
Address

37 Gyedong-gil, Jongno-gu, Seoul (Anguk Station, Exit 2)
Website
Picnic among the cherry blossoms and fireworks
#Yeouido Hangang Park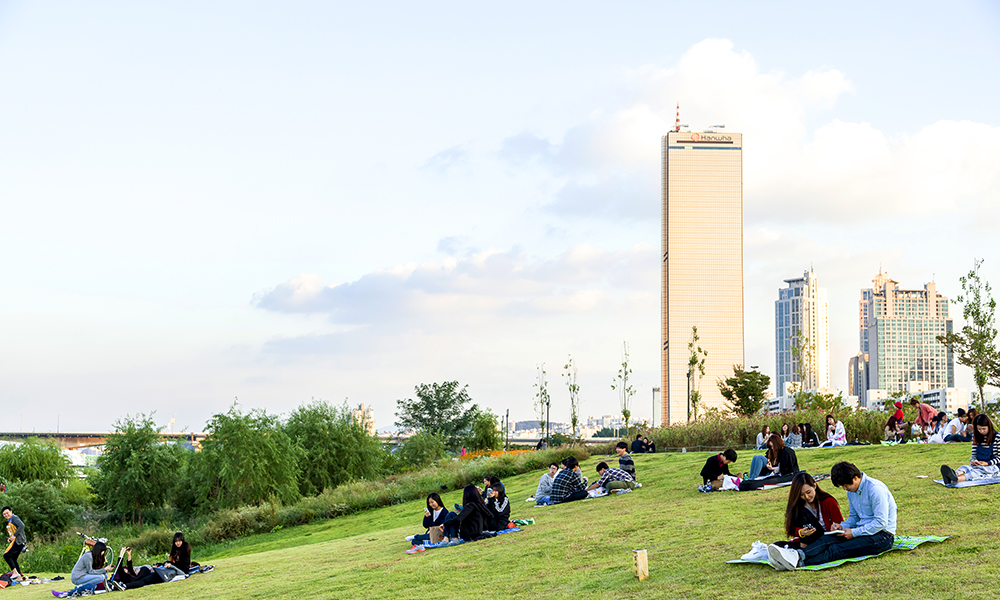 Home to the National Assembly, financial institutions, and broadcasting stations, Yeouido is the center of Korean politics, media, banking and finance. Yeouido Hangang Park, situated in the heart of Yeouido Island, stretches 8.4 km from the center of the Hangang Railway Bridge to the sloping ground of Saetgang behind the National Assembly. On a sunny day, the park attracts many visitors and locals for a picnic or a walk on the lawn.

In April or October, don't miss the opportunity to visit the park. The Spring Flower Festival takes place in April when the main road is adorned with cherry blossoms, while the Seoul International Fireworks Festival is in October, when the autumn night sky explodes with colorful fireworks. These two events are the most popular of all festivals held in Seoul. There is also a dock for the Hangang Eland Cruise, which brings you on a river cruise down the Hangang River – yet another unforgettable memory in Seoul.
Address

330 Yeouidong-ro, Yeongdeungpo-gu, Seoul (Yeouinaru Station, Exit 2)
Inquiries

+82-2-3780-0561~5
Heaven for shoppers and foodies
#Myeong-dong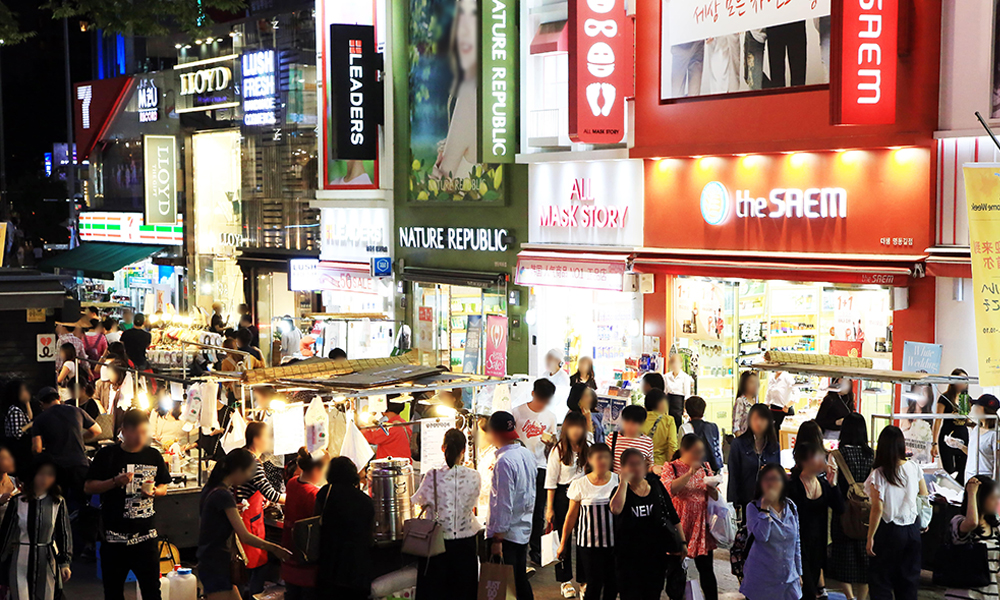 Myeong-dong is a traditional shopping "mecca" patronized by fashionistas since the 1980s. Myeong-dong offers a wide selection of department stores, along with luxury brand stores, global SPA brands, and local brand shops - all making it the go-to place for all kinds of things. Popular items include proven-effective Korean cosmetics, Korean groceries, and cheap fashion goods and accessories sold from street stalls.

The area is also a street food paradise for foodies as the pedestrian-friendly streets are lined with rows of stalls selling exotic food of various ingredients and from a vast range of recipes. Try out some of the popular offerings, sure to satisfy your eyes as well as your hunger. If you have enough time, visit the 120-year-old Myeongdong Cathedral and take in the collection of hanok from the Joseon Dynasty at Namsangol Hanok Village.
Address

Myeongdong 8-gil, Jung-gu, Seoul (Myeongdong Station, Exit 6)
Alleyways brimming with traditional Korean culture
#Insa-dong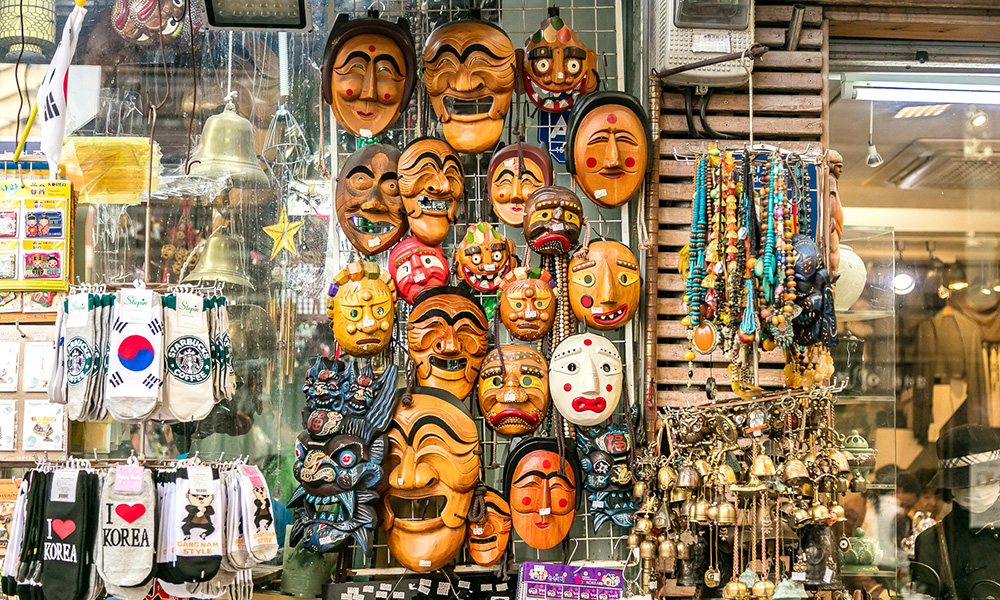 For more traditional item shopping, come see Insa-dong Street. Near Tapgol Park in Jongno, Insa-dong is a neighborhood chock-full of artisan craft stores, antique shops, and traditional eateries.

Get an eyeful of traditional Korean art at some of the many galleries, or discover strange, yet inspiring items such as munbangsau (brush, solid ink, traditional paper, and ink stone), the four essential literary tools used by Confucian scholars (seonbi) during the Joseon Dynasty, and bojagi, a traditional Korean wrapping cloth, often made in a patchwork style.

A spoon and chopstick set in a beautiful case, a jewelry box decorated in traditional patterns, modernized or traditional hanbok – each of these things make for excellent souvenirs or gifts. If you get tired from walking, relax at a nearby traditional tea house for a taste treat of omija, ginseng, jujube and other traditional teas.
Address

Insadong-gil, Jongno-gu, Seoul (Jonggak Station, Exit 3)
Website
Inquiries

+82-2-734-0222
Open public spaces for Seoulites
#Gwanghwamun Square & Seoul Plaza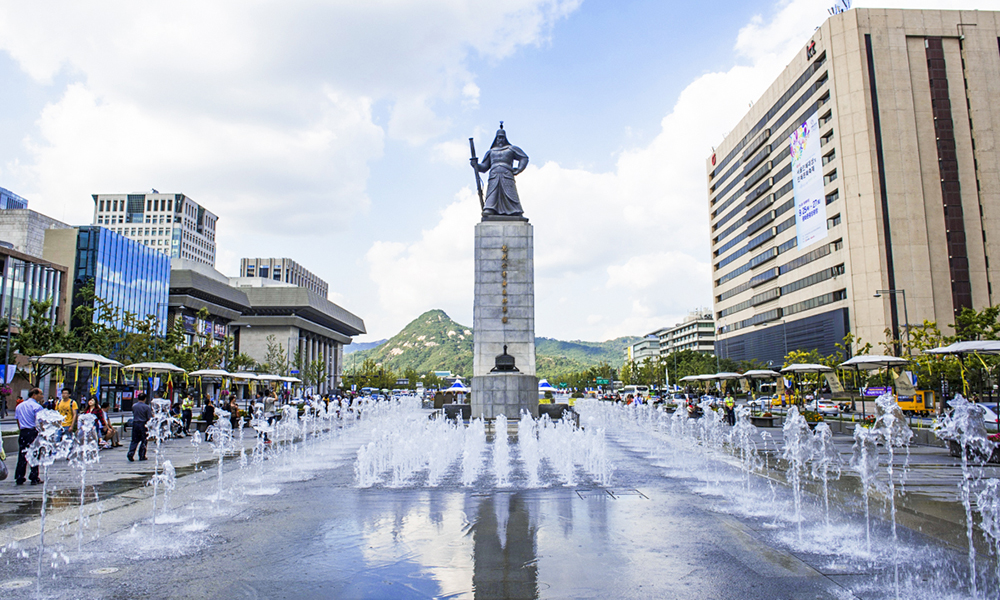 ''Squares" are as much a part of daily life as they have been part of key historic moments shaping the past and present for both Seoul and Korea, with Gwanghwamun Square and Seoul Plaza the most representative and popular of them all.

Gwanghwamun Square stretches out in a straight line from Gwanghwamun Gate, once the main gate of Gyeongbokgung Palace, all the way to City Hall, passing over Cheonggyecheon Stream. At its center stands statues of King Sejong the Great and Admiral Yi Sunshin, heroes most admired by Koreans.

Gwanghwamun Square is also the site where candlelight protests have been held and serves as a stage for a variety of festivals. Underground, in an area named Haechi Madang, can be found Arisu drinking fountains, an information center, souvenir shops, and a cultural gallery.

Seoul Plaza is an oval-shaped wide lawn in front of City Hall, which sees concerts, festivals and commemorative events take place year-round. During the 2002 Korea-Japan World Cup, tens of thousands of fans packed the plaza to cheer on the national team, filling it with red uniforms and turning it into "street cheering central." In winter, an ice-skating rink is created on the plaza while in summer, children can enjoy an outdoor swimming pool.
Gwanghwamun Square

Address

172 Sejong-daero, Jongno-gu, Seoul (Gwanghwamun Station, Exits 1, 2, and 8)

Website
Seoul Plaza

Address

12 Eulji-ro, Jung-gu, Seoul (City Hall Station, Exit 5)

Website
Asia's largest cultural complex
#Starfield COEX Mall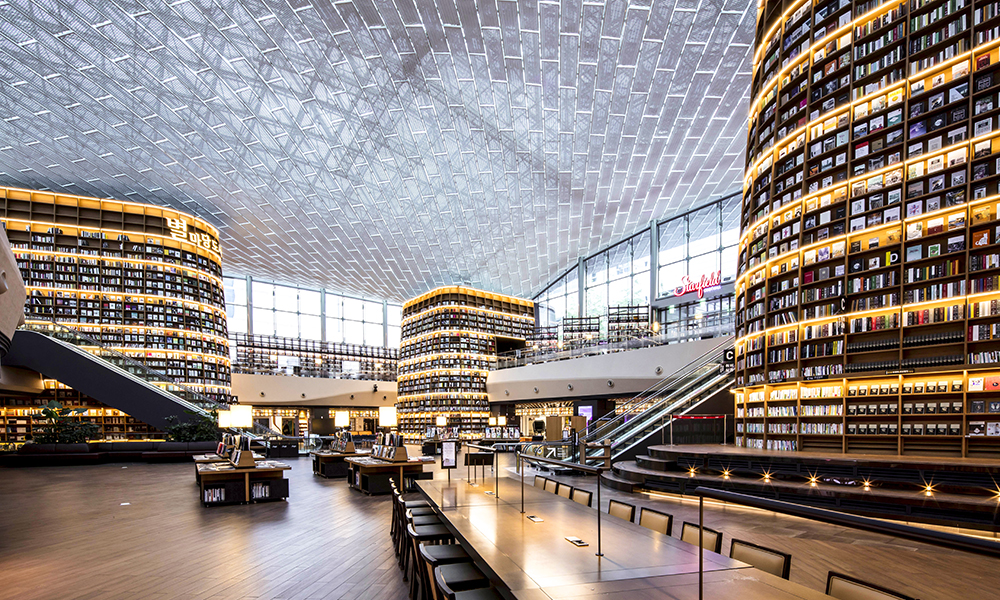 Travelers arriving in Korea for a conference or on business are mostly likely to visit COEX due to the number of fairs, international conferences, and exhibitions held there year-round. If you've got a couple of hours of free time after work and you're nearby, go to Starfield COEX Mall, the largest underground shopping mall and cultural complex in Asia.

Starfield COEX Mall accommodates a multi-screen movie theater, an aquarium, a bookstore, a department store, cafés, and restaurants as well as a variety of brand stores. Even a full day will not be enough to explore the gigantic mall in its entirety. The most popular attraction and photo spot is Starfield Library.

This one-of-a-kind library will leave you in awe as it features two-story bookshelves 13 meters high and is designed in a graceful curve with over 70,000 books on display, stacked all the way to the ceiling. Tables and chairs are located at different places, making it easy to sit down to read or work on a laptop.
Address

524 Bongeunsa-ro, Gangnam-gu, Seoul (Samsung Station, Exits 5 and 6)
Inquiries

+82-2-6002-5300