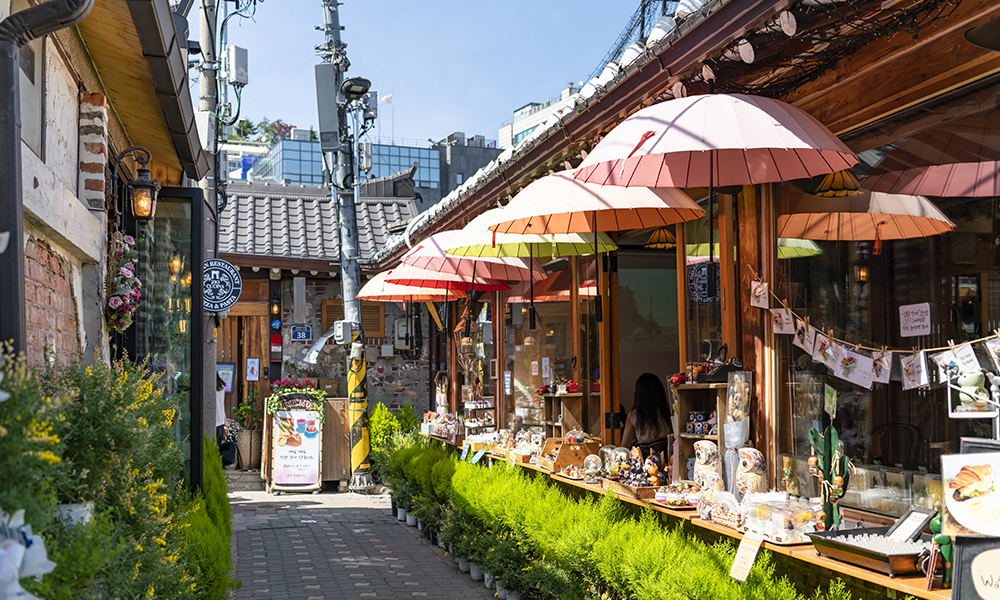 Please click the hashtags below to find out more!
Alleys in Seoul that are Instagram hits
#Euljiro a.k.a. "Hipjiro"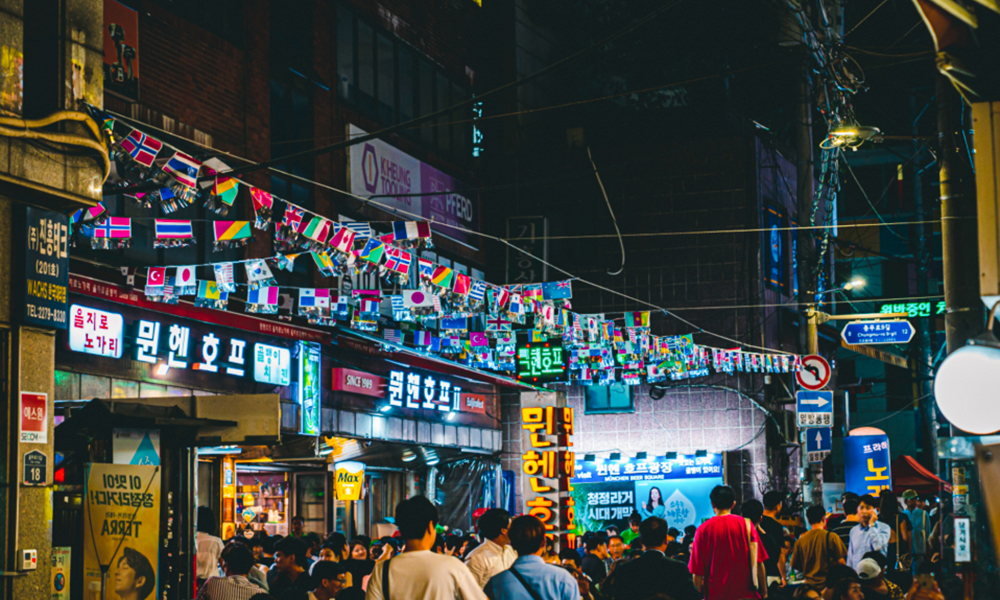 Euljiro is where old hardware stores, tool shops, and print shops blend effortlessly with trendy cafes and pubs, and the area has recently been gaining popularity among millennials as an "Instagramable" place in Korea.

The neighborhood is often dubbed "Hipjiro", which of course is a combination of "hip" and "Euljiro". Search for "Hipjiro" on Instagram for hidden gems in Euljiro, from a bar that serves specific cocktails for the birth years of its customers, a cafe offering a variety of cups to choose from and a wine bar unmarked by any sign outside. For something more traditionally unique for the area, check out Golbangi Alley or Nogari Alley, both of which are crowded every night during the week with people who work in the offices nearby.

Try the spicy and tangy golbangi-muchim (moon snail salad) served with vermicelli noodles and nogari (dried and grilled young pollack), the all-time popular snacks with alcohol for those in their 40s and 50s in Korea.
Location

Euljiro 3-ga Station
A world of coffee
#Seongsu-dong Cafe Street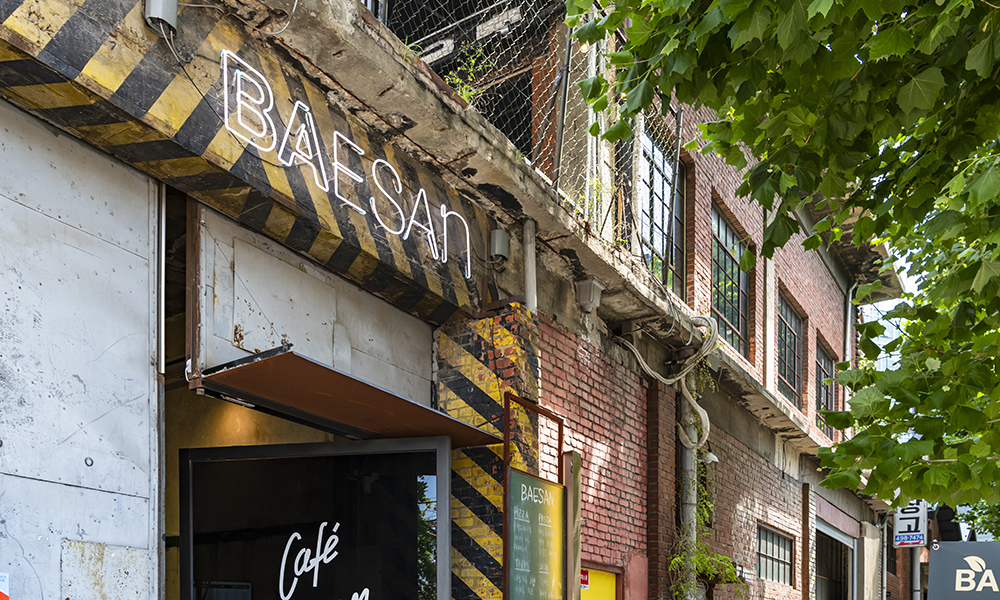 Near Exits 3 and 4 of Seongsu Subway Station is Seongsu-dong Cafe Street, lined with cafes and galleries converted from abandoned factories and warehouse buildings. The trendy, atmospheric cafes here have mesmerized the 2030 generation for their unique props and colorful, photogenic drinks and desserts.

Join up on a "cafe tour" with other young people to spend the entire day cafe-hopping and posting photos of different drinks on social media. Be sure to confirm the opening hours beforehand because many shops on the street close early.
Location

around Seongsu-dong 2-ga, Seongdong-gu, Seoul (Seongsu Station, Exit 3)
Immerse yourself in Korean beauty
#Samcheong-dong Artist Street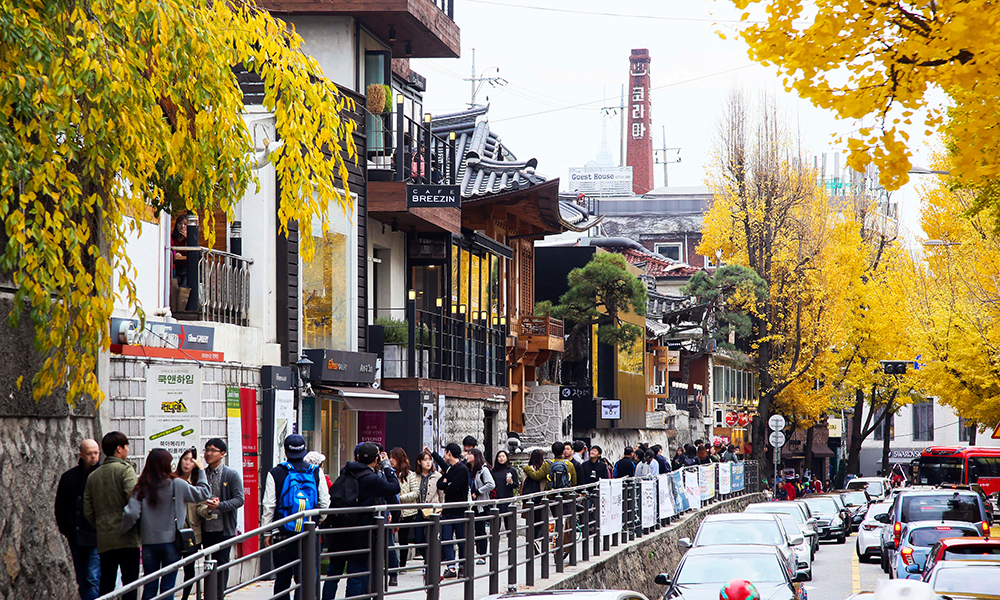 Leading northeast to Gyeongbokgung Palace and Bugaksan Mountain, Samcheong-dong Artist Street is lined with galleries, artistic shops, and restaurants in a neighborhood once dedicated to artists' handicraft shops.

For about 1 ½ km, from the National Museum of Modern and Contemporary Art, Seoul to Samcheong Park, enjoy a leisurely stroll through the beauty of Korean art in a unique landscape of hanok (traditional Korean housing) that blends neatly with modern buildings.

You might also want to visit the exhibitions of emerging Korean artists at Gallery Hyundai, Kumho Museum of Art, and Hakgojae Gallery, or make handicraft souvenirs at one of the artist-run handicraft shops.
Location

around Samcheong-dong, Jongno-gu, Seoul (Anguk Station)
Catch a glimpse of the latest trends in Seoul
#Sinsa-dong Garosu-gil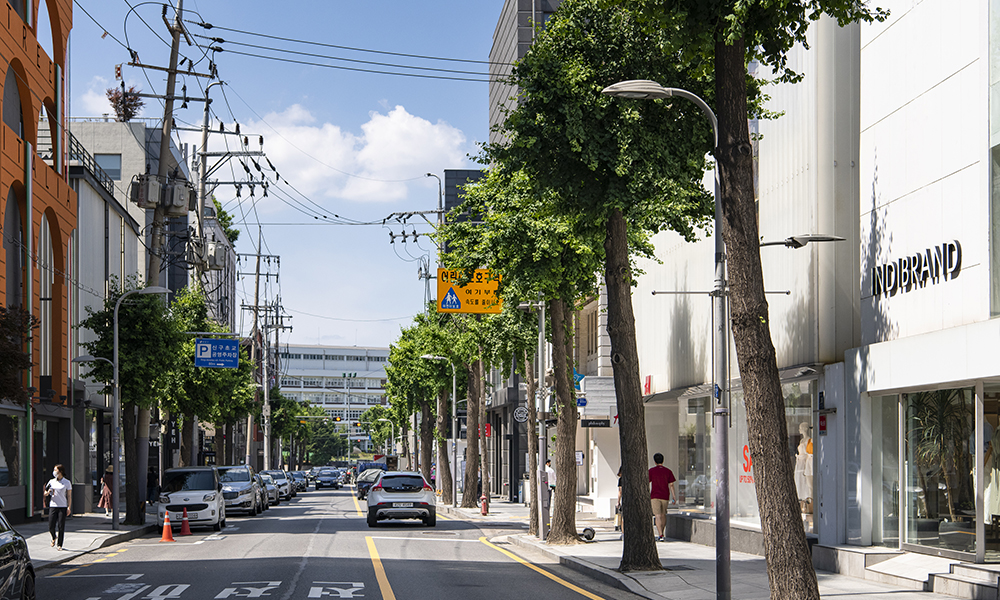 Extending from Hyundai High School to the Hangang River, Garosu-gil in Sinsa-dong is adorned with 160 ginkgo trees, as suggested by its name, "Garosu-gil", which means "tree-lined street". Garosu-gil is particularly dazzling in autumn when the ginkgo tree leaves turn a luminous gold-yellow and fall to the ground. Catch a glimpse of the latest trends while shopping at designer boutiques and flagship stores of global clothing brands.

The alleys on either side of Garosu-gil are collectively called "Serosu-gil", and are lined with brunch cafes and stylish restaurants suitable for business meetings.
Location

Sinsa-dong, Gangnam-gu, Seoul (Sinsa Station)
Cultural diversity and an exotic atmosphere
#Haebangchon Gyeongnidan-gil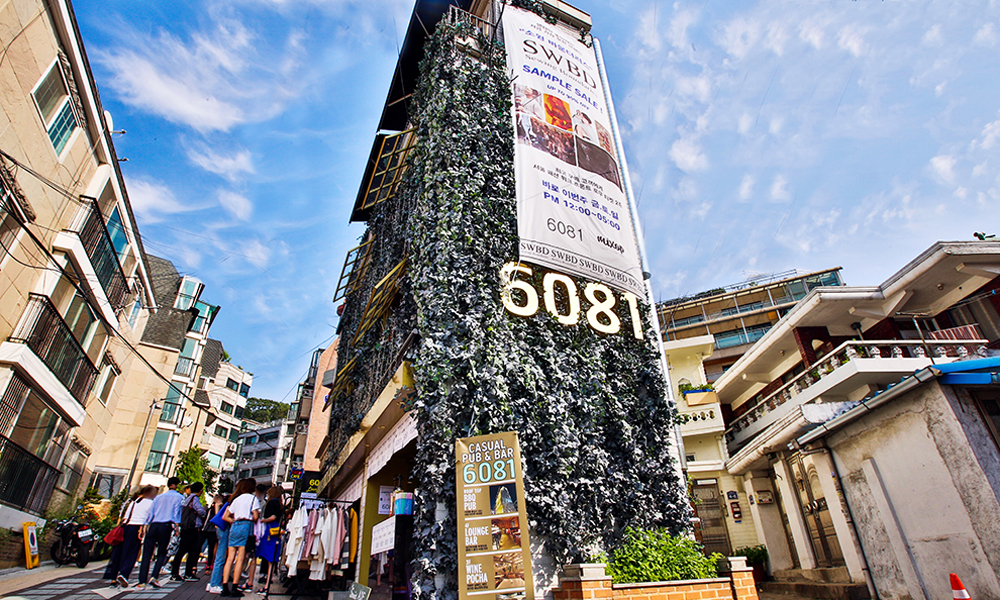 Stretching from the Armed Forces Financial Management Corps building to the Grand Hyatt Seoul, Gyeongnidan-gil was formerly a residential neighborhood for international visitors to Korea, including members of the US military, based nearby. Later, restaurants and pubs crowded along the street, turning the area into a bustling hot spot.

The street is lined with craft beer pubs and international restaurants, lending the area an exotic feel. In contrast to adjacent Itaewon, the shops are less crowded and have a simpler atmosphere. Independent publishing and handicraft stores can be found in Haebangchon or Liberation Village towards Boseong Girls' High School across from Gyeongnidan-gil.

Sitting on the slopes of Namsan Mountain, Haebangchon is the perfect place to enjoy the sunset, adding to the area's appeal from its new popularity as the location for "Itaewon Class", a recently-aired popular Korean drama.
Location

Itaewon-dong, Yongsan-gu, Seoul (Noksapyeong Station, Exit 2)
Blending past and present
#Ikseon-dong Hanok Street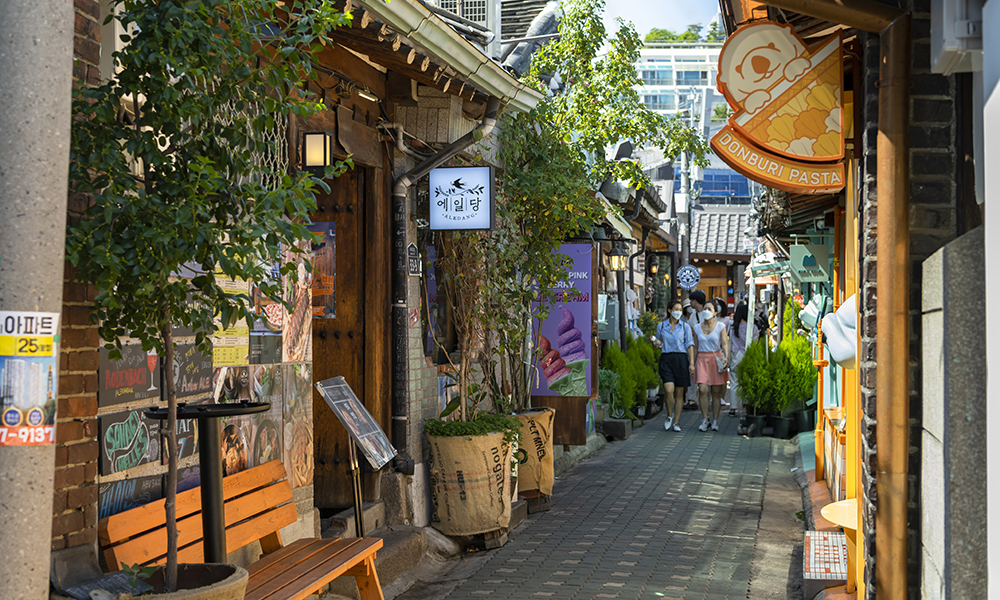 Located in Jongno-gu, the heart of Seoul, Ikseon-dong is the oldest hanok (traditional Korean housing) village in Seoul with high concentrations of these beautiful buildings. After the area was excluded from an urban redevelopment project in 2014, young entrepreneurs moved in and renovated century-old hanok into stores, pubs, cafes, and restaurants.

With alleys too narrow for cars to pass through, the walkways wind like a maze, making for great fun as you stroll around and discover hidden gems. Featuring impressive, time-honored hanok enclosed by high rise buildings, Ikseon-dong Hanok Street will please any generation, from young people curious about "retro" styles to older people feeling nostalgic about the past.
Location

Jongno 3-ga Station, Exit 4
An abandoned railroad track, transformed
#Yeonnam-dong Gyeongui Line Forest Park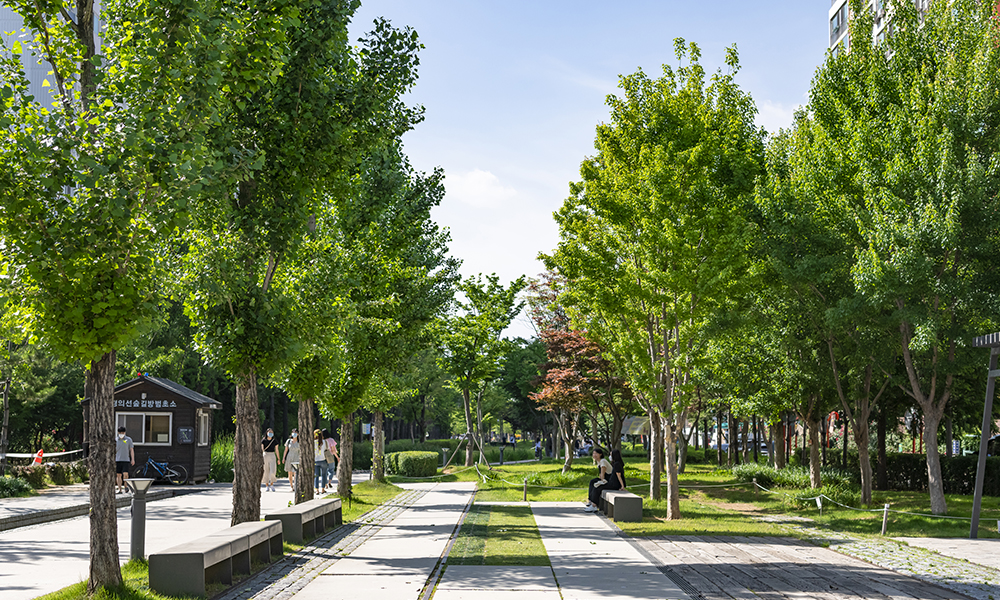 The Gyeongui Line Forest Park stretches for 6.3 km from Hyochang-dong in Yongsan-gu to Yeonnam-dong in Mapo-gu. Created by the Seoul Metropolitan Government, the park is a closed railroad track-turned urban respite.

The Yeonnam-dong area, in which the longest section of the trail lies, features cafes, restaurants, clothing stores, and select boutique shops along the greenery that crosses the city center. Locals often refer to this area as "Yeon-tral Park," comparing it to New York's Central Park.

Exhausted from a hectic day at work? Why not take a walk in "Yeon-tral Park" and find some peace of mind and physical refreshment? Keep walking toward Hongik University Station's Exit 6, and you will discover a pleasant bonus "Gyeongui Line Book Street," which often hosts a variety of cultural events such as book curations and conversations with authors.
Location

around Yeonnam-dong, Mapo-gu, Seoul (Hongik University Station, Exit 3)
K-Culture-caturing the world
#K-Star ROAD, Gangnam-gu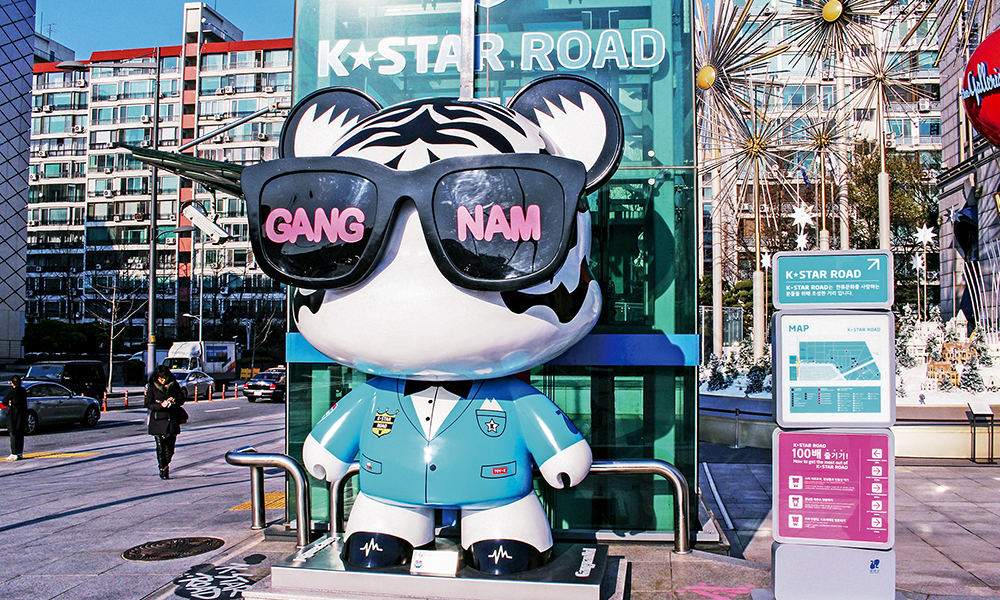 Find Korean popular culture exciting? Interested in doing business in a related area? Then come see "K-Star Road" in Apgujeong-dong, Gangnam-gu. Referring to the 1 km section from Apgujeong Rodeo Station's Exit 2 to Cheongdam Intersection, K-Star Road is a cultural street designed to promote Hallyu (the "Korean wave") and attract its fans.

On the road, you can see "Gangnamdol", art toys, symbolizing K-pop groups such as EXO, BTS, and Girls' Generation. A portmanteau combining "Gangnam", referring to the predominant district for Hallyu, and "idol," it is not uncommon to see fans from around the world taking a photo in front of their favorite group's Gangnamdol.

K-Star Road is home to Korea's leading entertainment companies and many of nearby restaurants are patronized by popular Hallyu stars. If you're lucky enough, you just may run into one of your favorites here.
Location

394 Apgujeong-dong, Gangnam-gu, Seoul (Apgujeong Rodeo Station, Exit 2)