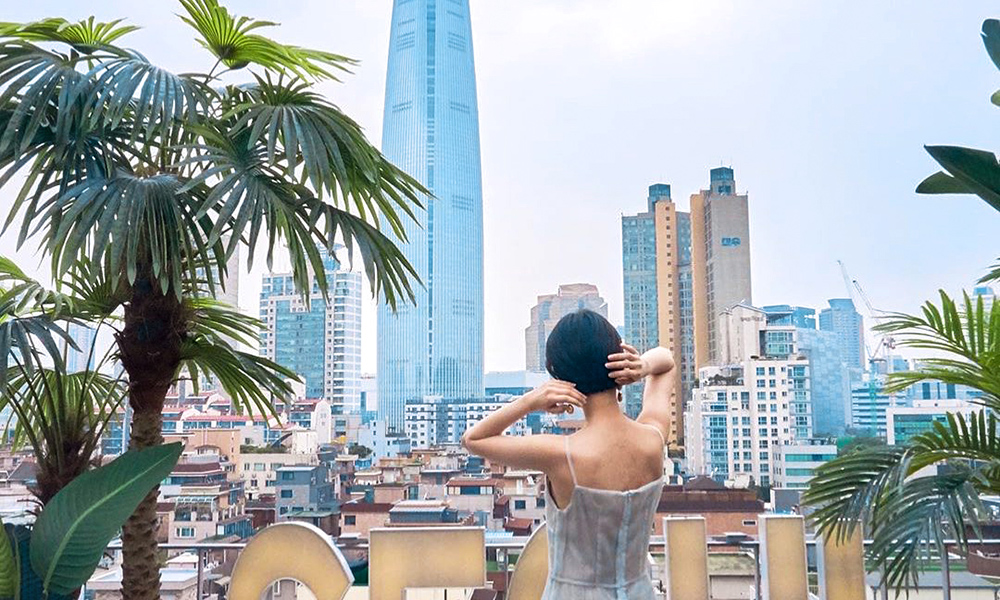 Please click the hashtags below to find out more!
A rooftop cafe with a stunning view
#Seoulism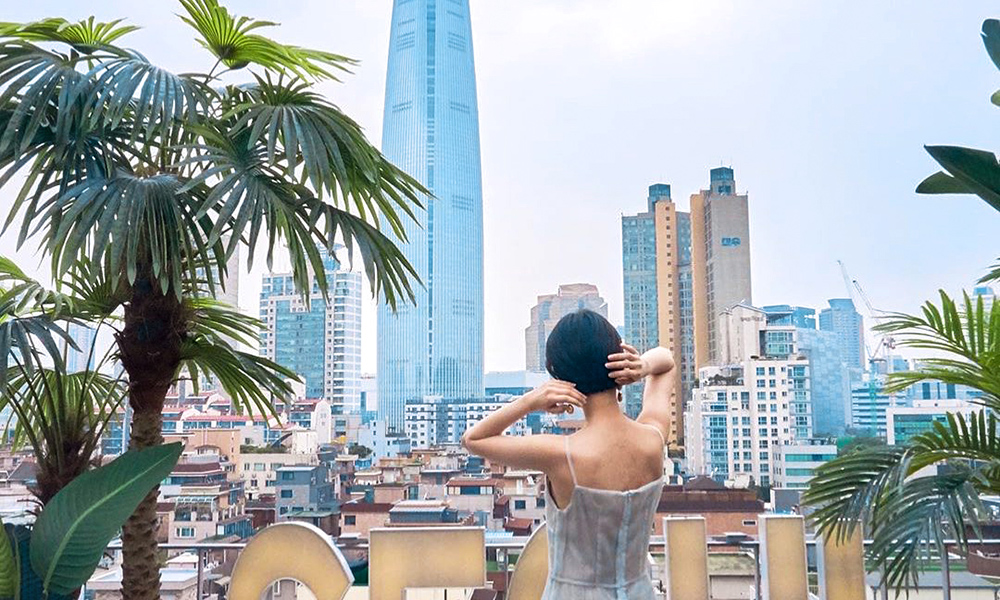 Seoulism, known for its stunning rooftop view, is nestled at the beginning of Songnidan-gil, a trendy street stretching from Songpanaru Station to Seokchon Lake. Sitting on the top floor of a six-story building, Seoulism offers a panoramic view of the city, with the landmark Lotte World Tower standing taller than the rest.

Atop the center edge of the roof top sits a sign that simply reads "SEOUL", providing a perfect photo opportunity to memorialize your visit. A picture taken here at sunset, with the sign bathed in red light, will forever capture the brilliance and sophistication of this grand city. Seoulism's signature drink, a salted caramel cream latte, is also a must-try!
Address

6th fl. Yes Building, 435 Baekjegobun-ro, Songpa-gu, Seoul (Songpanaru Station, Exit 1)
Inquiries

+82-2-412-0812
Seoul's iconic picnic and photo spot
#One Tree Hill in Olympic Park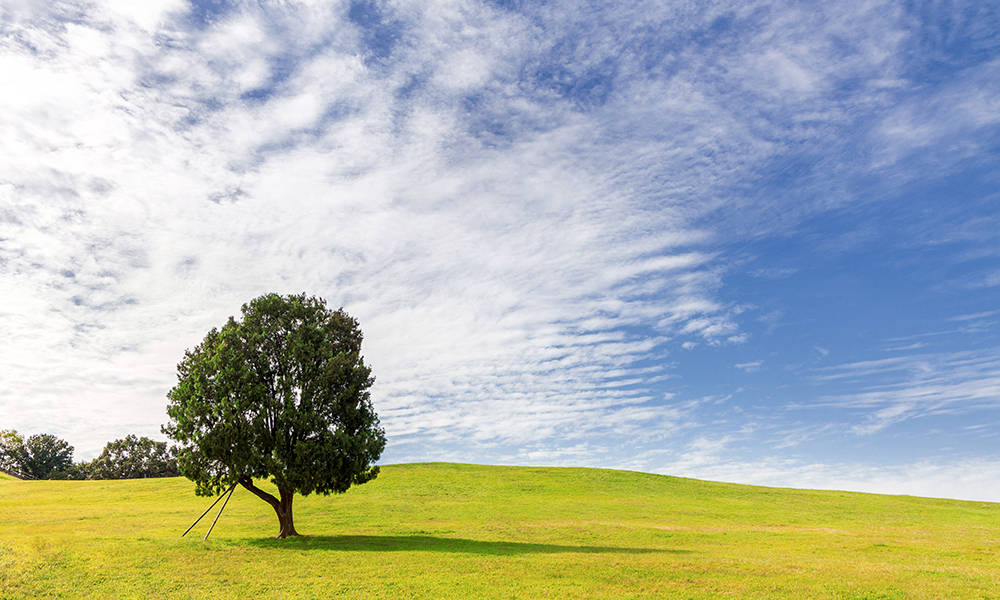 Olympic Park is a legacy of the 1988 Seoul Olympics, and features several attractions including Mongchontoseong Fortress from Baekje, one of Korea's ancient kingdoms, Soma Museum, and an open-air exhibition of 200 sculptures.

The urban respite presents a beautiful blend of natural elements, historic relics and artwork, which culminates in the park's Top 9 Highlights - the nine best photo spots picked by the Korean Photographers Association. The most popular of these is One Tree Hill. "One Tree" is a ten-meter-tall cypress standing alone in the middle of a wide field.

One Tree Hill offers the perfectly harmonized photo spot of picturesque blue sky, green grass, and a lone tree – and has been featured as the backdrop for a range of films, TV dramas, and adverts. Perhaps this is why it's always bustling with couples taking romantic pictures or wedding photos. If you are not pressed for time, take a stroll around the park and visit the remaining eight spots too.
Top 9 Highlights in Olympic Park

World Peace Gate, The Thumb (sculpture), Mongchon Moat Music Fountain, Dialogue (sculpture), Mongchontoseong Fortress Walking Paths, One Tree Hill, 88 Lake, Wild Flower Garden, and Rose Plaza
Address

424 Olympic-ro, Songpa-gu, Seoul (Hanseong Baekje Station, Exit 2)
Website
Inquiries

+82-2-410-1114
Transformation of an abandoned amusement park
#Yongma Land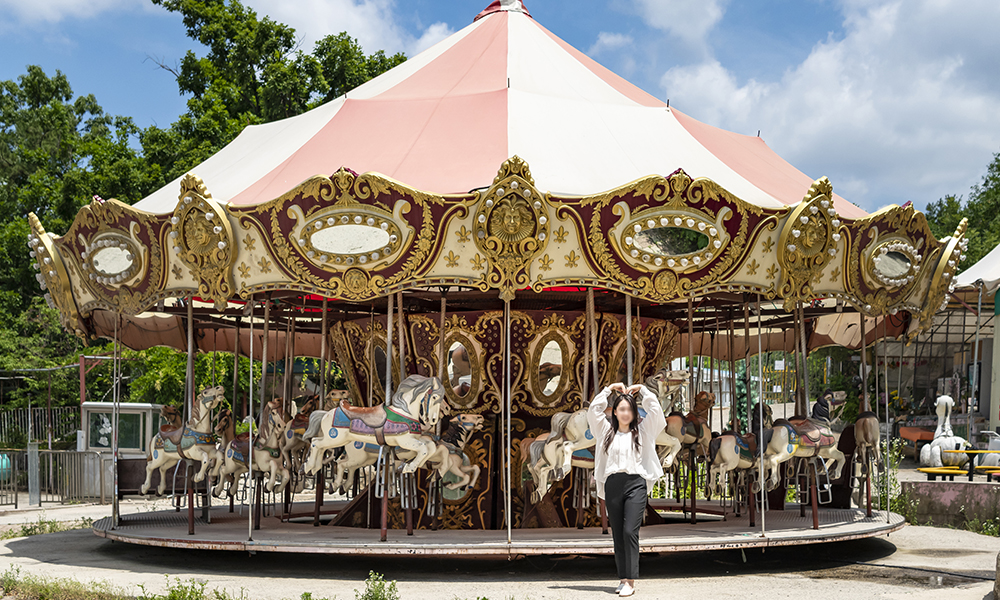 Nestled at the foot of Yongmasan Mountain, Yongma Land is a small amusement park that opened in 1983 and closed in 2011. The long-deserted park began to gain popularity as a unique photo spot after becoming the filming location for music videos by Baek Ji-young and Crayon Pop, the TV dramas "Heartless City" and "Iris 2", and a variety of album covers and magazine pictorials.

The colorful rides and the vintage scenery of the abandoned park create the perfect ambience without the need for professional photography skills. The rides no longer run, but admission is still only open to paying visitors. Check for opening hours on its website prior to your visit, as the place is often closed for filming.
Address

118 Mangwoo-ro 70-gil, Jungnang-gu, Seoul (Myeonmok Station, Exit 2)
Website
Inquiries

+82-2-436-5800
Hanok photo spots imbued with traditional beauty
#Eunpyeong Hanok Village & Namsangol Hanok Village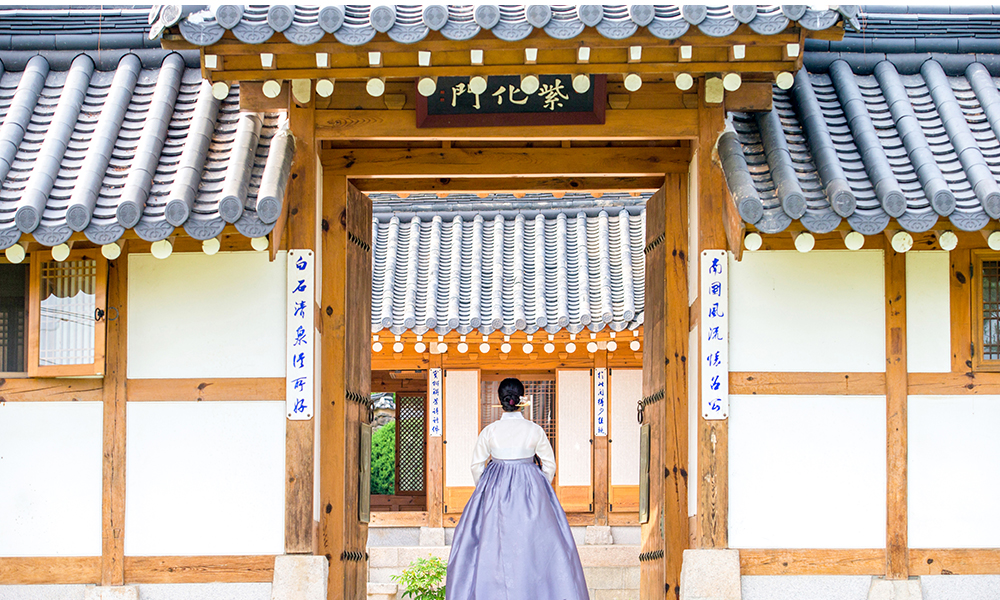 If you're looking for photo spots at authentic locations in Seoul, why not put on hanbok (traditional Korean clothing) for some photos, complete them with a collection of hanok in the background? Located in Jingwan-dong, Eunpyeong-gu, Eunpyeong Hanok Village is a recently-created location of magnificent and stylish hanok blending gracefully with Bukhansan Mountain to create a picturesque landscape. The many nearby attractions include museums and literature halls as well as cool streams in the valleys of Bukhansan Mountain and Jingwansa Temple, the latter known as a "millennium temple."

Namsangol Hanok Village is a collection of restored hanok from the Joseon Dynasty, home to a range of people from commoners to aristocrats, and today offering a taste of traditional life. Enjoy the simple beauty of the hanok exterior, along with their traditional gardens outfitted with pavilions and ponds, and take a peek inside at the furnishings

Traditional games, tea ceremonies and other experiential programs are also on offer, while on weekends, you might see an actual couple in the middle of a traditional wedding.
Eunpyeong Hanok Village

Address

127-27 Jingwan-dong, Eunpyeong-gu, Seoul (Gupabal Station, Exit 2)
Namsangol Hanok Village

Address

28 Toegye-ro 34-gil, Jung-gu, Seoul (Chungmuro Station, Exit 4)

Website

Inquiries

+82-2-2261-0517
A place of healing in an urban green space
#Seoul Botanical Park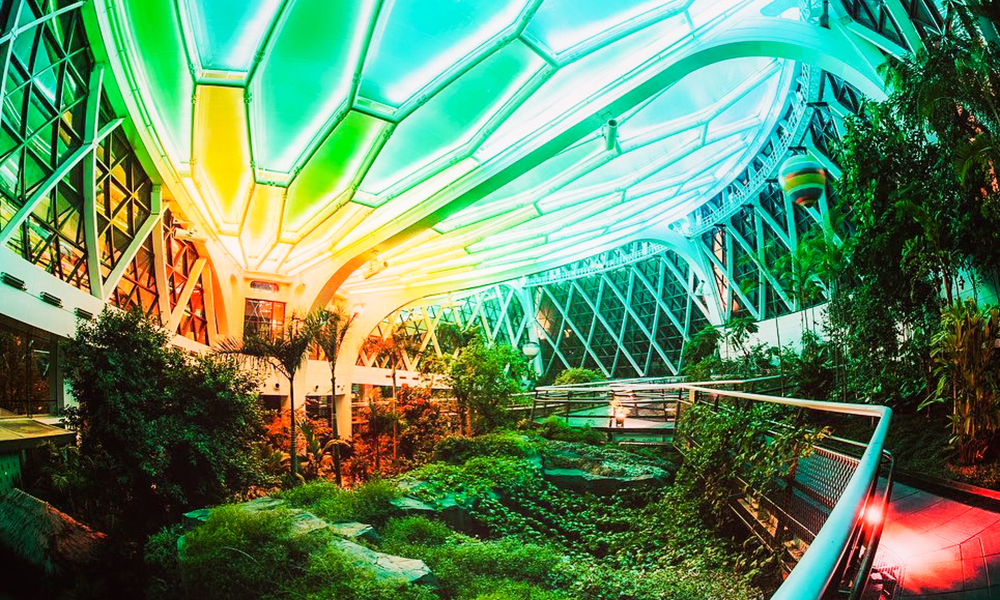 Seoul Botanical Park, which officially opened in May 2019, is enjoying great popularity as an urban healing spot despite its short history. Boasting a massive area of 504,000 square meters (equivalent to 70 soccer fields), the park consists of an Open Forest, a Theme Zone, a Lake Zone, and a Marsh Zone, with a greenhouse in Theme Zone the highlight of the park.

Measuring 100 meters in diameter and 28 meters high, the greenhouse showcases plants from the Mediterranean and tropical climates representing twelve major cities around the world, offering an exotic photo opportunity all-year round. At night, the entire greenhouse is lit up with rainbow colored lights, generating a dreamlike ambience that will take your breath away.

Other gardens in the park outside the greenhouse are also splendid and worth a visit. For their part, the Lake Zone has walking trails and waterside observation decks while the Marsh Zone boasts an amazing ecological landscape.
Address

161 Magokdong-ro, Gangseo-gu, Seoul (Magoknaru Station, Exits 3 and 4)
Website
Film location for "Itaewon Class"
#Noksapyeong Bridge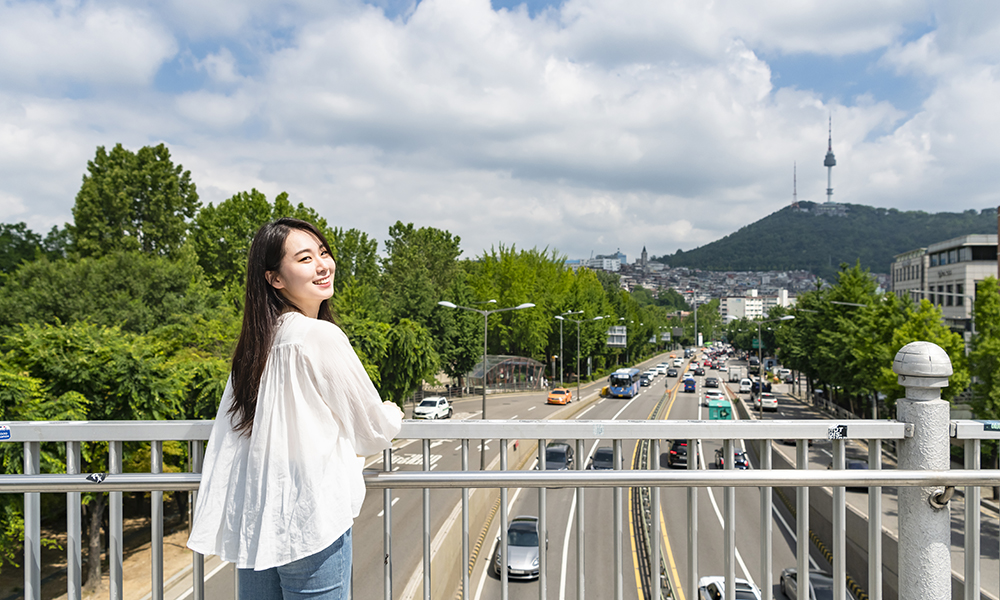 Filming locations for the TV drama "Itaewon Class," which was a hit in Korea and Southeast Asia, have emerged as must-visits for tourists. Of these, Noksapyeong Bridge, where the protagonists, Park Sae-ro-yi and Yi-Seo, talked while standing shoulder to shoulder is one of the most popular. Once outside Noksapyeong Station and if you climb up to the bridge, you'll be rewarded with a stunning view overlooking Haebangchon, N Seoul Tower, and Noksapyeong-daero all at once.

Even the ordinary scene of cars whizzing by underneath the bridge is an essential part of the landscape here, with incredible photos waiting to be taken both during the day and at night, with a different charm for each. If you cross over the bridge towards Itaewon Station, you can find "Danbam" Pocha, which was run by Park Sae-ro-yi and his colleagues in the drama.
Address

7-76 Yongsan-dong 2-ga, Yongsan-gu, Seoul (Noksapyeong Station, Exit 1)
A trendy container shopping mall
#COMMON GROUND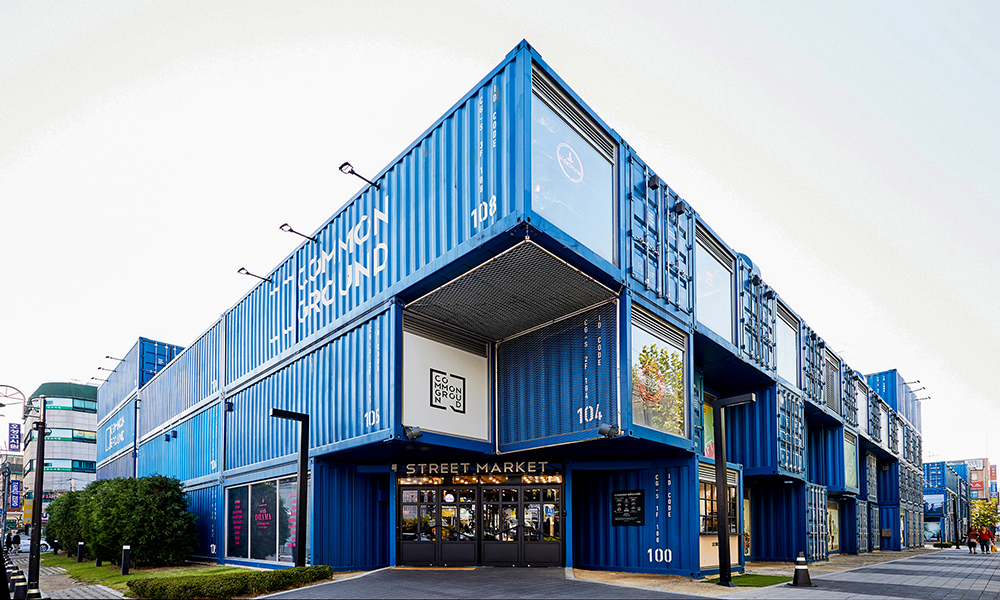 Located near Konkuk University, COMMON GROUND is constructed of 200 shipping containers, making it the largest pop-up shopping mall in Korea. The unusual sight of the large blue containers stacked up to form a huge shopping mall draws both the eyes and the feet of passers-by.

With two wings connected by a bridge and a yard called "Market Ground," the place features the brands of emerging young designers, with the interior decorated as uniquely as its exterior, making it a popular photo spot for shopping mall pictorials and dating snaps.

After sunset, COMMON GROUND is softly lit up and becomes far more atmospheric. Trendy cafes and restaurants on its roof serve up a variety of food in a perfect ambience.
Address

200 Achasan-ro, Gwangjin-gu, Seoul (Konkuk University Station, Exit 6)
Website
Inquiries

+82-2-467-2747
A new city slogan for Seoul
#I · SEOUL · U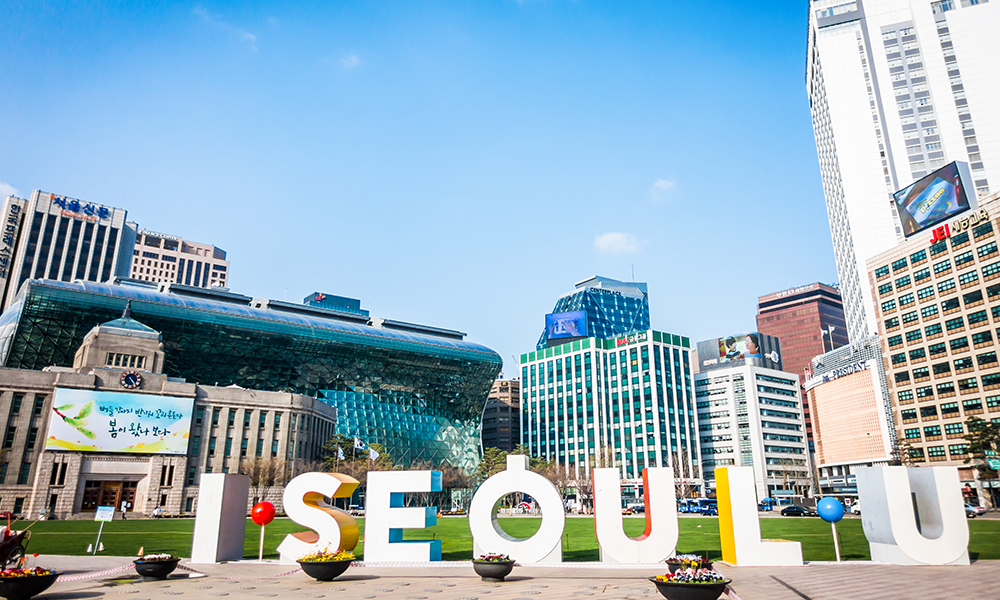 If you want to take pictures that show you've been to Seoul, join in the treasure hunt for "I·SEOUL·U" symbols placed across the city. "I·SEOUL·U", Seoul's new official slogan, means "My Seoul and Your Seoul", signifying that the city wants to be at the center of all relationships, between "you" and "I", between Koreans and between people all around the world.

It also refers to Seoul being a city where diverse nationalities and generations, and the past and present coexist in harmony. "I·SEOUL·U" symbols have been installed at 14 popular picnic spots bustling with Seoulites, which include Seoul Plaza, Yeouido Hangang Park, Children's Grand Park, World Cup Park, and Dream Forest. The symbols differ slightly, in terms of design and size, from location to location, making it fun to compare them.
Installation locations

Seoul Plaza (12 Eulji-ro, Jung-gu, Seoul) / Children's Grand Park (216 Neungdong-ro, Gwangjin-gu, Seoul) / World Cup Park (108-1 Haneulgongwon-ro, Mapo-gu, Seoul) / Yeouido Hangang Park (330 Yeouidong-ro, Yeongdeungpo-gu, Seoul) / Dream Forest (173 Wolgye-ro, Gangbuk-gu, Seoul) / Seoul Forest (273 Ttukseom-ro, Seongdong-gu, Seoul) / The Oil Tank Culture Park (87 Jeungsan-ro, Mapo-gu, Seoul) / Seoul Citizens Hall (110 Sejong-daero, Jung-gu, Seoul) ) / Seoul Science Center (160 Hangeulbiseok-ro, Nowon-gu, Seoul) / Seoul Upcycling Plaza (49 Seongdong-gu, Car Market Street) / Seoul Startup Hub (21 Baekbeom-ro 31-gil, Mapo-gu, Seoul) / Donuimun Museum Village (7-24 Sinmun-ro 2-ga, Jongno-gu, Seoul / Dasi Sewoon (159 Cheonggyecheon-ro, Jongno-gu, Seoul)