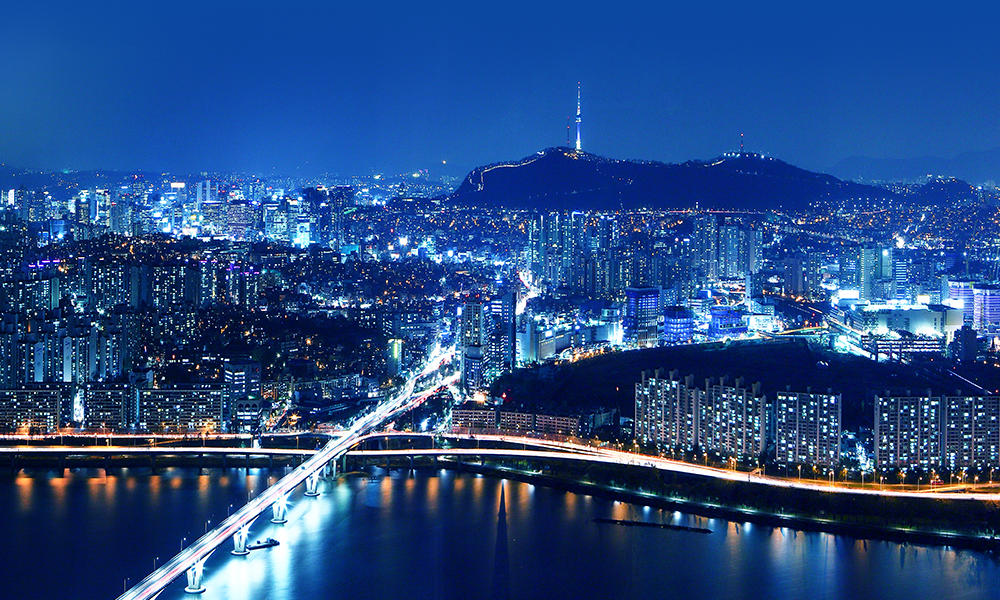 Please click the hashtags below to find out more!
A nightscape making everyday life a festival
#Banpo Hangang Park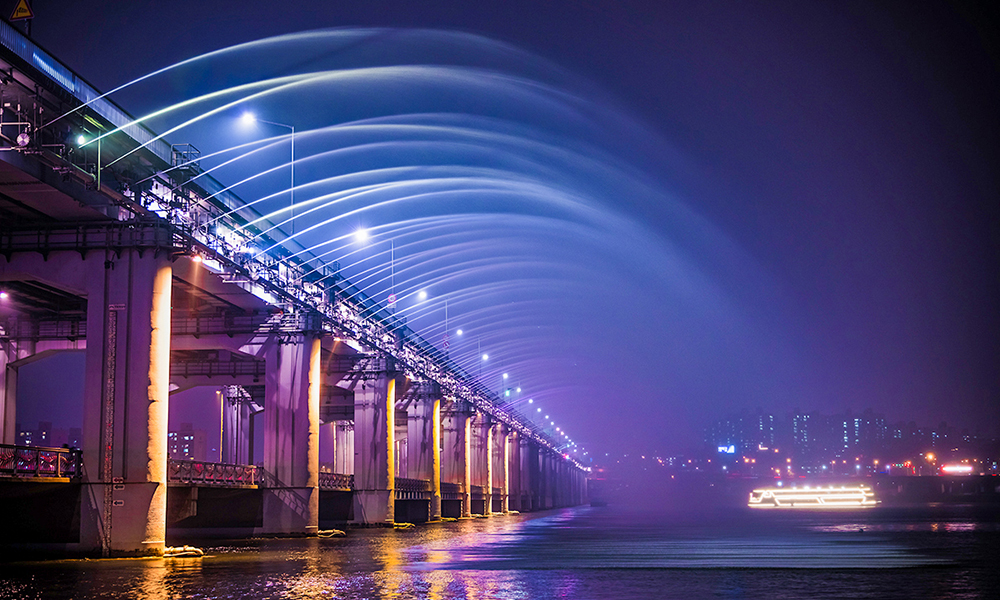 Come take in the night in all its splendor at Banpo Hangang Park, with its festival-like atmosphere after any ordinary day. Come be impressed by the dazzling changing light colors that illuminate the Moonlight Rainbow Fountain of Banpo Bridge and Sebitseom, a complex cultural space.

The Moonlight Rainbow Fountain, listed on the Guinness World Records as the world's longest bridge fountain, creates waves of over a hundred different shapes during the day and dances to music at night, lit up as it is with 200 lights in rainbow colors.

Up for a romantic adventure on the Hangang River? Rent a tubester, a round tube motorboat, or a yacht and set sail. In addition to renting out yachts and boats, Golden Blue Marina runs a variety of aquatic and leisure programs, including a sunset tour, where passengers can take in the beauty of a sunset on board, and a Moonlight Rainbow Fountain tour, which takes you right up to its namesake to take it all in.
Address

40 Sinbanpo-ro 11 gil, Seocho-gu, Seoul (Sinbanpo Station, Exit 2)
Inquiries

+82-2-591-5943
The center of free indie culture
#Hongik University Street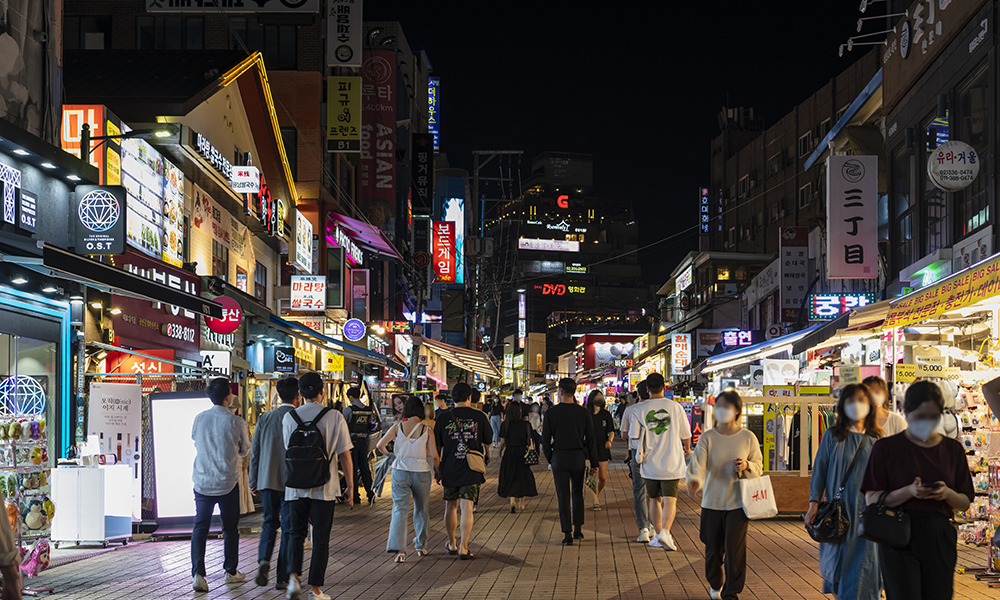 Hongik University Street, the center of the "indie" culture created by young, perceptive artists, is a place that never sleeps.

It is a club culture "mecca" with performances by indie bands at small concert halls, playgrounds and parks, and music of all sorts of genres can be enjoyed, such as hip-hop, electronic, house and so on.

The place bustles with people on Friday and Saturday nights. If there's not enough time to explore every street corner, be sure to put "Hongdae Walking Street," the heart of the neighborhood, at the top of your list.
Address

Seogyo-dong, Mapo-gu, Seoul (Hongik University Station, Exit 9)
A trail in Seoul for the best sunset view
#Naksan Park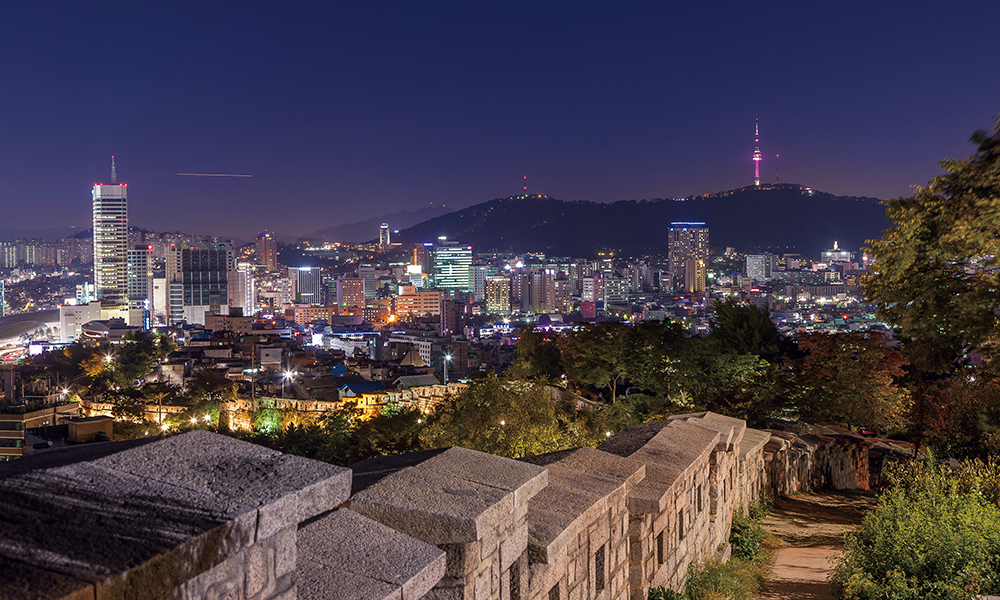 Naksan Park always ranks within the top 3 spots for sunset and night view in Seoul. Hanyangdoseong, the Fortress Wall of Seoul built during the Joseon Dynasty, still remains in the park. At night, the wall is illuminated with subtle lighting, creating an exotic, romantic atmosphere.

An hour-long stroll along the fortress will bring you to the observatory, where a panoramic view of the city from the top of the old fortifications leaves you feeling as if you are looking at the present-day world in a scene from the past. With stylish cafes nearby, Naksan Park is one of the most sought-after places for couples.
Address

41 Naksan-gil, Jongno-gu, Seoul (Hyehwa Station, Exit 2)
Inquiries

+82-2-743-7985
A mystical, curved building
#Dongdaemun Design Plaza (DDP)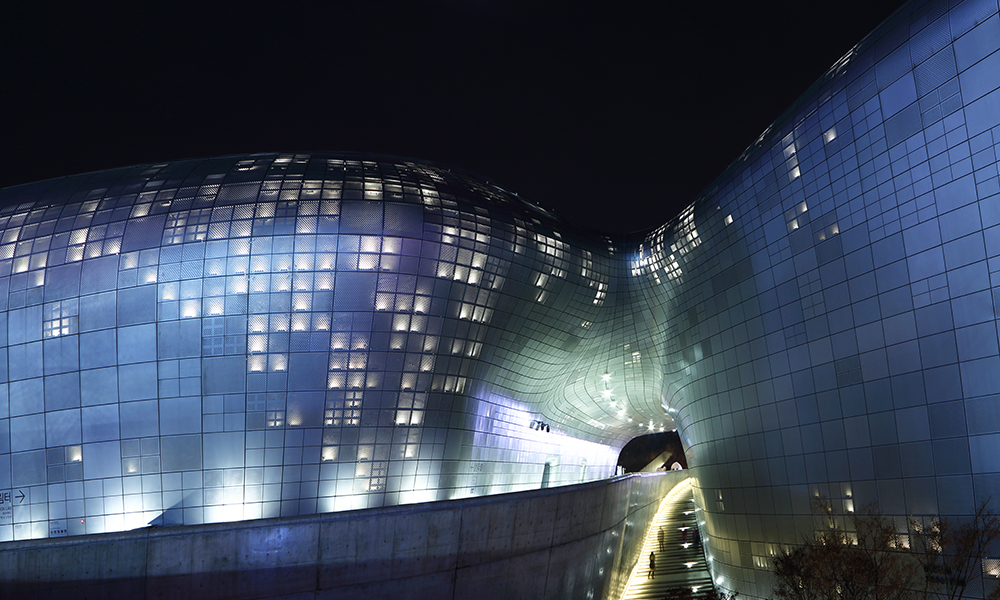 Reminiscent of a UFO that has settled in the city center, DDP is a complex cultural space designed by famous architect Zaha Hadid and has emerged as a new landmark in Seoul since its opening in 2014.
Featuring international conference halls, museums and parks, select shops, and other cultural facilities, DDP is also a popular venue for a variety of exhibitions, fashion shows, launches, conferences and other cultural events.

It is particularly stunning during the year-end and New Year holidays when the DDP Light Festival canvasses the entire facade of the curved building to create a media spectacle that blends light, video, and music. The dynamic light show, with its overwhelming scale, provides a spectacular night view that cannot really be seen anywhere else.
Address

281 Ulji-ro, Jung-gu, Seoul (Dongdaemun History & Culture Park Station, Exit 1)
Website
Inquiries

+82-2-2153-0000
Old roads become a public garden
#Seoullo 7017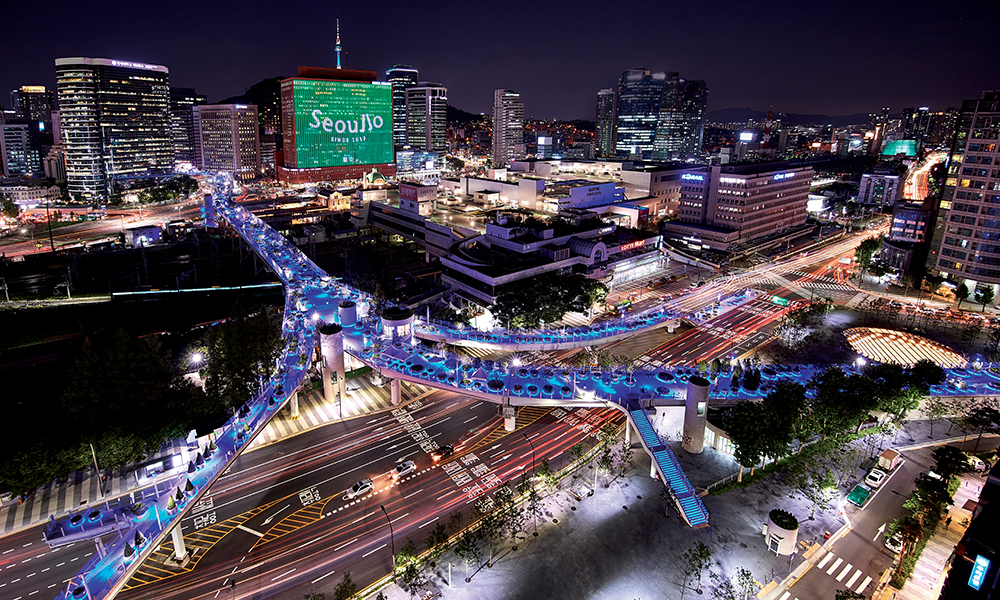 If New Yorkers have "The High Line," Seoul residents have "Seoullo 7017". Stretching from Seoul Station to Namdaemun Market, Seoullo 7017 came out of the Seoul Station overpass, which was first built in 19 70 and was reborn as a park in 20 17 .

A pedestrian pathway for Seoulites with a mixture of plants, exhibitions, and performances, Seoullo 7017 is lit up with blue lighting that creates a dreamy atmosphere at night, as if one is walking through the Milky Way.

The harmony between old and new shown by Culture Station Seoul 284 with a trace of history and Seoul Square, a modern structure, provides a unique and exotic night view. After a walk along the pathway, refresh yourself with a cool drink at one of the trendy pubs or craft beer houses that have sprung up in the environs.
Address

432 Cheongpa-ro, Jung-gu, Seoul (Seoul Station, Exit 1)
Website
Inquiries

+82-2-313-7017
A glass of "atmosphere" under the moonlight
#Rooftop bars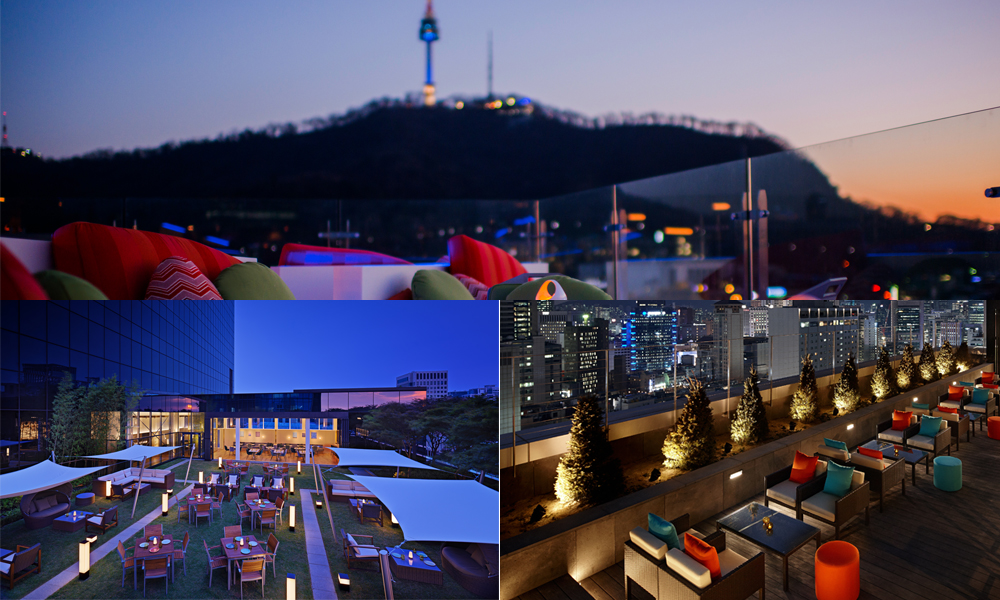 Want to enjoy the relaxation of the night rather than hurrying around? Why not make your way up to a fashionable rooftop bar, full of atmosphere? Such places can be found at most famous hotels in downtown Seoul.

Places of note include Conrad's "Vvertigo" where you can feel the greatness of the so-called "building forest" formed by the skyscrapers of Yeouido, "Le Style" at ibis Styles Ambassador Seoul Myeongdong with its staggering view of Myeongdong's skyline and Namsan Mountain, and "Floating" at L7 Myeongdong by LOTTE. A cocktail to enjoy with the cool breeze and the city's night view will help you let go of the day's fatigue.
ibis Styles Ambassador Seoul Myeongdong, Le Style Restaurant & Bar

Address

302 Samil-daero, Jung-gu, Seoul (Myeongdong Station, Exit 10)

Inquiries

+82-2-6020-8880
Rooftop Floating

Address

137 Toegye-ro, Jung-gu, Seoul (Myeongdong Station, Exit 9)

Inquiries

+82-2-6310-1097
VVERTIGO

Address

10 International Financial Road, Yeongdeungpo-gu, Seoul (Yeouido Station, Exit 2)

Inquiries

+82-2-6137-7766
Night views, food, and culture all at once
#Seoul Bamdokkaebi Night Market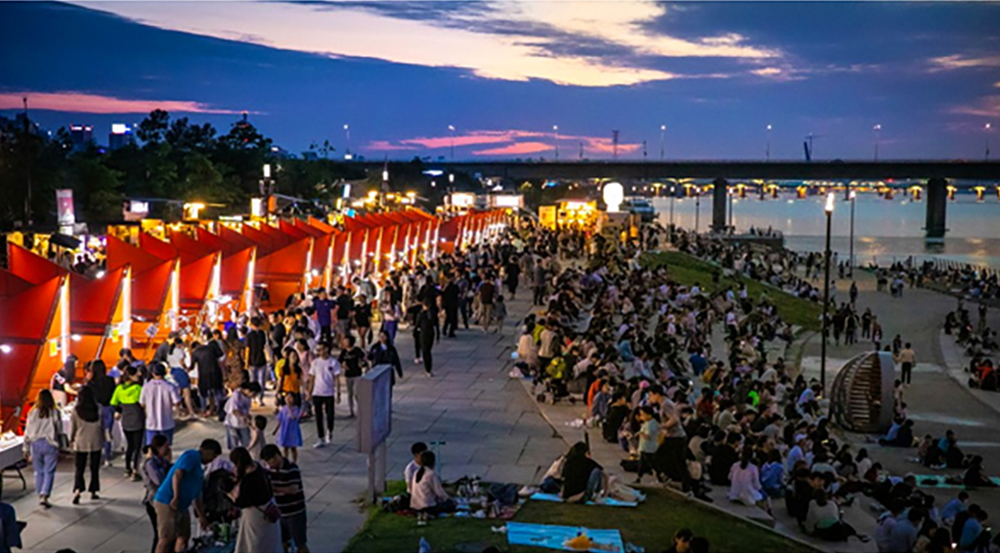 Night markets are great places where Seoul comes alive more as the night gets deeper. The Seoul Bamdokkaebi Night Market is open in Yeouido, Banpo, Dongdaemun, and Cheonggyecheon every weekend from spring until autumn.

Business travelers on a tight schedule can enjoy the night view, food, and authentic culture of the city all at once. Visit a food truck for a taste of Korean, Japanese, Chinese and other Asian food as well as a variety of food that span Europe and South America, and shop for handmade soaps, accessories, candles and other unique items. Feel the freedom of losing track of time while immersed in shopping and eating.

Sometimes the night market hosts music concerts, magic shows, and performances, so there's always something to see. Visit the website listed for specific hours of operation and program schedule, which differ for each night market.
Website
Inquiries

+82-2-120
An "ocean" in the middle of Seoul
#Noryangjin Fisheries Wholesale Market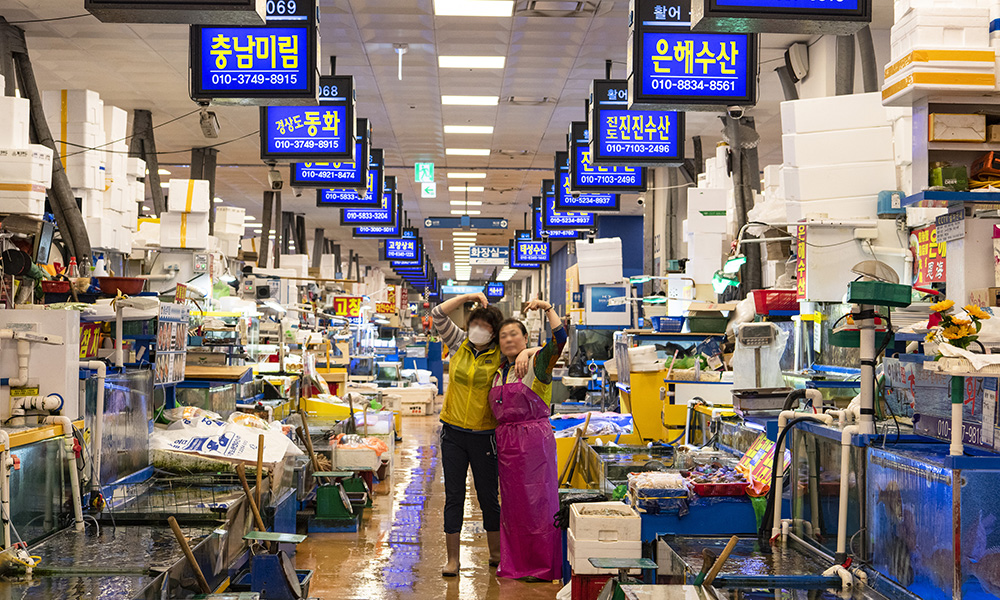 Having a sleepless night in the city? Why not go out for a walk by the "sea" in the heart of Seoul? Noryangjin Fisheries Wholesale Market is a place you can go to try the fresh seafood shipped directly from all over the country, without breaking your wallet.

This traditional fish market started its business in the 1970s and emerged as a popular tourist destination with recent renovation into a spacious new building. Order some fresh raw fish, a king crab or other seafood for take-out, or have it with spicy fish stew in a restaurant after paying for a table setting and your purchase to be cooked.
Address

674 Nodeul-ro, Dongjak-gu, Seoul (Noryangjin Station, Exit 7)
Website
Inquiries

+82-2-2254-8000