Virtual Team building Game PLAYGROUND
Virtual Seoul Playground is an online game played with avatars in the metaverse Seoul.
Explore traditional Korean culture through an exciting tour on this 3D virtual Seoul as an
avatar while enjoy playing Yunnori, making Gimbap, and decorating a lantern with your teammates right now!
Discover PLAYGROUND
Learn how Virtual Seoul Playground can deliver great virtual team building experiences.
Games Features
For Event Planners
Games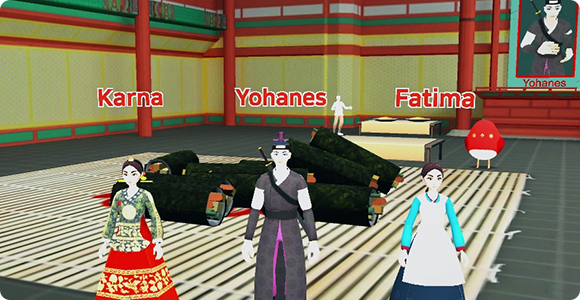 Making Gimbap

In the beautiful traditional architecture Changdeokgung Palace, you can play mini-games to collect ingredients for gimbap such as cooked rice, chopped vegetables, and seaweed sheets, with your teammates. Watch a Demo Video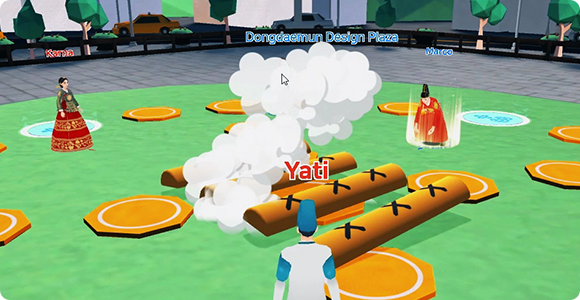 Yunnori

You can play the traditional Korean board game Yunnori on Seoul city hall, using Seoul's famous landmarks (Changdeokgung Place, Seoul Botanic Garden, DDP and Floating Islands) as pawns. Watch a Demo Video
Light your Seoul lantern

You can create a lantern with various symbols of Seoul like N Seoul Tower. You collect items to decorate the lantern by solving a quiz about Seoul and launch it on the Hangang River with your wish written on it. Watch a Demo Video
Features
Group-oriented

A group of

two to six participants

can play the games simultaneously in teams.

Real-time chat

Teammates can communicate real-time through

voice, texts or Emojis

during the games.

Social sharing

Players can store

screen shots of the game results with hashtags

and share the image on social media.
Add-ons
Increase immersion and participation

in virtual events through gamification*.

Extend event promotions and marketing effects


on social media through sharing game photo with hashtags.

Improve teamwork

through team building solutions promoting collaboration and competition among teammates.
Gamification : Gamification is adding game mechanics such as cooperation, competition and rewards into nongame environments to encourage problem solving, to attract interest or to effectively deliver information.
Contact Information
Request for Virtual Seoul Playground
Email: vsp@sto.or.kr