[SCB News] 2022 First-Half SMA Networking Workshop: Bursts of laughter despite a hectic schedule of visiting five venues in a single day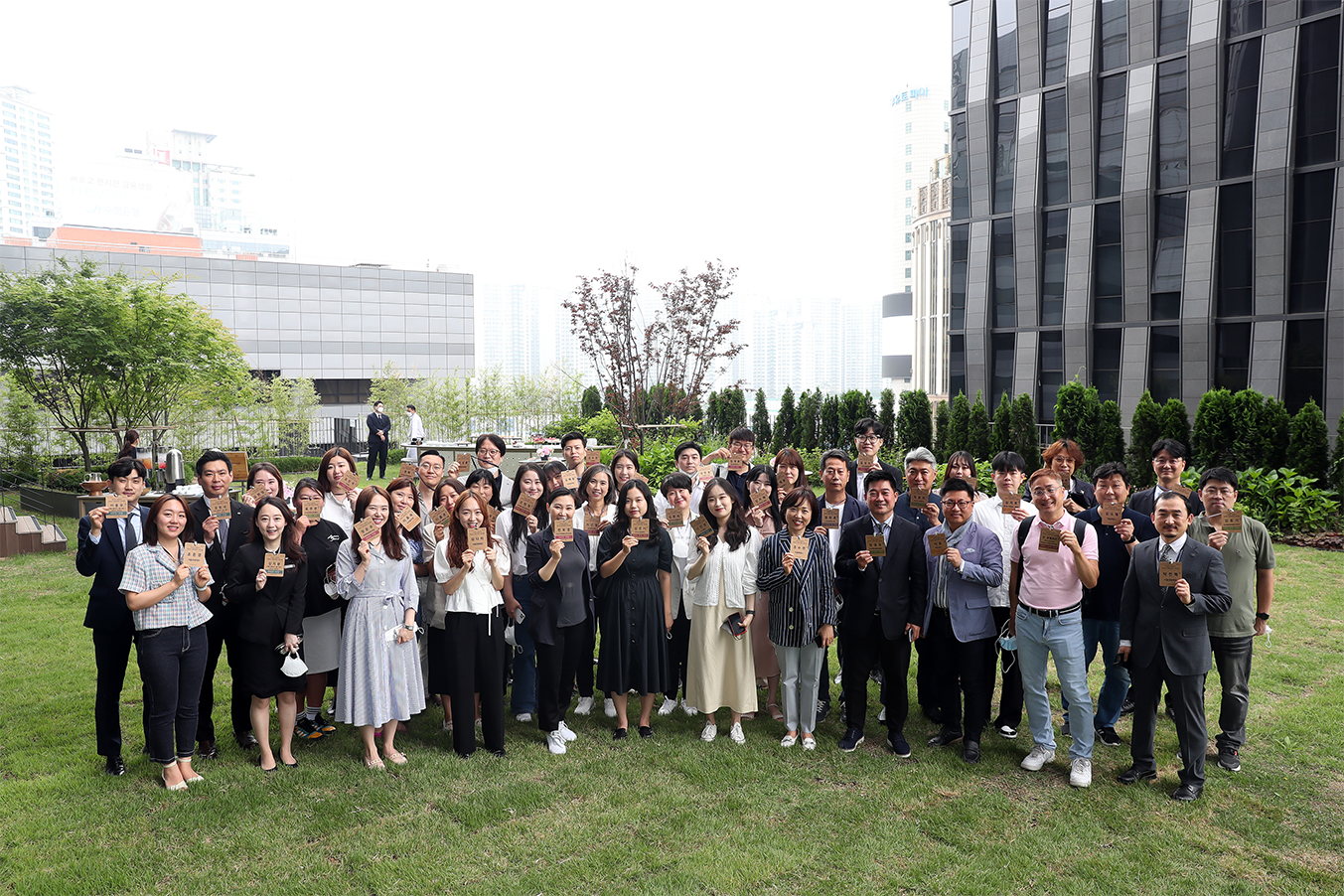 △ Representatives from SMA members taking a group photo in the outdoor garden of Sofitel Ambassador Seoul Hotel
· June 17, visits to five venues including Sofitel Seoul
· Attended by more than 30 representatives from SMA members
· The upcoming endemic era, giving a boost to Seoul's tourism and MICE activity
· STO said, "a gathering in a long time… MICE will rise again"
The Seoul Tourism Organization held the "2022 SMA Networking Workshop" with 30 participants from Seoul MICE Alliance (SMA), a public-private partnership of the Seoul MICE industry, on June 17, 2022. The one-day workshop, offered various activities including a visit to SMA member venues, a networking session as well as an experiential program.
The workshop began at 9:00 am at Sofitel Ambassador Seoul Hotel & Serviced Residences in Songpa-gu, Seoul. During the half-hour registration, attendees spent time getting to know each other and exchanging updated industry information. Divided into four teams, they looked around conference facilities such as Sofitel's Grand Ballroom Vendôme and Concord Room, as well as guest rooms and amenities. They then moved to JW Marriott Hotel Seoul (Seocho-gu) where they had an hour-long tour of meeting and lodging facilities such as the grand ballroom and executive lounge before visiting Samcheonggak(Seongbuk-gu). Samcheonggak and JW Marriott Hotel Seoul are SMA members and have recently renovated their facilities in preparation for the post-pandemic era. Representative MICE venues of Seoul, they also offer programs specifically targeted toward the tourism and MICE industries.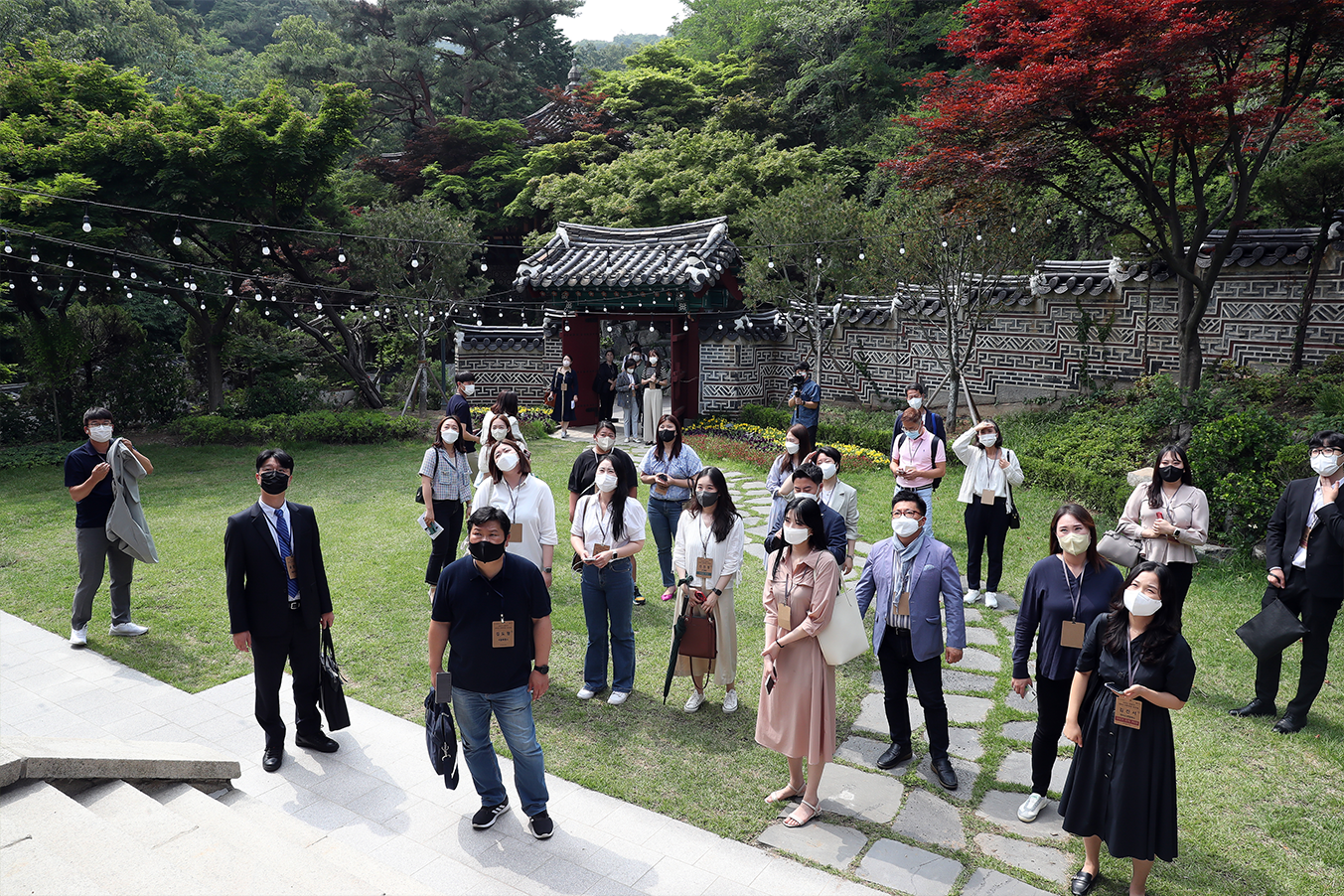 △ Representatives from SMA members are looking around Samcheonggak.
Samcheonggak, often referred to as a "Paradise in the City," has recently been brought to the spotlight as a business venue embodying a new concept. Samcheonggak is a unique traditional art and cultural complex that is scarce in the city center. It features five hanok houses, two pavilions, and three courtyards. In April of this year, Samcheonggak was repurposed to become a venue where people can learn, enjoy and experience traditional Korean culture and arts. After luncheon at Cheongcheondang, the participants took a tour of Ilhwadang, Cheoncheondang, Cheonchudang, and Dongbaekheon.
At the next stop, Korean Stone Art Museum (Seongbuk-gu), the participants were divided into two teams to explore the four-story museum. The museum is the only stone art museum in the world and it displays Korean stone artifacts collected from different places at home and abroad. Various stone sculptures such as Muninseok (stone figures of civil officials), Janggunseok (stone figures of military officers), Dongjaseok (stone figures of child attendants), stone pagodas, and Buddha statues are on display and some of the artifacts have been recovered from Japanese collectors. In addition to Embroidery Hall, Special Exhibition Hall, and a rooftop, the museum has a book cafe, a museum shop, and seminar rooms where various exhibitions, experiential activities, and seminars can be held. A stone garden, a spacious outdoor garden spanning 16,529 ㎡ , creates an exquisite atmosphere for a MICE event held on the rooftop.
The last leg of the tour was Seoul Tourism Plaza (Samil Building, Jongno-gu), the hub of the tourism and MICE industry of Seoul. Seoul Tourism Plaza, which uses 11 floors including a ground floor, is dedicated to four different themes: Communication (Tourism Information Center on the ground floor; Governance (Seoul Tourism Organization, Seoul Tourism & MICE Business Support Center / 5th to 7th floor); Incubating (tourism start-ups on 9th to 10th floor); and Innovation (MICE Play Shop, Visit Seoul Broadcasting Station, Medical Korea Promotion Hall / 11th floor). In addition to studios of varying sizes, the building features conference facilities including a multi-purpose hall with a capacity of 300 people, which can be rented for a fee. SMA members are offered a discount.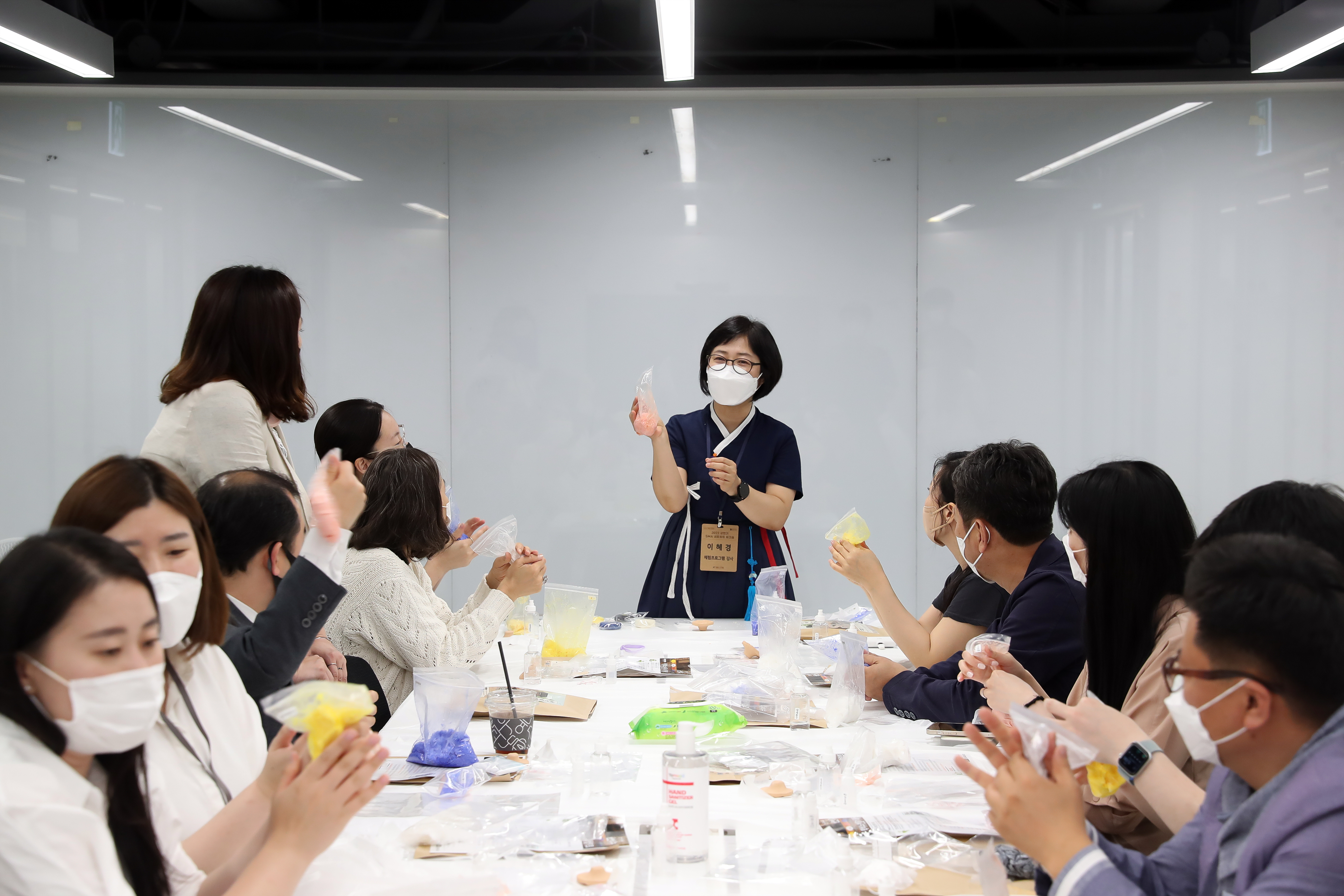 △ Representatives from SMA members participating in an experiential program, 'making naturalsoaps'
After exploring the travelers' café and tenant spaces for tourism-related associations and start-ups, and online media centers, the participants gathered to make natural soap in an experiential program prepared by Namsangol Hanok Village, a Unique Venue member. STO organized the program to provide the participants with an opportunity to consider "sustainability," an essential global issue, in the context of the MICE industry and to connect with other members.
Though the workshop ran in a very tight schedule of visiting five venues of Seoul in a single day, it was conducted smoothly, thanks to the buses provided by a SMA member of MICE Support Division. Min-ji Oh, a manager of Gigachan, a new SMA member, said that "It was really nice to meet with people working in various MICE fields such as tourism, exhibition, and venue."