[SCB News] In the endemic era, what does the MICE industry want? 2022 SMA Leaders Round Table held in May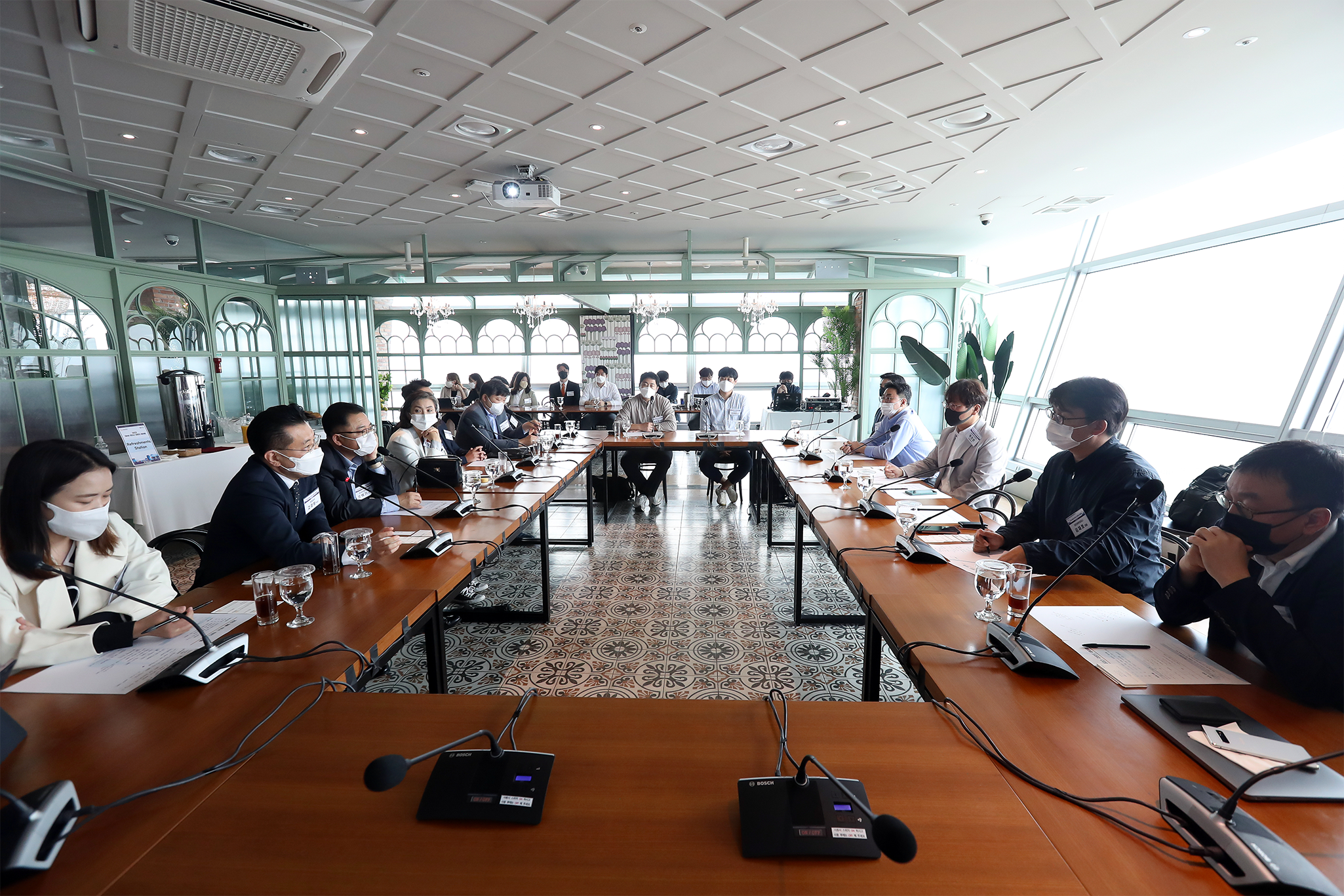 △ Sitting around a round table, representatives of MICE Support Division having a discussion.
· Attended by representatives of 65 SMA members from six divisions
· Demand for support with infrastructure, human resources, promotion…."post-pandemic rebuilding"
· "Desperate need to restore the collapsed infrastructure… Preemptive response to public policies"
· Technical support and information on virtual conferences and online platforms
The Seoul Tourism Organization hosted the "2022 SMA Leaders Round Table" with representatives of 65 members of the Seoul MICE Alliance (SMA) at All Day Fresh Kitchen (Yeouido Branch) for two days from May 18 to 19. The Leaders Round Table brings together the leaders of SMA members to discuss and communicate divisional and cross-divisional agendas regarding SMA operations for the year.
SMA consists of six divisions: MICE Support Division, PCO Division, MICE Facilities Division, Travel Agency Division, Exhibition Division and Unique Venue Division. This year's Leaders Round Table was held for two days, three divisions per day, to collect candid voices of the members in a close-knit setting. The first day discussion was attended by representatives of 39 members from MICE Support Division (14), PCO Division (12), and MICE Facilities Division (13) and the second day 26 from Travel Agency Division (15), Exhibition division (8) and Unique Venue Division (3).
Cross-divisional agenda proposed by the member companies centered around rebuilding the MICE industry that's been devastated by COVID-19. They agreed in unison on the need for simplified departure and arrival procedures including PCR tests for inbound and outbound travelers, for improvements on infrastructure, human resources, promotional activities, and networking as well as for developing concrete action plans to revitalize the MICE industry.
For infrastructure and human resource support, the members emphasized "the need for support in the process of rebuilding the pandemic-wrecked tourism and MICE infrastructure, such as flights, ground transportation arrangements, hotels, performances, and restaurants," and requested STO to "host programs or job fairs to encourage job seekers to have a positive outlook and to seek positions in the MICE industry in order to address the manpower shortage and talent nurturing issues in the industry."
Other areas of discussion included branding campaigns for the MICE industry and online PR enhancements, information sharing among SMA members and greater cross-divisional cooperation. The participants demanded "prompt sharing of relevant public policies to enable nimble response by members to policy change," given the frequent changes in administrative and financial support policies as well as social distancing rules over the past three years.
SMA is a public-private partnership established in June 2011 jointly by the Seoul Metropolitan Government and the Seoul Tourism Organization to promote and support the MICE industry of Seoul. As of June 2022, it has about 300 members covering 10 different MICE sectors including convention centers, hotels, international conference organizers (PCOs), and travel agencies. SMA members have been working together on MICE attraction projects such as joint participation in overseas MICE exhibitions, supporting international organizations in their pre-event site visits to Seoul, and joint hosting of media-initiated familiarization tours.