[MICE Trend] "From virtual to in-person"... Will MICE move toward the endemic era?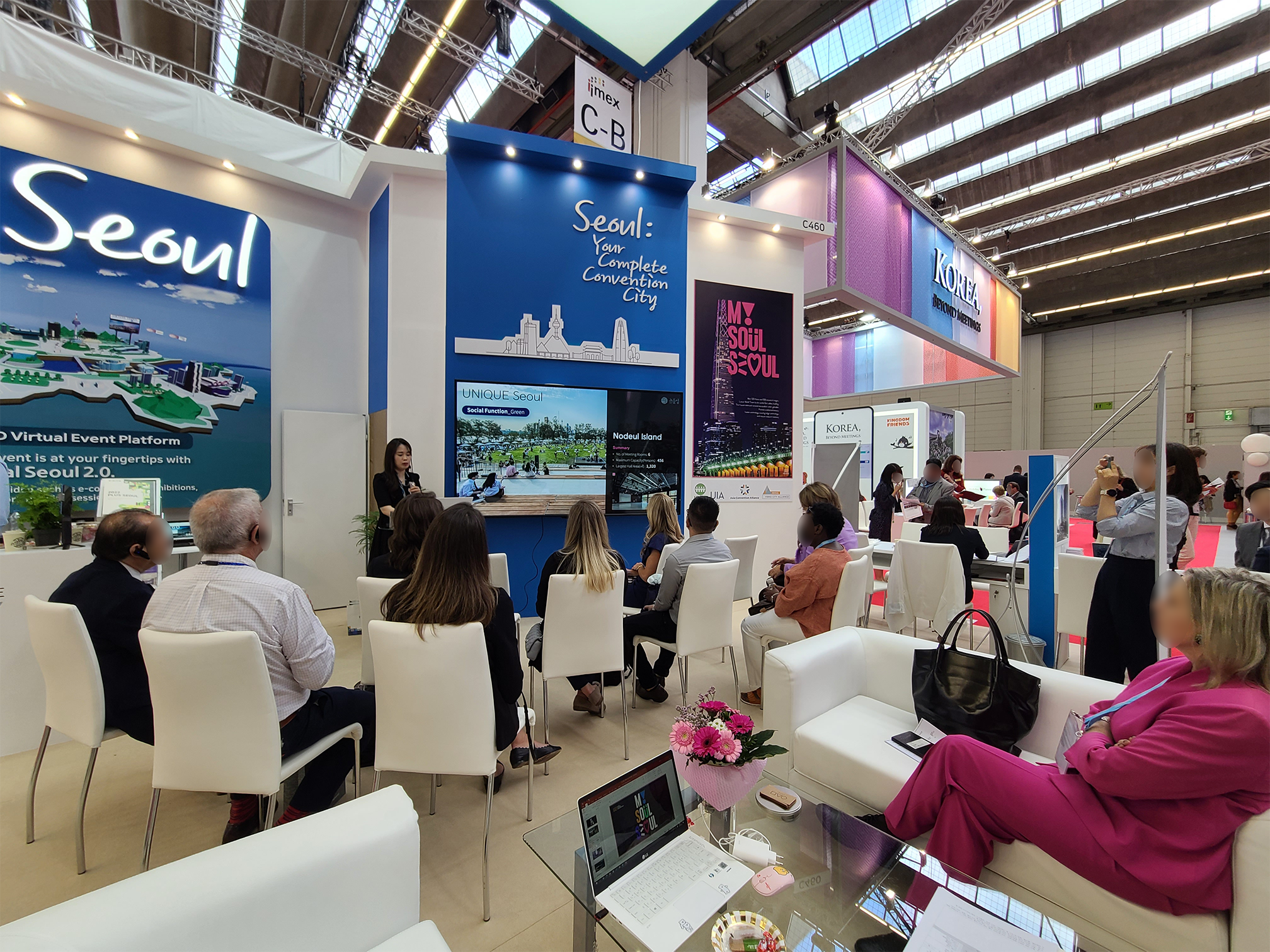 △ Seoul Stand at IMEX Frankfurt 2022
· "No-mask" in-person meetings boomed at IMEX Frankfurt
· "Seoul poised for offline MICE events "for the first time in three years"
· Two years of online and hybrid event expertise, MICE "upgrade"
· "MICE to be reorganized around the MZ generations"
"Long time no see!"
The world's largest MICE exhibition, IMEX (International Exhibition for Incentive Travel, Meetings and Events) held in Frankfurt, Germany from May 29 to June 2, was full of energy and expectations for a shift to the endemic. IMEX, which had been postponed for two years due to the pandemic, has drawn great attention in the lead up to the event as it celebrates its 20th anniversary this year. With the novel virus still lingering, the event brought together 14,000 people from 170 countries around the world and over 70,000 business consultation meetings were conducted. The sheer number of participants and business meetings indicates the high levels of energy that filled the site.
What the participants found most unusual was the fact that they were able to attend the event unmasked. The host city of Frankfurt lifted all restrictions on events from April, one month prior to the event. Participants were not required to submit a proof of vaccine or a proof of a negative test or to wear a mask to enter the event. Nevertheless, event venues were regularly ventilated and disinfected for the safety measures.
Unmasked participants flocked to the Seoul Booth to learn about the city of Seoul, the home of K-culture. The Seoul Tourism Organization conducted on-site marketing activities including business consultation meetings between individual and group buyers and eight members of Seoul MICE Alliance, a public-private partnership.
In particular, Seoul had prepared experiential programs where participants can experience globally popular K-content such as BTS and Squid Game. The events drew great attention from foreign MICE organizers. Participants gathered at the Seoul Booth to participate in K-Culture experience programs, such as dalgona-making, chimaek (chicken & beer) party, signing their names on traditional fans in Hangul, and taking photos with K-pop stars.
An official from the Seoul Tourism Organization in charge of the Seoul Booth said, "As people participated in IMEX Frankfurt 2022 without wearing a mask, they could learn the authentic culture of Korea and the charms of Seoul up close." He added, "I was able to feel that the endemic is drawing near and we could soon hold more of in-person events."
International events such as KBW and APSCC to be held in Seoul
More in-person programs to meet the endemic-induced special demand
Endemic is defined by quarantine experts as a state where infections occur at controllable levels in regions with vaccines and treatments, and the majority of people can have normal daily lives. This certainly does not mean a clean break with COVID-19. For this reason, governments around the world started to lift or ease restrictions on outdoor mask-wearing and large gatherings while maintaining social distancing rules at levels similar to those of the pandemic period. Amid this situation, no restriction on mask-wearing at IMEX was regarded as a symbolic event heralding the beginning of the endemic era.
Expectations for the endemic are not limited to events held on foreign soil. Large-scale international events to be held in Seoul in the second half of this year are set to have more in-person programs, capitalizing on the endemic-induced special demand. The Korea Blockchain Week 2022 (KBW2022), scheduled for August 7-12, is an offline-only event, with 2,800 Koreans and 1,500 foreign participants expected to visit. In addition to offline lectures and seminars, KBW 2022 has been receiving a great deal of attention after it announced the resumption of a pre-pandemic after-party featuring the world's best DJs.
In addition, the 2022 Asia-Pacific Satellite Communications Council (APSCC 2022, October 18-20) are expected to bring 750 foreign participants (1,000 Korean participants) and Asian Australasian Congress of Anaesthesiologists (AACA 2022, November 10-13) and the 11th World Coffee Leaders Forum (WCLF 2022, November 23-26) will likely be attended by more than 1,000 foreigners. Unlike previous events held on a limited scale due to the pandemic, this year's events will feature a variety of offline events.
Experts predict that "meeting will largely be held in a hybrid format and exhibitions offline"
People accustomed to "prevention guidelines" such asmask-wearing and distancing · · ·
"possibility" for a shift to the endemic.
In three years into the pandemic, the MICE industry has officially begun to attract "offline" participants. Online and hybrid events held for the past two years in accordance with social distancing guidelines will likely continue as well. Experts say that MICE events will be upgraded to a higher level starting in the second half of this year.
Hee-gon Hwang, a professor at Hallym University of Graduate Studies, said, "Over riding views of MICE experts are that MICE will undergo a wave of reorganization and meetings will increasingly be held in a hybrid format and exhibitions in an offline format going forward." He added, "In the post-pandemic era, MICE will be held largely in a format preferred by the MZ generations that will play a leading role in the MICE industry with the in put of new and fresh ideas."
Although some voice concerns that it is premature to declare a shift to the endemic, domestic and overseas MICE businesses are gradually shifting from virtual to in-person, increasing the proportion of offline events. People around the world have become accustomed to prevention guidelines such as mask-wearing and distancing throughout the pandemic. As long as voluntary prevention measures such as regular ventilation and disinfection, personal hygiene (protection from droplets), and proper distancing are followed properly, we will be able to declare a shift to the endemic in the MICE industry soon.
Amid a shift to offline, will the MICE platform Virtual Seoul 2.0 evolve into 3.0?
Virtual Seoul, a virtual meeting and exhibition platform developed by the Seoul Tourism Organization in 2020 during the pandemic, was renewed and upgraded to Virtual Seoul 2.0 in November last year. Virtual Seoul 2.0 served its purpose well during the pandemic with its various functions such as 1:1 business matching and video consultation as well as content management system (CMS) that helps users to customize the platform tailored to their event.
There is a plan to upgrade Virtual Seoul to evolve into an essential hybrid meeting solution from a platformd edicated to virtual meetings and events held during the pandemic. Within-person events becoming possible, more MICE organizers are demanding hybrid meetings. However, holding hybrid events means higher budgets and more resources when labor, service and facility costs are all rising. Virtual Seoul 2.0 can be a perfect alternative that MICE organizers and agencies can adopt as a free-of-charge enabler of hybrid meetings. The Seoul Tourism Organization plans to further enhance Virtual Seoul 2.0 as an easy-to-use solution to revitalize in-person MICE events.