[SCB NEWS] Seoul, "world's second most prolific host" of international conferences in 2021 UIA's "International Meeting Statistics Report" … Brussels ranked first and Tokyo third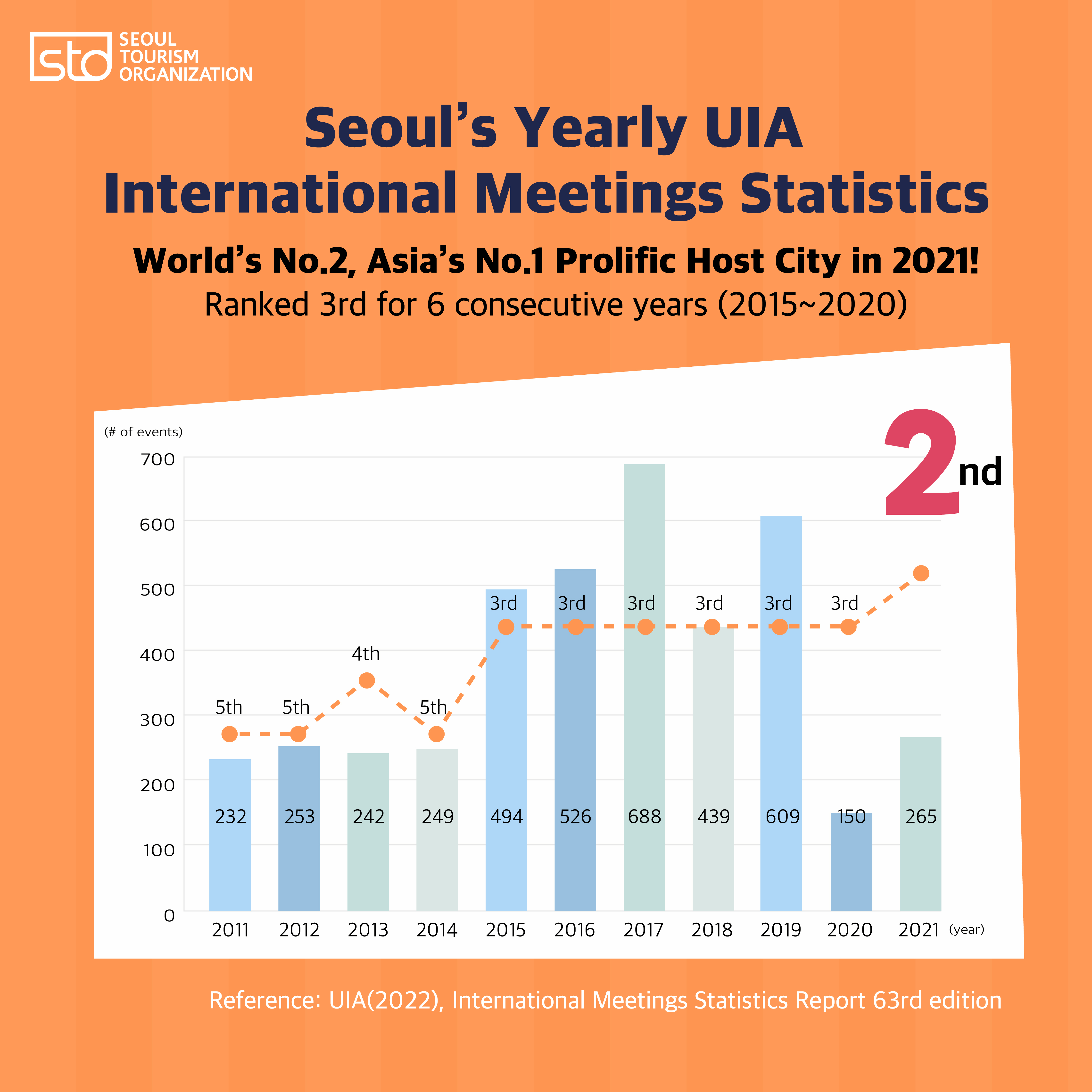 · Overtaking Singapore to become "Asia's No. 1"
· "The safest MICE city" in the pandemic era
· Proving its excellence in IT technology and quarantine
Seoul was named the world's second most prolific host city of international conferences last year. According to the Union of International Associations (UIA), Seoul ranked second in the world and first in Asia in terms of the number of international conferences held in 2021. Being recognized for its excellence in IT technology and quarantine, Seoul became one of the most preferred destinations for MICE events last year when the pandemic was sweeping the world.
Given the pandemic situation, UIA included in its statistics all virtual and hybrid international conferences as well as offline events. Prior to the outbreak of the pandemic, Seoul ranked third for six consecutive years from 2015 to 2020. It is noteworthy that Seoul became the most prolific MICE city, overtaking Singapore that had long been the center of MICE in Asia and beating Tokyo that has newly emerged as a strong competitor.
According to the "International Meeting Statistics Report" released by UIA on June 28, a total of 6,473 international conferences were held in 1,034 cities around the world in 2021, a 52.6% increase from 4,242 in 2020. Of these, 265 international meetings were held in Seoul, up by 115 compared to the previous year.
Seoul's achievement was a result of proactively extending support to MICE companies and taking preparatory actions for safety during the pandemic. The Seoul Metropolitan Government and Seoul Tourism Organization provided greater support to organizers of virtual and hybrid events to help them navigate through the pandemic-induced crisis. They have also been actively promoting "Seoul MICE Safe Zone", a quarantine system to ensure safety in offline events. These efforts culminated in Seoul's selection as the "2021 best MICE city" by Global Traveler, a global business travel magazine, for the seventh consecutive year (2015-2021), in a survey of 300,000 subscribers.
Ki-Yon Kil, president and CEO of the Seoul Tourism Organization, said, "In order to overcome the challenges of the pandemic, we have focused on hosting and promoting virtual and hybrid events. We have also been continuously monitoring MICE industry trends, conducting industry surveys and sharing findings with MICE companies." He stressed, "We will continue to develop various content and projects to help Seoul make a leap forward as the world's best MICE city."
※UIA: Union of International Associations
| | | | |
| --- | --- | --- | --- |
| Rank | City | 2021 | 2020 |
| 1 | Brussels | 319 | 290 (2nd) |
| 2 | Seoul | 265 | 150 (3rd) |
| 3 | Tokyo | 258 | 122 (4th) |
| 4 | Vienna | 195 | 109 (5th) |
| 5 | Paris | 153 | 61 (8th) |