[SCB NEWS] 'Have you ever seen a MICE conference with 90% seller and buyer satisfaction rate? '2022 Seoul MICE Business Day held successfully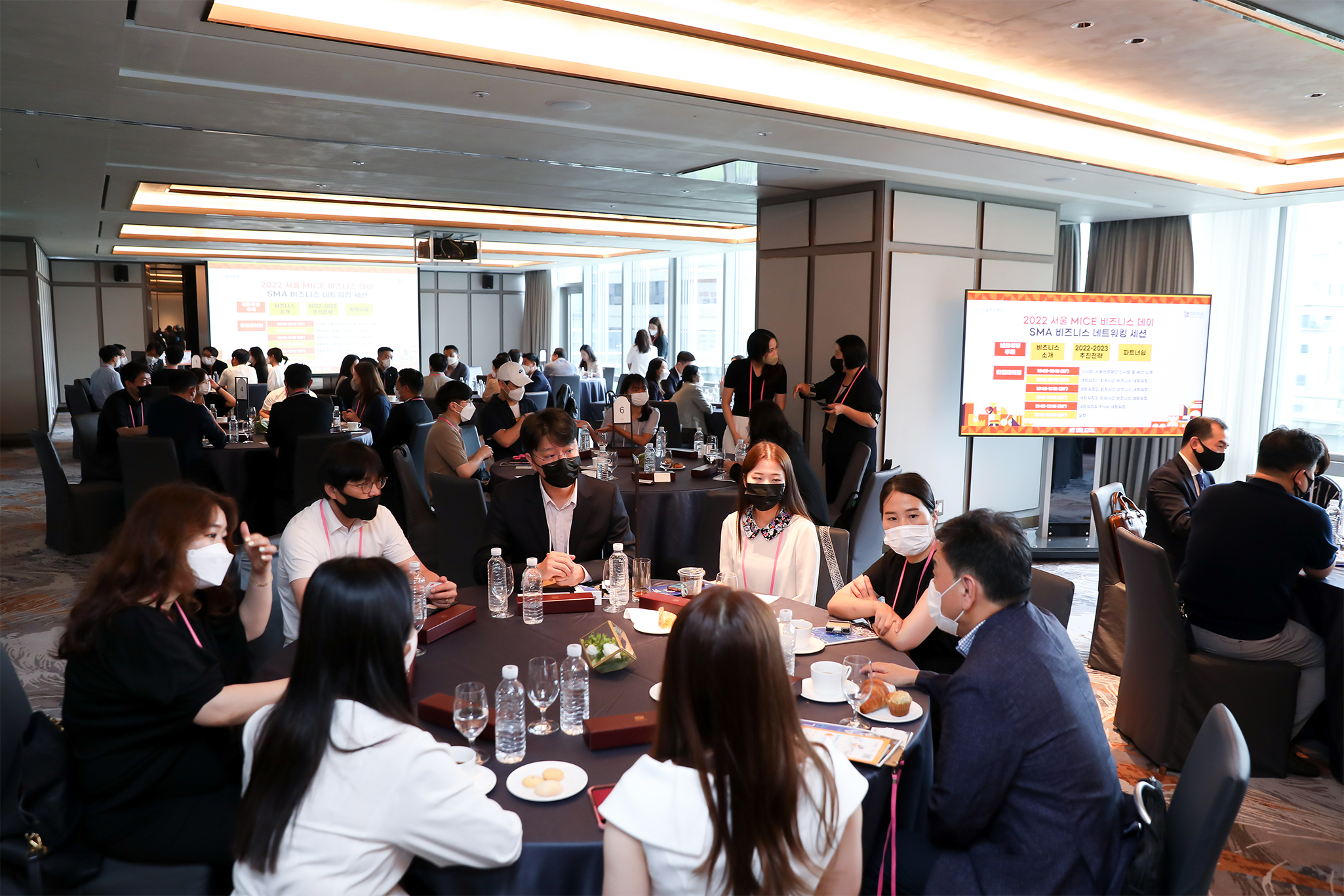 △ Ongoing SMA business networking session
· Total of over 140 participants including 54 SMA members and 58 organizers
· 'Business networking' among SMA members and between SMA members and association clients
· "Successful" business matching and increased communication opportunities with members
2022 Seoul MICE Business Day, a business networking event for companies in the MICE industry, successfully wrapped up with a high satisfaction of sellers and buyers. The networking event saw a record number of business meetings as 140 sellers and buyers conducted over 110 one-on-one consultations during the event.
"Seoul MICE Business Day is part of our efforts to attract and host new MICE events effectively and to provide the MICE industries with opportunities for integrated business and networking," explained Seoul Tourism Organization (STO).
According to Seoul Tourism Organization, the event was held on July 7 at the Josun Palace Seoul Gangnam and attended by a total of 143 participants, including 64 persons from 58 event and meeting organizers, 57 persons from 54 Seoul MCIE Alliance (SMA) members and 22 persons from Korean Society of Association Executives (KSAE). In particular, it held great significance that the Josun Palace Seoul Gangnam, the event venue, recently became a SMA member of the MICE Facility sector.
SMA Business Networking and KSAE Leadership Forum were held simultaneously in the morning. SMA Business Networking was held in the Royal Chamber Hall, and Leadership Forum in the Great Hall. Afternoon sessions included one-on-one consultations between SMA members, the sellers, and organizers (academic clients), the buyers. For the morning session, SMA Business Networking served as a venue for cooperation opportunities between member companies in line with their request to increase communication opportunities among members of other SMA sectors. During the business networking, business trends and insights on partnership establishment were exchanged and shared among SMA members.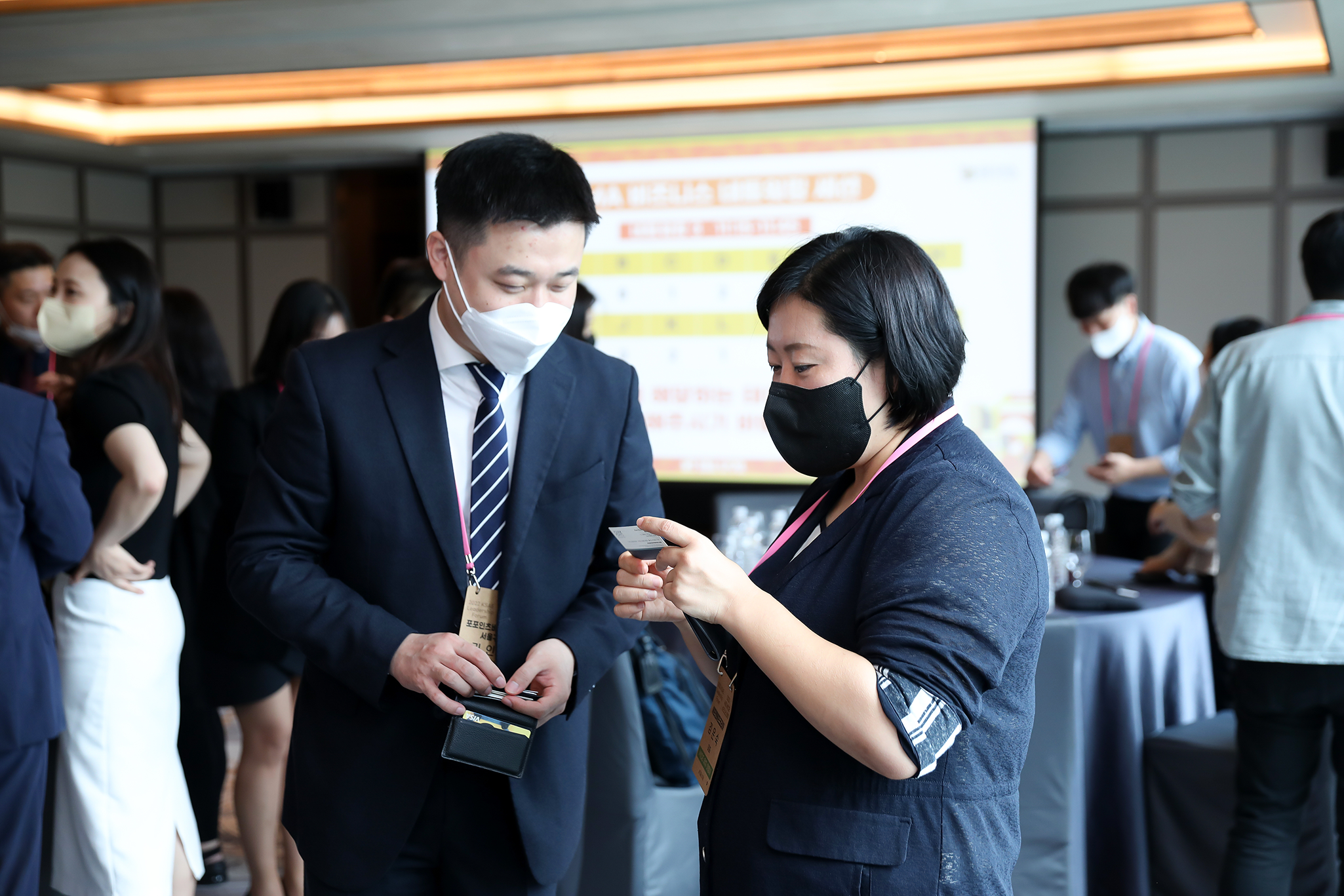 △ SMA members interacting and networking
KSAE Leadership Forum was attended by 60 persons from 57 academic association clients. The forum featured presentations titled 'International Standard Account and the Hearing Industry of Korea' and 'Development of the Machine Tool Industry through SIMTOS, the Exhibition' delivered by Suheon Oh, vice chair of Korean Academy of Audiology and Jaehyeon Park, team leader of Korea Machine Tool Manufactures' Association, respectively.
Of the total participants, 87% of sellers and 92% of buyers said they were satisfied with the event, with 92% and 100% of sellers and buyers stating that they would continue to attend the meeting in the future. Sellers said "all things considered, it was a highly satisfying event, and we want to see more members and companies attend the event." And buyers stated "Hopefully, it will help to create a sustainable network of sellers and buyers where seller information is kept up-to-date for buyers' promotional activities."
"This event will be a starting point for us to support integrated business and practical business opportunities between SMA members and event and meeting organizers at full force," said Jin Hyeok, Park, director of the Seoul Convention Bureau of STO.
The event also distributed name tags made of craft paper instead of using an acrylic case to promote the 'sustainable MICE', an eco-friendly approach. QR codes on the back of the name tag designed to check the consultation schedule were also part of the efforts to reduce printouts.