[MICE Trend] "Come without baggage!" Peek into another face of Seoul... Seoul Hiking Tourism Review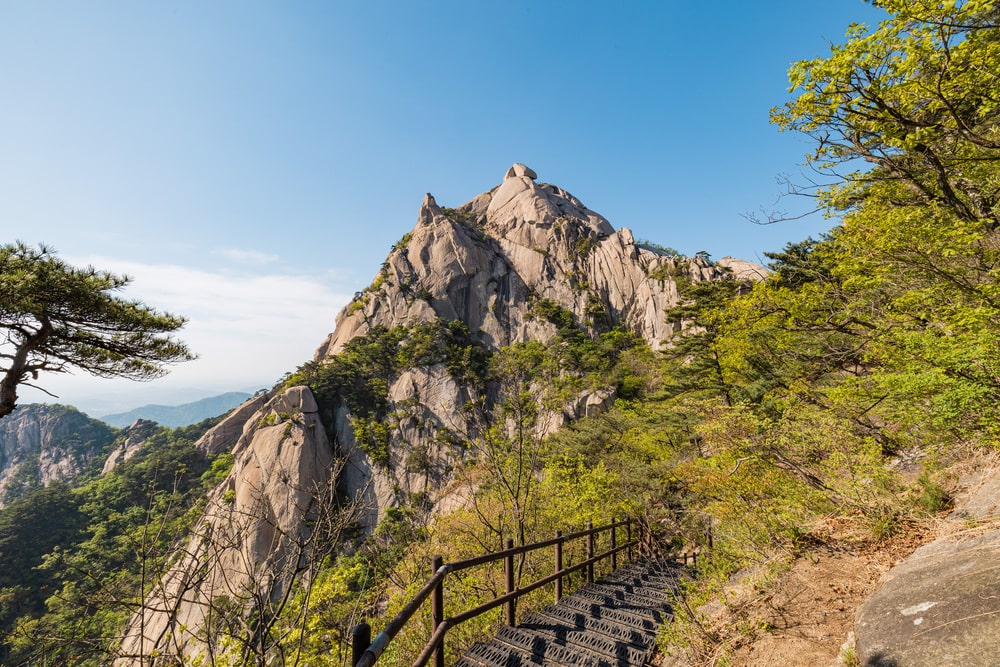 △ A view from Baegundae Peak
Hiking was born in the West as a sport to strengthen the body and the mind by climbing high and rugged mountains. In the 1990s, hiking was first incorporated into tourism and became a part of our culture and education. As hiking is an integral part of Korean culture now, Seoul has recently introduced a new type of tourism product, combining the Western-style hike and Korean hiking culture. This 'city hiking tour' follows a less challenging ridgeline for a couple of hours, taking in the commanding view of the mountains and the city. Foreign MICE participants or independent travelers can rent hiking shoes, clothes, and other necessary supplies. There are even shower booths available. What an excellent option for tourists! The Seoul Tourism Organization visited Seoul City Hiking Tourism Center, which started its test operation this June, and tried hiking in Seoul. <Editor-in-Chief>
· 'Seoul's charms', beautiful national parks in the city center
· Abundant tourist spots with biodiversity, scenic beauty, temples, and heritage sites
· Mountains can be reached in an hour by bus and subway
· Free rental of hiking shoes and clothes to foreign visitors, and even 'shower' is available
What comes to your mind when you think of Seoul? The capital city of the Republic of Korea, the hustle and bustle, subways, must-visit restaurants, apartments, skyscrapers, etc. Are these all you can think of? Seoul is truly a fast-paced, efficient city. However, it is also blessed with the beautiful natural environment, which was the reason why it became a capital city. (Mountains, where you can go hiking or trekking, are scattered across the city. This natural environment of Seoul provides the optimal condition to accommodate the post-COVID changes in tourism trends.)
Visitors to Seoul mention, as one of the memorable things, that there are more mountains than they had expected. Wherever you go in Seoul, you will see hills or mountains. Those landscape features brought about Seoul's winding roads with a lot of tunnels. As a result, Seoul has a multifaceted appeal, constantly changing depending on when and where you view it. It makes Seoul a dynamic city to enjoy.
There are indeed many mountains in Seoul. The old capital city of Hanyang, today's Jongro, is surrounded by mountains on the north, east, south, and west - Naksan (125m), Inwangsan (338.2m), Namsan(270.85m), and Bugaksan(342m) respectively. Besides, there are other mountains of different heights and ruggedness: Bukhansan(836m), Gwanaksan(629m), Dobongsan(740m), Suraksan(641m), Buramsan(510m), Guryongsan(306m), Umyeonsan(293m), and Achasan(296m).
Bukhansan, in particular, is a national park that boasts biodiversity, places of scenic beauty, temples, and heritage sites. It is rare for such a big mountain, a national park, to be located inside a city. Many citizens visit Bukhansan. With almost 5 million visitors annually, Bukhansan has the most visitors per square meter among the national parks. Do you think a national park is too far away to visit? It can be reached within one hour using public transportations like buses and subways.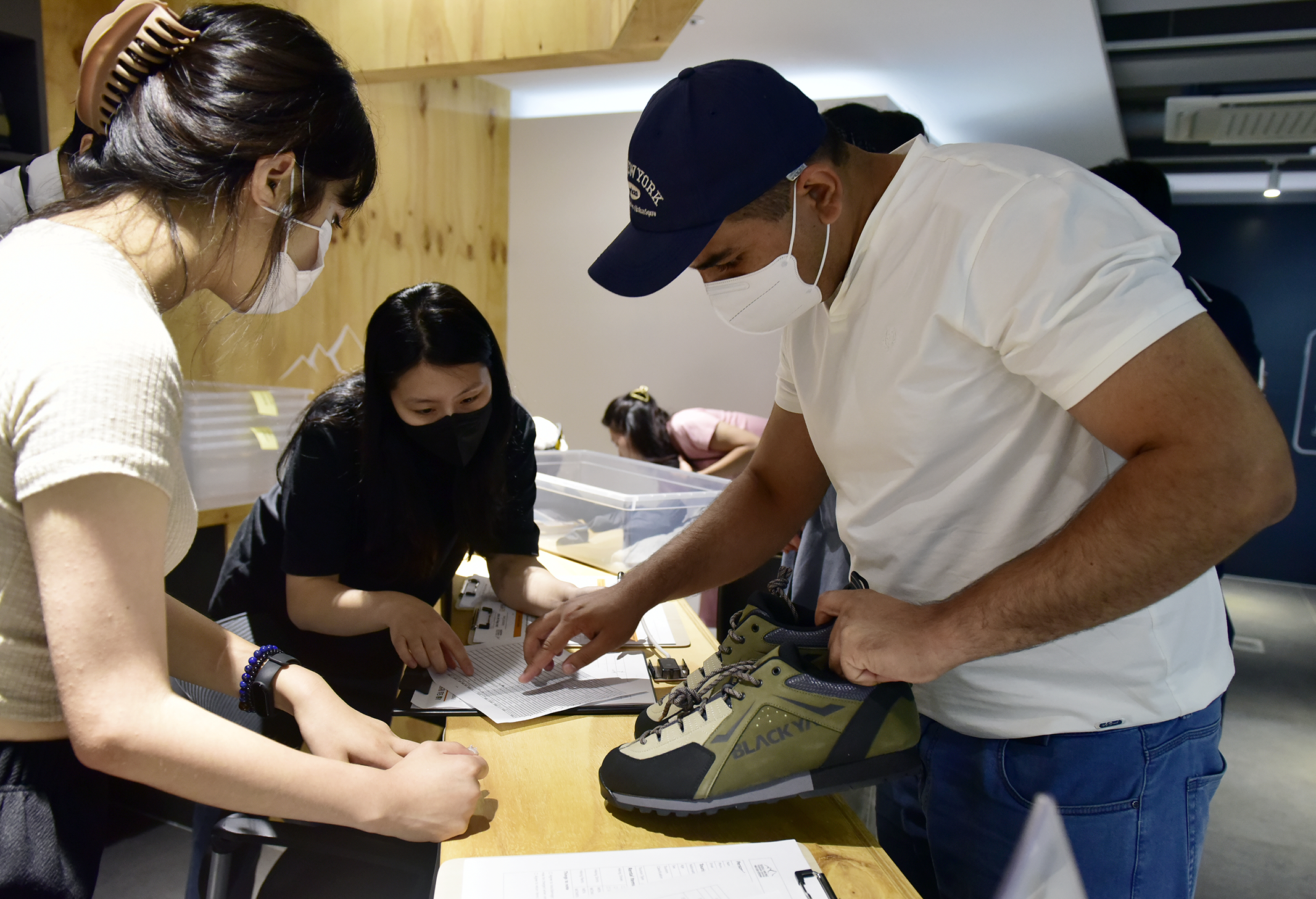 △ Hikers visiting the Seoul Hiking Tourism Center
Seoul City Hiking Tourism Center rents out hiking clothes and shoes for free to foreigners who wish to hike. MICE event participants may visit the Center after their events and enjoy hiking. Visitors can use the free locker for small personal items and leave their sizable luggage at the baggage drop service (for a fee). There is a shower facility. Visitors, however, need to bring their own towels and underwear. English, Japanese and Chinese guides are available, and there is a lounge area for rest at the Center.
Visitors are encouraged to book the hiking clothes and shoes online (seoulhiking.or.kr) at least two days in advance to make sure your size is available. After confirming the identity with a passport or green card, the staff will hand over the hiking supplies. Do not forget to take a picture at the photo zone with Bukhansan as a background. Korean mountains are rugged with rocks, and a large section of trails is steep. If you aim to reach the top, hiking shoes are a must. You should bear this in mind if you want to enjoy 'hiking' the mountain instead of trekking, which means walking on a flatland. There is also "Dulle-gil," a trekking trail circumnavigating the mountain. You can choose the course that fits your strength and schedule.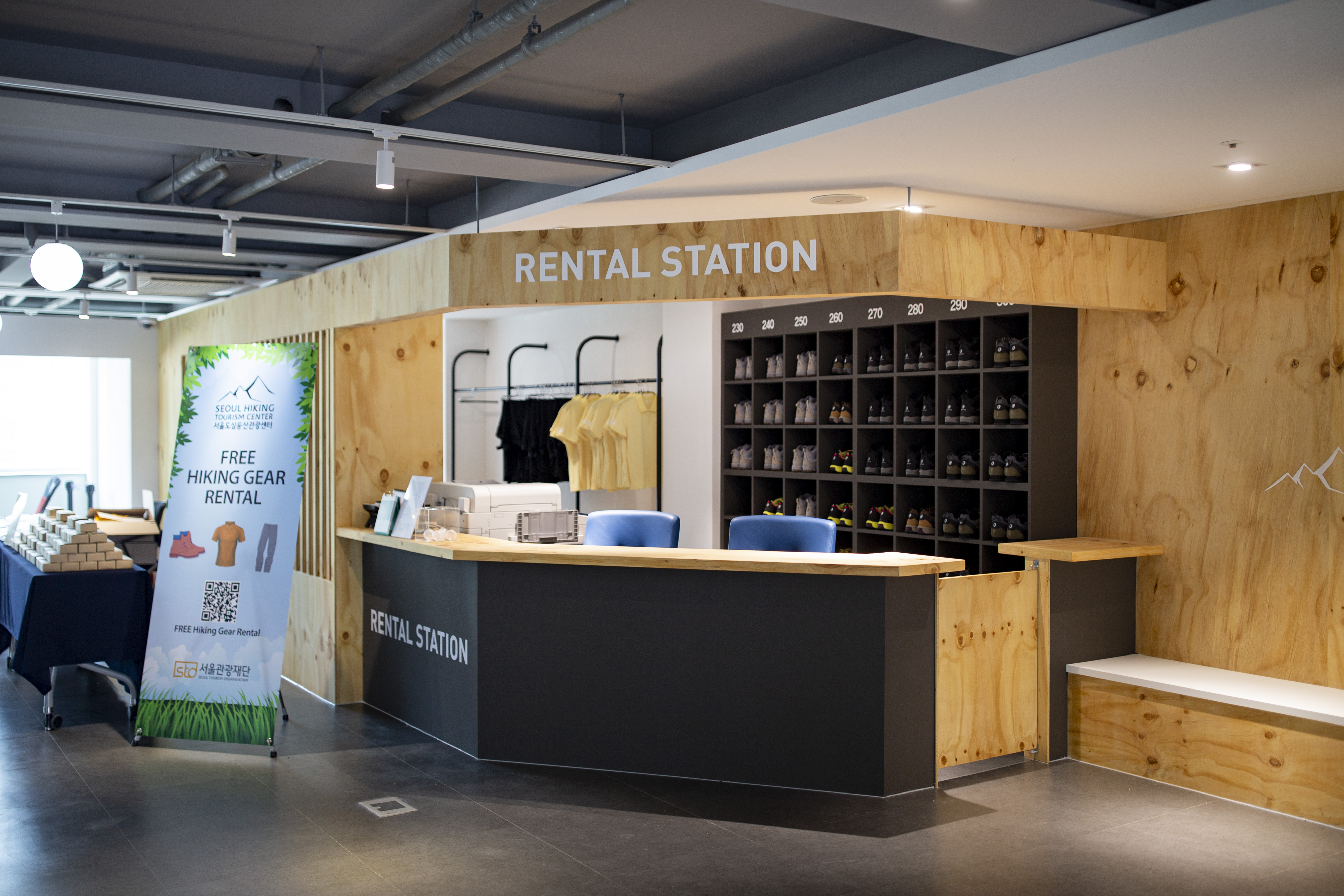 △ Rental service at the Seoul Hiking Tourism Center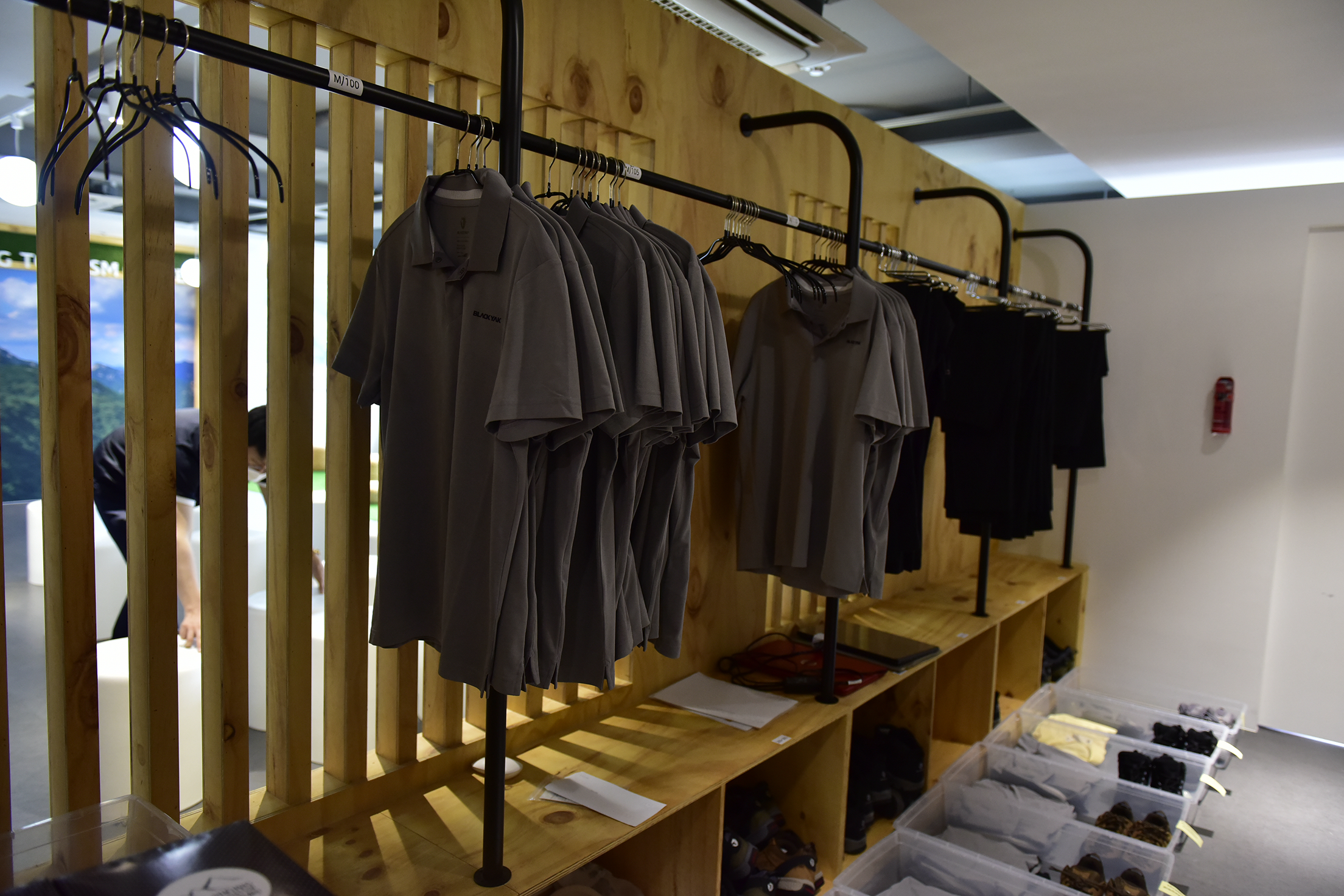 △ Hiking supplies for rent at the Seoul Hiking Tourism Center
The Uzbeks who experienced the city hiking program were surprised to find such an entertaining service. One of them asked how this service came to be. Hiking clothes and shoes rental service started after the Seoul Tourism Organization and the sports brand Black Yak signed an MOU in March to develop hiking into a tourism content.
More visitors are using the service by the day. Min-Chan Kim, the manager of STO, anticipates more visitors will use the Center's service in the fall. The Seoul City Hiking Tourism Center is located near Exit 2 of Bukhansan Ui Station. There is a discussion about setting up the Centers at Inwangsan, Dobongsan, and Bukaksan. There is an effort to develop tourist content with forest specialists for something beyond a simple trail guide. Expanding multi-language services is also in the plan.
<Seoul Hiking Tourism Center>
□ Address: 5F, 52 Samyang-ro 173-gil, Gangbuk-gu, Seoul (5minute walk from Exit 2, Bukhansan Ui Station)
□ Operating hour: Tuesday ~ Friday, Weekends 9:00~18:00, Closed on Mondays
□ English, Japanese, and Chinese guide available
□ Contact 1533-2608
□ For more information http://www.seoulhiking.or.kr/