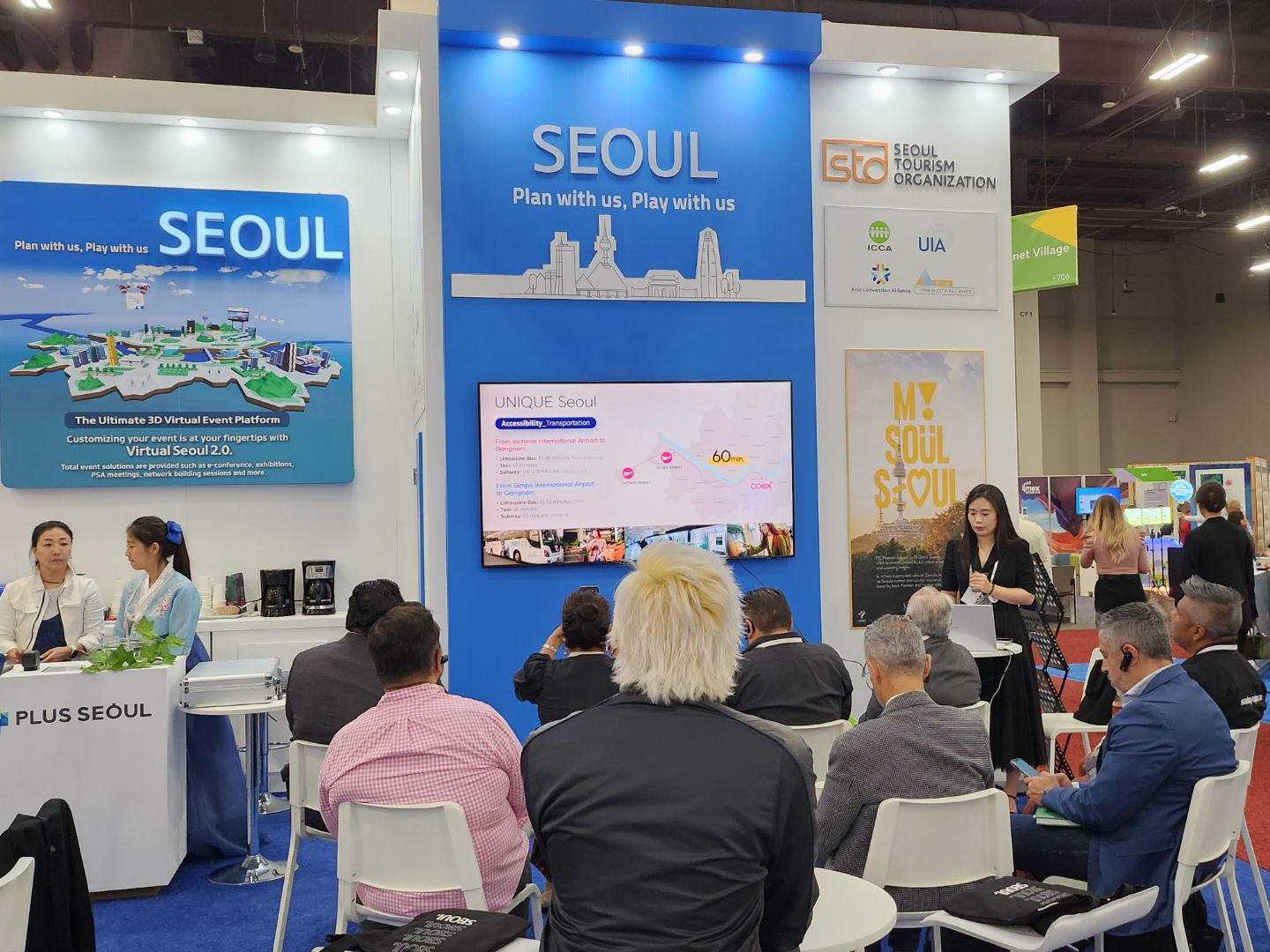 △ STO Booth at IMEX America 2022
The Seoul Tourism Organization (STO) are ramping up preemptive actions this year to render support for the revitalization of the MICE industry devastated by the COVID-19 pandemic while actively participating in overseas MICE exhibitions to explore the latest information on the global MICE market. STO has been taking part in a number of global exhibitions starting from the IMEX Frankfurt 2022 held in Frankfurt last May, where it operated an exclusive booth, in a bid to strengthen Seoul's global competitiveness as an "attractive MICE city." "These aggressive in-person marketing activities targeting domestic and overseas MICE markets are designed to demonstrate MICE buyers and industry leaders why they have to choose Seoul as a MICE destination amid the impending transition to the endemic phase," said an STO official.
With a spectacular booth at the IMEX Frankfurt 2022, STO held a variety of events jointly with 8 members from Seoul MICE Alliance (SMA) and delivered presentations to promote the diverse aspects of Seoul and its support measures. Through business meetings with MICE buyers, the organization collected information on latest trends of the new normal MICE and discovered new demands, while strengthening global partnerships with major MICE organizations.
Consequently, the on-site PSA meetings led to a total of 229 in-person meetings including 62 individual buyer meetings with STO and 167 individual buyer meetings with SMA. SMA members participating in the on-site consultations including the Grand Hyatt Seoul and Lotte Hotels & Resorts gave a "full score (5 out of 5)" to the "willingness to re-participate" in the satisfactory survey, providing a positive review to the organization. "The results are in line with the IMEX Frankfurt 2022's slogan of 'the heartbeat of the global business events community', and we served as priming water for the revitalization of the Seoul's MICE industry," STO said.
Following the IMEX Frankfurt 2022, STO also participated in the M&C Connection and IT&CM Asia in August and September, respectively. At M&C Connection, STO participated for differentiated networking opportunities including business consultations between corporate meeting and incentive buyers and sellers and active team-building programs. Seoul also attended a ceremony for the M&C Asia Stella Awards 2022 for winning the "Best Conference and Exhibitions City (Asia)." STO also attended the IT&CM Asia where they focused on discovering new demand for potential incentive travels and international conferences and had over 30 in-depth business meetings in total.
In the meantime, Seoul is attending the IMEX America 2022, the largest trade show in North America. The MICE Bureau team and 8 SMA members hold a multitude of programs to catch the eyes of the attendees implementing a growing popularity of K-content in America and around the world. The number of booth presentations will also be quadrupled as STO plans to further strengthen Seoul's competitiveness as a global MICE destination.
"The COVID-19 pandemic is causing an exponential surge in demand for digital technology. This year, as we're nearing an endemic stage, we will take more preemptive measures, including in-person marketing activities at global MICE exhibitions, to enhance Seoul's position as an attractive MICE destination," said Jin Hyeok Park, director of the Seoul Convention Bureau.