[SCB NEWS] Opening Ceremony Successfully Held for the Seoul Hiking Tourism Center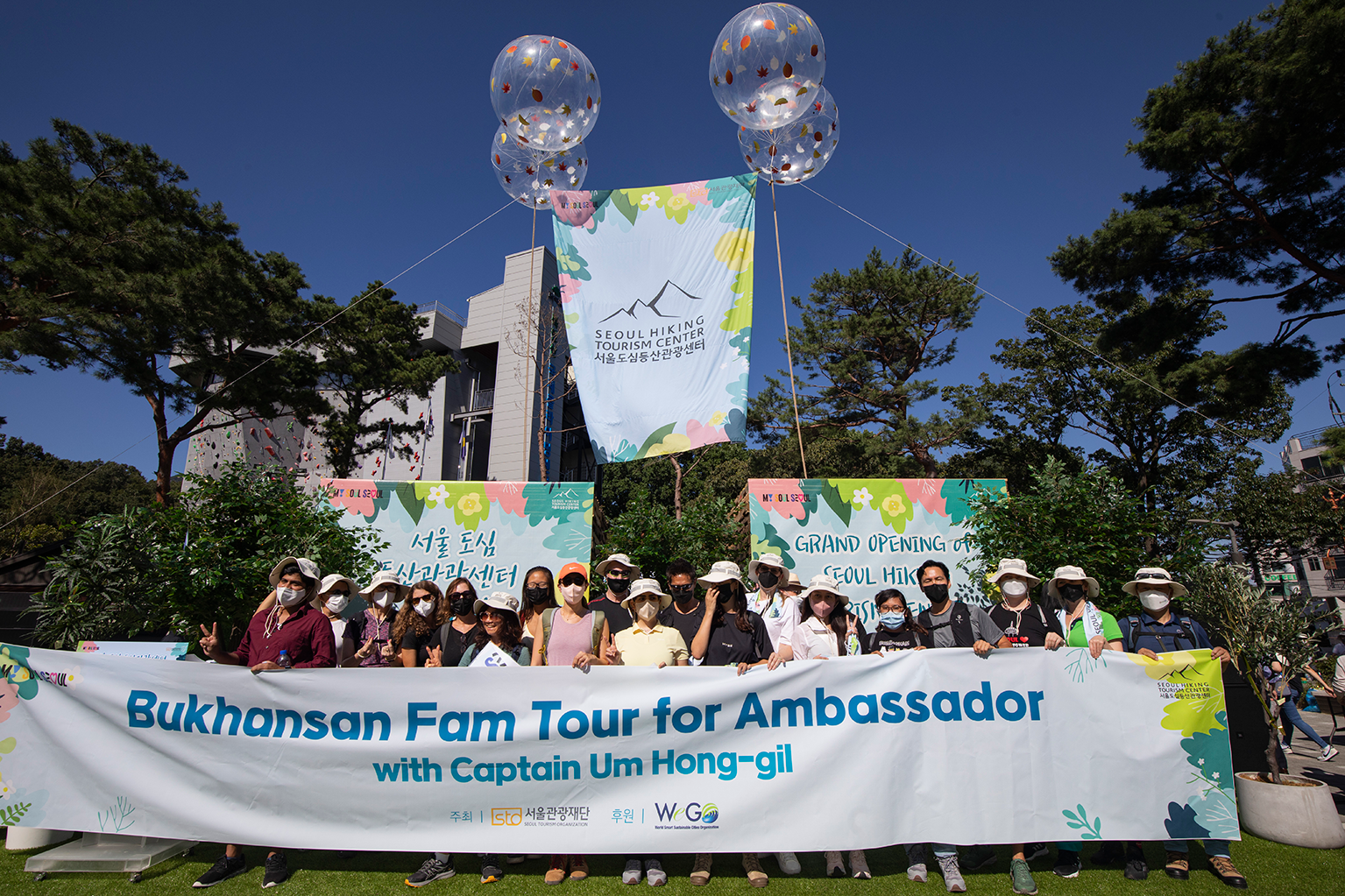 △ Foreign participants taking a commemorative photo after 2,022m hiking challenge
· About 200 participants including ambassadors from various countries
· Mayor of Seoul Se-hoon Oh, mountaineer Hong-gil Um, and other delegates explored Bukhansan Mountain
· "Seoul's beautiful mountains will become foreigners' favorite hiking trails soon"
The Seoul Tourism Organization officially opened the Seoul Hiking Tourism Center (Ui-dong, Gangbuk-gu) following the opening ceremony on Sept. 1st. The center, which started its test operation in June, has staff who provide guide information on hiking courses in multiple languages. Foreign tourists can visit the center and rent a collection of hiking gear including clothes and boots for free. The Seoul Hiking Tourism Center is conveniently located near Bukhansan Ui Station.
About 200 delegates attended the opening ceremony including Mayor of Seoul Se-hoon Oh and ambassadors to Korea from Egypt, Colombia, and Estonia. Prior to the event, the guests were given a guided tour of the center. The event also featured a large maple leaf balloon flying performance against the backdrop of the nature-friendly stage constructed under the theme of "hiking tourism." The participating ambassadors to Korea showed interest in the center specializing in hiking tourism and services that cannot be found in any other countries. The lounge of the center with breathtaking views overlooking Bukhansan Mountain also caught the attention of the participants.
Participants including Mayor Se-hoon Oh and ambassadors, who attended the side events, hiked Bukhansan Mountain with mountaineer Um Hong-gil. They explored a number of areas from Ui-dong Square to Bukhansan Mountain, an urban national park, to discover the charm of mountains in the city and their possibilities as tourism content.
Meanwhile, 27 foreign hikers took part in the launching ceremony on the day of the 2022m Seoul Hiking Challenge and climbed up to Yeongbong Peak of Bukhansan Mountain. The hiking challenge was a competition that encouraged participants to hike at least 2,022 meters in 45 mountains (11,789 meters in total height) including Bukhansan, Bukaksan, and Inwangsan mountains in downtown Seoul by the end of this year.
"Seoul has a lot of beautiful mountains, but the difficulty in getting the proper hiking gear prevented me from exploring them. The new rental service offered by the Seoul Hiking Tourism Center came in very handy. I also want to complete the hiking challenge by the end of the year," said Christina Too, a Malaysian challenge participant.
"With the opening of the center, I'm confident that the beautiful mountains in Seoul will be full of foreign hikers in the near future. The Seoul Tourism Organization will continue to diversify the tourism content that will lead the tourism in Seoul by actively exploring the charm of the city," said Ki-yon Kil, president & CEO of STO.