[MICE Trend] 'Some place in between memories and imaginations...' Seoul Unique Venue and urban regeneration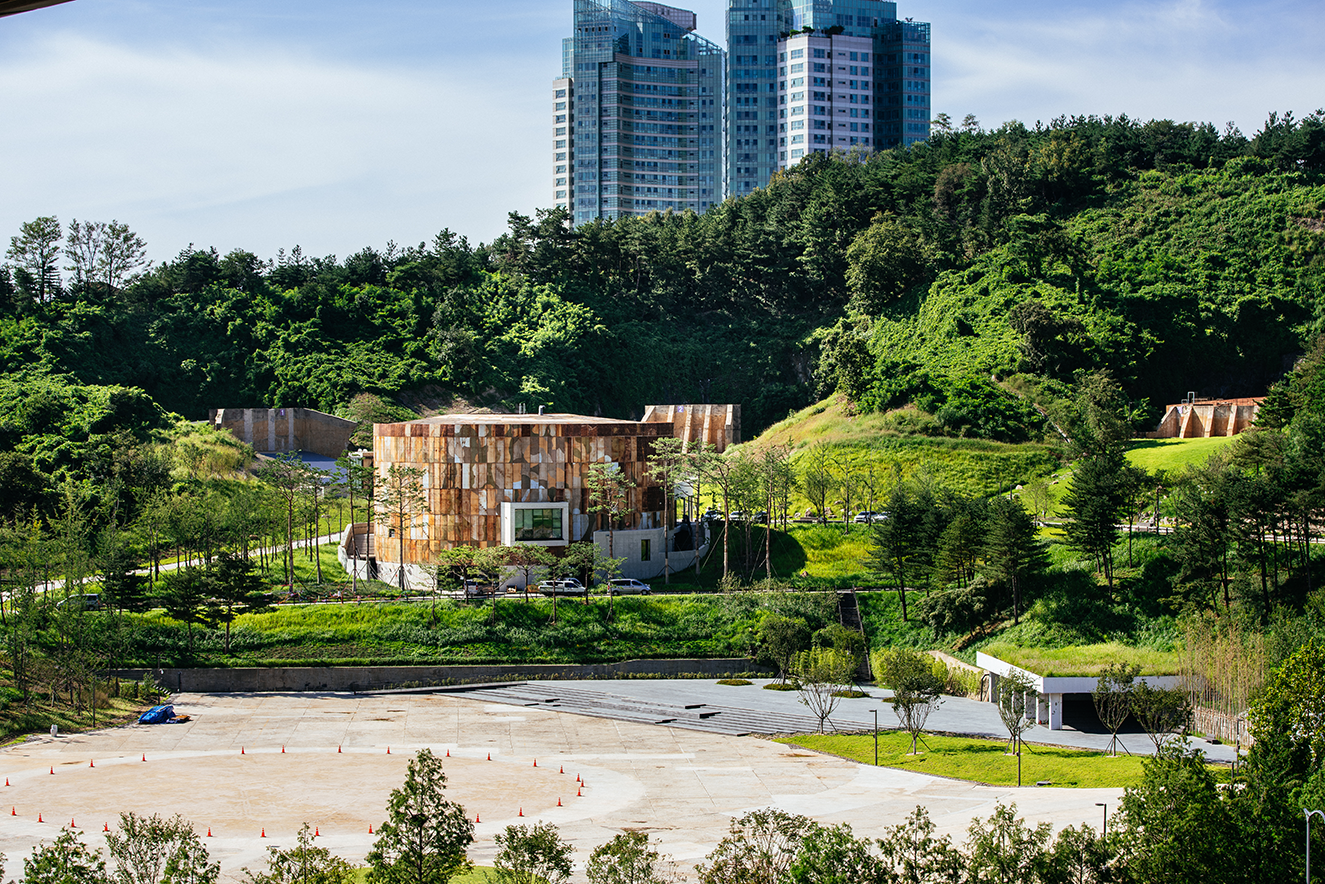 △ Front view of Mapo Oil Tank Culture Park (provided by Oil Tank Culture Park)
· 'Cultural platform' revitalizes a declining city
· Oil Tank Culture Park, an oil storage base turns into a 'cultural space'
· Reinterpreted as an exhibition venue while preserving its original identity
· "Walkerhill Show," a former cradle of Korea's performance culture
· Reborn with immersive media art exhibitions starting with the Klimt exhibit
Urban regeneration is the process of transforming parts of a city being unused due to population loss or housing deterioration and giving them a new form and purpose. One common example is redevelopment or new town projects. A recent trend in urban regeneration is to attract people and revitalize a commercial district with a cultural platform. Indeed, a wonderful building is of no use if there's no one on the street to visit it.
Reinterpreting old and forgotten spaces is one method of urban regeneration. Changing people's perspectives on these spaces while preserving their historical identity can create new areas where the past and present coexist. Those who remember the past will blissfully get lost in memories, and others will get lost in their imagination.
Among them, two sites have recently become popular among citizens for their dramatic changes. They are Oil Tank Culture Park located in Mapo District and Théâtre des Lumières at Grand Walkerhill Seoul Hotel in Gwangjin District, Seoul.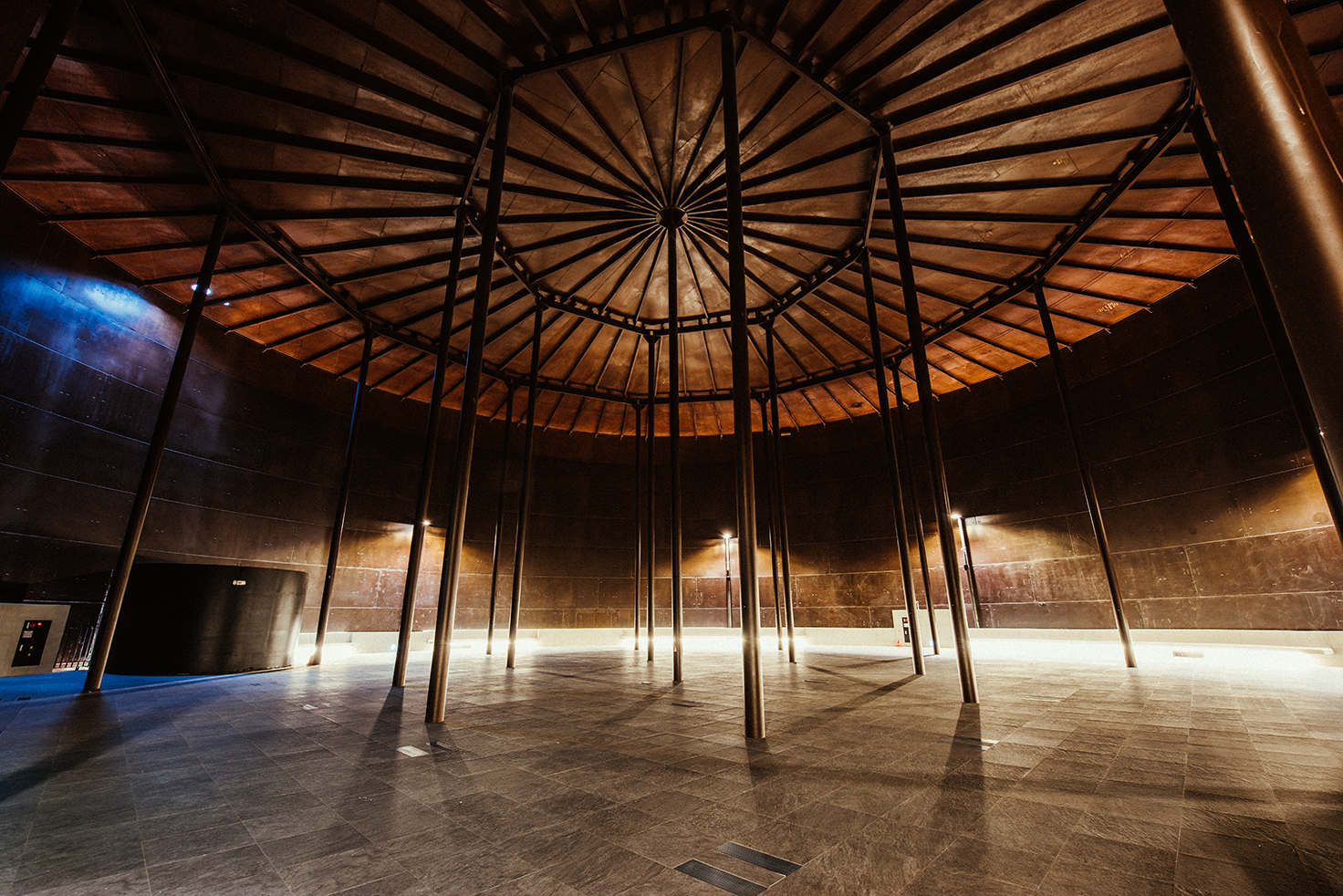 △ Inside T4 Cultural Complex (provided by Oil Tank Culture Park)
Oil Tank Culture Park 'with the help of citizens'
In 2017, a secret space was finally revealed to the public. Mapo Oil Depot, an oil storage facility set up in 1976, returned to citizens as a cultural park. What is it that opened its tightly shut doors?
The Korean government constructed large oil storage tanks amid an oil crisis in the 1970s. They were a first-class security facility that stored about 70 million liters of oil, an amount enough for Seoul residents to consume for a month. Of course, they were restricted to the public. In the run-up to the 2002 World Cup, safety issues arose, and the facility was closed following the government's decision to relocate it. Since then, it remained abandoned for a decade without any special use.
In 2013, Seoul city hosted an idea contest for citizens and planned to transform it into a cultural complex with a direction and purpose decided based on the citizens' ideas. A series of private sector-led meetings attended by design advisory committees, working groups and expedition groups were held to implement the regeneration project through citizen participation and cooperation at every stage from space design to content selection. Seoul city provided citizens with the opportunity to participate, and the citizens presented their ideas. The project was praised for breaking away from the previous one-sided urban regeneration projects led by the government and suggesting a direction for community-driven urban renewal.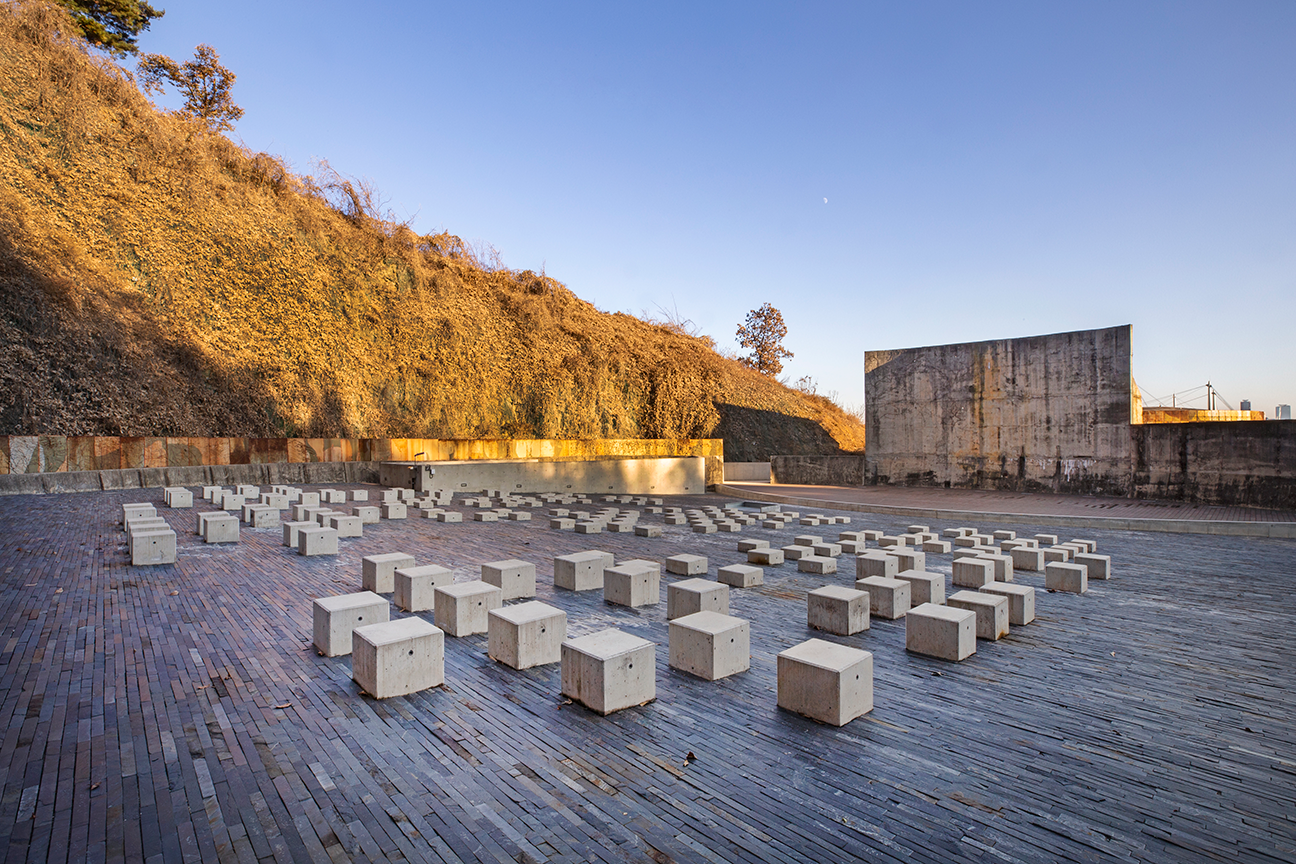 △ T2 Outdoor Stage (provided by Oil Tank Culture Park)
When the Oil Tank Culture Park was revealed to the public, many citizens were thrilled that an industrial facility for oil and construction was transformed into an eco-friendly culture park that focuses on culture, art, and environment. The exterior materials and iron plates of the oil storage tanks were disassembled and replaced with glass walls and ceilings which allow visitors to appreciate the view of the changing seasons. Diesel storage tanks were completely dismantled and turned into an outdoor performance venue (Tank two). With its original identity fully preserved, tank three retains the steep stairs along the steel plates and oil flow meters to help visitors learn about the historic background and the economic situations of the time.
The interior of tank four used to store kerosene is completely preserved. With its distinctive dark and resounding landscape, it is used for performances and exhibitions. Tank five, which also stored kerosene, was reborn as a place consisting of the Video Media Hall on the first floor and Story Hall on the second floor for special exhibitions and archives.
No 'useless' things are found in the Oil Tank Culture Park. From pillars, rust on iron to abandoned stones scattered around the tanks, all of them are essential elements that complete the cultural park. Transforming the useless into the useful was possible by the citizens' participation and the enlightened city which viewed the past as not something to throw away but to cherish. Thanks to such a view, the Oil Tank Culture Park is now beloved as a place where people can share their thoughts and imagination with one another.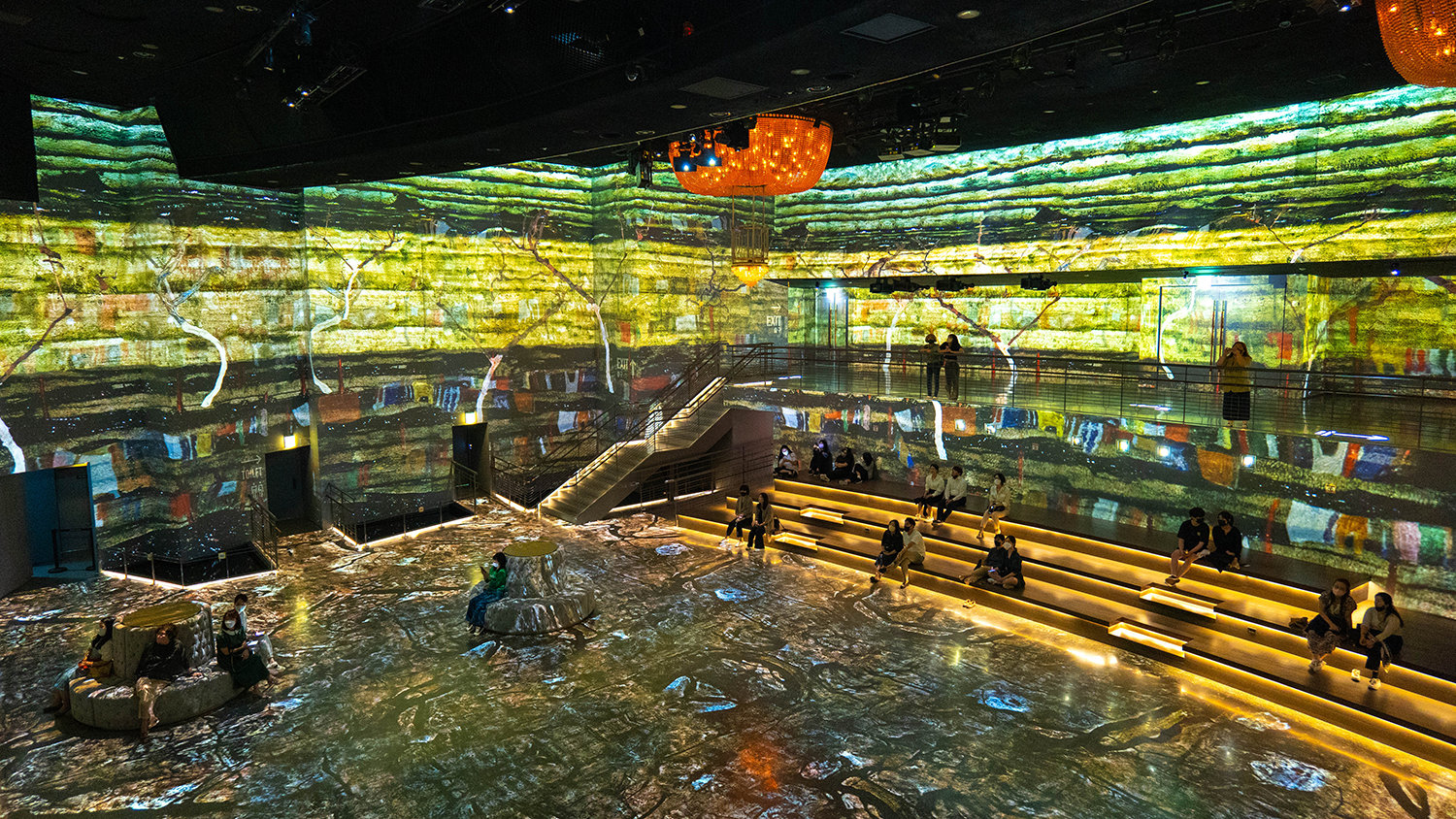 △ Indoor exhibition at Théâtre des Lumières
'Unfamiliar experience,' Théâtre des Lumières
The second cultural regeneration site to be introduced is "Théâtre des Lumières." Théâtre des Lumières is an immersive exhibition opened in May at Grand Walkerhill Seoul Hotel. It is the second project of the immersive exhibition 'Lumières series,' following 'Bunker des Lumières' in Jeju, which received enthusiastic responses from visitors.
Upon entering the Théâtre des Lumières, visitors will be surprised by the overwhelming scale of the theatre. Occupying a total area of 3,305 m2 with a height of up to 21 m, the video and resounding music instantly captivate visitors' eyes and ears. In addition, HD projectors and servers to implement more than 3,000 HD licensed images, speakers, audio/video automation systems, 3D sound, and other advanced technologies are combined for 'projection mapping techniques (the art of using projectors to map light onto any surface, turning common 3D objects into interactive displays)' to offer visitors an experience they've never had before.
The first exhibition of the Théâtre des Lumières is 'Gustav Klimt, Gold in Motion.' Austrian art master Gustav Klimt's artworks such as 'Judith (1901)', 'The Kiss (1908)', and 'The Tree of Life (1905-1909)' are projected onto walls, columns, and even floors, putting the visitors under the illusion that the entire space is moving. Especially, when the 'Tree of Life' grows and spreads its branches in front of the audience, it becomes a real living tree that wriggles in their mind.
In addition to Klimt, the exhibition also presents works by major Viennese artists such as Hans Makart, Otto Wagner, and Egon Schiele for 30 minutes, followed by 'Yves Klein, The Infinite Blue (10 minutes)' which focuses on artist Yves Klein, one of the most influential figures in the 20th century for her anthropometry paintings. In the contemporary exhibition hall, visitors can also find other sequences: 'Verse' and 'Memories.'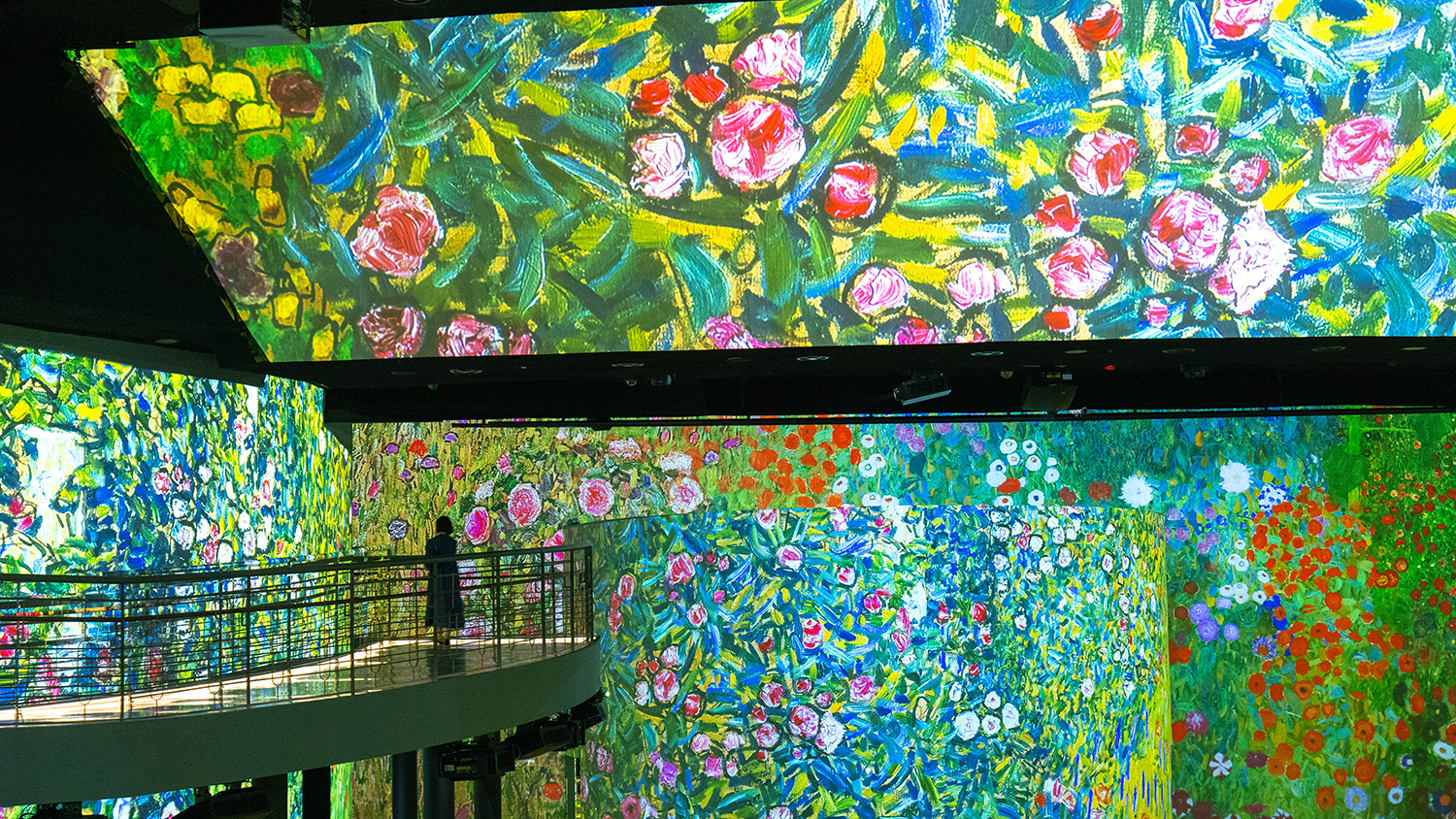 △ Participants enjoying the exhibition at Théâtre des Lumières
Théâtre des Lumières used to be 'Walkerhill Theater.' 'Walkerhill Theater' was a popular venue that had received a lot of attention since its establishment in 1963. Walkerhill hotel was built during the Park Chung-hee administration for the purpose of having US troops stationed in Korea spend their dollars in Korea instead of traveling to Japan. Understandably, it was named after the commander of the Eighth US Army, Walton H. Walker.
One of the things that brought Walkerhill Hotel notoriety was 'HoneyBee Show.' The 'Pacific Hall' of the hotel, which was equipped with modern stage facilities, presented unique and unconventional performances that had not been seen in Korea before. In 1963, Louis Armstrong, the world's most famous jazz musician, took the stage. He performed with 15-year-old Yoon Bok-hee. At that time, Walkerhill Theater was known as the birthplace of the entertainment industry.
But it is said that nothing is permanent. As the times changed and new performance culture such as musicals spread rapidly, the Walkerhill Shows, which dominated an era, ended in 2012. Although the show's glory is in the past, the space made a comeback to the public 10 years later. Some of the facilities such as chandeliers, lifts and stages were reproduced to mirror the former Walkerhill Theater. Théâtre des Lumières is receiving attention from visitors by delivering a unique experience just like how Walkerhill Theater used to stage the sensational art and culture.
In particular, the 'bridge' allows visitors to enjoy a panoramic view of the theater and artworks while taking a walk. Visitors can enjoy Klimt paintings from different angles and viewpoints and have fun planning their own exhibition circulation path. Furthermore, the 'Small Water Tank' was designed to use the water in the tank as a canvas to immerse visitors in the world of art and let them become active participants rather than passive viewers.
Given the space's unique charm, Théâtre des Lumières is also used for MICE events. A range of events including piano performances, Samsung Galaxy Wonder Nightography event and Austrian National Tourist Office's event were held. Also, a financial company's VIP events, awards, and product demonstrations are scheduled to be held in the future. The space can accommodate fashion shows and will put on fashion shows as well. As the lighting and audio systems can be adjusted and customized for each event, Théâtre des Lumières is the perfect venue to host a special event.
Oil Tank Culture Park 87 Jeungsan-ro, Mapo-gu, Seoul
T1-T5 10:00-18:00(Closed on Mondays)
T6 and Cafe Tank 6 Closed due to renovation (closed until December 2022)
Théâtre des Lumières at Walkerhill Hotels and Resorts 22-1 Gwangjang-dong, Gwangjin-gu, Seoul
Operating Hours Mon-Thu/Sun: 10 AM - 20 PM (last entry 19 PM), Fri/Sat: 10 AM - 21 PM (last entry 20 PM)
Ticket Adults (ages 20 and over): Individuals ₩29,000, Groups (20 persons or more) ₩27,000