[SCB NEWS] STO wins MCST Minister's Award at KME 2022, supporting SMA through the pandemic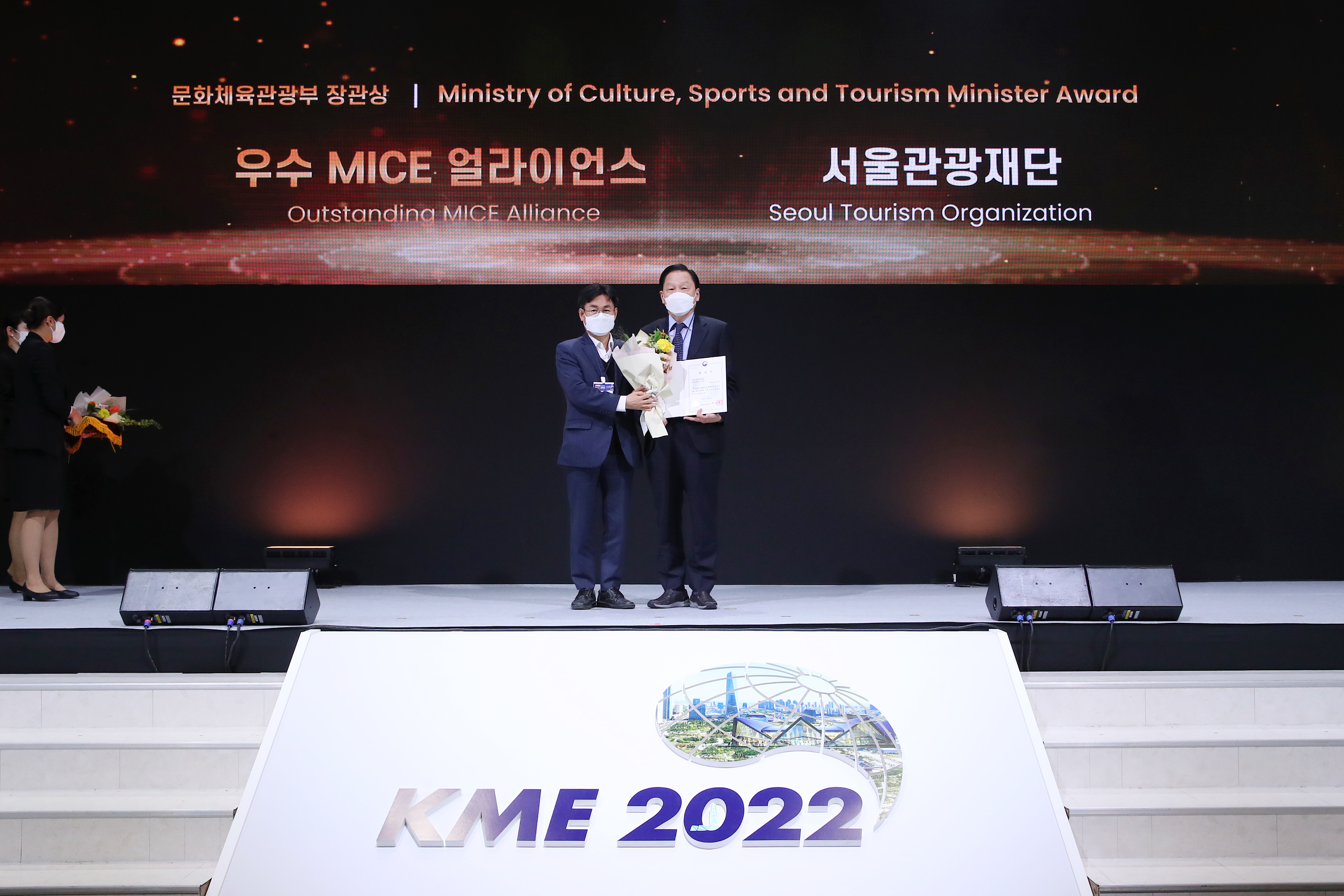 △ Won the Excellent MICE Alliance category for the Minister of Culture, Sports and Tourism Award
· The STO won in the Excellent MICE Alliance category at the Korea MICE Awards
· Increasing SMA networking opportunities and joint marketing activities during the pandemic
· Membership increased by more than 26 companies, communication channels strengthened
· Selected as 'Silver' in Best Promotion category by buyers at KME
The Seoul Tourism Organization (CEO: Ki Yon Kil) was selected in the Excellent MICE Alliance category for the Minister of Culture, Sports and Tourism Award at the 20th Korea MICE Awards at the Korea MICE Expo 2022 (KME 2022) held at Songdo ConvensiA from November 9th to 10th. Subsequently, buyers of participating organizations at KME 2022 selected the STO as Best Promotion (Excellent Meeting 'Silver') in recognition of its excellence in event management.
Despite the fact that the MICE industry has profoundly frozen due to the pandemic, the STO has created new businesses based on continuous information sharing, communication and cooperation with Seoul MICE Alliance (SMA) to recover the MICE industry and to support event planners successfully. In particular, the Organization's series of activities, such as active communication and feedback collection, have served as a bridgehead connecting local MICE businesses including SMA members. The STO is evaluated as having firmly positioned itself as a MICE crisis management and support organization.
Under the slogan of "#SEOUL_MOVES_FORWARD", the STO introduced programs to strengthen the cooperation system among SMA members to build a sustainable Seoul MICE ecosystem and create new businesses for the post-pandemic era. Although MICE events were held on a limited basis during the pandemic, the Organization continued their activities steadily with SMA members. The Organization also regularly communicated and informed the members via channels like KakaoTalk.
The success of the collaboration between the STO and SMA members has also been proven in tangible results. The cumulative number of SMA member companies' participation in joint marketing activities reached 277, and 68 companies participated in the making of SMA promotional content, achieving a total engagement of 2.7 million (as of September). A total of 46 companies (67 cases) supported domestic/overseas media promotion and news article preparation, and a total of 40 companies uploaded 61 posts for the SMA & STO joint campaign.
In addition, the STO and SMA members succeeded in attracting a total of 14 events (approximately 15,000 visitors), including the 2026 International Parkinson and Movement Disorder Society Congress with 6,000 participants, and supported 73 international conferences held in Seoul. For SMA members, the STO has consistently provided unfailing support, including 221 cases of expert advice in legal and labor matters and 44 cases of consulting.
In order to open up new business opportunities, a total of 394 buyer meetings were made by supporting SMA's participation in MICE exhibitions and business meetings held at home and abroad. In order to build a sustainable MICE ecosystem, a new set of qualitative criteria such as contribution to the local community and eco-friendly MICE events were applied for the first time in selecting financial support recipients among international conferences.
Regarding the winning of the MICE award, a source from the Korea Tourism Organization said, "the Seoul Tourism Organization has revitalized networking among SMA members this year and established MICE partnerships through joint marketing activities at home and abroad. The STO was highly praised for creating new business opportunities through such processes."