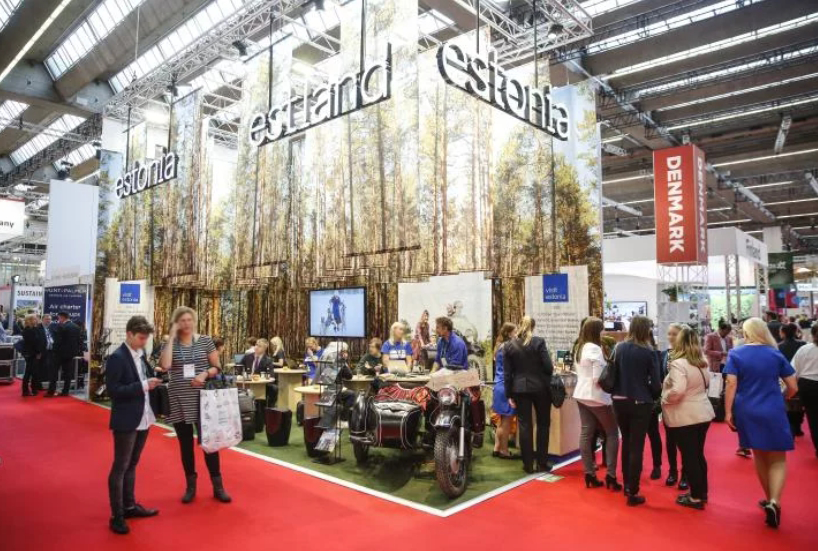 △ Estonia Booth at IMEX Frankfurt built with eco-friendly recycled materials
(source: IMEX Frankfurt)
· A voice for sustainability at the 2022 MICE Industry
· All participants of IMEX Frankfurt pledge to 'Exhibit Sustainably'
· Transition from paper to digital, minimized carbon emissions during transportation
· ITB Asia "Tourism that can sustain a new global paradigm"
· KME's sturdy and semi-permanent reusable paper booths
2022 was a chaotic year with resurgences, pandemics and endemics. However, as vaccines were quickly supplied worldwide, many countries loosened their previous quarantine measures and opened their airways. As movement between countries began, MICE industries such as exhibitions, conventions, tourism, and events gradually recovered.
The "recovery of daily life" in countries around the world was the signal flare for the endemic. MICE events that had been held online were hosting offline exhibitions and conventions, bustling with global MICE professionals. The only difference being the presence of face masks; IMEX Frankfurt, ITB Asia, KME, and other MICE conventions did not hesitate to have in-person meetings and were active with events that had people meeting offline like before the pandemic. The 'industry of meeting', MICE, has once again started a powerful ignition.
The common theme found in this year's MICE events is the effort, practice, and vow towards sustainability. Having stopped for two years due to the pandemic, the discussion of sustainability has had a huge impact on the world. For the past hundreds of years, humanity has pursued industrial development for a more comfortable life, bringing about numerous environmental problems. The polluted earth leads to climate change, and climate change leads to the breakout of new contagions, creating a vicious cycle.
The people of the world, having experienced a situation where in-person meetings were made impossible by one contagious disease, resurrected the agenda of sustainable development. "Sustainable MICE" became a common topic in the MICE industry. Individual country/city booths used reusable materials instead of competing with ostensible displays. Their themes changed into managing the carbon emissions in participant transportation, meals, and events.
The world's biggest MICE event, IMEX Frankfurt, is a great example. Held last May in Frankfurt, Germany, IMEX suggested that all participants make a pledge to "Exhibit Sustainably." This pledge is to digitalize as many items as possible in hosting MICE events, and to minimize participants' carbon emissions by using public transportation when moving to their destinations.
When examined in detail, exhibition booths have been built with reusable modular structures instead of disposable structures, and the excessive use of plastic materials, paints, and glues has been prohibited. If wood or paper is used, it is advised that items approved as environmentally friendly by the FSC (Forest Stewardship Council) are used. The FSC approves of timber from trees grown in sustainably maintained forests, referred to as "eco-friendly timber."
Disposable plastic cups or silverware should be replaced with glass or ceramic, and items should be wrapped in reusable and biodegradable packaging. Print materials should be digitalized, but if they are necessary, reusable paper and plant ink should be used. Local print shops should be used to minimize carbon emissions from transporting them. They even provided a tip for saving 1707 liters of water by replacing beef burgers with bean burgers.
According to the "IMEX America 2021 Sustainable Event Report", if climate-friendly meals are provided in events with 40,000 participants, more than 10 million gallons of water can be saved, and this is the amount of water approximately 100,000 people use in a day. There are more case studies on saving water. IMEX America digitalized 100% of their print materials last year and saved 1.7 million liters of water, which can fill about 6,000 bathtubs. On the other hand, the Mandalay Bay Convention Center used solar energy and LEDs to save 85% of the energy from previous events.
The topic of sustainable tourism heated the exhibition at ITB Asia 2022, Asia's biggest MICE business exhibition held in the Marina Bay Sands Convention Center Singapore in October. The keynote lecture, "Beyond Sustainability," held the day following the opening, discussed sustainability as the direction of tourism to take in the new normal era and its prospects. As the presenters, officials of the business consulting group 'the Meaningful Tourism Center' emphasized that "global tourism in the new paradigm will combine two concepts of 'sustainable tourism' and 'responsible tourism'" and that "creative solutions are needed to minimize cultural and environmental damage to the local society from overtourism."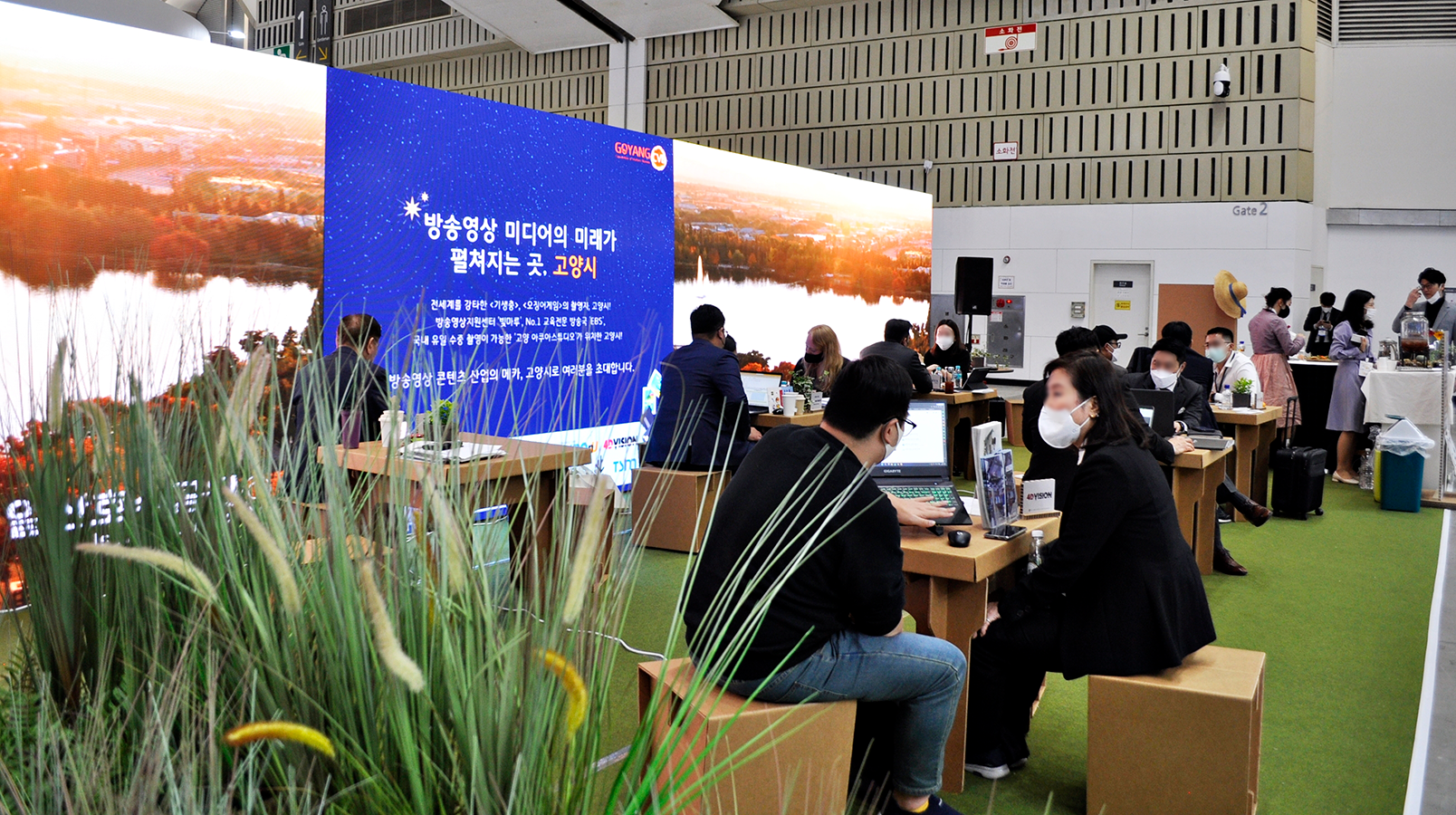 △ KME222 recycling paper booths
In November, Songdo CovensiA in Incheon was filled with paper booths. This was the venue for the Korea MICE Expo (KME) hosted by the Ministry of Culture, Sports, and Tourism. Participating local bureaus such as Busan, Incheon, Gyeongnam, and Goyang showcased booths made of reusable paper instead of metal. They are foldable, easy to store, and sturdy enough to withstand weight and impact. The most significant advantage of reusable paper booths is that they can be used for several years. The official who planned the reusable paper booths stated that "many participating cities digitalized their paper print materials, and more are choosing to use reusable paper booths'' and that "eco-friendly, and sustainable MICE has now become the norm."
The Seoul Tourism Organization supports hosting sustainable MICE events as part of the MICE industry ESG management. Everything is made of eco-friendly craft paper, from participant name tags to the photo wall. Furthermore, the 'SMA Give us, Give Earth' campaign was launched to lead ESG practices and to involve local communities. This campaign, delivering the social contribution message of the Seoul MICE Alliance (SMA), donated the 2022 SMA MICE annual registration fees along with items and stationery sponsored by SMA members to children's foundations.
In the 1987 report about the environment and development issued by the World Commission on Environment and Development (WCED), "Our Common Future," defined sustainability as "development that meets the needs of the current generation without harming the ability to meet the needs of future generations." In other words, practices possible to execute now can guarantee the future. MICE experts assert that "we must do everything we can do 'right now, here' in order to maintain the MICE industry where business happens through people by meeting people for future generations."