[SCB NEWS] Seoul racking up year-end awards as the most anticipated MICE destination for 2023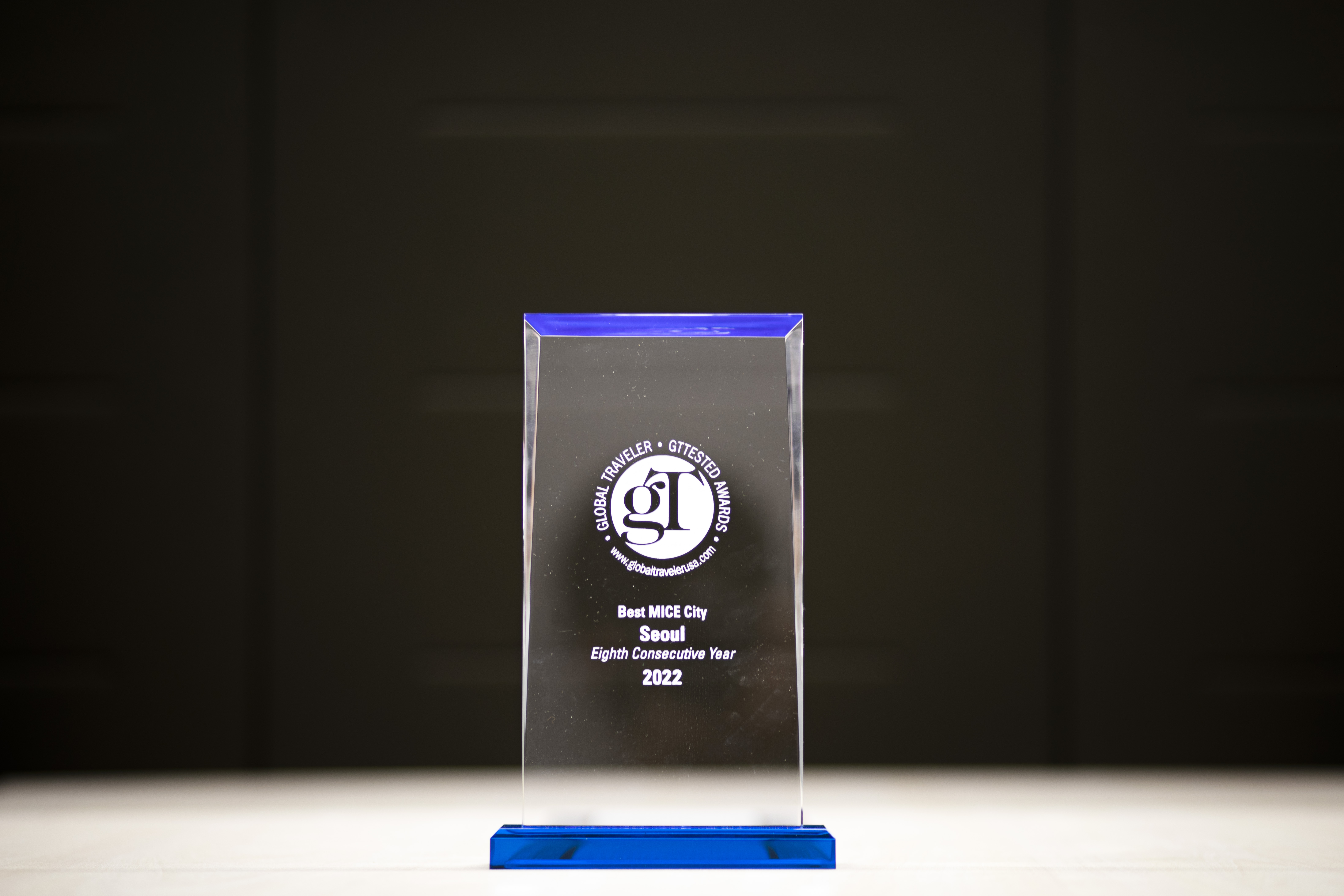 △ 2022 GT Awards '2022 Best MICE City' Plaque
· Following Minister of Culture, Sports and Tourism Award in November, Seoul's award-winning streak continues in December
· Picked as the "best MICE city" by GT Award for 8 years in a row
· Won KMAC's Korea Management Award in "digital innovation" category
· "Cooperation and innovation to overcome pandemic risks in the new year"
Seoul reaffirmed its position as a sustainable MICE destination, winning in the MICE category at multiple year-end award ceremonies in 2022. Seoul will continue to lead the MICE industry in 2023 as the COVID-19 is expected to enter its endemic phase.
In November 2022, Seoul won "Excellent MICE Alliance" at the Minister of Culture, Sports and Tourism Award at the 20th Korea MICE Award hosted by KOREA MICE Expo 2022 at Songdo ConvensiA, Incheon. Following this win, Seoul was also voted as Best Promotion-Excellent Meeting Silver by buyers attending the KME.
The award-winning streak continued in December. Seoul was selected as the best MICE city for 8 consecutive years. Seoul was named the best MICE city of 2022 in the 19th GT Tested Reader Survey Award ("GT Award") held in Los Angeles, U.S. on December 7th KST. Despite challenges caused by the pandemic, it has kept the top spot for 8 years since 2015.
GT Award, hosted by Global Traveler, a global business travel magazine, selects winners through a poll participated online and on paper by a readership of 550,000. Global Traveler prints 100,000 copies every month and has more than 2 million monthly views by online readers, proving the magazine's popularity. In particular, 43% of subscribers, which account for nearly half of the subscribers, are registered as MICE officials from hosts to organizers, adding more meaning to "the 8-year consecutive wins".
Earlier, on December 6th, Seoul won Innovation Best Practice in the "digital innovation" category at the Korea Management Award organized by KMAC. KMAC recognized that "Virtual Seoul", an online MICE platform developed by Seoul Tourism Organization (STO) during the pandemic, presented a new standard for the era of new normal. Praised for its creative planning, VR-based Virtual Seoul showcased a map of Seoul as a MICE destination with must-visit venues for meetings, exhibitions and tourism.
Just a year after its first release, STO released an upgrade, Virtual Seoul 2.0., presenting an innovative model with e-conferences, e-exhibitions, and multi-purpose features that are optimized for branding.
Seoul paved the road to jump-start the stagnant MICE industry, offering various support from Seoul MICE Alliance's networking programs to advisory and consulting services with experts in law, accounting, labor and counseling. An official at STO stressed that " Seoul will continue to overcome challenges in the new year by collaborating with various sectors and presenting bolder and more innovative ideas."