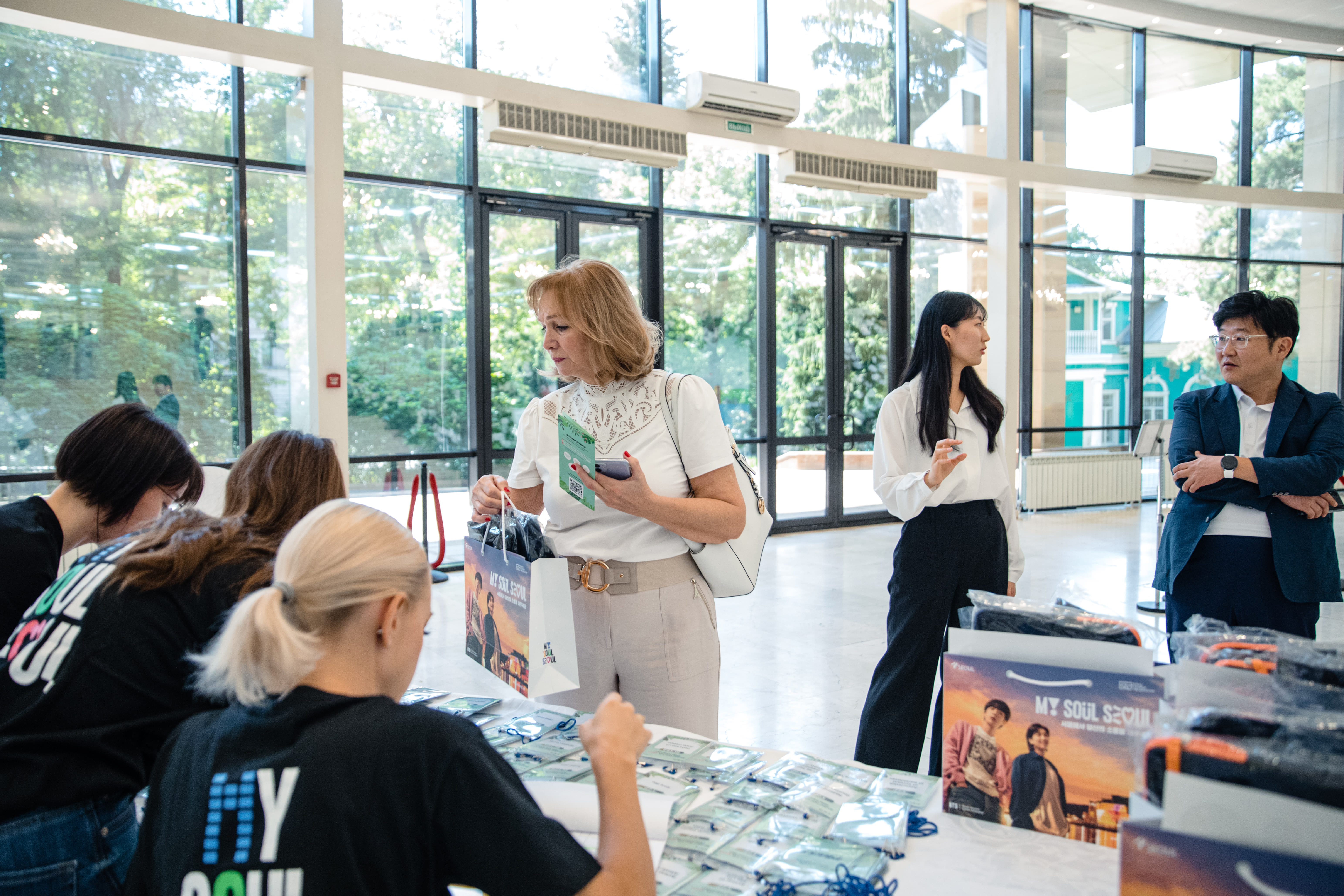 △ Buyers at B2B Travel Mart
City of Seoul and STO to host Healing Your Life, Seoul in Almaty
Consultation of 77 patients spanning five medical departments in Almaty, Kazakhstan on Jul 12-13
"Focus on high value-added medical tourism with plans for more active local marketing"
The City of Seoul and the Seoul Tourism Organization's 2023 Healing Your Life, Seoul in Almaty held on July 12 and 13 in Almaty, Kazakhstan, ended in success. Held under the theme of "Healing Your Life, Seoul", the two-day event consisted of health consultations, Seoul tourism presentations, and B2B consultations. The event is expected to revitalize medical and general tourism, as well as research collaborations between Korea and Kazakhstan.
Kazakhstan is among one of the top countries that seek medical treatment in Seoul. Last year alone, over 4,000 Kazakhstani medical tourists visited Seoul seeking medical services, marking a 160% increase from the 1,546 visitors of the previous year. With Kazakhstan rising as one of the key targets of Seoul's medical tourism industry, the event captured the attention of many people in Kazakhstan.
[Health Consultations]
STO-KUMC-KazIOR to conclude trilateral MOU: Higher expectations for sustainable exchange and medical tourism between the two countries
Healing Your Life, SEOUL in Almaty was joined by five medical experts from four renowned hospitals in Seoul. The health professionals held consultation sessions with local patients of their respective departments.
On July 12, at Dom Priyomov, Almaty, they focused on mild symptoms, before moving on to consultation covering severe symptoms the next day, with as many as 77 patients holding medical consultations with health experts throughout the two days. Patient A, who came to the event to talk about his facial asymmetry, remarked, "It was a great opportunity to meet Korean medical professionals who assessed my conditions. Their guidance on treatment and operation was very helpful."
The Korea University of Medical Center (KUMC), Kazakh Research Institute of Oncology & Radiology (KazIOR), and STO signed a trilateral MOU that is anticipated to result in more active exchange in medical tourism between Seoul and Kazakhstan. The highlights of the MOU include promoting medical tourism through public-private collaboration based on a sustainable partnership in medical tourism and robust medical and tourism network connecting both countries. With the signing of the MOU, the City of Seoul has its sights set on drawing an even greater number of Kazakhstani patients to Seoul.
[Seoul Tourism Presentations]
12 Seoul-based companies alongside 42 Kazakhstani companies held total of 150 consultation sessions
Medical tourism status on rise post-pandemic - Plans set for active local marketing
Along with the health consultations, the 2023 Seoul tourism presentations was joined by over 120 industry professionals from local tour agencies, medical institutions, media, and travel agencies based in Seoul. Officials of the city government and STO demonstrated Seoul's new tourism infrastructure, including the Seoul Hiking Tourism Center, which had opened last year, and the Seoul Lantern Festival, a festival scheduled to take place in Gwanghwamun Square, as well as many other tourist attractions that will invite visitors interested in beauty, wellness, gourmet food, and medical tourism. A wide variety of wellness-inspired programs also went on to offer aroma therapy, the Korean traditional tea experience, "A Seoul of My Own" frame-making workshop, and more.
In his welcome speech, STO CEO & President Kil Ki-yon expressed his anticipation saying, "I hope people from Kazakhstan are able to take up an interest in not only the Seoul Lantern Festival, but also other festivals covering the topics of K-pop, K-beauty, and K-food." He added that he would extend continuous support to attract more tourists from Kazakhstan.
At the B2B Travel Mart, created to promote the designing of Seoul tourism products, 54 travel agencies from both Seoul and Kazakhstan held face-to-face meetings to work on the development of Seoul tourism products and figure a direction that could attract Kazakhstani tourists.
From Seoul, 12 businesses, including travel agencies (Golden Tour Korea DMC, One Korea Tour, Premium Pass International); hotels (Hotel Crescendo Seoul); entertainment & retail chains (Lotte DFS, Shinsegae Duty Free), medical institutions (KUMC, View Plastic Surgery, SCHMC); and medical tourist attraction organizations (Good Medi Korea, Medical Avenue, EMS), came together to demonstrate a variety of tourism products and their promotional content. 42 travel businesses from Kazakhstan, including Golden Tour Kazakhstan and Ruvens, were able to join the exchange.
As many as 150 consultations took place thanks to the active engagement of Seoul businesses. Mr. Kim Young-hwan, the current head of the Tourism and Sports Department of the Seoul Metropolitan Government, responded saying, "The success of this event in Kazakhstan points to the rise and recovery of medical tourism, a high value-added industry, in post-pandemic times." He went on to highlight that efforts will continue to invite international medical tourists with more active promotion in the local markets of key targets of Seoul's medical tourism sector, such as Central Asia and the Middle East.