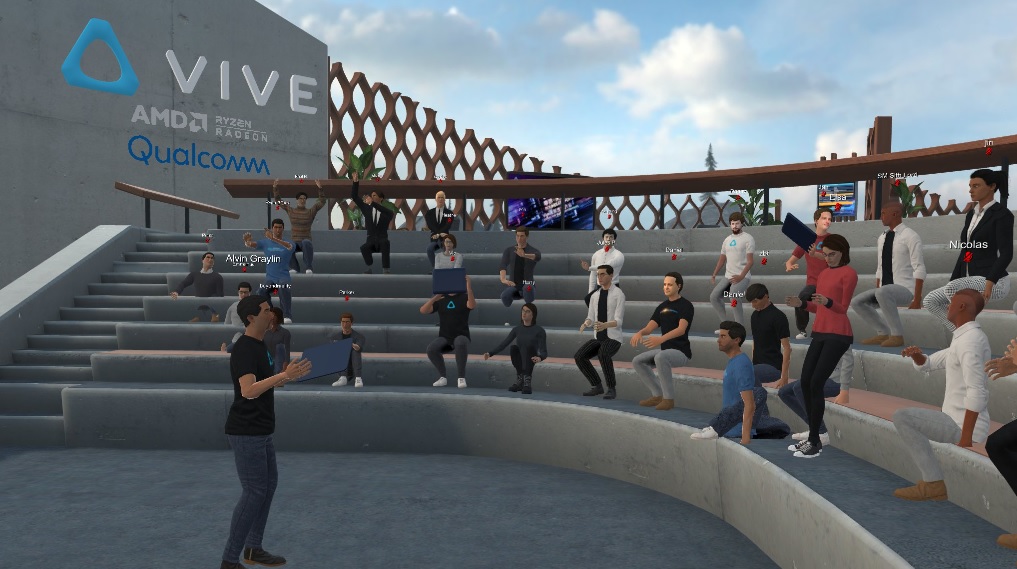 HTC China President Alvin Graylin is giving a key note speech on "unlocking an unlimited future".
The world's first VR conference "V²EC" held on March 19, 2020,
Attended by 2,000 people from 55 countries using their avatars from home or work
All conference data recorded, enabling "replay" anytime, anywhere
Reduction in business trips ensures "safety" as well as savings of cost, time and effort
"Amid the COVID-19 outbreak, many of the offline conferences may move to 'dialogue-based virtual space'. A keen attention is paid to what is going to happen after the outbreak dies down. In order to stay safe, people will still try to keep distance from each other and meeting technologies that help remove physical obstacles between people will quickly become an essential technology."
This is a prediction made by Alvin Graylin, HTC China President at V²EC which was held in virtual reality on March 19, 2020. According to AP New reports on the same day, V²EC which is originally an annual offline VR conference held by a Taiwanese VR equipment producer HTC was held in virtual reality this year due to the COVID-19 outbreak. This year's V²EC attracted 2,000 participants from 55 countries. Instead of visiting China, conference attendants logged on to a virtual reality created by HTC, wearing VR equipment from home or work. HTC provided simultaneous translation in English and Chinese.
In the midst of the spread of COVID-19, multiple multinational conferences have been held through video conferencing, such as summit meetings and a meeting for a decision on the postponement of the 2020 Tokyo Olympics. Video conferences have become a common place by now. However, a large-scale conference held in virtual space participated real-time by thousands of attendants (avatars) as in V²EC is unfamiliar, yet suggestive.
Participants from around the world navigated through the virtual space by a simple operation of a few buttons. They interrupted during a speech, asked questions or engaged in a debate. Speakers brought attendants to the stage and asked questions related to their speeches. Except the fact that it was the avatars not the real people who were moving around, everything else was pretty much the same as in offline conferences enabling attendants to engage themselves in conversations, speeches and discussions. Dates, schedules and space layout were also the same as the offline conference.
It may not be possible to overcome some of the disadvantages that a virtual conference has for example, difficulty in having eye contact with the speakers and reading their body language, tone and emotions to better understand the messages they are trying to convey. On the contrary, a virtual conference has its own merits that cannot be easily matched by an offline conference including the ability to experience vast amounts of content at a very low cost. Since virtual conferences record every session, any session that one may have missed because of a schedule conflict can be replayed any time and anywhere.
Sol Rogers, CEO of REWIND, a VR specialist and Forbes columnist, said, "VR technology will enable people to enjoy a festival from the comfort of one's living room at home" and praised it as "a potentially powerful alternative to an event and a conference in the physical world."
Business meetings and trips "going online" rapidly
BARCO reported, "53% of respondents hold remote meetings"
Business meetings and trips are coming into the virtual space one step faster than virtual conferences. Global businesses from China and India are refraining from business trips and face to face meetings while they are fast resorting to video conferencing and remote work to minimize business disruption.
Rajiv Bhalla, a director of BARCO, a Belgium-based video equipment maker with a branch in India, said in the March 3rd issue of the Economic Times, "Demand for remote collaboration solutions from businesses is exploding amid the COVID-19 outbreak. Several global companies are asking their employees to manage their global operations through video conferences. A video conference is becoming an alternative to a business trip."
Citing a newly published report from BARCO, the report wrote, "53% of the respondents in our recent survey answered that they were using remote meetings, in whole or in part, and the convenience of remote collaboration will not be disregarded even after the outbreak eases up and travel advisories are lifted."
The COVID-19 outbreak ignited discussions on "innovation in meeting technology" that has been brought to attention by the MICE industry in the midst of the 4th industrial revolution. As for meetings, events and exhibitions held for business purposes, face to face interactions are essential to some extent, which worked as a deterrent against proactive introduction of latest and convergence technologies. The virus, however, made people reluctant to have face to face meetings. The outbreak will bring an inevitable shift toward the pursuit and adoption of technological innovations in the MICE industry.
Source: Seoul Convention Bureau Newsletter – March 2020