Check-in at 8 am and check-out at 8 pm
Free coffee and snacks for guests working from hotel rooms
Just say "I need a toothbrush" and a robot will bring one to you.
'Zero-contact' service using 3D spatial mapping and autonomous driving technology
"A short stay for rest in a private space"
COVID-19 drives changes in customer's demand.
Hotels have experienced a vacancy rate of as high as 90% due to the COVID-19 pandemic which lasted for the past seven to eight months without any sign of improvement in the near future thus the hotels started their battles now. Hotels have introduced "zero contact" service including the use of robots for room service and the room are renting out as office space. "Rent a room package" is not uncommon where a guest uses a hotel room during the day along with upscale hotel amenities without staying overnight.
Five star hotels in Seoul whose main guests were foreign tourists and MICE attendants before the pandemic are introducing "contactless" service in order to attract local customers. With the social distancing movement being prolonged, demand for taking a rest in "my own private space" is on the rise and zero-contact accommodation service is becoming a new trend.
Glad Hotel operated "Go to work to a hotel" package for about a month until 20th of last month. They enjoyed a higher than expected reservation rate and extended the operation period, and upgraded the package to cope with customer demand during the operation. The package targeted professionals working remotely and let guests check in 8 am and check out at 8 pm.
Glad Hotel offered complementary coffee, snacks and cup noodles to refresh the package for the users who work all day at the room. The overall assessment of the package was great that it was well received by remote workers as they were able to work and relax at a pleasant and comfortable space for a reasonable price of less than 100,000 won (including taxes).
Along with the "Go to work to a hotel" package, Glad Hotel also introduced "Glad Workspace" package for corporate customers who need a meeting room. The "Glad Workspace" package is similar to the "Go to work to a hotel" package in that guests can stay and work for eleven hours (from 8am to 7pm) at a room, but it offers free use of a meeting room for two hours upon a reservation is made for more than five teams together.
An official from Glad Hotel said, "We've developed these packages to capitalize on the growing trend of working from home or remotely due to the COVID-19 pandemic. We've refitted the rooms to make it more comfortable for the guests who would use them as office space by providing wider desks and ambient lighting." Robot-based room service has taken root as well. When guests order beverages, meals or room supplies, robots attendants will bring them to the rooms. Novotel Ambassador (Dongdaemun) showcased "N Bot" last May, a hotel robot enabled by the second generation Giga Genie with upgraded design and performance.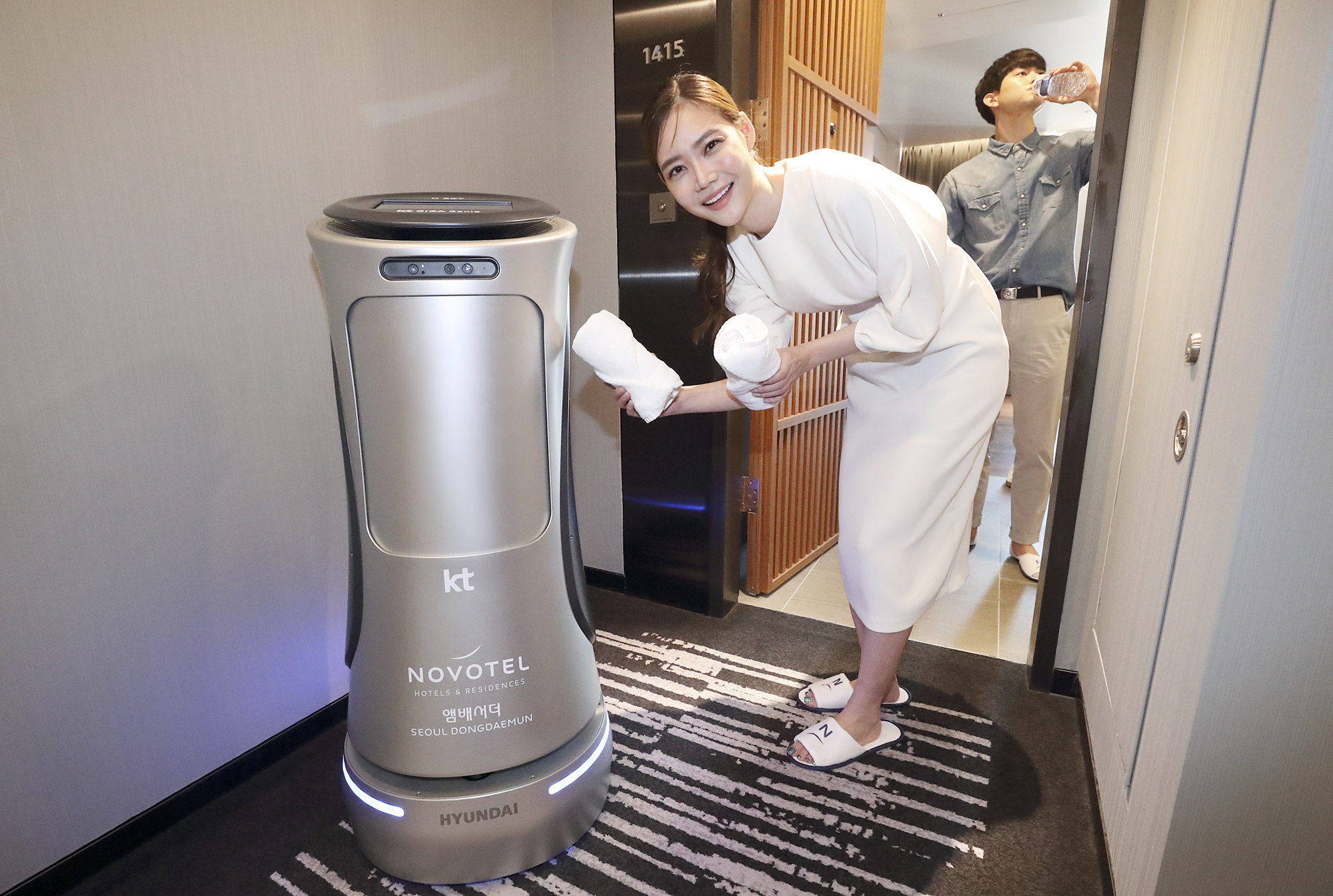 N Bot, co-developed by KT and Hyundai Robotics, receives an order through a voice or touch command from the guest in a room using the Giga Genie AI system installed and then brings the ordered items to the guest by taking the elevator by itself and locating the exact room out of 211 rooms. N Bot is powered by 3D spatial mapping technology and autonomous driving technology. N Bot, linked to AI Giga Genie, can provide information in four different languages (Korean, English, Chinese and Japanese) on top of executing the delivery service.
Kim Chae-hee, leader of KT AI/BigData Business Unit said, "As people increasingly prefer zero-contact service due to the pandemic, the second-generation Giga Genie hotel robot will command a high praise as an exemplary zero-contact service using AI technology."