[SCB News] Broaden opportunities for MICE job seekers! Untact(zero contact) Mentoring Concert and Recruiting
Seoul Tourism Organization held online 'MICE Global Expert Day' on Sep 10th and 11th
Mentoring Concert provided via live streaming to share work stories
Using video conference as a matching platform between companies and job seekers
Seoul City and Seoul Tourism Organization (President: Jaesung Rhee) held 'MICE Global Expert Day' online to be as the level 2.5 social distancing that was introduced due to resurging of COVID-19 cases. This online event was held on Sep 10th and 11th with Untact MICE Mentoring Concert on day 1 and Recruiting from Talent Bank on day 2.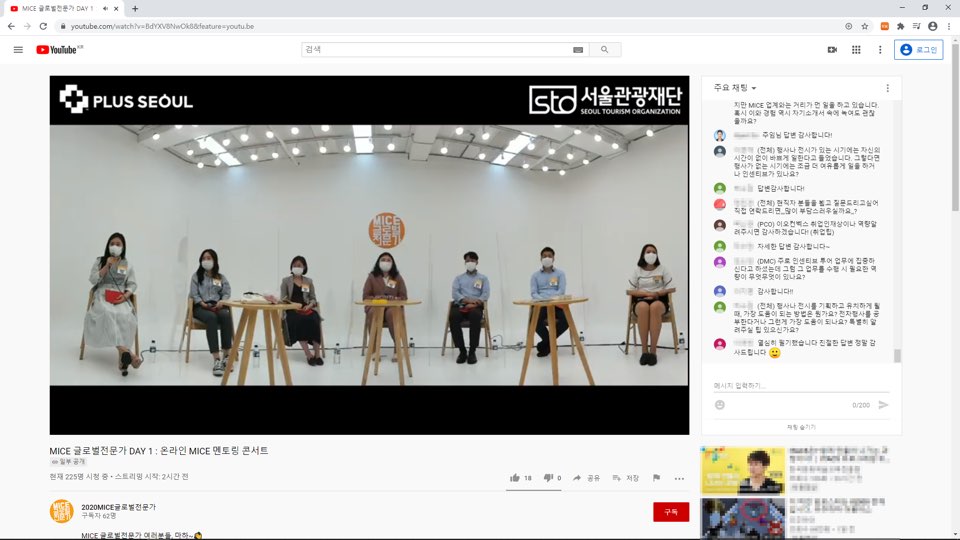 Day 1: Untact MICE Mentoring Concert
Sharing know-hows on landing a job and building work experience
Untact MICE Mentoring Concert was provided via YouTube live streaming. About 300 MICE global experts and mentors from 7 different MICE fields including CVB, DMC and PCO shared their stories about getting a job and building work experience in the MICE field.
7 mentors who attended this online concert were from GroundK (limousine service), Grand Hyatt Seoul (hotel), MEPS International (DMC), Seoul Tourism Organization (CVB), IOCONVEX (PCO), COEX (convention center), and Korea Trade Fairs (PEO) representing major categories that consist MICE field except the Unique Venue category.
Day 1 was consisted of two parts. During the first part, the participants had a sparring concert and OX quiz event through which they were given chances to hear from the mentors about how they got their jobs and what were the main duties at work. During the second part, the participants had a Q&A session where they shared opinions on the pre-collected topics under the title of Let Your Story Be Spoken. Online viewers were able to join the passionate interaction through live-chat comments. Various topics were covered during the day including what were the first task of mentors when they got their first job and what were the secret weapons to get hired in MICE field.
As for the safety measures, a spacious studio was prepared and only limited the number of people were on the spot which was under 10 with quarantine guidelines strictly followed. One of the participants, Kim Ye Eun said "I often got a chance to hear from professors or specialists in the MICE industry, but it's very rare to meet those professionals in person. It was exciting to hear the real and practical stories about how they got their job and what they do day-to-day. I found this session really helpful and informative."
Day 2: Online Recruiting from Talent Bank
Tackling the 'mismatching' between companies and job seekers Online Recruiting from Talent Bank was prepared with virtual interview rooms and waiting rooms for each company to conduct 1 on 1 interviews using Google Meet program. Of the 300 MICE global experts selected this year, 100 who received customized job training and employment support were qualified for this program.
DMC, PCO, PEO and other MICE-related companies located in Seoul participated and gave the applicants as many interviews as possible based on the matching system with companies' qualification criteria and applicant's resumes collected beforehand. Over one hundred matches were made and those who passed the document screening were given chances to have online interviews.
This event was organized for both parties considering MICE companies have hard times looking for the right talents and applicants hard to get a chance to unleash their potential thus, fill up the matching gap between MICE companies and job seekers so that all parties in the ecosystem could thrive further.
Kim Eun Mi, a Director of MICE Marketing Team at Seoul Tourism Organization, said "we had organized this event to give those who have passion for jobs in the field but not the hiring information nor a chance to meet and hear from people working in the MICE industry. Since the MICE industry is going through a lot of changes amid the prolonging COVID-19 crisis, we could have expected greater difficulties so we prepared a ground to help MICE global experts to upgrade their understanding of the industry and better prepare for their future towards becoming the talents the industry needs.