[SCB News] "Seoul's hip places that caught eyes of 17,000 people are.." Seoul Unique Venue Week was held in SNS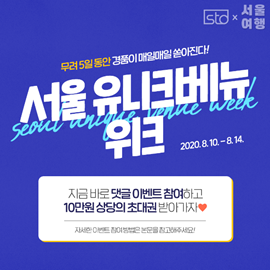 Writing comments to the ones "wish-to-visit places" among Seoul's 12 exotic places went viral
Top 3 venues had most responses are Top Cloud 52, E-Land Cruise, and Golden Seoul Hotel
Viral effect with photo and review postings showed great results from carefully planned marketing strategies
Seoul Unique Venue Week, launched online to encourage local residents to casually check out Seoul's Unique Venues which have been relatively quiet this year due to COVID-19 were put on the spotlight. For 5 days, from August 10th through 14th, Seoul Metropolitan Government and Seoul Tourism Organization publicized Seoul's major venues and attractions in partnership with Seoul Visit, one of the most visited SNS page.
Unique Venue
A Unique Venue refers to a place with unique charms that can only be found in the hosting city or country- they are not usually convention centers, hotels or conference facilities. Seoul has 58 unique venues and they are all members of Seoul MICE Alliance.
Seoul Visit is a popular SNS page with a total of 1.8 million follower- 1.46 million on Facebook and 340,000 on Instagram- designed to introduce Seoul's hot places, must-visit restaurants targeting the public in their 20s and 30s.
The Seoul Unique Venue Week unveiled 12 places worth visiting in Seoul under 5 themes: △Stunning Rooftop, △Romantic date in the Hangang River △Dining in Seoul △ Taste and Charm in Hanok (traditional Korean housing) and △Exotic Experiences.
For Seoul's stunning rooftops, Ibis Styles Ambassador Seoul Myeongdong (Le Style Restaurant & Bar) and Golden View Sky Garden (Golden Seoul Hotel) were chosen while for romantic date in the Hangang River, E-land Cruise and Floating Island Convention were picked as Seoul's Unique Venues where one can enjoy special dinner mesmerized in grand night views in the river.
Dining in Seoul, which received the highest number of likes, shares and comments among 5 themes covered Top Cloud 52 and Stage 28. It described savoring a semi-buffet dinner overlooking Seoul's view at a glance at Top Cloud 52 and a relaxing outing within a city at Stage 28.
Korea House, Bongraeheon (Mayfield Hotel), and K-Turtle were recommended for Taste and Charm in Hanok (traditional Korean housing) while Just K-Pop, Coex Aquarium and BAESAN for suggested as a place for Exotic Experiences in Seoul. STO strongly recommended visiting certain Unique Venues reserves historical beauty to the followers in their 20s and 30s who are interested in unique retro culture.
Presenting Unique Venues in 5 different themes received many likes, comments and were shared by roughly 17,000 people. The fact that it received online feedback from nearly 20,000 people proves there is definite interest in visiting these exceptional places in Seoul amidst COVID-19 alert.
"Small Pleasures Found During Everyday Battle with Corona-blues"
SNS Commenting Contest participated by some 3,000 people was on the spotlight as well. The contest was designed for the contestants to leave comments on the unique venue they would like to visit with the reason why they have chosen the one among 5 different themed categories. Top 3 among 12 unique venues turned out to be Top Cloud 52 with the highest votes, E-land Cruise, ranking second, and Golden View Sky Garden (Golden Seoul Hotel) coming in third.
A total of 155 entrants were offered a gift voucher for the restaurants (or admission ticket to the venue) worth KRW 100,000 as a prize. The prize winners were encouraged to visit them individually at the most convenient time in consideration of the COVID-19 guidelines.
The second contest is Photo Review Posting Event. Winners of the first contest are to share a posting of their great day at the Unique Venues on their social media channels to introduce hip Unique Venues of Seoul to public. They are to visit Unique Venues from September 4th through October 11th and post photos with the review of their visit on their social media channels. By presenting the venues in a more familiar perspectives, STO expected the venues could reveal its attractions from a different angle. Winners will be announced on Seoul Convention Bureau's website on October 16th.
Since the government imposed more strict measures raising the level to 2.5 Social Distancing in Seoul Metropolitan Area, the bustling city has become quiet once again. With social distancing becoming prolonged, more people are feeling Corona-blues. Jihyun Kim, a Director of STO's MICE Planning Team said, "we came up with seemingly familiar promotions for Seoul's Unique Venues to overcome difficulties together with the public. I hope this event serves as a small pleasure to local residents and stakeholders of the unique venues, who are both struggling with Corona-blues.