Seoul Convention Bureau supports 'going virtual' of MICE events for the private sector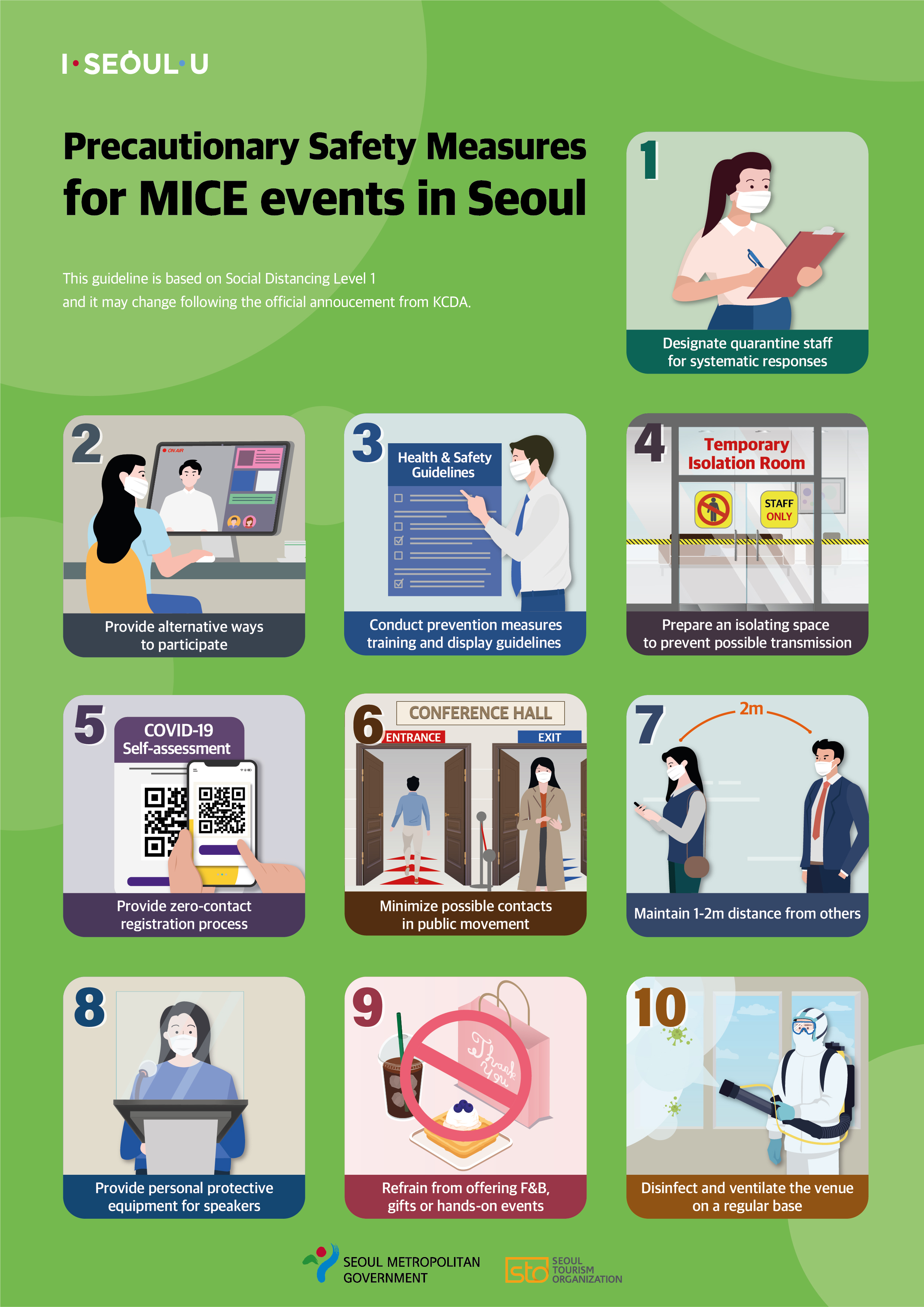 Precautionary Safety Measures for MICE events in Seoul
Fundamental changes necessary to the offline-focused MICE industry to secure global competitiveness
Support every phase of the online events, including consultation service, international promotion, and online platform production
Supporting funds is to be up to 120% (of what would be provided for on-site) for the hybrid format
32 exhibitions, selected for its potential and level of innovation are to receive up to 100 million KRW
Disinfection services for offline venues, 'Safety Insurance' for foreign participants
Seoul Convention Bureau introduced supports to encourage the boost of MICE events to be online or hybrid format to cope with the COVID-19 pandemic and proactively react to the changes in the MICE industry in the face of the New Normal era. The key point of the supports is to expand the MICE industry that were originally confined to the offline format to further cover online and hybrid-simultaneous operation of online/offline format. The 'Seoul's Innovative Supports for MICE industry' released by Seoul Tourism Organization on September 20 was not for a one-off event but rather aimed to transform the MICE industry from the core in a way to quickly overcome the damages caused by COVID-19 and enhance global competitiveness. There are three major actions: extending the supports that were originally confined to offline events to online and hybrid format; selecting and supporting 32 exhibitions as per their stage of development; enhancing supports to aid event venues, hosts and participants by focusing on 'safety' and 'disinfection.'
▷Extends support beyond offline events to cover online and hybrid formats
Since July 2020, subvention is to be provided for online events with more than 50 paid international participants, just like offline MICE events. The subvention will cover every phase of the events, from consultation service to host events in Seoul- including international promotion activities, webinar organizing and contents production, developing virtual exhibition platforms. Online events will receive 80% of the amount provided to offline events (max 200 million KRW, 20 million on average), and the events that will simultaneously operate online and offline will also receive 120%. About 30 international conferences will be held online and offline with support from Seoul Convention Bureau.
▷Supports events at development stage
The exhibitions (incl. those on project proposals) showing high potential to become a global event or with the highly innovative ideas or concepts will receive supporting funds of 10 million to 100 million KRW at maximum to be used towards enhancing innovation, putting together the crisis management and/or marketing strategies along with consultation service, disinfection operations, and human resource supports. The level 2 to 4 exhibitions have been selected after holistically evaluating the development plans for the next 3 years. As of November 2020, a total of 32 exhibitions or proposals have been selected. The purpose of this support is to revitalize the stagnant exhibition industry and secure the diversity and competitiveness of Seoul as a hosting city.
▷Provides infrastructure such as safety and disinfection
For the offline MICE events, disinfection infrastructure, such as quarantine gates, thermal imaging cameras, and professional hygiene and disinfection service are to be provided to ensure 'safety.' Seoul has prepared a manual and guideline poster on prevention of infectious disease and how to respond to the crisis. International participants are to have reassuring package including insurance and 24-hour foreign language concierge service which is the very first to be implemented for international MICE participants in Korea.
Joo Yong-Tae, head of Tourism and Sports Department at Seoul city, said, "As Korea and K-quarantine have become an exemplary model, the new supports seek to enhance Seoul's status as 'a safe hosting city optimized for MICE events' and help Seoul lead the global MICE market when the pandemic ends.