Amid pandemic,"online adaptation complete"... no MICE will be held without online elements
Prof. Yun, Yu-sik, "Organizers and participants will request virtual hosting,.. hybrid model will become a default."
YouTubers are adding "vitality" to exhibitions..... Will online exhibitions succeed?
"Online+α", VR, AR, and XR are the buzzwords for the MICE industry in 2021 picked by MICE industry experts. "Online adaptation" was the background against which the experts chose these keywords. They said while the pandemic prevented the hosting of in-person MICE events for almost the entire period of last year and prompted organizers to go online, MICE actors including organizers, agencies, exhibitors and visitors have all become very much accustomed to virtual events. According to the experts, MICE actors have successfully adapted themselves to online events particularly as they perceive the positive aspects of non-contact online events (easily comparable to those of in-person events).
"Online+α" refers to the inclusion of online elements in the basic structure of an event. Even if vaccines and treatments become available from this year and we become free from Covid 19, "entirely offline" events are not likely to be the mainstream. Within less than a year, most people have acquired "online techniques" required to join virtual events such as online registrations and promotion event participation. And the psychological barrier associated with asking questions and receiving answers online has significantly decreased.
Yun, Yu-sik, a professor at Kyung Hee University (Department of Convention and Exhibition Management), said, "Over the past year, MICE organizers and participants have become accustomed to hybrid events, and many entertainment elements have been devised to engage the participants. The level of immersion felt by the speaker and the audience is higher than that of an on-site event, and interactions and business meetings have become much easier and more natural." He added, "If this trend persists, even after the pandemic is over, organizers will find ways to weave online elements into their in-person events."
However, Professor Yun pointed out that we cannot simply welcome "online + α" finding its way into the fabric of the overall MICE industry. Experts say that if most of the MICE events are conveniently hosted online, the MICE industry will face a dilemma where the value of the MICE industry having positive impact on our society and economy will be threatened.
Professor Yun said, "The MICE industry needs to bring economic benefits to the local communities by attracting a large number of visitors. If the hybrid model gains grounds and the number of inbound business travelers decreases, cities with large convention centers will see their position weaken. "In the future, organizers, such as organizations and associations, need to gather ideas on how to evaluate the performance of a MICE event and how to spread those new metrics.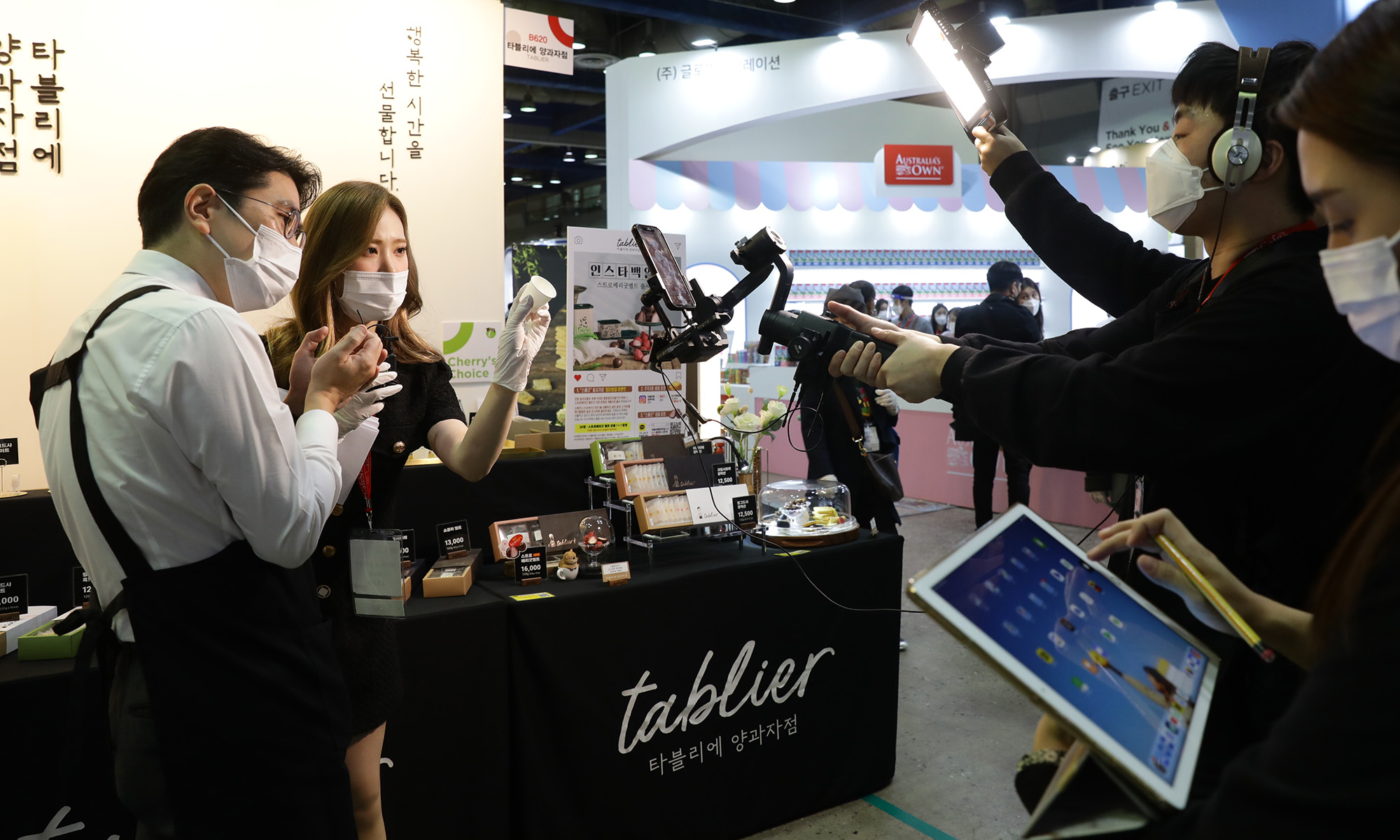 "Exhibitions" requiring face-to-face interactions
"Popularization strategy" linked to e-commerce
The field of exhibition, where business results must be derived through face-to-face interactions, is at the crossroads of change and seeking a new direction. As buyers are restricted from entering the exhibition hall, hybrid exhibitions are being introduced one after another through an online exhibition platform. While exhibitions are set up physically offline as usual, online consultations are offered real time. Although it may vary by field, in the case of consumer goods exhibitions, business matching results are also raised by linking with e-commerce. In a hybrid model, participants accessing online can purchase products through a mobile app or web while viewing the exhibition site in real time.
Exhibitions focusing on creating an environment where online participants (buyers) can comfortably browse the exhibition and obtain accurate product information are gaining traction. In particular, the "19th Seoul Cafe Show" held at COEX in November in a hybrid format grabbed attention by inviting famous coffee-related YouTubers to the show. They "strolled" around the exhibition hall freely while live streaming their tour of the site. With the perception of non-contact exhibitions turning positive, PR staff at the corporate booths proactively advertised their products when approached by YouTubers with a microphone and camera. Considering the publicity impact of YouTube, a hybrid exhibition is likely to become a new trend in the exhibition industry in 2021.
Hwang, Hee-gon, a professor at Hallym International Graduate School (Department of Convention and Event Management), said, "The exhibition industry is driven mainly by small and medium-sized companies. They are striving to add new value to hybrid exhibitions while making every effort to survive. He pointed out, "Public funding is urgent because it costs a lot to build an online exhibition platform."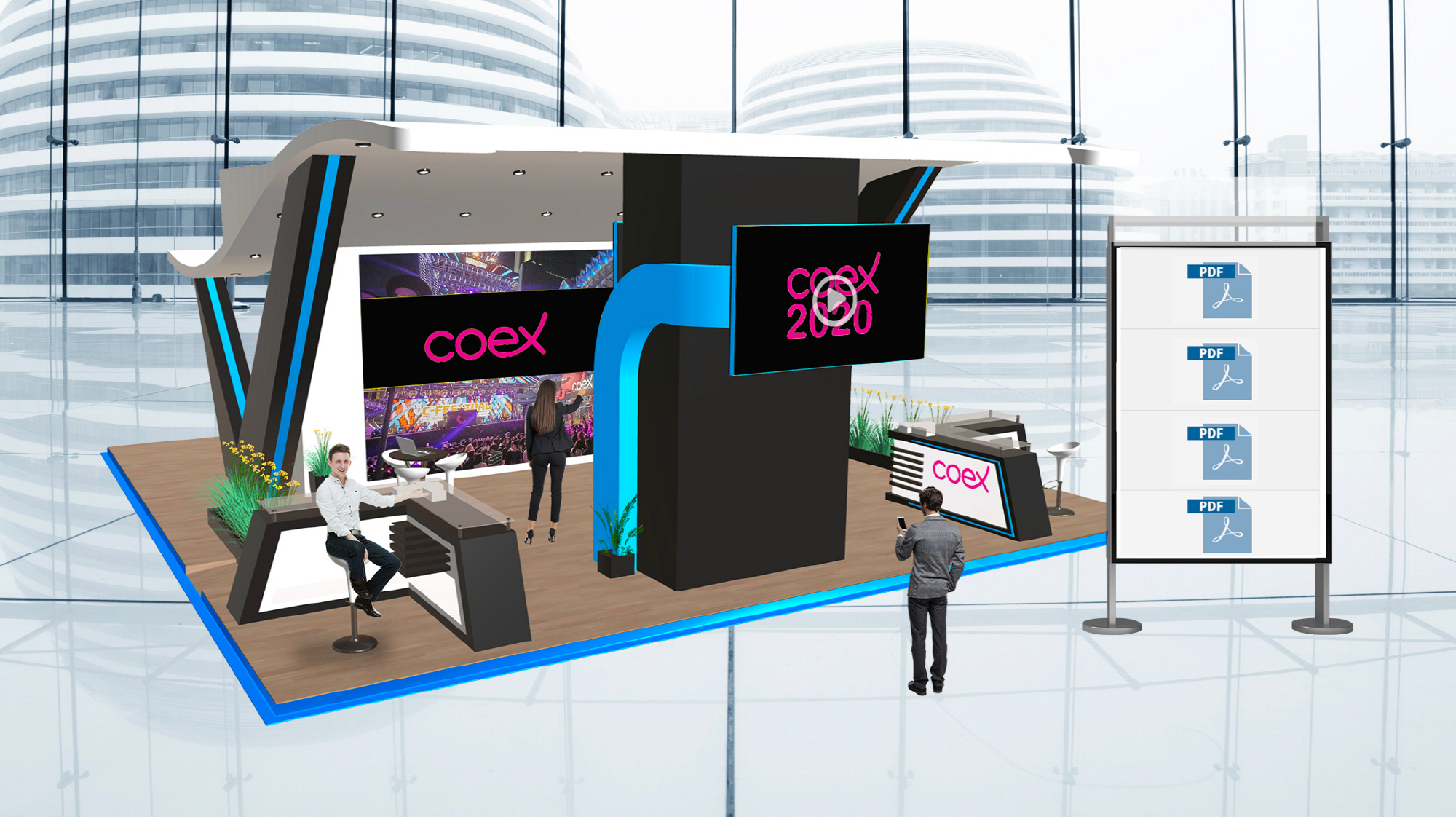 Meanwhile, COEX, a representative global exhibition hall in Korea, is also preparing for the hybrid exhibition trend by establishing an online live exhibition platform as part of its effort to enhance its online exhibition infrastructure starting from last November. COEX has entered into a strategic partnership with the virtual event platform provider NexTech AR Solutions, a Canadian AR technology company, to provide a virtual exhibition and conference platform that employs augmented reality (AR) and virtual reality (VR) technologies.
In preparation for the rising demand for hybrid events that will be in full swing from this year, COEX introduced "COEX Live", a hybrid event solution. Coex Live enables organizers to film and broadcast real-time on-site events such as large-scale international conferences, exhibitions, and seminars held at COEX. COEX Art Hall, previously operated as a small theater, will be converted to a virtual studio to provide comprehensive virtual hybrid services so that webinars and teleconferences can be held at the same time.
An official at COEX said, "In a post Covid-19 world, the environment of the exhibition and MICE industry will be grafted with digital technology to take on a remarkably different shape from the previous one, and the competition for international events between countries and cities based on technology and facilities will become more intense." He added, "We plan to transform all facilities in the exhibition and convention center into hybrid event facilities, while also recruiting and nurturing experts to deploy global-level event technology."
This year the conference industry will undergo a restructuring around the convenience of consumers under the influence of the pandemic. Many people are waiting for on-site events, but experts predict that a MICE event without any digital technology will be the thing of the past. Changes are likely to be inevitable as long as both the suppliers (organizers) and buyers (participants) of the MICE industry have become familiarized with digital platforms. In addition, business events scheduled for this year, both inside and outside the MICE industry, are expected to play a leading role in all industries by incorporating more advanced digital technologies. Aside from the threat of Covid 19, the digital market has already opened. As Professor Yun, Yu-sik said, the MICE industry in 2021 will see fierce competition with the emergence of various digital or hybrid formats. It remains to be seen "who" will bring "what" to create a new trend in the newly opened market. The race for technological innovation in the MICE industry has already begun.