[SCB News] "Seoul is the Asia Pacific Hub" for 2021 ICCA Congress for two consecutive years
​

'The ICCA Congress Hub' for Four-day Congress in Colombia on 24 - 27 October
1,500 participants expected from convention bureaus and PCOs of 90 countries
Seoul upgraded from 'Hub City' to 'Regional Hub' of Asia Pacific
Seoul Tourism Organization signed a business agreement with ICCA, the International Congress and Convention Association to take part in the second multi-hub hybrid meeting, '2021 ICCA Congress', as a hub for the Asia Pacific Region. The business agreement, signed on July 15th, designates Seoul two years in a row as a business partner. Seoul participated as a 'Hub City' last year, but this year, Seoul will serve as Asia Pacific's 'Regional Hub.' ICCA and Seoul Tourism Organization pledged to share and agree on overall event organization, local programs, and COVID-19 protocol for safe and stable events.
ICCA, which owns the largest global network of convention agencies, switched last year's annual congress to a 'multi-hub hybrid' format due to the COVID-19 pandemic. The multi-hub hybrid format assigns hub cities for each continent and region tohold meetings concurrently. ICCA and the hosting city Cartagena de Indias plan to select hub cities representing Europe, Africa, the Middle East, and the Asia Pacific regions. Last year, Seoul attended with ICCA's members, academics, andassociations in Korea. This year, however, Seoul will be a regional hub representing the Asia Pacific.
'Asia Pacific Hub Seoul' will be held at COEX for two days, on 26-27 of October. The event consists of ICCA headquarters' online programs from Cartagena de Indias and Seoul's local programs. All off-line sessions assembled in Seoul will be broadcast live for the AsiaPacific region's online participants who cannot sit in the headquarters' program due to time differences.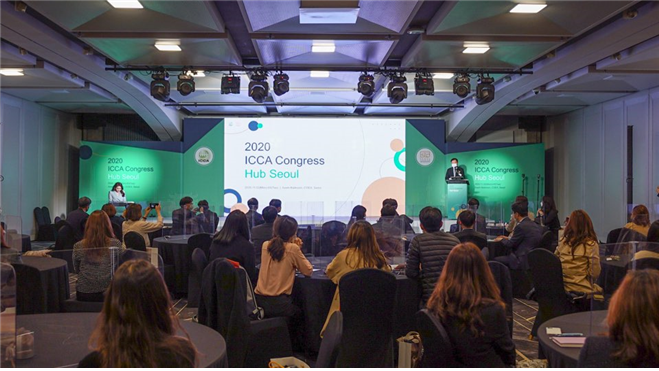 Seoul is the first Asian member of the Hybrid City Alliance set up to provide professional solutions for hybrid event format, led by the Hague, Geneva, Prague, and Ottawa. A Seoul Tourism Organization official commented, "We have know-howas an Alliance member city, such as the Alliance website that recently launched and the white paper that contains solutions for hybrid events. In addition, we will utilize last year's hosting experience to upgrade Seoul's position as the optimal hosting destination for hybrid MICE events.
Acting MICE Support team director of Seoul Tourism Organization Dohwi Kwak asserted, "We are aimed at heightening Seoul's position as a MICE destination by hosting high-quality international events in a hybrid format and contributing to the stagnant MICE industry in the COVID-19 era."