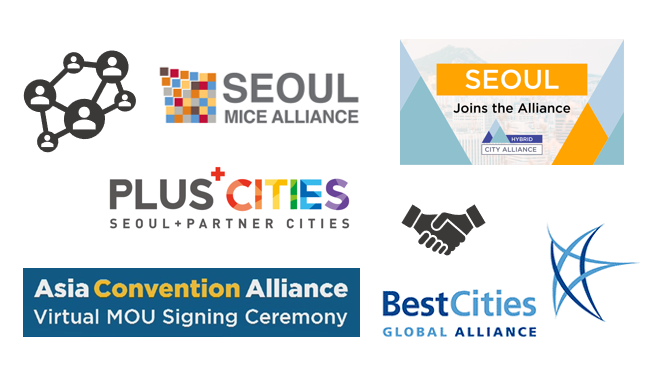 Online and hybrid events showing strong growth and MICE players need to win the information warfare through cooperation such as an alliance of affiliates from different sectors to obtain 'efficiency and effectiveness.'
As air travel is restricted and in-person business communications are drastically reduced, online and hybrid events are leading the MICE industry. Over the past two years, as the world was hit hard by the pandemic simultaneously, the MICE industry has entered a new phase. In particular, IT-based meeting technology, which was recognized as the next-generation technology in preparation for the 4th industrial revolution, has spread rapidly. As the MICE industry is undergoing a complete reorganization, the new event and planning environment, the introduction of latest technologies, changing demand of organizers, and rapidly changing trends have emerged as major issues.
All MICE players, including organizers that regularly hold events, general agencies, subcontractors (devices, services, agencies, etc.), and venues (convention centers, hotels, etc.) are facing a situation where 'collaboration' is inevitable. This is the reason behind the growing interest in MICE Alliances that bring together different institutions and companies in the MICE industry.
An alliance is also called an 'affiliate network' as it is an organized group that performs various functions jointly for the mutual benefit of the parties involved. Businesses and institutions have come together to form a 'strategic alliance' to gain economic benefits through the economies of scale. In Korea, it is customary for MICE-related organizations or companies in cities that strategically foster the MICE industry to form an alliance. However, there are global alliances that take different cities around the world as members. Amid the pandemic, there is a trend of MICE players knocking on the door of alliances to obtain new information or to enter new markets while sharing their resources, technology, and know-how on tourism and MICE.
PCOs, convention centers, hotels, incentive agencies, etc.
MICE companies are joining the Seoul MICE Alliance one after another
Prior to COVID-19, companies such as PCOs that do business related to international conference planning and event management have put priority on winning a project. Therefore, they tended to be passive in pursuing cooperation with companies from related sectors. However, things have changed due to the pandemic. As the number of online and hybrid events is increasing significantly, their interest shifted to industry alliances, a cooperative body among industry players.
PCOs had to acquire extensive knowledge on digital technology in order to hold high-quality events. And they had to do the legwork to find the right providers of digital and security solutions who used to play a minor role in the traditional MICE industry where most of the events were held in-person. A PCO representative in Seoul said, "It took more than a month to create a list of domestic and global IT companies with the necessary technology for online and video conferencing."
This situation was not unique to the PCO sector. Convention centers had to remodel their convention halls and exhibition halls, mostly dedicated to in-person events, into studios capable of holding online events. Hotels acquired new servers for online meetings, changed the interior to make it social media ready and retrofitted their facilities to accommodate different types of events and social distancing measures. Implementing these drastic changes required the acquisition of industry information and cooperation.
Rising demand for alliance membership was clearly demonstrated in the number of new registrations received by the Seoul MICE Alliance (SMA). A total of 18 companies, including PCOs, hotels, and a Unique Venue, joined the SMA as of early this year. Start-ups in new sectors of tourism and MICE became the members of the alliance as well. Most of them do business related to MICE mobility platforms, accommodation reservation platforms, and conference subtitle services. They must have figured that the SMA is the best way to "win the information warfare through cooperation" as it bands together various companies from different MICE sectors.
Major MICE cities in different continents launched the 'Hybrid City Alliance' at the end of last year
Responding to the surge in 'hybrid events'… leading information sharing and technology development
At the end of last year, the emergence of alliances that bring together neighboring cross-border cities gained traction. A representative example is the Hybrid City Alliance (Hybrid City), formed by major MICE cities from different continents. This alliance differs from existing inter-city alliances in that it was formed to share and jointly develop hybrid event technologies, rather than simply pursuing cooperation among cities without any particular agenda. The alliance has a specific goal of creating synergy in both in-person and online event areas through cooperation.
The Hybrid City Alliance was launched in December last year by four cities: Ottawa (Canada), Geneva (Switzerland), Prague (the Czech Republic), and Hague (the Netherlands). Afterwards, Durban (South Africa), Seoul (Korea), and Sydney (Australia) joined as member cities. In response to the rapid increase in online and hybrid events, the Hybrid City Alliance is providing active support for hybrid events in various ways, including sharing hybrid event solutions each member city possesses, collaborating on infrastructure building, and connecting with local partners.
As such, the strength of the Hybrid City Alliance lies in that it utilizes the two pillars of "cities" and "online" for connectivity and cooperation. The goal is to bring the 'Hybrid Multi-Hub event' to the highest stage of completion, in which one event is held simultaneously in several cities. This is a new type of alliance that emerged to capitalize on the opportunities that have arisen from online MICE events that remove restrictions on movement between countries.
In September this year, Seoul joined the launching of the 'Asia Convention Alliance' by signing a business agreement with the Thailand Exhibition and Convention Bureau (TCEB) and. Through collaboration with TCEB, two bureux will take the following actions: select international conferences that can be held in different cities in turn and select local PCOs for those conferences; create special support programs so that the international conferences selected for the next year can be held in the counterpart city; make efforts to carry out projects needed for the operation and promotion of the alliance including hosting of joint events. In addition to the two organizations, five other organizations, including Thailand Incentive Convention Association (TICA), Malaysia Exhibition and Convention Bureau (MyCEB), and Taiwan Foreign Trade Development Association (TAITRA), attended the MOU ceremony which was held online.
Experts predict that even in the post-corona era, demand for online meetings or hybrid events will not decrease. Therefore, the strength of the alliances, which can respond flexibly and cohesively to industry changes, is expected to be increasingly highlighted.
In a recent column, Leslie Williams, Executive Director of Best Cities Global Alliance, emphasized the importance of 'connection' between alliances in address the global issue of the COVID-19 pandemic. In her signed column 'Best Cities Global Alliance: 2021 and Growth' in June, she said, "Basically, cities compete for business, but while supporting each other (through an alliance), they think about what value they can add to customers and the industry. She also stressed, "(After the pandemic is over) the world will flourish when we share our resources and collaborate more." The Seoul MICE Alliance (SMA), which celebrated its 10th anniversary this year, is seeing growing solidity among its members amid the pandemic.
Division heads, executives, and member companies are exploring ways to become more competitive together through active communication than ever before. An official from the Seoul Tourism Organization said, "As the members of the SMA were navigating through the difficult times together, they are redefining their relationships, recognizing each other as partners instead of as competitors. They have started discussing ways to flourish together."