[SCB News] "STO" became the first public organization under Seoul Metropolitan Government to win the IDC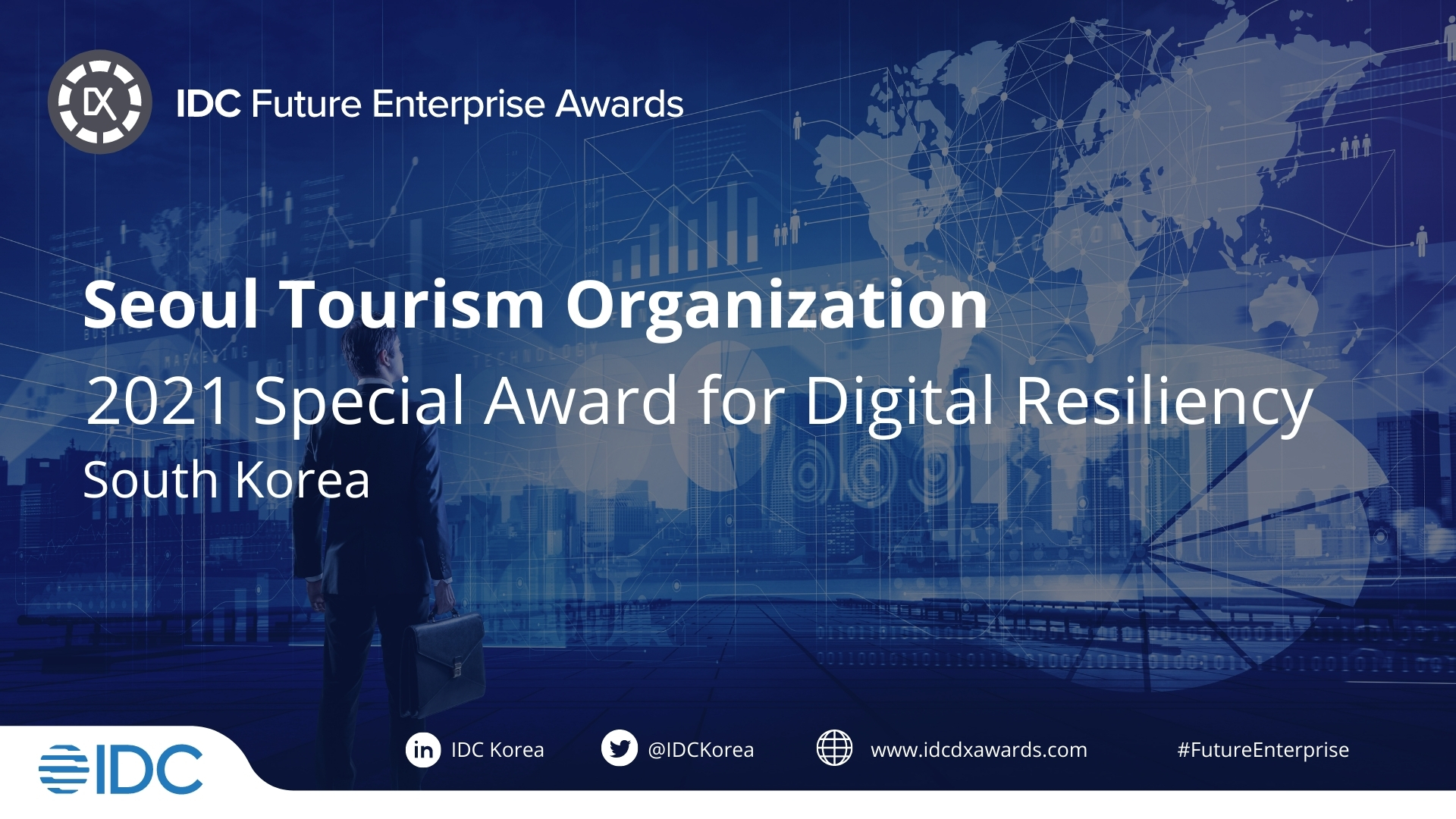 ​Special Award for Digital Resiliency of the IDC Future Enterprise Awards
recognized as one of the leading digital leaders in Asia Pacific
"Virtual Seoul" and "MICE WORLD" hailed as groundbreaking and unique
a leader in MICE digital transformation … high expectations for "Virtual Seoul 2.0"
"Endeavors to make the MICE ecosystem digitally resilient will continue."
The Seoul Tourism Organization (STO) was recognized as one of the world's leading organizations in digital innovation. At the IDC Future Enterprise Awards hosted recently by IDC, a global market intelligence and consulting firm, the STO was selected as a Korean winner of the Special Award for Digital Resiliency for 2021. IDC, International Data Corporation, is a consulting firm headquartered in the United States with more than 1,100 analysts working in 110 countries around the world. IDC has a reputation of being the world's best provider of market intelligence in information technology, telecommunication, and consumer technology sectors.
The STO won The Special Award for Digital Resiliency for its leading role in digital transformation in the tourism and MICE sectors with its "Virtual MICE Infrastructure" project. It was highly praised by IDC for having built and distributed "Virtual Seoul", a 3D virtual event platform, for use by MICE industry players to host MICE events online by moving in-person MICE events suspended due to the pandemic to the virtual platform.
IDC commented that the "Virtual Seoul Playground" that employs the metaverse technology to allow users to use a personal avatar to explore Seoul virtually and enjoy three types of Korean culture-based team building games and the "MICE WORLD", an online PR booth for Seoul, that supports online international conferences are innovative MICE infrastructure unique to Seoul.
Through the launch of Virtual Seoul 2.0 at the end of October, the STO plans to add more virtual venues and functions to the platform, and make the platform utilized more to support a greater number of online events held in virtual Seoul. Kil, Ki-Yon, CEO and president of the STO, said, "Digital transformation has become a necessity rather than an option in the tourism and MICE industries in a situation where travels are restricted due to the pandemic." He stressed, "As our endeavors towards digital transformation were recognized with the award, we will continue to challenge ourselves to make the MICE ecosystem more digitally resilient and make it grow further."
In addition to the STO, nine companies including KB Kookmin Card, KOTRA, Lotte Card, and Hyundai Motor Group were selected as winners in each category of the IDC Future Enterprise Awards. Winners will continue to compete against the winners of other countries from the Asia Pacific region to win regional awards at the IDC DX Summit Asia Pacific Conference to be held in Singapore at the end of this month.
Meanwhile, IDC's DX (Digital Transformation) Award is awarded to the most outstanding company in digital transformation this year. Leading digital leaders of Korea such as Samsung SDI, Shinhan Bank, and KB Securities are previous winners of the DX Award. The DX Award was renamed IDC Future Enterprise Awards to reflect the rapid change in digital transformation caused by the pandemic. A total of 1,094 projects were received in 13 categories from 12 countries in the Asia-Pacific region.