[SCB News] Celebrating the 10th anniversary, SMA pushes for "Sustainable Transformation ON, Seoul"
​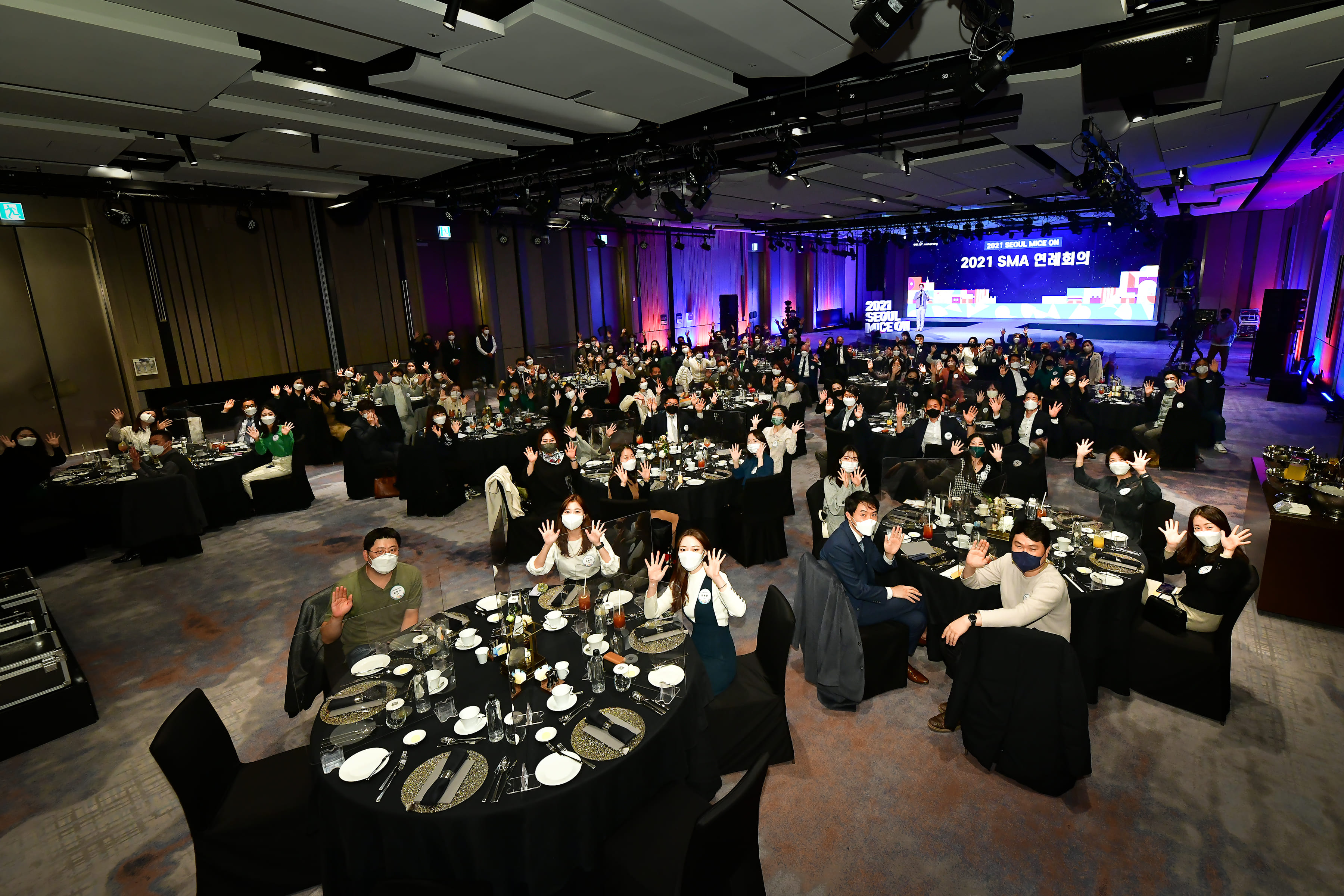 2021 SEOUL MICE ON and SMA annual meeting successfully completed
A hybrid event under the theme of "Sustainable Transformation ON, Seoul"
Seoul MICE Talk Concert, PLUS CITIES Briefing, a special lecture, etc.
Climate change, engagement with local communities, and digital transformation highlighted as ways to revitalize the country's MICE industry
Seoul is preparing for 2022 by putting top priority on "sustainable growth" as a way to achieve a breakthrough in the ailing MICE industry in the "living with coronavirus" era. Celebrating the 10th anniversary of the Seoul MICE Alliance (SMA) this year, the Seoul Tourism Organization (STO) plans to push for breakthrough innovations in 2022 through more joint marketing with local governments and closer networking among SMA members. An official from the STO said, "Everyone is having a hard time, but we need to muster courage to reorganize the MICE ecosystem and take on new challenges for a leap forward" as the STO announced the plan under the theme of "Sustainable Transformation ON, Seoul" at the 2021 SEOUL MICE ON, a hybrid event held at the Fairmont Ambassador Seoul grand ballroom on November 18th.
The 2021 SEOUL MICE ON held under the theme of "Sustainable Transformation ON, Seoul" featured sub-sessions under the sub-themes of "MICE and climate change response", "engagement with local communities", and "digital transformation", respectively. Through these cross-sector discussions, the STO derived ways to create new value and experiences and new business opportunities. The event, which lasted for 10 hours from 10 am to 8 pm, was livestreamed through the official YouTube channel of the Seoul Tourism Organization.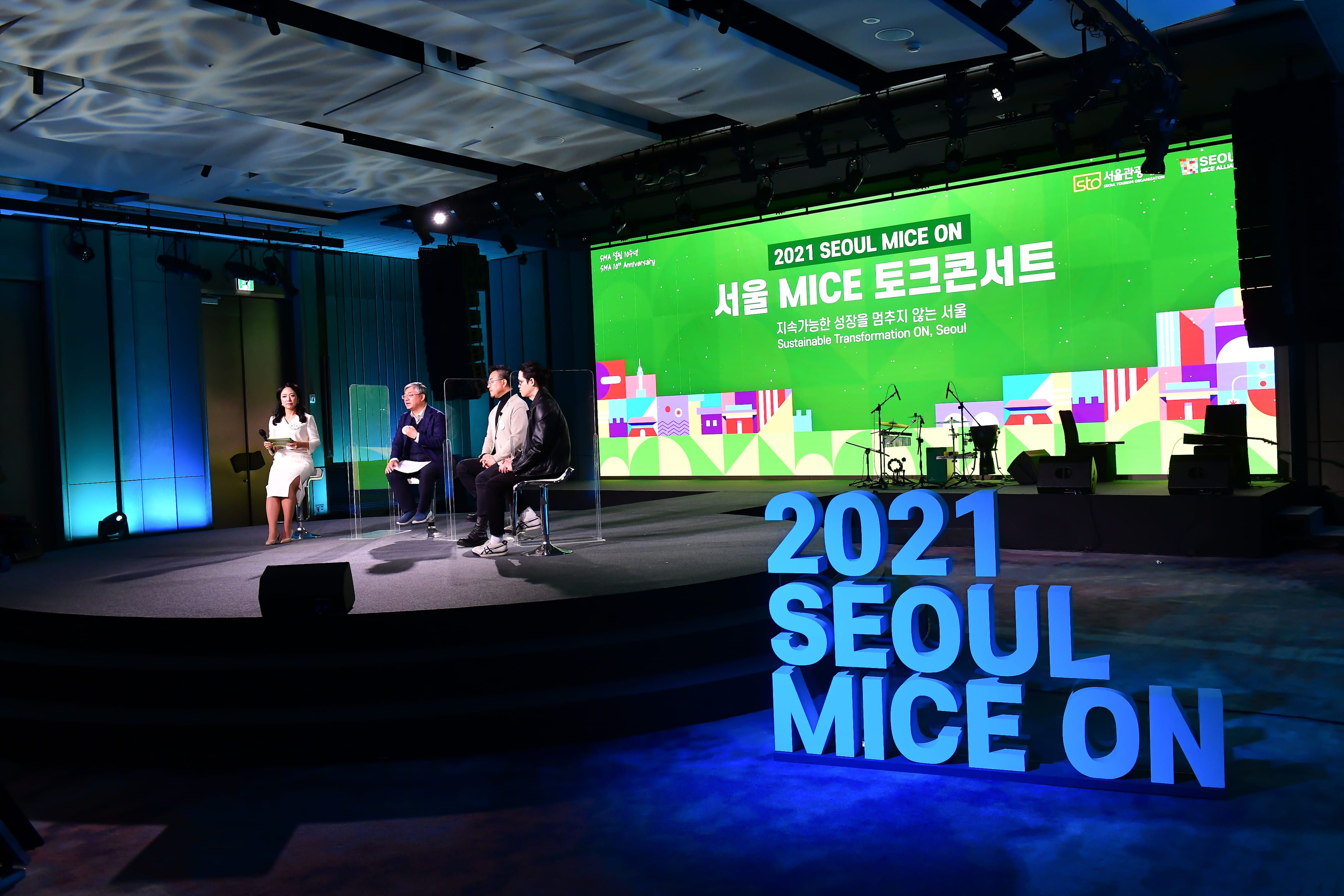 The morning session entitled "Seoul MICE Talk Concert" kicked off with a celebratory performance by the world music trio "VANDI". At the next session dedicated to the theme of the "Climate Change and the Future of the MICE Industry", Yoo, Yeon-chul, former Ambassador for Climate Change at the Ministry of Foreign Affairs, spoke about the successful hosting of "P4G 2021", Korea's first environmental summit. Yoo said, "We attached value and meaning to the form and content of P4G 2021 in line with the purpose and theme of the conference, which was "environment and sustainable development". ESG, which stands for environmental, social and corporate governance and represents sustainability, will play an important role in attracting international events in the future."
Then, Kim, Tae-young, CEO of Location Plus, shared domestic and foreign examples to demonstrate how the meaning of space could be reinterpreted and how those reinterpretations could energize urban regeneration in his presentation titled "Space Meets a New Paradigm!". Hwang, Jun-won, CEO of Future Channel MyF took a closer look at emerging business domains in the increasingly diverse online MICE industry from the point of view of "movement and connectivity" in his presentation titled "Sharing Digital Stories of the MICE Industry".
The afternoon session entitled "PLUS CITIES, Useful Information for Provinces and Cities" brought together seven members of "Plus Cities", a shared growth program for the MICE industry and local governments that the Seoul Metropolitan Government has been promoting since 2019. Currently, seven cities and provinces (Seoul, Gangwon-do, Gwangju, Gyeonggi-do, Gyeongsangnam-do, Jeollabuk-do, and Chungcheongbuk-do) are participating in the program to cooperate and share various support systems including joint MICE marketing.
In the "Zero Cost and Stress, Tips for Tourism and MICE Companies" session, experts in labor relations, law, tax and psychological counseling offered useful tips for businesses in the tourism and MICE industries struggling amid the pandemic. The one-hour special lecture session attracted great attention as experts who have been serving the MICE industry for long provided "one-point lessons" with tips that MICE companies can put to use right away to navigate through the pandemic-caused recession.
The evening session was an annual meeting of the Seoul MICE Alliance (SMA), which celebrated its 10th anniversary this year. The session was attended by 300 people including representatives from SMA members, industry officials and students. 100 people attended the meeting on-site with others participating online due to COVID-19 guidelines. After presentations on SMA activities and next year's plan, four new division leaders were introduced and commendations and awards were presented.
SMA members jointly attracted a total of 17 international conferences this year, including the "2025 World Congress of Neurology (5,000 attendees)". 51 SMA member companies jointly participated in a total of 8 overseas virtual exhibitions and conferences and held 430 rounds of buyer-seller meetings. A total of 35 companies participated in the SMA joint campaign "#Sustainable_Transformation_On" waged via social media platforms, recording a total of 290,000 engagements and conducting event attraction and marketing activities online.
Shin, Hyun-dae who will head up the Exhibition division in 2022 as newly appointed leader said, "We will overcome the pandemic by pulling our strength together. In 2022, the STO and the SMA will once again join forces towards the goal of sustainable development."
The SMA is a public-private partnership established in June 2011 jointly by the Seoul Metropolitan Government and the Seoul Tourism Organization to foster the MICE industry in Seoul. It is the largest MICE alliance in Korea with 318 members from 10 different fields of the MICE industry, including convention centers, hotels, professional conference organizers (PCOs), and travel agencies. The SMA carries out various joint cooperation projects to attract MICE to Seoul.