[Press Release] Eighteen International Conferences Selected Seoul to be the Destination.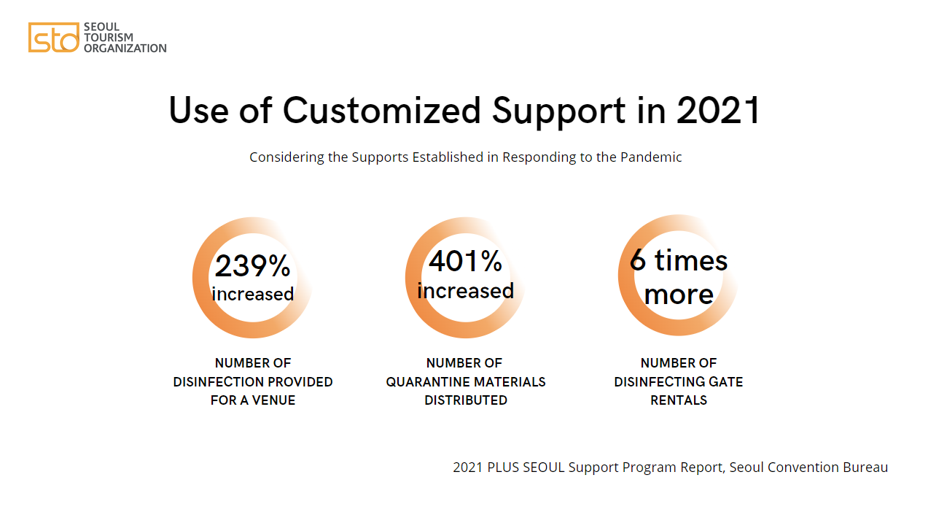 Seoul, KOREA- Seoul has successfully attracted 18 international conferences to be held in Seoul in 2021 including the World Congress of Neurology 2025 which expects 5,000 participants attending. The Seoul Convention Bureau has been offering customized consulting service for each bidding process through PLUS SEOUL Support program to attract more International conferences to the city. With last year's success, Seoul will welcome about 23,000 participants in coming years who will make the most of the city's advanced technologies and mesmerizing harmony of traditional and modern beauty.
Meanwhile, customized supports for safety and security measures remained to be rampant for those in need of further supports such as additional personal sanitizing materials. Rental of disinfecting gates rose in popularity within the event planners. Even after considering the period was longer in 2021, the number of rentals jumped six folds, from 8 times in 2020 to 48 times in 2021. Related supports such as disinfection of event venues and providing of personal protective equipment has also increased two to three times.
"Seoul knows how to pull off a hybrid meeting on the bases of digitalization settled already and corresponding crisis-management means. These are the major strengths that the city has as to be the best hybrid MICE destination," said one of the officials of MICE Supporting team at Seoul Convention Bureau. She continued, "we will continue to develop our strengths by further updating our supports for more associations to host their conferences on a larger stage and make sure all events are to be hosted in safe and secure surroundings utilizing its exclusive database of 250 associations."