[SCB News] "Digital goods and luxury images" received most "likes" on Seoul's social media channels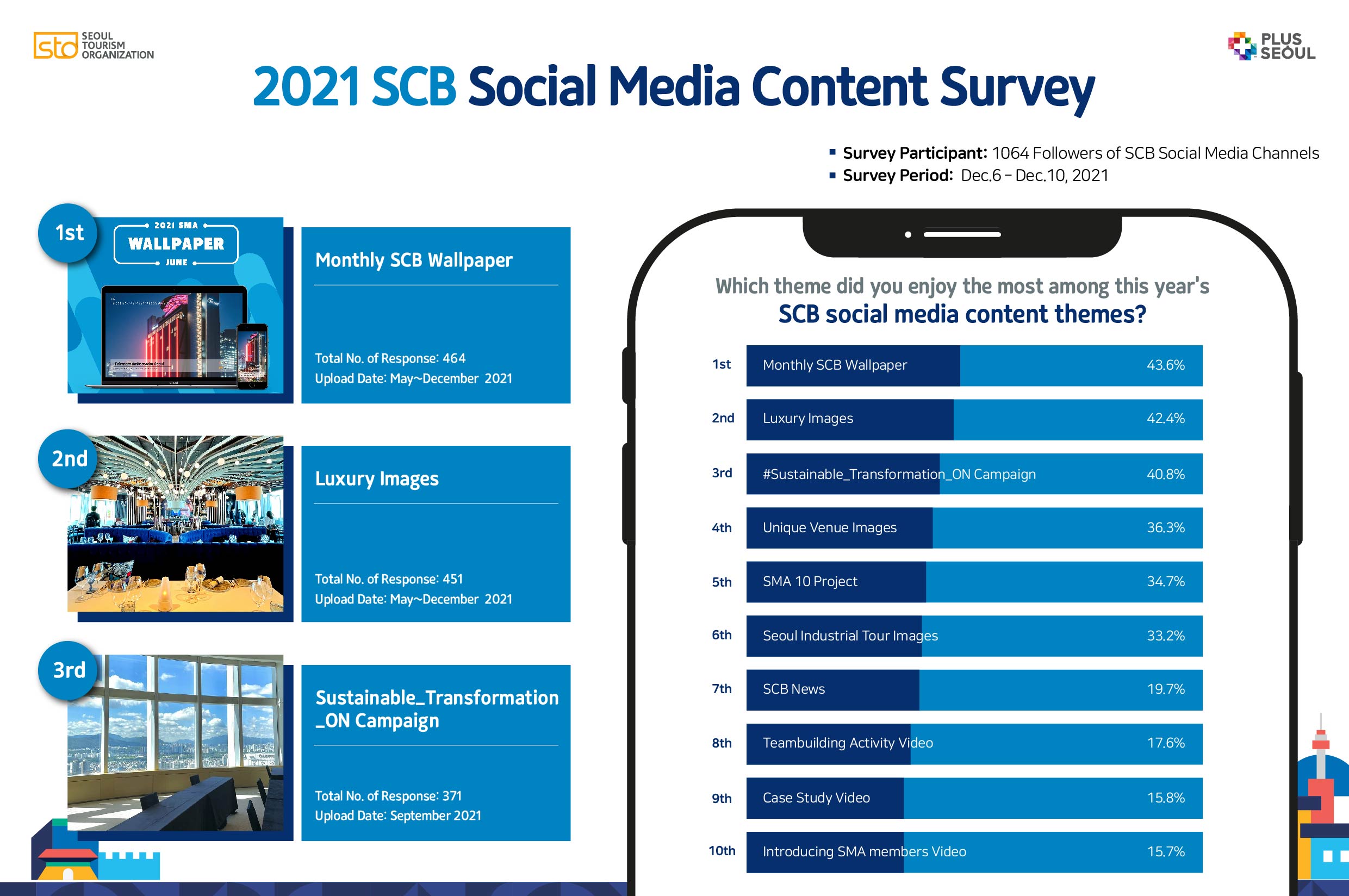 "Seoul business travel trend" in the eye of a thousand local and foreign nationals
Seoul Convention Bureau conducted a social media survey on "best content of the year"
Capturing changes in Seoul business travel trend in the age of "living with COVID-19"
Growing interest in "joint campaigns", "unique venues", and "short-form videos"
Views of videos on Seoul Convention Bureau's social media channels up by 180% on-year
Which posts on Seoul's tourism and MICE-related social media channels are getting most "likes"? In December 2021, we conducted a survey to understand the kind of content that makes people's hearts flutter(!). "2021 Social Media Content Preference Survey"and "Online Content Satisfaction Survey" were conducted jointly by the Seoul Metropolitan Government and the Seoul Tourism Organization (CEO Kil Ki-Yon) on international viewers and Seoul MICE Alliance (SMA) members, respectively.
Digital goods such as wallpapers for mobile and PC, luxury images, joint campaigns, unique venues and the SMA 10 Project made it on to the "top 5 most preferred content categories"selected by the 1,064 foreign followers surveyed. "Industrial tourism" and "sustainability" were also cited as main keywords. The SMA members surveyed (53 respondents) said that they are most satisfied with "customized promotional video production (67.9%)", mirroring the latest trend.
Posts on the Seoul Convention Bureau's social media channels in 2021 were classified into ten categories and the respondents were asked to select up to three categories that interested them the most. The most cited reasons for the selection of the top 5 categories included "It provided online useful information on luxurious venues and hotels in Seoul, helping me plan for my next year's business trip to Seoul (although visiting any city is not easy due to the pandemic)" and "The wallpapers and unique venues posted by the Seoul Convention Bureau every month make me want to visit Seoul." The respondents also cited reasons such as "interest in Seoul's MICE industry and eco-friendliness" and "sustainability".
Targeting young generations, the future consumers of the global business travel market, the Seoul Convention Bureau distributed mobile and PC wallpapers as digital goods with content related to business travel to Seoul. As seen from the survey results, interest in online content has risen remarkably. In fact, in 2021, videos posted on the Seoul Convention Bureau's social media channels (Facebook, Instagram, LinkedIn) recorded 3.36 million cumulative views, up by 180% on-year.
Kim Jihyun, head of MICE planning team at the Seoul Tourism Organization, said, "In line with the global living with COVID-19, the city of Seoul is stepping up contactless marketing campaigns toward overseas business travelers." She added, "Starting with the distribution of e-book content on Seoul's industrial tourism in January 2022,we will create online promotional materials tailored to business travelers to enhance Seoul's competitiveness in attracting MICE, considering the survey results."
The Seoul Tourism Organization asked international viewers, potential customers of Seoul tourism and MICE, to select "best content of the year" and local MICE professionals to select "marketing projects they would like to participate in next year again".The first survey received responses from 1,064 international viewers on the Seoul Convention Bureau's Facebook and Instagram for five days from December 6 to 10, 2021. The second in-depth survey on "online content" was conducted on 53 professionals from SMA members.