The second quarter of 2022 is beginning, when large-scale face-to-face events that have been delayed are increasingly resumed. We conducted a short interview with young representatives from the PCO division of Seoul MICE Alliance, who have been responding to enormous changes over the past two years. Let's find out real stories and thoughts behind the paradigm shift happened in the industry with digitalization and more.
* The interviews, which were done separately through emails, are reorganized to mock a panel interview format.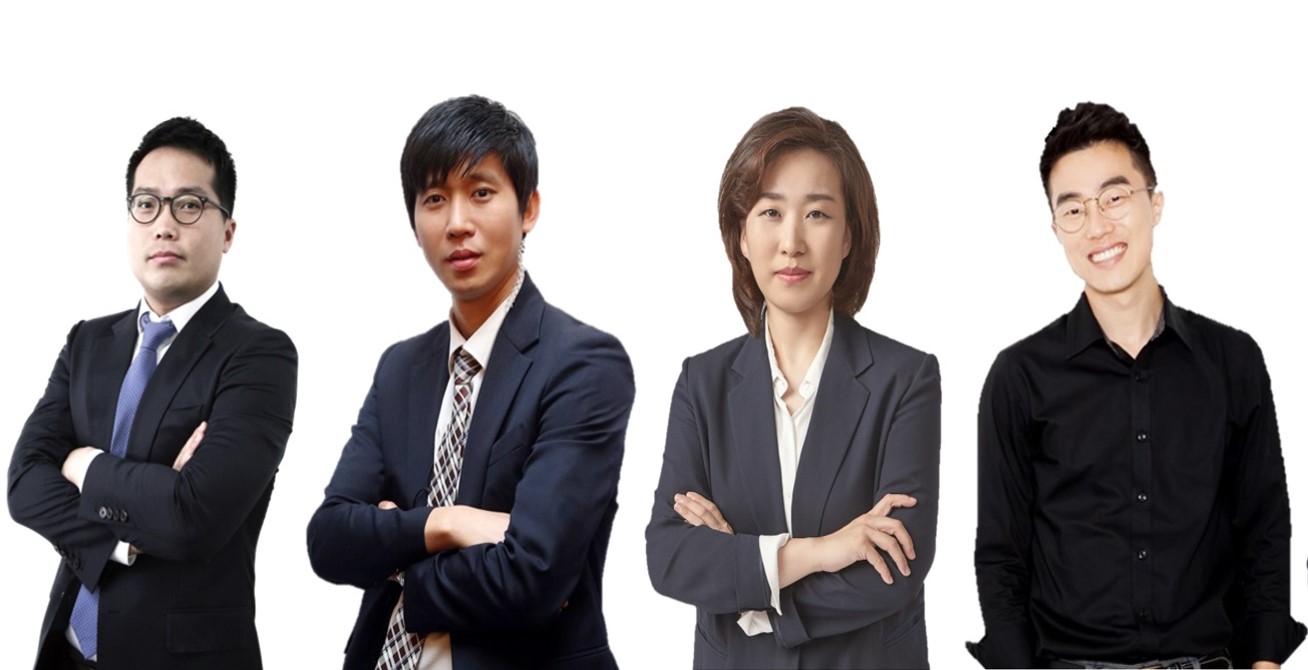 (From left to right) △HWANG, Sung Min CEO of OPENER DOC △KIM, Taek Joo President of COMEX PLAN S
△LEE, Kayla Country Director of CHANNEL K △NA, Sujung Chris CEO of Chris & Partners
HWANG, Sung Min CEO of OPENER DOC
KIM,Taek Joo President of COMEX Plan S
LEE,Kayla Country Director of CHANNEL K
NA,Sujung Chris CEO of Chris & Partners
*Interviewees are in an alphabetical orderby family name.
Q1. Thank you for your time to participate in this interview. It is an honor to have young representatives fromthe MICE PCO division of the Seoul MICE Alliance when the industry is tremendously busy at the time to resume MICE events. Before asking questions, please give us a brief introduction about your company for the newsletter subscribers.
HWANG: Hello, I am Hwang Sung Min, CEO of Opener DOC. I established the company in 2013 desiring to make a new path in the MICE industry. I started with the goal of establishing a company that can plan, develop, and manage new items as a content management company that people in the PCO industry have always dreamed of, and Opener DOC is continuing to take on new challenges to realize that dream.
KIM: Hello, I am Kim Taek Joo, Presidentof COMEX Plan S. COMEX Plan S is an international conference and MICE corporation established in June 2014. We are a "Professional MICE Contents Creator" that makes value and drives change and growth under the vision of "Designing a better future with a challenge-welcoming spirit". We are a trustworthy, faithful partner, inviting reference check for any one of the events in our history, in both 'process and result' with trend-reflecting planning skills, meticulous preparation, stable event management, and excellenton-site response skills, and a MICE expert group that drives success.
LEE: Hello. This is Kayla Lee; Country director of Channel K. Channel K is a company that combines PCO and DMC aiming to become a global MICE communication agency.
Considering "Channel K for all MICE and MICE for all Trading" as the vision of the company, we not only plan and operate MICE, but also plan professional trade marketing services using global networks. It is also a representative Korean member of EUROMIC which is consisted of global branches in 52 countries and a global network of more than1,000 people. We also strategically entered the European market with the UK Marketing Office (GMC, Global Marketing Connections). As the more Korean is the most global, we are challenging ourselves to become a globally recognized PCO.
NA: Hello. This is Na Sujung from Chris& Partners. First of all, thank you for this great opportunity. We, Chris& Partners, started as PCO in 2013, and although our main business area is still PCO, we are gradually changing our positioning as a Business Intelligence-based event organizer from 2018. Since 2018, we have been expanding the events we directly host and manage every year.
Q2. I seems to me that the MICE PCO Division was the one that had to respond to the most changes due to the impact of COVID-19. In your opinion, what changes do you think have directly affected your company? And how are you responding to these changes?
LEE: The MICE industry has been hit hardby the Corona virus over the past two years. However, I think that domestic PCOs with excellent ability to cope with crisis situations moved quickly and moved forward with the business.
Our company also responded quickly to the market change with the companies that we had signed global licensing agreements for online meetings and exhibitions in the early stages of the pandemic. In addition, we developed our own solutions to diversify actualization of the requests of the organizers, which promptly responded to the ongoing online conferences and exhibitions. So, from after the first year of pandemic, we were able to maximize the advantages of attracting overseas participants with better quality in content, rather than simply managing a meeting. The biggest change seems to be that participants can now attend MICE events from anywhere, in a convenient way, and the quality of international conference content seems to have improved.
NA: I think the change in form of hosting a MICE event was the biggest challenge for all PCO companies. It was a massive challengeat the time to encounter online and hybrid events which appeared unexpectedly from an unprepared situation. However, when I look back on it now, it seems to have presented a new opportunity for our industry to take a big leap forward. While we, Chris & Partners, were adapting to online/hybrid events, we began to contemplate deeply about the realms of digital and data. As a result, it seems that we have newly expanded our positioning in the area of ​​data-driven, quantitative events.
HWANG: It is certain that the accelerated digital transformation was the biggest change. I think the part that quickly adapts to it made a subtle difference. And this difference created a new era of transition for all industries including our MICE industry. If the PCO busines sbefore COIVD-19 was more focused on flawless executions of what was already written on the given agenda, I think that in the future, we have opened an era of new business creation through win-win cooperation with other industries and associations.
KIM: In fact, the prolonged COVID-19 outbreak has changed both the way events are held and the way companies are run. As the offline method, where stable operation was important, is expanded to the online domain, interest and understanding of new programs and technologies become prerequisites for planning an event. New ideas are constantly needed to create convergence with the MICE industry by integrating digital transformations such as big data, blockchain, and metaverse.
In order to respond to these changes from the initial stage, we built MX Studio, a live studio of 165 square meters, and operated it on our own from 2 years ago, testing and researching various programs and technologies. Though we actually held small-scale and online events, it is used more as a test bed to respond to changes rather than generate revenue. In addition, as the rapidly growing IT industry's working and welfare environment was compared to that of the MICE industry, another level of internal change was necessary. To this end, along with the establishment of a 52-hour work week, we are improving the pay environment for long-term employees and strengthening various workplace programs.
Q3. Please provide a detailed introduction to the format or service that your company has launched during the past two years.
NA: It's hard to say that we started anew, but if I had to mention it, in the early 2020 in the sudden pandemic situation–before online or hybrid technology was even discussed and introduced in earnest in Korea–we successfully pulled off the first large-scale online video conference which was quite meaningful to the industry. We also joined the consortium, but after the event, received countless inquiries about how the event was run. It was the largest hybrid event in Korea at the time, with 15 sessions and 150 domestic and foreign speakers over 5 days.
HWANG: We've launched two new challenges. The first one is to grow into a company that plans and develops content. In 2020 and 2021, we were planning for a Korean-style convention by starting the development of Korea's representative convention in the midst of hardship dueto COVID-19. As a result, we successfully pull off co-hosting the Global AISummit with MBC Cultural Broadcasting and co-hosting the Global ESG Forum with the Korea Economic Daily. Secondly, we developed an online reservation platform named 'ONTIME' to enhance the PCO's work convenience and efficiency. This program is a cloud-based solution that enables the integrated management of speaker-related tasks within one program. It was selected as the grand prize winner in the 'MICE Digital Transformation Case Contest' held by the Korea Tourism Organization and the Korea MICE Association in December, 2021. Although it is still just the beginning, we will upgrade the platform to help accelerate the digital transformation of the MICE industry.
KIM: We once have produced a full-day broadcast program in a studio built on the site separate from the main conference hall and broadcast it live during the two-day event. Various programs held at internal and external venues were gathered and broadcasted in real time including the main programs that were planned and operated and conversations, interviews, talks, lectures, and follow-up talks with online participants on the side. Vlogs, interviews and promotional videos for participating organizations were also produced in advance and utilized to the fullest.
We are also running online sessions, video production and editing, and AR and VR application through our MX studio.
LEE: The fields that Channel K has expanded over the past two years are marketing for international conferences and online meetings and exhibitions. We established a strategic cooperative relationship with Cvent (Virtual, In-Person & Hybrid Event Technologygroup), which can quickly reflect in face-to-face, virtual, and hybrid meetings, and materialized international conference marketing services as a Korean sales representative. In addition, we have expanded the hybrid exhibition service field for export and trade between buyers and domestic companies due to the COVID-19 crisis by utilizing our self-developed online exhibition and B2B consulting platform.
Q4. Please tell us aboutyour prospects for the MICE industry after 2022 and your plans for the future.
KIM: It seems like the endemic of COVID-19 is approaching. Face-to-face events that have been holding their breath are resumed, and the MICE industry is also expected to be able to stretch for regrowth once again. However, I think it is difficult now to return to the pre-COVID-19 situation. Changes will continue, and it is a time for proactive responses and intense efforts to meet them. Comex Plan S, too, will continue to consider and promote collaboration and pivot strategies with other industries that can respond to these changes together. So far, there is a sense of disparity in the situation of trying something while maintaining the main job as a PCO, and the situation in which we hit a dead end continues, but I have my expectation up for satisfying results someday.
HWANG: I believe that digital transformation will still accelerate even after the pandemic, and new business models will continue to emerge that are different from the ones that have been used in time. Therefore, I think it is time to catch up with the current trends and follow them closely, and find a business direction that fits the era and practice it ongoing. We, at Opener DOC, are also considering various options and circumstances for a new business model.
LEE: The MICE industry will be more diverse and stronger than before. The industry, which has stronger self-reliance than any other in its ability to cope with crises, will soon become a more advanced industry through a diversified way of gathering, discussing, and doing business in the With Corona time. In addition, incentive travel is becoming more active in some fields, and the scale is inevitably increased. The reason that the incentive tour was suspended was due to the lockdown of each country and the government's quarantine guidelines, and as this part is eased, there will be no further pauses.
NA: Well, it's a question I've been asked countless times, but it's still a difficult one. It is challenging to predict, but looking at the current trend, it is highly likely that 90% of the MICE industry will return to the pre-COVID state. Despite the enormous advantages of non-face-to-face, it seems that screen-to-screen technology cannot yet substitute the unique charm of face-to-face. However, about 10% are expected to evolve in the direction of maximizing the performance aspect while taking the characteristics of 'online, down-scaled, and segmented'. To put it simply, events that do notrequire quantitative performance measurement will return to the existingoffline method, and events requiring quantitative evaluation will be further accelerated by 'online, down-scaled, and segmented'.
Chris & Partners is preparing an online marketplace for MICE services to target that 10% market from 2020. After going through several tests with the POC for nearly two years already, we are doing our best to finish up the final work to open the beta version. Although it has not yet officially opened, it has had quite a few transactions during the alpha test period. We're also preparing to establish an office in Europe this summer for full-scale overseas expansion targeting the time when full mobility between borders is regained.
Q5. Thank you for sharing your precious time. Lastly, if you have any unfinished words, please do.
KIM: I think the essence of the impact COVID-19 has on us is not the change itself, but the speed of the change. So, it seems difficult to give a clear answer even now, after two years of the crisis, to the questions of asking for the appropriate strategies in the era of accelerationin which the trend leads the paradigm or for prospective response preparation for similar occurrences. I feel like chasing the light from the eye of a needle.I'm curious to see how the subscribers and other representatives are feeling. I hope there will be more time to talk more deeply at the Seoul MICE Alliance Leaders Roundtable in May. It is sad that the homework for the growth of the MICE industry has not yet been resolved even after the endemic is here, but I sincerely hope that good news will continue to come from many MICE companies preparing for new challenges and changes. We, COMEX Plan S, will also do our best! Thank you!
HWANG: I hope that the MICE industry, where people are valued, will overcome the unfinished COVID-19 crisis well. After the pandemic, we can make use of the lessons we learned from the crises to put all our heads together and work together in a win-win competition rather than an exclusive competition in the past, so that we can all come together and overcome any other crisis on the way. Bestest luck for the Seoul MICE industry!
NA: I feel like I was being too talkative today. It'd be nice to hear other people's opinions as well. We operate rentals of a meeting room and a webinar studio behind the Sejong Center for the Performing Arts in Gwanghwamun, so, please feel free to drop by our office for a cup of coffee and talk. I look forward to the opportunity. Thank you.
LEE: I would like to express my support to everyone in the MICE industry who is struggling with the novel corona virus infection (COVID-19). I hope that all industries that we live and support together will revive as soon as possible!