[SMA Insider] Sofitel Ambassador Seoul delivers the "authentic" French culture in the city of Seoul
· A seasoned hotelier with 29 years of experience who started as a sales manager
· Earned the nickname "CEO specializing in launching new hotels" including ibis Seoul Gangnam
· Sofitel set tospread the authentic French culture in Korea
· Perfect MICE venue with an outstanding grand ballroom and seminar rooms
· "Empowering department leaders... flexible and attentive customer service"
Sofitel was the world's first international luxury hotel brand launched in France in 1964. Sofitel Ambassador Seoul is the most luxurious hotel brand of Accor Group. Sofitel went beyond providing the best lodging services to promote the French culture throughout the world by incorporating the modern French style and the French way of life "Art de Vivre" into its facilities and services. This approach is well represented in its brand slogan "Live the French Way."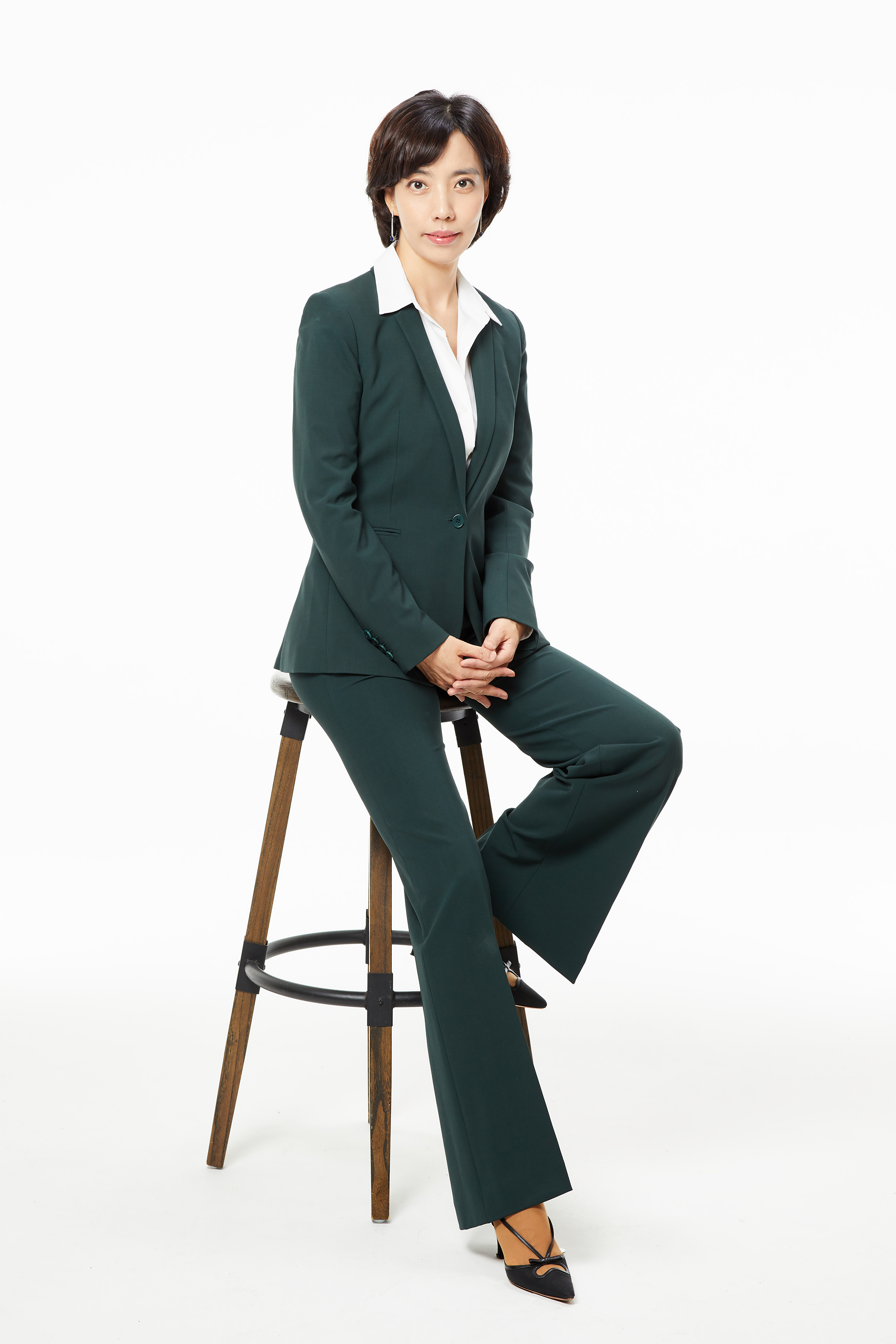 △ Min-sook Cho, General Manager of Sofitel Ambassador Seoul Hotel & Serviced Residences
Sofitel Ambassador Seoul, which delivers the most original French sensibility and culture into Korea, is led by General Manager Min-sook Cho. General Manager Cho has been in the limelight for her role in the successful openings and operations of ibis Ambassador Seoul Gangnam, ibis Ambassador Style Myeongdong, and Novotel Ambassador Dongdaemun. The general manager position, which has long been reserved for male or foreign hoteliers, was a heavy weight upon hers houlders for Min-sook Cho who rose from sales manager to general manager. But she has proven her capabilities through a series of successes she created by leveraging her 30 years' experience in hotel business.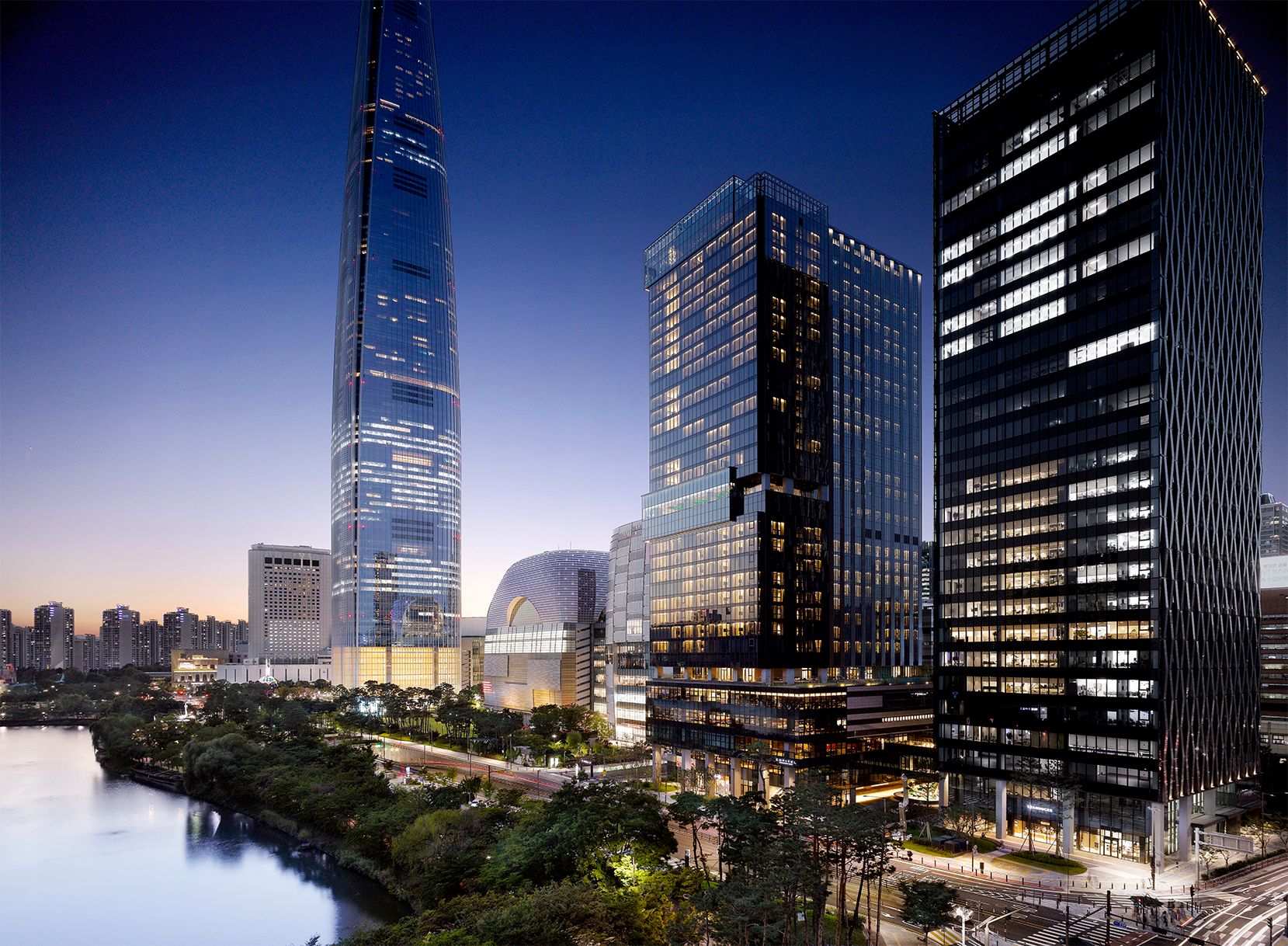 △ Sofitel Ambassador Seoul Hotel & Serviced Residences
"Good teamwork creates agood atmosphere, a good performance and the best service."
-Sofitel Ambassador Seoul stands for"Modern Luxury and French Lifestyle."
"Bonjour" is the first word that greets every guest at Sofitel Ambassador Seoul. It provides a "cultural link" that connects the elegant and delicate French culture with the charms of Korean culture and traditions with modern reinterpretations. Sofitel Ambassador Seoul is Korea's first luxury hotel brand to have a hotel and serviced residences in one place, offering services tailored to guests' varying needs. The French lifestyle is woven into its chic design, authentic dining, art and culture, and wellness services. Simply put, it is a top-class luxury hotel where you can experience French sensibility in the heart of Seoul."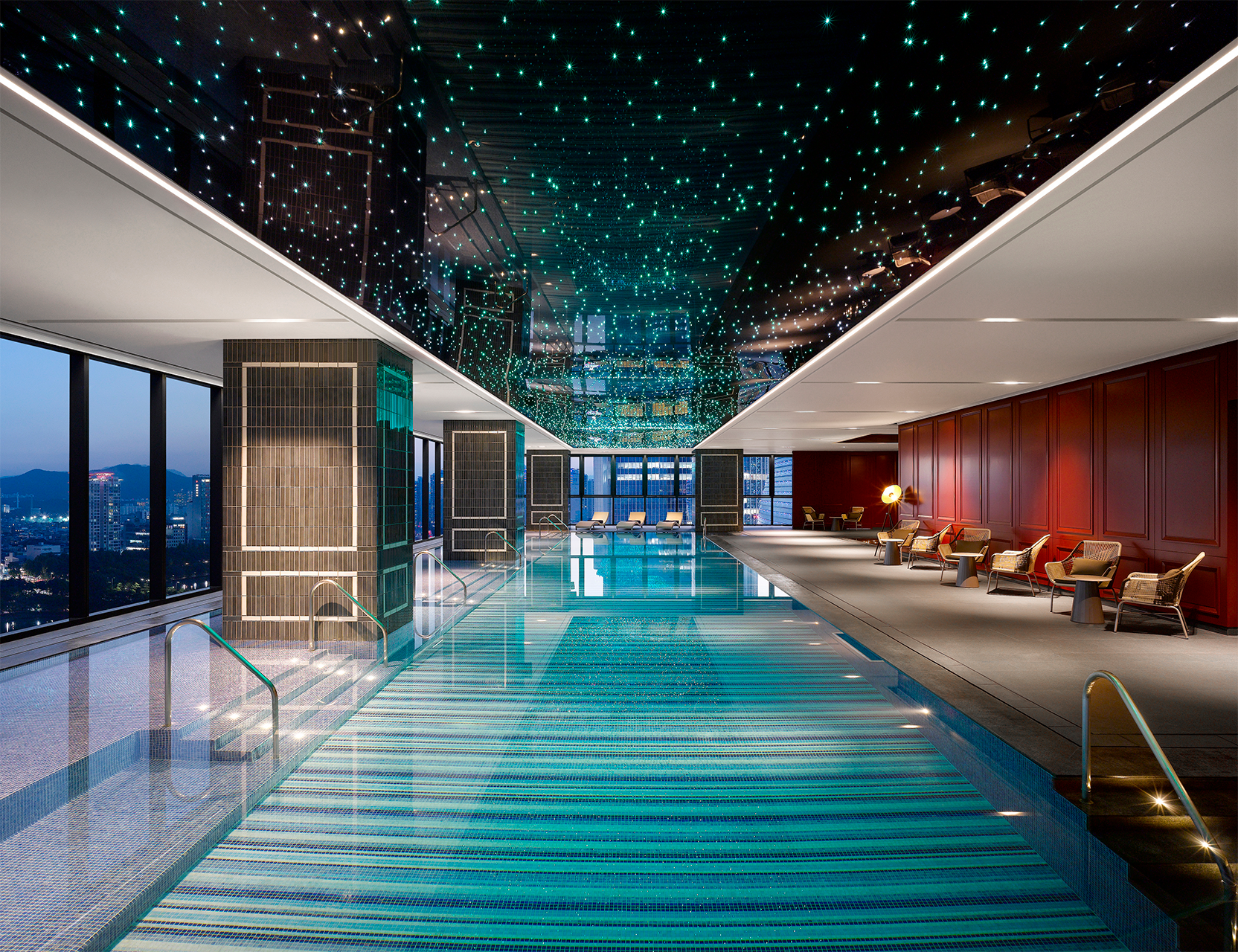 △ 'Indoor Pool' with a panoramic view of Seokchon Lake and the center of Seoul
-Sofitel Ambassador Seoul offers unique features such as its chic Parisian décor and panoramic skyline views.
"Sofitel Ambassador Seoul has 563 rooms carefully arranged to make our guests feel a different level of comfort and pleasure than they may have at home. With 403 hotel rooms and 160 serviced residences, we are well positioned to meet different needs of different guests. Our guests can enjoy the changing colors of the four seasons of Seokchon Lake, the delight of deep sleep guaranteed with Sofitel's signature bedding program MyBed, as well as the delicate Parisian décor augmented with modern flavors.
Guest rooms are fitted with the artificial intelligence platform Giga Genie which supports multiple languages and allows guests to use a simple voice command to request non-contact services such as lighting and temperature control and amenities. I strongly recommend our customized service Cousu Main offered at exclusive executive lounge Club Millésime, which includes private check-in, breakfast, snacks, and eveningcocktail services. We also have four restaurants, one bar, two fitness centers, a 25m swimming pool, spa, sauna, and kids lounge."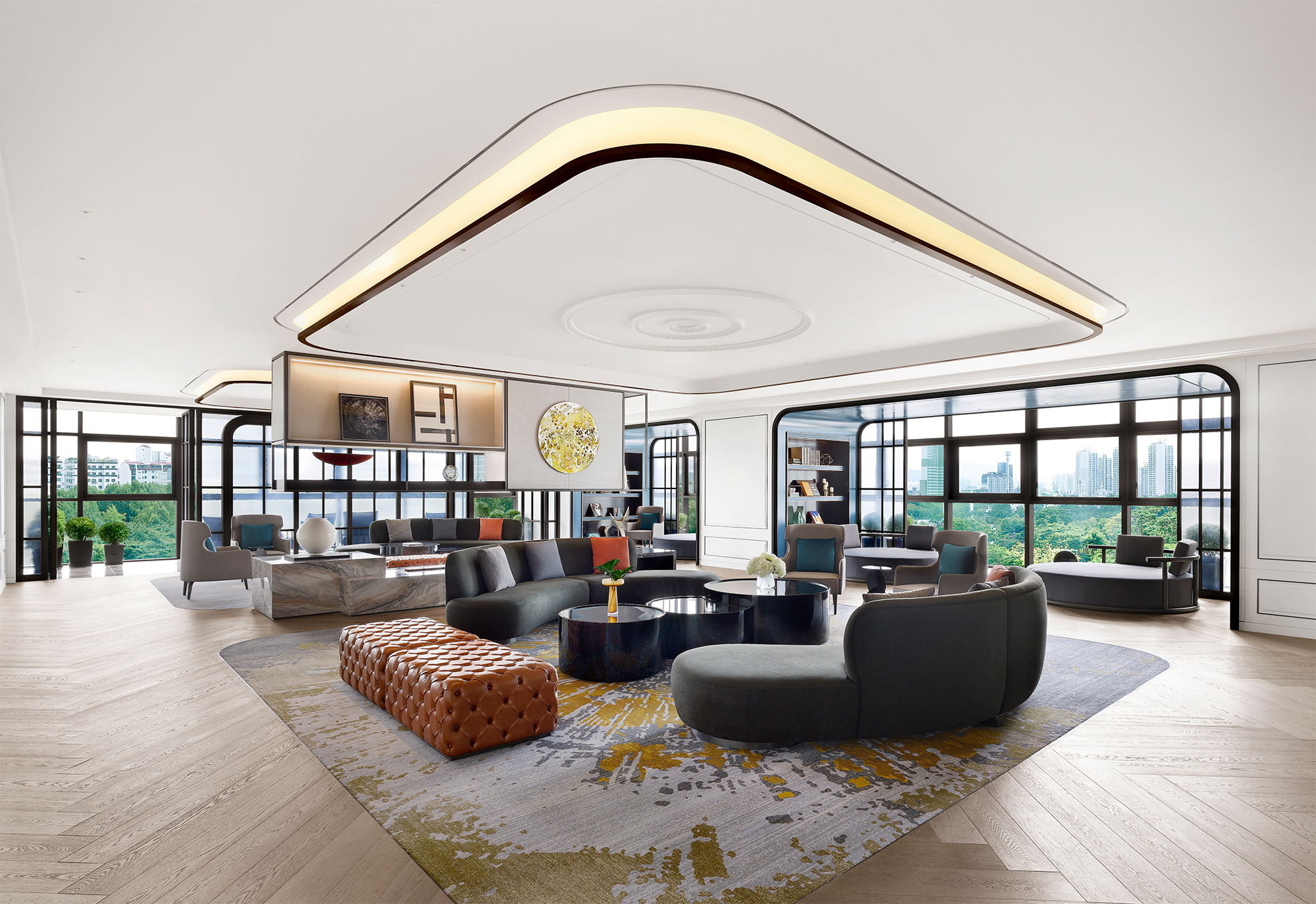 △ 'SalonS', a lobby lounge for the residence guests
-The serviced residences optimized for a long-term stay also draws attention.
"The serviced residences(7th~14th floors) are equipped with a living room, kitchen, dining area and bathroom, adding convenience and comfort to mid- to long-term stay. The lobby lounge Salon S and a fitness center on the 5th floor are dedicated to serviced residence guests. Salon S offers evening cocktail services which include cold plates, small bites, and a variety of alcoholic beverages to allow residence guests to unwind and relax after a day's work."
-You have been working to spread French culinary culture with inspirational gastronomic experiences.
"The five restaurants and bars offer a unique luxurious French gastronomic experience meticulously curated by French female head chef Anne-cécile Degenne, making guests feel as if they were in France. The chic bistro "Fait Maison" introduces original French homemade meals cooked with Korean ingredients. To recreate perfect French homemade meals in the city of Seoul, the restaurant pays a great attention to the details, which includes the use of Moltani, a traditional French grill imported from France. It is not simply a French style dish, but an artistic homemade French gourmet meal created with years of expertise.
"Salon Prive," agourmet class held after lunch, and "French Cooking Class", led by a female French chef, are popular among customers. The French Cooking Class selects a specific region of France and makes dishes that are enjoyed in or originated from that region. In the previous classes, students made galette de rois, a representative New Year's food in France, and homemade chocolate to commemorate Easter. The class lasts for three months, one session per month. 170 people applied for the next round which starts in July and accommodates eight students only, demonstrating a high level of interest in the class. We are also trying to provide differentiated experiences to our customers by creating event programs that are reflective of the diverse cultures of France, such as a music festival."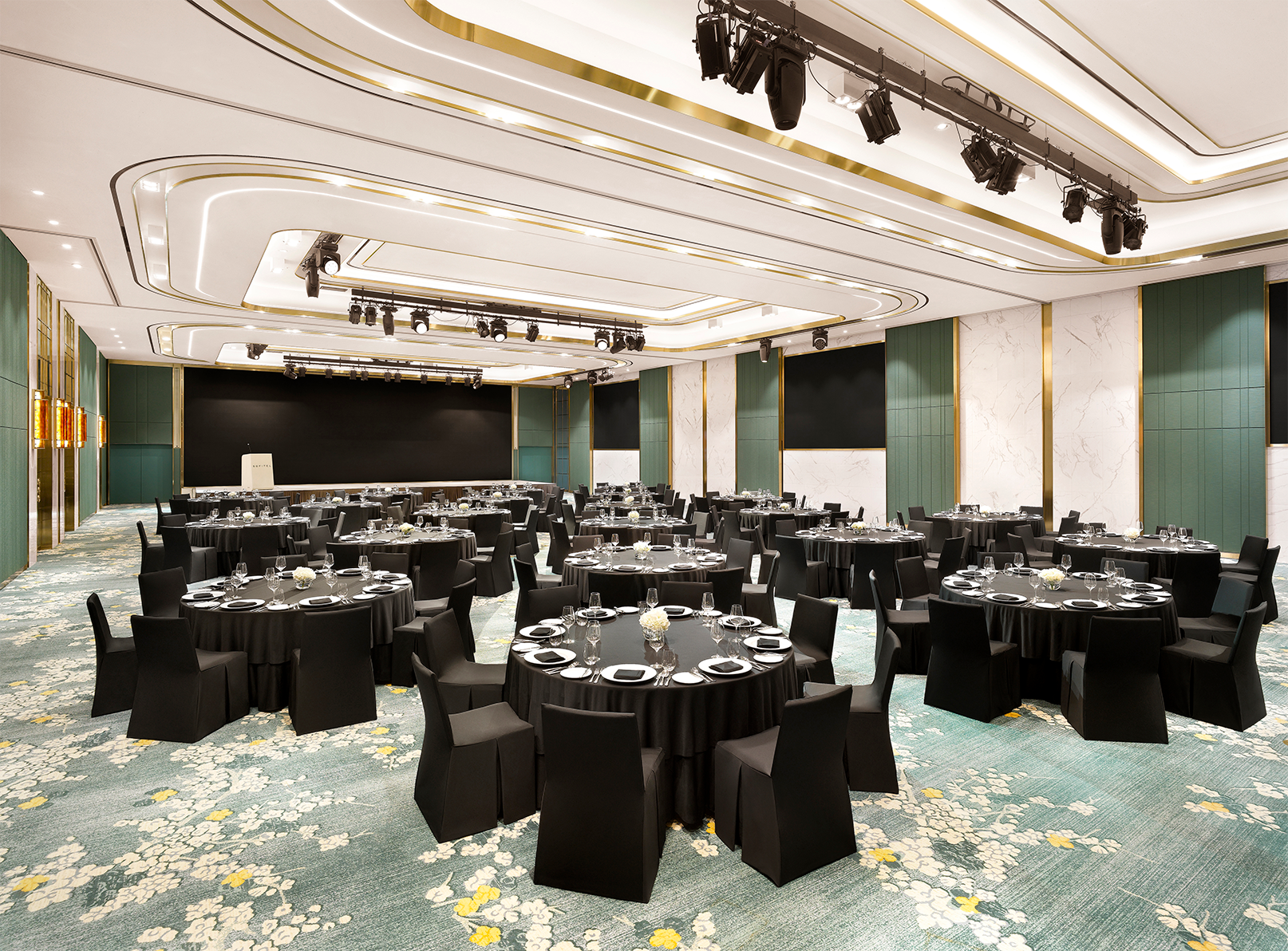 △ 'Grand Ballroom Vendôme', divided into three spaces to fit the needs of each event including conferences and weddings.
-The three banquet halls, including the grand ballroom equipped with state-of-the-art facilities, can create a luxurious atmosphere, making them perfect venues for seminars and meetings with different themes. What are the strengths of your hotel as a MICE venue in Seoul?
"Sofitel Ambassador Seoul presents opportunities for memorable meetings and events with luxurious French cuisine, top-notch service, and expertise tailored to the concept and scale of each event. Grand Ballroom Vendôme (628m²)' boasts an extra-large media wall and elegant and luxurious décor, providing perfect settings for seminars and luxury celebrations as well as MICE events. Bastille Room (240m²)' is a medium-sized banquet hall with an attractive view of Seokchon Lake and is the perfect place for a customized banquet.
Concord Room (140m²) is a small banquet hall suitable for a private VIP meeting or banquet. We are getting an increasing number of inquiries about the room as it can accommodate various events such as a welcome reception in the outdoor terrace and garden or a garden dinner party with a view of Seokchon Lake. The Jamsil area where our hotelis located can be reached within 50 minutes from Gimpo Airport and about an hour from Incheon International Airport. One of our strengths as a MICE venue is its accessibility to shopping, business, and entertainment districts in Seoul."
-What are the difficulties you experienced as the first Korean general manager of the Sofitel brand? What are your strengths that helped you overcome the so-called glass ceiling and win in the competitive environment largely led by male and foreign general managers?
"I suppose my biggest strength is my ability to observe the market carefully and catch fast-changing trends and demands of fragmented consumer groups with an attention to details. I started my hotelier career as sales manager and overthe past 29 years of career, I have covered a wide range of functions from room and F&B marketing, planning and promotion as a sales & marketing team manager and a general manager, to economy brand opening, rebranding, mid-scale brand opening, to luxury hotel opening. But primarily, I want to emphasize the importance of building trust.
After I took office as the general manager at Sofitel, building trust with the headquarters within a short time was the most challenging of all. Satisfying the demands of the local owner required extensive real-time coordination. Had it not been for trust built with the headquarters, hotel opening could have derailed. We narrowed our differences through candid communication while respecting different opinions of the other party. These efforts helped quickly build mutual trust. Accor Group continues to provide me with training and other opportunities to grow further as a general manager."
-Every time Accor Group opened a new hotel such as ibis Ambassador Seoul Gangnam, you were appointed general manager. What are your management philosophy that allowed you to achieve continued success in opening a new hotel and generating impressive business performance?
"To run successful hotel business, you must go beyond providing a comfortable and pleasant environment. Delivering "memorable experiences" to guests and satisfying them fully with your service should be the top priority. The general manager cannot do it alone. It takes teamwork. I have been educating our employees to understand that a good teamwork leads to a good atmosphere, a good performance, and the best service. I listen to and fully coordinate with our employees to create an environment where they can work happily and productively. It is the job of the general manager to oversee hotel management, but customer care is dependent upon frontliners who directly interact with guests. That is why I prioritize empowering department leaders to create flexible and attentive customer service. I am grateful to our employees for their hard work and passion, which was the driving force behind the great results that we have achieved."
-Do you have any suggestions for collaboration and cooperation with the Seoul Tourism Organization or SMA?
"As air travel is back after more than two years of restrictions, we are seeing a significant rise in demand for inbound and outbound travels as well as growth in the MICE industry with the attractions of overseas MICE events in Korea. We are expecting a high level of support from STO in restoring the tourism infrastructure so that there will be more inbound travelers to boost the hotel market. In addition, we would like to ask STO to advertise Seoul's Unique Venues and explore new MICE opportunities so that Seoul can continuously be positioned as a global MICE city and carry out overseas promotion campaigns."
[Sofitel Ambassador Seoul Hotel & Serviced Residences]
Numberof floors

32 floors

Room

a total of 563 rooms. 403 hotel rooms including 59 suites (17th to 31st floors),

and 160 serviced residence rooms (7th to 14th floors)

Parking

for300 cars

3 banquet facilities

GrandBallroom Vendôme 628m², Bastille Room 240m², Concord Room 140m²

5 restaurants and bars

Chic Bistro "Fait Mason", Modern Japanese Gastronomy "MIO",

Gourmet Café "Jardind' Hiver", Parisian Lounge "L'Espace", Roof Bar "Latitude 32"

Amenities

fitness center, swimming pool, outdoor whirlpool, spa, kids lounge, business center,and executive lounge