[SMA insider] What is the secret of the experience-based cooking class for foreigners that weathered the storm of the pandemic? Min-seon Kim, CEO of OME Cooking Lab [Interview]
· Shopping and sampling at the traditional market, experience the Korean culture while talking to the merchants
· Enjoying authentic Korea while supporting the local economy. "Never had this kind of experience."
· Focus shifted to online programs due to the COVID-19 pandemic... meetings after meetings to develop 'high-quality programs.'
· Livestream classes ordered by foreign companies started 'online office dinner party.'
· Fair travel idea for Seoul, 'sustainable local gourmet travel.'
Eight years ago, a tourism venture company set up its sustainable, fair-travel business in Dongdaemun-gu, where nine traditional Korean markets were located. It was OME Cooking Lab, which offered foreign tourists cooking classes to experience Korean cuisine. The course started at the exit of a subway station. Min-seon Kim, CEO of OME Cooking Lab (photo), greeted arriving participants on the street and took them to the nearby traditional market after teaching them a few Korean phrases.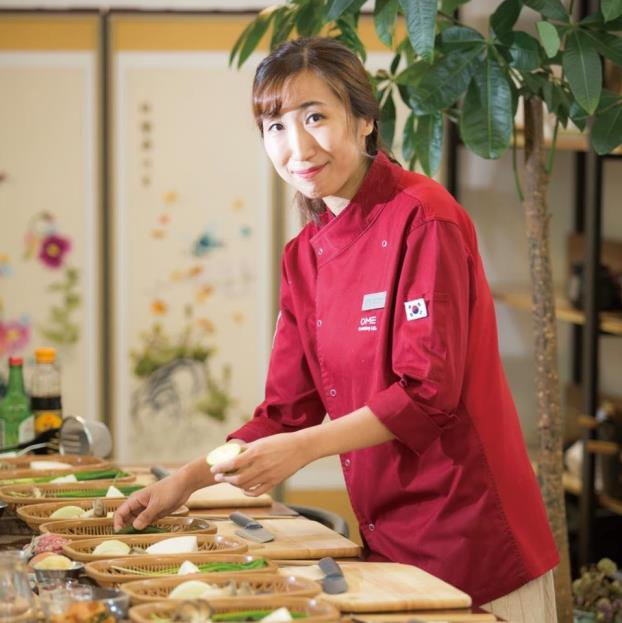 △ Min-seon Kim, CEO of OME Cooking Lab
While buying ingredients, the tourists had the opportunity to use the Korean words that they had just picked up. Merchants used body language to encourage foreigners to sample their food. The participants carried the ingredients in their shopping baskets to the studio of OME Cooking Lab, where they cooked and ate Korean food and experienced the Korean culture. 2020 saw the closure of airways worldwide and limitations to meetings. OME Cooking Lab, whose core business centered around offline experience, faced a crisis and had to consider shutting down the business. Kim was on a critical path.
Two years have passed since then. Kim is still standing in the same place, communicating with foreign tourists and promoting Korean food and culture to people around the world. Its goal of sustainable and fair tourism is still in continuous pursuit. What happened to OME Cooking Lab during the pandemic? We visited OME Cooking Lab in the middle of the heavy monsoon rain in August.
- It's been two years since the start of the COVID-19 pandemic. How have you been?
"It's been busy. We moved the studio and started new initiatives - online tours and online cooking classes. Before the coronavirus, our programs were based on meeting foreign tourists and providing the experience of Korean food in person. COVID-19 ruled out the face-to-face meeting, so we had no choice but to resort to new pursuits. We developed online programs and put the most effort into improving the program's quality."
- OME Cooking Lab's program is a unique experience-based gourmet tour. Foreign participants go to the traditional open market to buy ingredients and cook and eat Korean food using those ingredients together. It does not look feasible to run this program online.
"The gourmet experience tour targeted foreigners, who paid class fees for the online program. We ran workshops with foreign companies and organizations. We held real-time online parties for Christmas, birthday, year-ending, or new year. For instance, an IT company in Los Angeles had a zoom party where 50 employees joined to make a soju cocktail and ate pork belly. The coronavirus prevented them from physically gathering in one place, but they still carried their gourmet experience at home or office with their family members or pets. All the family members joined the group photo session (screen capture). Office dinner parties held online had an interesting aspect of engaging family members. The only downside was that we had to have cooking classes at 2 am or 5 am, due to time differences. It was tough on us, but the participants were delighted."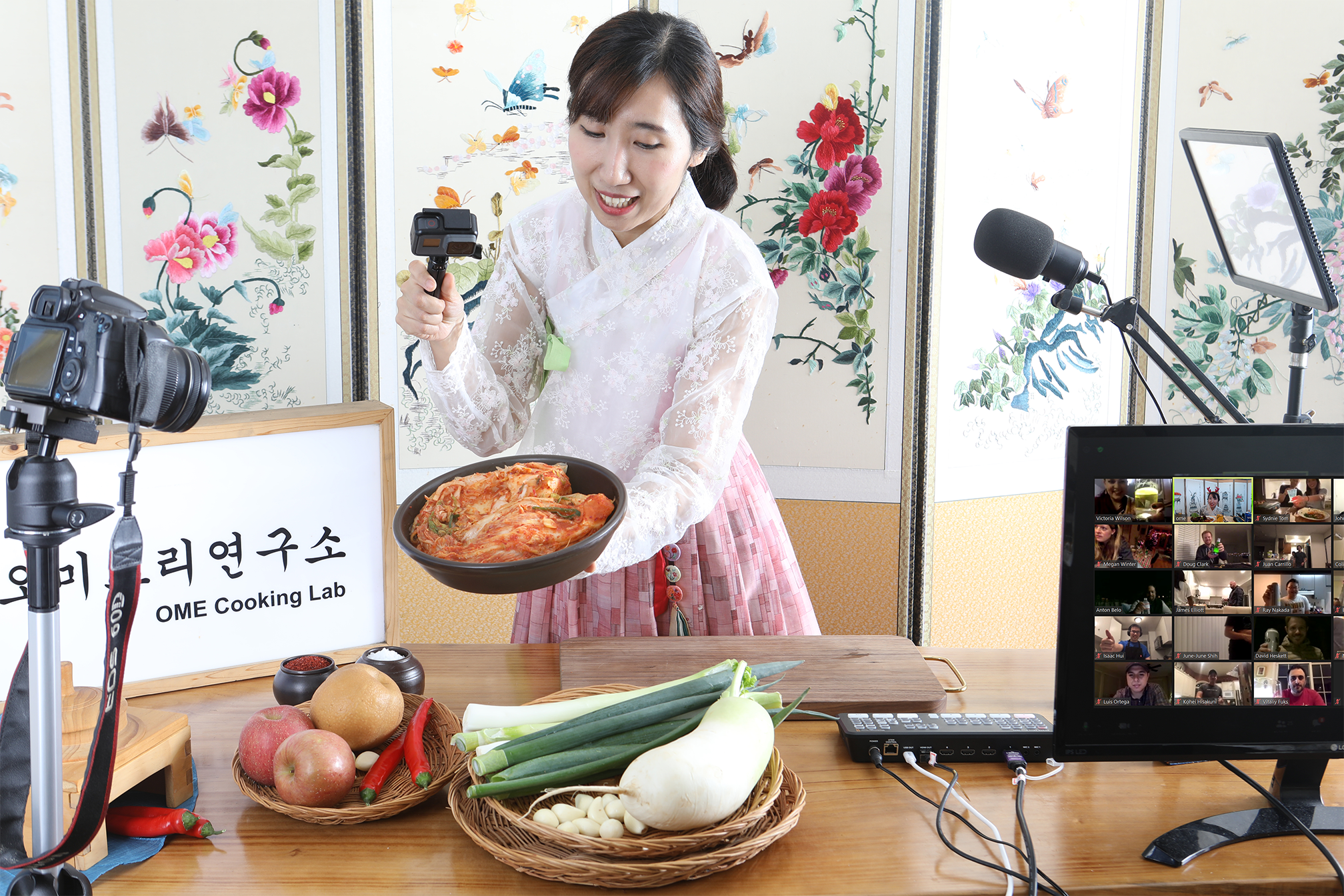 △ Online cooking class in progress
- Participants are foreigners. It does not look easy to have foreigners cook Korean food online.
"When the preparation list had soju, participants went to their local Korean grocery stores and bought different soju brands, like Chamisul, Chungha, or fruit-flavored soju. As different sojus have different flavors and alcohol proofs, we had to customize recipes. When asked to bring a chilly for seafood pancake recipe (while Koreans would bring Cheongyang chili), foreigners prepared Vietnamese chilly, Indian peppers, or jalapeno peppers. Our recipe was developed to use Korean soy sauce, but foreign participants would bring Chinese, Japanese, and Thai soy sauce. Eventually, we had to buy those different soy sauces from foreign grocery stores and test the saltiness and sweetness to customize recipes. So now, when the recipe calls for one tablespoon of Korean soy sauce, we tell them to put two tablespoons of foreign soy sauce. There was a learning curve."
- You have been as active, if not more, as in the pre-pandemic era. You have not let go of the communications with foreigners by utilizing online tours and metaverse platforms. You must have accumulated your know-how in online food experience programs.
"I am not sure if we can call it know-how. We did not stop trying, received the participants' feedback with a positive attitude, and incorporated the feedback into the program. Maybe that is what you'd call know-how. It was tough at first. Having never done online broadcasting, I held lots of meetings with our staff members. We had no other choice, and I wanted to do it well for the only option we were left with. It is the channel to present Korea. Poor quality meant potential misconception about Korea by foreigners. I reckon the relentless efforts to try and change led to high quality.
- What did you focus most on when making the online program?
"Not to discredit our Lab's core values. We went beyond just delivering recipes online. We explained where and how we procured the ingredients and showed the traditional Korean market in real-time. Like the TV Program 'My Hometown at 6 O'clock', we aired the interview with the local merchants, who talked about the ingredients."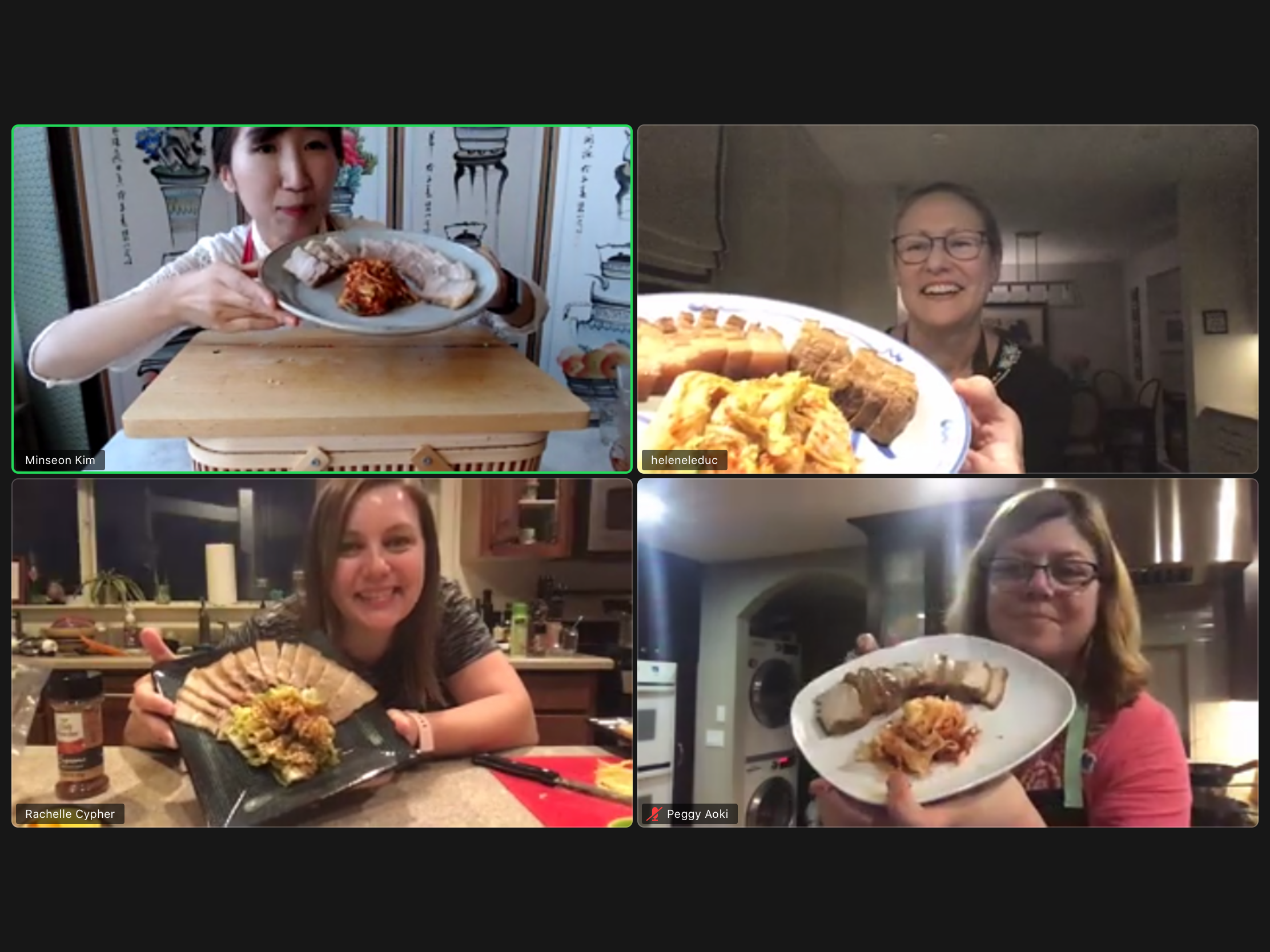 △ Finished dishes by the online cooking class participants
- You have recently expanded the contact-free communications utilizing the metaverse platform.
"While Zoom and YouTube are effective for live communications, metaverse systems like Gather Town have added entertainment elements. You can play games, watch various media clips related to the class, and listen to the lecture. Participants can access a variety of content. These new attempts came across as original and intriguing when face-to-face meetings were impossible. If you ask which platform is more effective, I would answer either since we can customize the content to the chosen online platform. I tend to understand the platform first and develop measures to utilize it most effectively.
- The World Tourism Organization promotes 'Sustainable and Fair Travel,' which meets the needs of both local residents and visitors while considering the social, economic, and environmental impact. OME Cooking Lab's activities are aligned with these criteria.
"Sustainable and fair travel is the value we seek. Since eight years ago, when the Cooking Lab opened, our programs have been developed to facilitate virtuous economic circles during foreign tourist visits. After the cooking class, the participants returned to the market to buy the same ingredients. The merchants tried to be kinder and give more exciting experiences. The result was a virtuous circle. We had the cooking class in the market to cut down the carbon footprint by reducing the transportation of the ingredients. We also discourage participants from using plastic or vinyl packaging. We give one shopping bag to each participant and encourage them to put the fresh produce without extra packaging. We provide biodegradable plastic packaging when participants want to take away the food.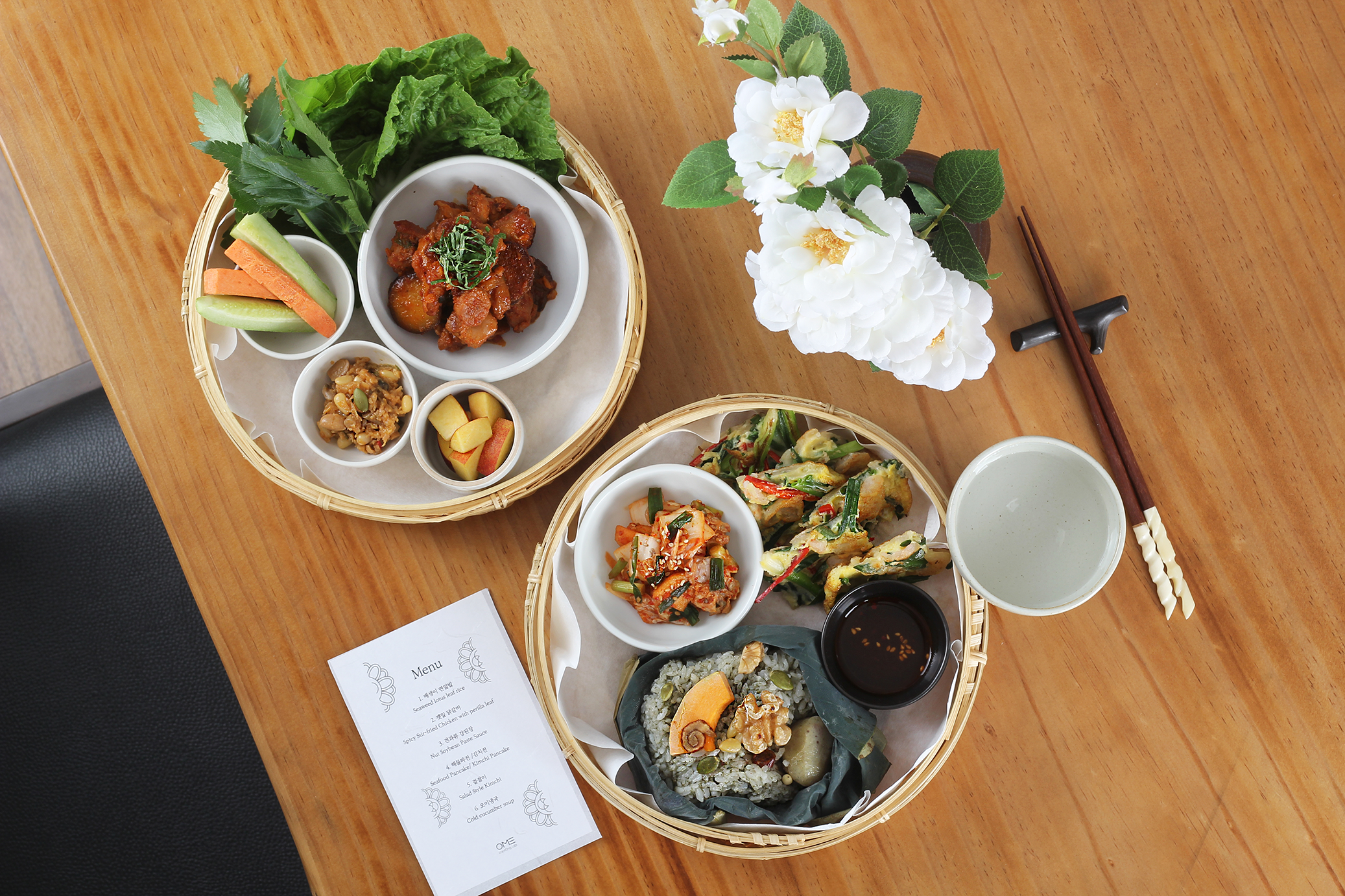 △ Foods cooked at OME Cooking Lab
- What other changes are you making?
"In the past two years of the COVID-19 pandemic, we held workshops with many global companies such as Google or Airbnb. These companies now inquire about offline programs. So we are developing hybrid programs that combine online programs before coming to Korea and offline programs after they arrive in Korea. In other words, those who cannot visit Korea can enjoy online programs, while those who come and want to experience on-site can join the hybrid offline program.
- Any other comments?
A lot has changed while going through the coronavirus epidemic. I wish to seek opportunities to step forward in cooperation with SMA members and the Seoul Tourism Organization. Specifically, I would like to see collaboration with companies that have big spaces where many foreign tourists can experience the class. We are happy to share our content with MICE companies looking for content. We will overcome the challenges this year by trying out new initiatives. We will instill the energy into the local community, further discover the value, and deliver an epicurean memory of Seoul to foreign tourists."