[SMA Insider] 'Openbooth' surpassing the limits of online MICE platform [Interview] - Heo Min-jae, CEO of Openbooth
· Planned a 'contact-free' platform before the COVID-19 pandemic
· Development initiated by popular demand and made 'available to customers'
· The essence of MICE to be realized online
· 'Platform innovation' with a year-end event portal service
"Unlike other online events focusing on YouTube streaming, Openbooth paved the way for online events to grow and become a platform where people gather and exchange information." (Korea Tourism Organization, 2022 KOPIST High-level Policy Forum)
Openbooth, a platform that allows people to open a booth anywhere they want and participate, has held numerous events successfully while paying heed to customers' feedback. Openbooth is now considered one of the most anticipated online MICE platforms in the era of endemic after it launched an advanced model based on customers' requests. On Sept. 21, we sat down with CEO Heo at Openbooth (Gangnam District, Seoul).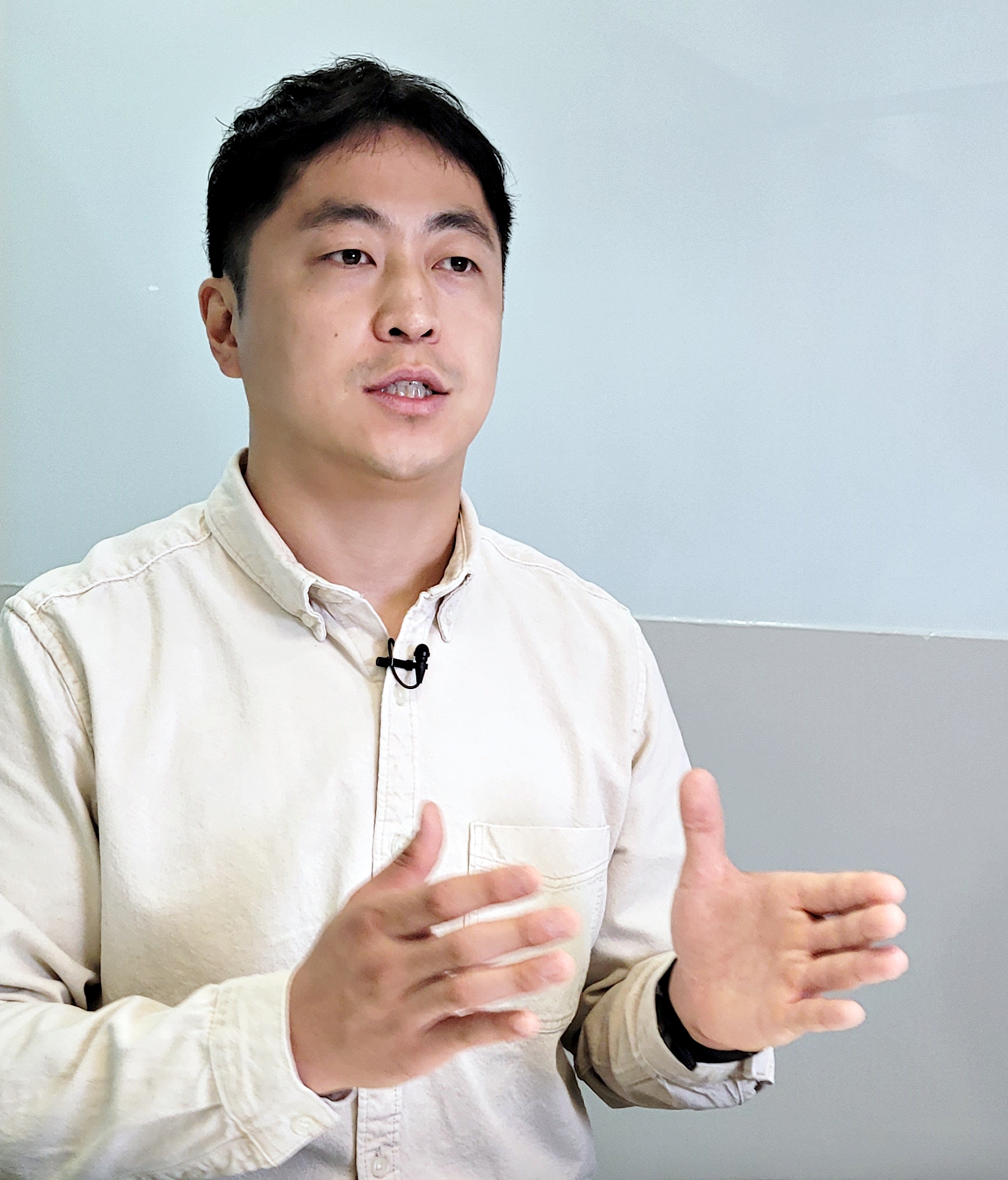 △ Min-jae Heo, CEO of Openbooth
-Openbooth provides solutions to a variety of fields related to online events.
"Openbooth is a platform for online business networking such as exhibitions, fairs, conferences, and online consultations. The advantage of Openbooth is that it provides organizers with an opportunity to hold a rich variety of events at a lower cost. It is designed for real-time meetings between organizers and participants including one-on-one or group meetings, booth tours, training video streaming and participation in live meetings. In addition, analysis data on the activity history of customers who accessed the online platform is provided to help users plan future events of high quality. Recently, we're planning an even greater platform that provides data not only on recently held events, but also data on every event held on Openbooth."
-Another advantage is that exhibitions and meetings can be held on one platform.
"We focused on encouraging shared growth in the MICE industry. In the beginning, we developed and promoted an online platform that creates an online booth where participants could engage in business activities no matter where they log in from. However, organizers wanted to hold online meetings, conferences, and exhibitions on a single venue (online). So, we built a booth-based exhibition system to combine video and group consultations. With the system, we made it possible for customers to hold diverse events at a lower cost."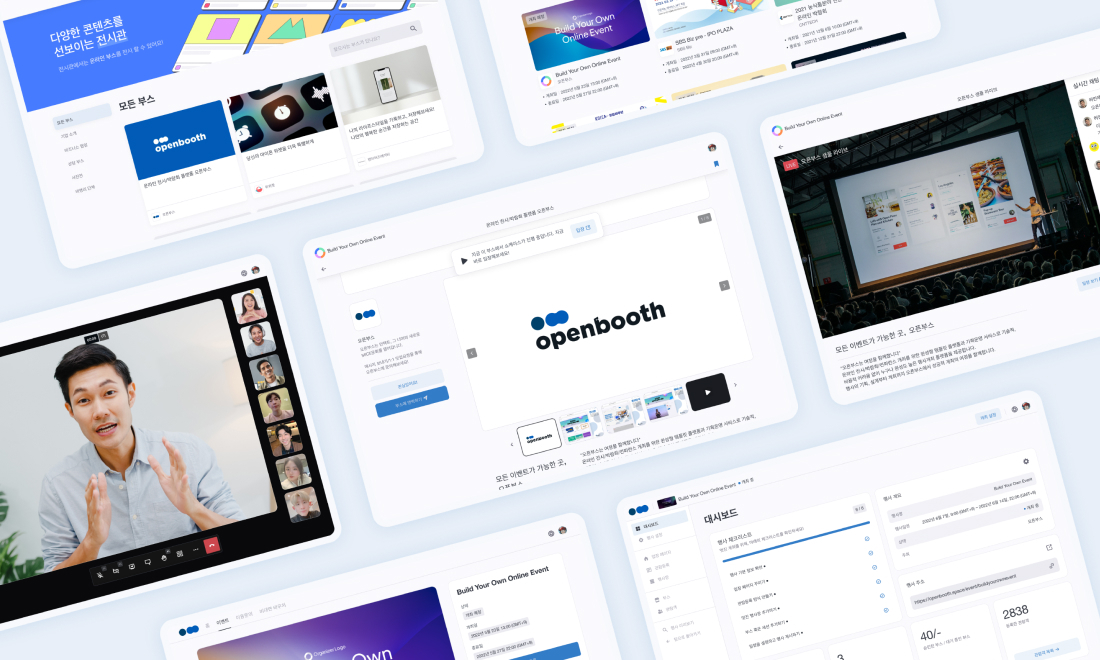 △ Image of Openbooth's service (provided by Openbooth)
-You have a unique pricing system.
"Considering the high costs of building an online event venue, we decided to provide a platform to help organizers focus only on events and participant engagement. For this reason, we don't charge platform fees. This means that an event venue can be created simply by uploading relevant content. Whether the number of booths is 100 or 1,000, there are no charges for them. Instead, we charge based on the number of online participants because we value how many participants actually acquire knowledge from the online events. The quality of the event is evaluated based on the objective indicators we established to provide accurate data to customers. Openbooth also provides distinctive insights to customers (organizers) through a 'white paper' containing data on similar events held in the past."
-Did changing your business model open a new window of opportunities?
"The business model of existing online platforms was on-premises. So, we charged based on the number of booths and video conference rooms. Such a model was valid during the early stages of COVID-19. However, as organizers experienced the digital transformation in MICE industry, they started to see online platform as a means to enhance an event rather than an alternative to hosting an offline event. After we started using the participant number-based pricing system, new types of events were created. Customers created orientation event venues and educational event venues to introduce their offline exhibitions. They also held an academy."
-Could you share one example of successful events held on Openbooth?
"Yonsei University's Major Fair is a prime example. This year marks the fair's third anniversary, and the fair has used Openbooth since its first year. Yonsei University said the second event achieved more than double the participation of the first one. The fair was designed to help freshman students choose their major. The school was always concerned about participation rates. Openbooth offered '1-to-N' communication, allowing users to hold meetings for each major as many as possible. Given that most participants were in their 20s, special events and major-specific showcases were also added. It made it easier for freshmen and existing students of each major to meet, present, and ask questions. 1,100 students were enrolled, resulting in 3,500 'contacts.' The figure is more than twice as high as for other events on the same budget."
-Even a well-made tool is nothing more than a piece of iron if used by a beginner. After all, it's all about how to make use of a platform.
"After the first event, the organizer analyzed areas of improvement based on each major's needs and what students wanted from an online platform. And they utilized 100% of Openbooth's features. For instance, from the second event, when a person in charge turns on the showcase inside the booth, live streaming is enabled. Participants listen to explanations about majors and leave questions. Then, they communicate through video conference. Here, they can display slides and conduct a survey. Since each booth is allowed to contain a wealth of information, participants can communicate based on ample information."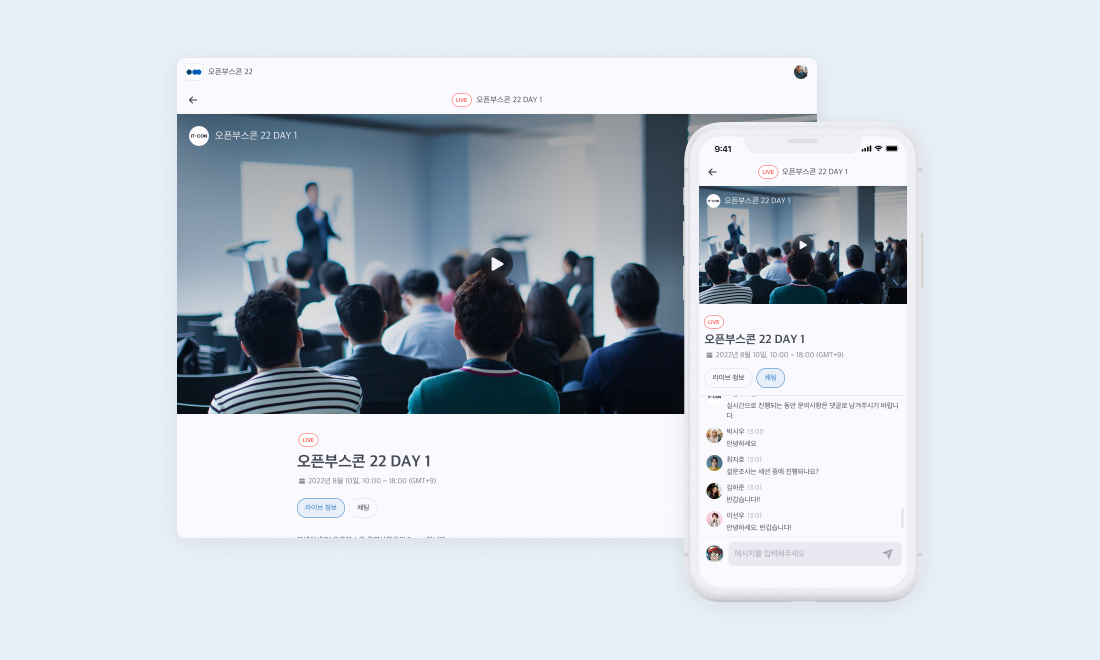 △ Online live event for computers and mobile devices (provided by Openbooth)
-What should people keep in mind when planning an online event?
"People tend to put emphasis on 'creating' an online event. They focus on completing it, but the most important thing is 'content.' The success of an event hinges on what type of content is used to offer a unique experience to participants. Peripheral aspects such as platform design and visual effects are considered less important. Since online events are relatively inexpensive, you can take the customer-centered approach and still focus on the fundamentals of the event (planning and participant satisfaction)."
-Openbooth was released before the onset of COVID-19. You probably didn't predict the pandemic. Were you confident that there would be a shift in the MICE paradigm to a contactless world?
"I was in charge of project management at Company S in China and the Middle East. Back then, a large part of my job was to combine and compare industries and solutions. I wanted to attend exhibitions, but it was impossible in such countries. So, I thought it might be effective and convenient if I could bring together customers who were not able to participate in exhibitions. Considering that offline exhibitions have a number of inconveniences such as a long waiting queue and a considerable amount of budget, I thought it might be better to bring them into a virtual world. I believed a far wider range of people could join and create events in a virtual world in different ways than in the offline world. In the initial stage when the contact-free culture was still new to us, everyone was skeptical. The 2019 global exhibition with the Korea Advanced Institute of Science and Technology (KAIST) started like that. The exhibition targeting overseas buyers was an online startup fair. We were curious about how effective matching and communication would be with the online fair. Based on that experience, we learned the priorities and effective features for online events. Then, the pandemic broke out while we were developing a renewed model of Openbooth."
-COVID-19 variants are still around, but the world is slowly making a transition to an endemic era. Customers are expecting the advancement of the online MICE platform.
"The young generation wants personalized services. We're living in an environment where anyone can choose the services they want whenever they want. The same is true in the MICE industry. Now is the time to consider personalized services. Offline events offer an experience of its own. People who specialize in this can focus on improving such customers' experience. On the other hand, online services should be designed to provide personalized service for both online and offline participants."
-You have developed versatile contents with an innovative mindset. Do you feel that meeting technology in Seoul is constantly evolving?
"The city of Seoul is the most populated and has a lot of enterprises. It's also the city that holds the largest number of MICE events. This is why people are expecting the growth of the meeting technology in Seoul. However, when it comes to platforms that have recently offered meeting technologies, customers give priority to 'solution stability.' Stability is of the utmost importance as many of the events held in Seoul target markets in foreign countries and other cities in Korea."
-One last word, please.
"Many of the event organizers whom I have met recently said that they don't know which one to choose even though there are many online MICE platforms available now. Openbooth is one of these platforms, but we are known as a company that 'creates events collaboratively'. We constantly engage in online and offline communications, delivering a message that online events are not difficult and that anyone can do it. We will continue to strive for excellence and become our customers' partner offering quality services."