[SMA Insider] OME Cooking Lab_Cooking and sharing the taste of Korean cuisine online.. Minseon Kim, Head of OME Cooking Lab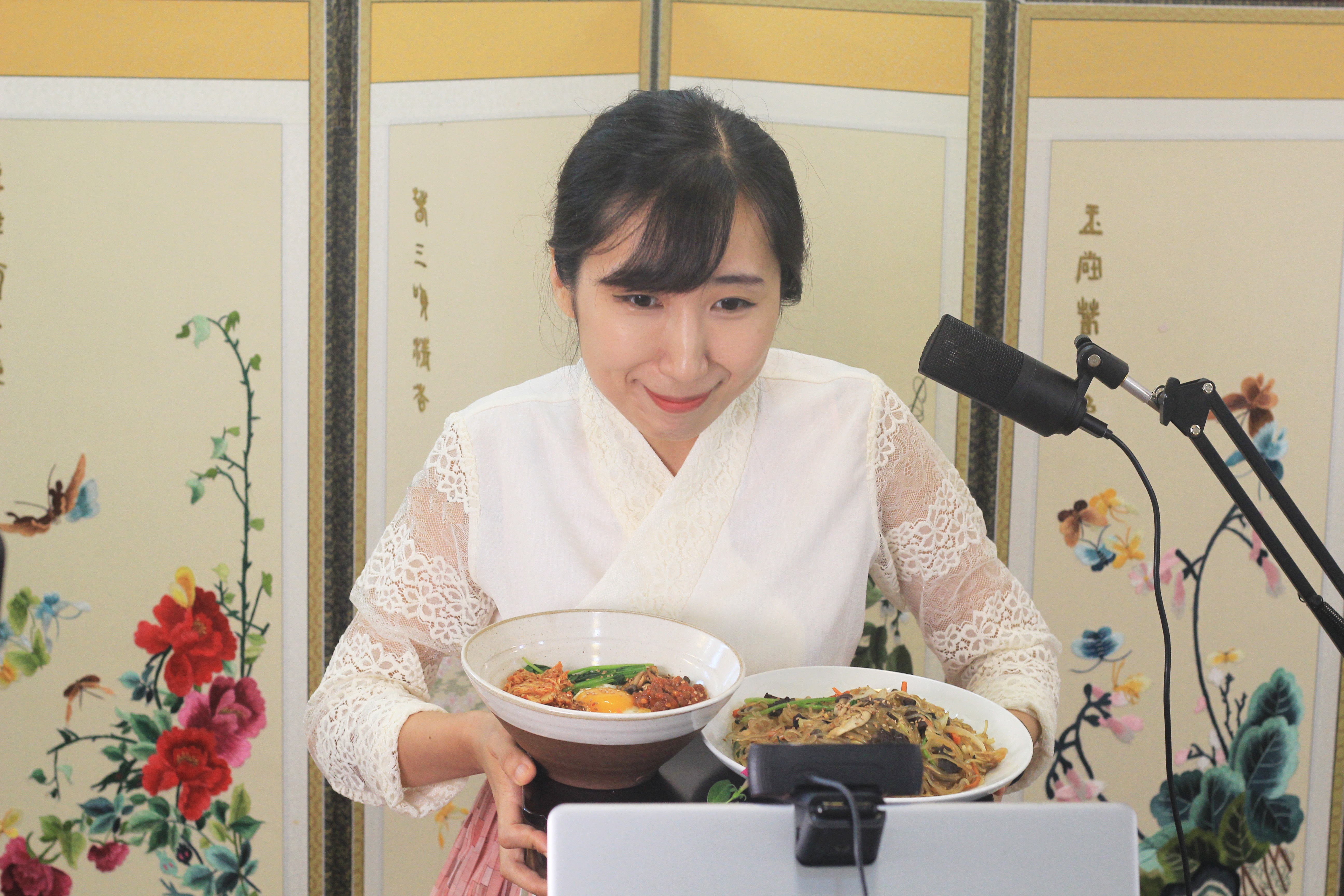 "Food tourism", which takes participants to a complete tour from grocery shopping in traditional market to cooking at a lab with other participants, now transformed into online cooking classes from Feb when Korea had a dreadful hit with COVID-19
Compensation for travel desires... Putting Seoul on future travel list
OME Cooking Lab has been telling the world about Korean culture and everyday life stories through cooking so that now the attention was drawn to its recent "virtual tours" in the wake of the COVID-19. Prior to the outbreak of the pandemic, the Lab's cooking classes were more like "culinary tourism". Shopping for food ingredients at a traditional market in a group of foreign attendees, the participants witnessed firsthand how merchants at the market made a living, while sharing Korean dishes cooked together with the ingredients, they have naturally come to learn jeong, the sense of caring. Although the tours of traditional markets have been suspended for the time being due to the pandemic, which has made people stay home, cooking classes transferred to online and it is definitely booming.
Oftentimes, though, cooking class participants struggle to get food ingredients because they access the classes from many different parts of the world. Minseon Kim, the head of OME Cooking Lab (photo), helps her students to easily follow by recommending alternative ingredients they can get from where they are. Although the online venue could be a hassle compared to physical gatherings, Ms. Kim makes do with the current situation with a faith in positive energy. She said, "I am thinking of a wider range of topics than I used to do for offline classes. I think that this will eventually lead to better and higher quality in content".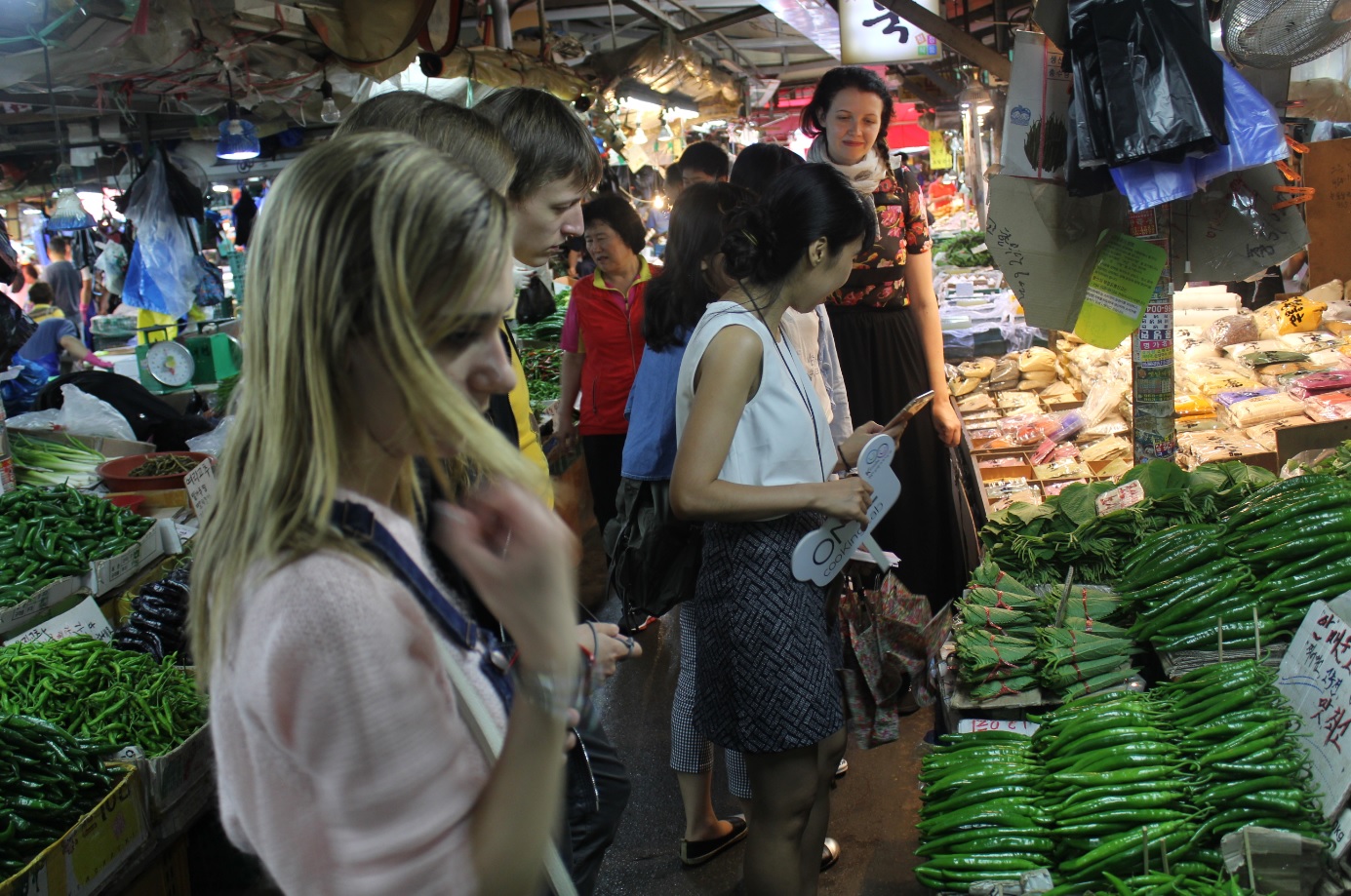 ※With the level 2 social distancing put in place on the 23rd due to the resurgence in new COVID-19 cases, we inform you that a written interview was conducted contrary to our initial plan of having a face-to-face interview at the Lab scheduled for August 24th.
Q. The name "OME Cooking Lab" is arousing our curiosity by giving off the impression that there must be "something tasty". Can you tell us more about the Lab?
A. "I came up with "OME", which can be translated as "five tastes" in English, to convey our commitment to delivering 5 tastes of Korea and 5 fun factors. We are running a "food tourism" program where we shop at a traditional market to cook and share cuisines. I teach and talk about food culture of Korea using the food ingredients sold in the traditional market. We are interconnected with the region we are as we develop our program based on what we buy from the regional traditional market. I think it's a great way to seek harmony with the neighborhood."
Q. Due to the COVID-19, your key business, combination of a traditional market tour and cooking class, is facing inevitable setback. You must have had the hit as it was mostly based on offering practical on-site experiences.
A. "Apparently, I was overly concerned because our program takes place in the market. We cancelled all classes from the first week of February, which was earlier than other tourist destinations, and suspended them until May 4th. Our decision had to be made promptly considering the potential impact on the region from our programs as they take place in the everyday commercial districts of local residents. We are currently coping with the difficulties wrought by COVID-19 together, and many are expressing their gratitude for halting the classes in a timely manner. We have recently introduced "online tours" with our new online classes and many merchants in the market are helping out because they feel sorry for the temporary closure.
Q. While helping foreigners familiarize themselves with Korean food culture is key to your business, the fact that this business is based on "the traditional market" is all the more impressive. You could have tapped into a large supermarket or convenience store, which is used by ordinary Koreans every day.
A. "A traditional market goes beyond a mere distribution channel of food ingredients. It is where people's lives unfold. We tell foreigners stories of old shops that have continued for many generations in more than 70-year-old Gyeongdong Market. They are "food culture" we explain as a part of Korea's modern history. We talk about stories ranging from an elderly woman selling garlic for 40 years, another elderly woman selling soybean paste with different fermentation periods, to a man selling more than 10 different varieties of chili. They sometimes share their unique recipes with me. I interpret conversations with them for my students. When I first planned the program, I wanted it to be a market tour where merchants tell their own stories. The traditional markets are full of stories of people in them whereas there are no such things in large supermarkets or convenience stores."
Q. You have recently been charting a new territory known as "online cooking classes". The essence of offline cooking classes is feeling texture of ingredients, tasting and savoring dishes, as well as learning practical cooking skills on the spot. I wonder whether all these are possible through online classes. How do you compare them with offline classes?
A. "In the early days, it was really difficult. I prepared puppet shows for classes and gave a serious thought on shooting devices. At the end of the day, however, "the quality of content" matters the most. Fortunately, I am well aware of food ingredients from different countries because I have traveled to Europe, Latin America, North America, Southeast Asia and the Middle East before I started teaching Korean cooking classes. With that, I know what ingredients are difficult to get. I believe that my background knowledge helps me improve the level of experiences of the global audience. We started with making haemul pajeon (seafood vegetable pancake), geotjeori (fresh kimchi) and last week, we made baechu kimchi (cabbage kimchi), baek kimchi (white kimchi), oi sobagi (stuffed cucumber kimchi) and bossam (boiled pork wraps) together. We are planning to make soy sauce, red peper paste and makgeoli (Korean rice wine) soon. Online is just one of the delivering mediums. We are receiving better reviews as we improve the quality of content."
「 Closing greetings for online cooking class:
See you in Seoul next year! 」
Q. Conversely, there must be fruits of online cooking classes.
A. "International participants say that online classes are providing considerable consolation at this time when they can't travel. OME Cooking Lab's online classes serve as a meeting place for company workshops, family gatherings, and school reunions. Sometimes, people who intended to visit Korea take classes to taste Korean food instead. We even met the visitors who were physically at the Lab coming to online classes just to see us again. We cook together, chat, try food we have cooked, and conclude with a glass of soju or makgeoli here (meaning online classes). Our closing greetings are always: "see you in Seoul next year!". Our virtual tours are obviously a "trip" in that we build fun memories of Seoul and are determined to meet again. Thankfully, online cooking classes still keep me busy just like a traditional market food tour guide and a cooking teacher did so."
Q. Apart from individual travellers who have joined voluntarily, is there anyone who is taking cooking classes as part of MICE events (i.e. business purposes) including incentive tours or team building programs? Or are you planning for specific programs targeting them?
A. "We have had many participants from the U.S. and Russia taking classes as a part of incentive and team building programs. When we execute MICE programs, we investigate the nature of the team, nationality of participants, gender, age, whether the team members are allergic to something, and etc. in coordination with event organizers to come up with a tailored program. We customize the program depending on the purpose to make it as meaningful as possible to the group."
Q. OME Cooking Lab is a member of the entertainment category of Seoul MICE Alliance (SMA). If you are to lay the groundwork for Korea's MICE industry or Seoul Metropolitan City, what activities would you undertake?
A. "We have been aiming to make business travelers to Korea remember the country with a nation of fun and delicious dishes within a short period of their stay. In other words, we strive to help them have a good impression to encourage them to lead to revisiting or working with Korea, which, in turn, may lead to a business success. To that end, we will come up with a variety of exciting team building programs where the participants can enjoy making tasty food. Now that I am more angling toward local tourism with local people and equitable trips, we will create a MICE program that reflects Seoul's charm and is in harmony with the region."
「A future trip (or planning for one) will surely boost your reassurance.
While dreaming of next year's get away,
we wish you well for the remaining of the year. 」