[SMA Insider] 'Ride a bicycle in every corner of Seoul: Was there a road like this?'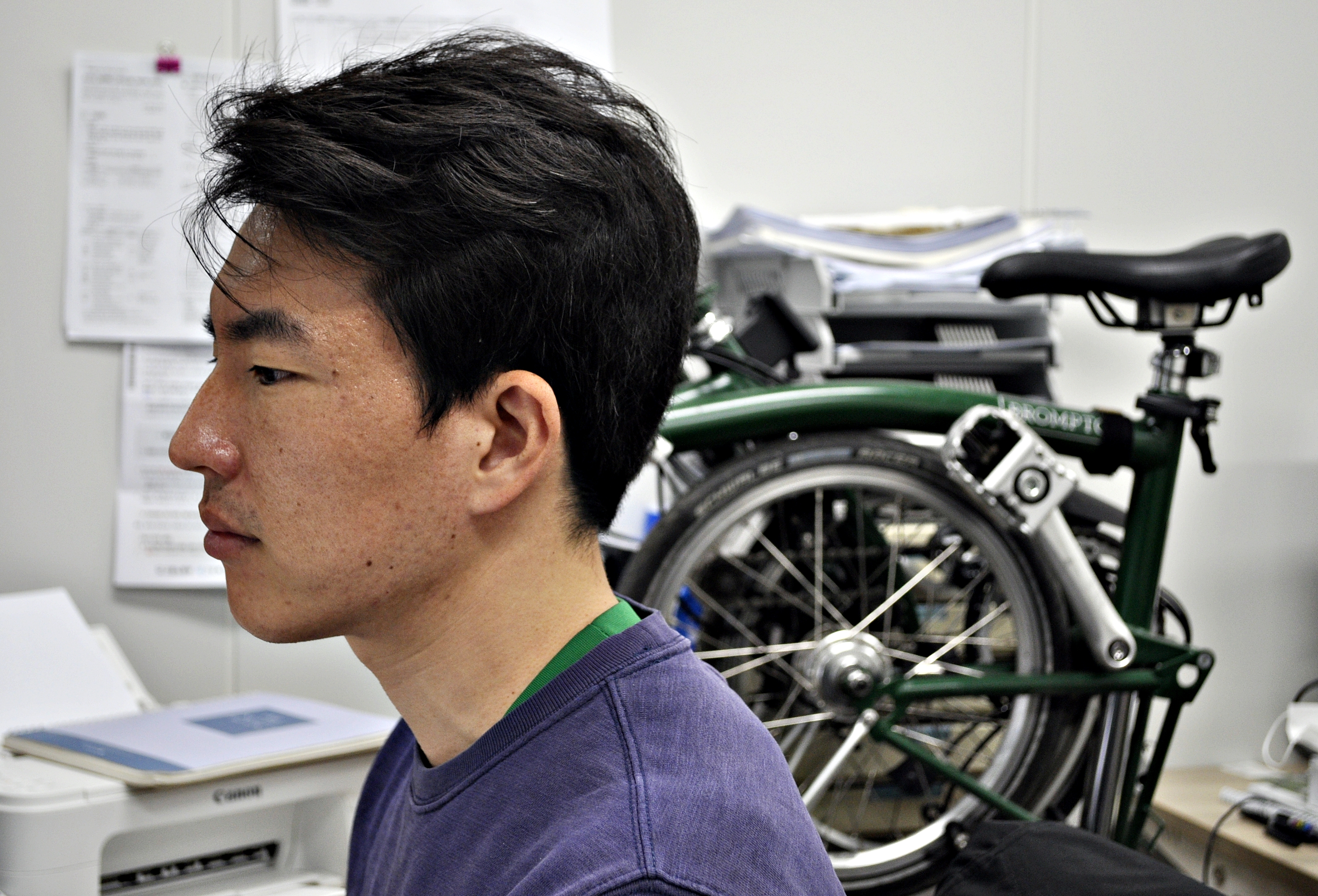 The bike mobility tour business established in 2018 presents a vivid picture of a Seoulite's daily life and Korea's history and culture
New Services- Slowroll and Slow Stay launched after We Ride
The astonishing view from the top of Inwang-san shows Gyeongbokgung Palace surrounded with gorgeously colored autumn trees and Myeongdong presents impressive night view. The Cheonggaecheon stream from the Namsan Seoul Tower and the 30-year-old noodle restaurant located in the back alley of Jongno are crowded with visitors. These are the scenes of Seoul, the capital city of Hallyu and has now become the more attractive MICE destination than any other cities in the world. Seoul is the face of Korea and people learn the country through Seoul. What should one do to see the most of the city if there's only few hours in hands? A tour guide might be a must who can lead the way around the city. Here is a MICE company that can simultaneously tackle all the wonderings of tourists – We Ride, the bike mobility tour service provider.
Established in 2018, We Ride offers bike mobility tour services. It's undergoing various difficulties driven by COVID-19 at the second-year in business, but its present and future are bold with challenge-welcoming spirits and innovative and witty ideas backing up the energy. Mr. Baek Si-young, the CEO of We Ride, who formerly worked for Artee Pedicab offering pedicab tour services in Seoul, mentioned the future growth of We Ride, saying "…though it might take three to four years to recover from the damage caused by the pandemic, we'd keep working and developing new programs with technologies and content in our hands, we will find a new breakthrough."
[MICE Insider Interview]
Date: 09/11/2020 11:00 a.m.
Location: We Ride (Seoul Innovation Park, Eunpyeong-gu, Seoul)
Q. Please introduce your company.
A. "Providing bike mobility tour programs, we operate urban experience tourism and urban regeneration programs. Our flagship product is We Ride, the bicycle-specialized program. Before the outbreak of COVID-19, nearly 90% of our customers were foreign travellers mainly from Europe and America. The program is also specialized in programs to go along with MICE events as well as solo tourism by utilizing Brompton bikes (high-end minivelo), electric bikes, electric pedicabs, kick boards and so on."
Q. Would you give more details on your new businesses, Slowroll and Slow Stay?
A. "The Slowroll, a type of community riding, literally means rolling slowly to reduce carbon emissions. Participants travel less-known parts of Seoul in groups. It helps them realize how closely they relate to each other while riding bikes together. They will rediscover Seoul and the relationship between human and the nature. Slow Stay is, on the contrary, the eco-friendly camping program for relaxing that targets local travellers. Last month, we launched the overnight trip program in Hoengseong-gun, Gangwon-do that allows a group of up to 30 participants to enjoy camping. They only need to bring a sleeping bag or a mat. Other camping necessaries are all provided, including food, tents, bikes, shower facilities and even wi-fi network service."
Q. How is the program like?
A. "We pick up the participants by a chartered bus at Sinyongsan station and Sports Complex station. The camping site is located 3-hour away by car and the tour starts as they arrive at the site. Unlike other camping programs, we offer electric bikes to travellers upon arrivals. Riding along the ridge, they can enjoy the beautiful nature and forest of Gangwon-do to the fullest. We also prepare few relaxing programs, such as a yoga class and a therapeutic walk in the forest, and meals are arranged around organic vegetables. We plan to add winter activities like riding a sled to bring the best winter to the participants at the breathtaking snowy landscape of Hoengseong."
Q. How would We Ride, bike-specialized company, be able to hold events joined by millions of people?
A. "We would like to show that bike tours can be combined with MICE events. Let me introduce our own experience. We tried combining a 2-hour workshop session with a bike tour program in groups. Between riding bikes, the participants set the camping table and had meetings. We provided camping chairs and some snacks. It is to take meetings out of offices for fresh ideas in refreshing environment. We have recently hosted a program for the workers who use WeWork, the sharing office facility. Starting from the WeWork office, we toured the Gangnam neighborhoods, had a picnic and a meeting in the near park and returned to the office."
Q. Would these programs be possible for incentive tour groups and convention participants?
A. "We usually arrange incentive tour programs with workshops simultaneously, targeting foreign companies. Last year, a group of a bathroom interior company from Thailand participated in a 2-day course bike tour. The CEO of the company who was a big fan of cycling wanted to go on a bike tour with his staff members. They went cycling in the urban area on the first day and went on a 6 to 7-hour-bike ride along the Hangang River from west to east- from Gimpo, where they stayed, to Paldang-dam. We organize a customized bike tour program to incorporate for the participants of conferences rather than organizing conferences on our own. For example, last year at the IBA annual conference held in COEX, there was a demand for a bike tour among the attendees. We organized a short course of riding near the conference hall for 2 hours early in the morning. Total of 200 people participated, and they attended the conference after. It was more like jogging or morning walk. We would like to expand the boundary even further based on our know-hows and content. Let me give you another example. As the construction of Incheon Cruise Terminal has recently been completed, we are developing a program enabling to connect the convention center and the cruise terminal. We plan to launch the program as soon as the pandemic were to be under control, and I expect it to be of great success.
Q. Even though a bike tour is not something new to foreign travellers, still many of them find We Ride highly attractive and unique. What do you think is the special forte of We Ride?
A. "I think the most notable thing in We Ride is that we design the programs with special focus on history, culture and human, and plan each tour considering the level of fatigue and stamina of riders. For example, we arranged breaks at the Korean traditional cafe and had some resting time with snacks at the most exhausting parts of the course. Also, tour guides provide cultural information along the tours.
Q. How do you many difficulties emerging from managing expensive bikes to touring around the center of Seoul by bike.
A. Of course, tour guides are deployed at the front and back of the riding group for the safety reason, but basically, we put extra caution when designing the route. Road conditions can vary depends on which day and what time. We carefully pick the routes that is safe enough to ride and possibly be meaningful to the participants. For Myeongdong and Namdaemun routes, we go on the back alleys there and some alleys are not even well known to the local residents. Our customers are often surprised by the scenic view of the alleys. When there is no cycling path, we get off a bike and walk along. We do not insist on riding a bike for the whole course accommodating unnecessities. If there is a better route, we are willing to take it by walking along steering the bikes. Walking enables us to see different sights and views, giving colorful experience further."
Q. The social contribution of We Ride has received much recognition by many parties of the tourism industry including the government agencies. What is your opinion on this?
A. "It's quite exciting. I would like to mention that Seoul's become more eco-friendly improving cycling paths recently. However, we still lack the relevant content to utilize the vast number of infrastructures. Thanks to Seoul tourism Organization, we were given many opportunities to introduce and lead the mobility programs in Seoul. We hope our partnership with Seoul continues and makes some progress soon. We believe that 200 thousand bikes under the public bike rental system, Ddareungi, would be able to create greater value and joy in collaboration with We Ride. We also have ambition to expand social contribution programs, such as education for senior of 50+ Center, which are temporarily ceased due to the pandemic.
Q. Do you have any new projects in mind?
A. "Almost 90% of our customers are foreign travellers, but there might be three to four more years till we resume outbound tourism. So, I think we should focus on what we could do at the moment. Slow Stay targeting domestic travellers might be the main program for the time being. Bikes and other equipment would be used towards camping and relaxing travel for a while. However, we are confident that new breakthrough programs and situations will be made, and we will continue our efforts with what we have available for resources. We are planning to develop several high-quality regional relaxing tour programs and aim at building our own brand by developing them into regional hubs."