[SMA Insider] Fairmont Ambassador Seoul_a hotel in crisis, finding an exit strategy in the local community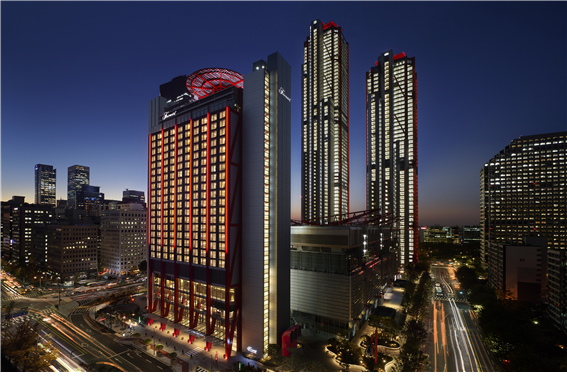 February 2021, 'the toughest time' to open a hotel
Emerging as a landmark of 'awe-inspiring luxury'/Made famous initially through drama and a BTS shoot
Priorities on hygiene and safety, swift response to the 'change'
"Hotels, more than a holiday or business destination, rather a part of daily life."
In the hotel industry faced with the seemingly never-ending COVID-19 slump, one hotel stands out by announcing a head-on approach with unabashed 'awe-inspiring luxury.' In February, Fairmont Ambassador Seoul (Fairmont Seoul) opened its doors, accoutred with luxury in the middle of Yeouido, the center for Korean finance, politics, and business. The hotel, memorable with a refined design and striking red lines, emerged as the new landmark of Yeouido immediately after opening. Particularly Mariposa, the restaurant embellishing the 29th rooftop, is regarded as the finishing touch, with its fresh produce, the finest cuisine, and an interior that evokes the finery of Europe.
What solution do they have to open a luxury hotel in the heart of Seoul in such dire times? Early this month, we sent a written interview questionnaire to Carl Gagnon, General Manager of Fairmont Ambassador Seoul, and received these answers detailing the exit strategy from COVID-19 on the 17th.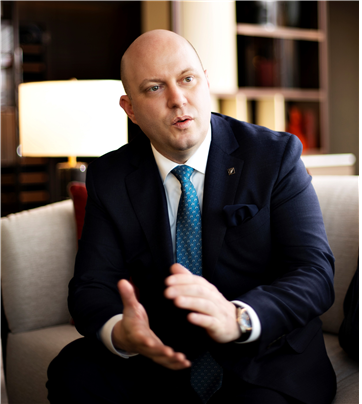 "The COVID-19 pandemic has pushed the hotel industry to a turning point. Hygiene and safety have become the most important keywords.
The hotel is becoming a daily entertainment space and a lifestyle itself, more than a space for vacation or business."
'Awe-inspiring luxury' appears to sum up Fairmont Seoul.
"World-renowned architect Richard Rogers has brought a modern and exotic ensemble into Parc.1 Complex. As the first Fairmont property in Korea and a Parc.1 Complex member, we aim to offer customers unforgettable experiences. First of all, I would like to introduce our four 'Brand Passions' that laid the Fairmont hotel and resorts' foundation:
△Approachable service,
△Being a center of the local community,
△Leading sustainability, and
△Active wellbeing.
These have been our unwavering values since 1907 when Fairmont first started."
What is the strength of Fairmont Seoul?
"Our goal is to help experience newly unfolded 'city luxury' at the heart of this energetic city, that is Seoul. We will collaborate with artisans, local artists, and designers to hold seasonal events in Fairmont's distinctive style. Especially we will focus on sustainable development goals such as 'Planet 21' and 'Fairmont Bee Sustainable.' Unique packages that can be experienced at the Hangang River or in the nature of the city will be developed along with dynamic wellbeing programs. To keep abreast with the hotel industry's changes in the COVID-19 era, we will concentrate on attractive promotions for 'weekday guests.' Check-in and check-out times will be flexible supporting the romantic holiday concept, made more enjoyable with convenient access for shopping at Hyundai Seoul. We plan to introduce business lunch and differentiated breakfast meetings for finance and business one by one."
The hotel has gained fame as BTS' solo performance venue and filming location for dramas such as Goblin and Penthouse.
"The over 100-year history of Fairmont is deeply connected with that of movie and art. SBS drama 'Penthouse' was filmed at the Fairmont Seoul before it opened, and it was also the venue where BTS performed for the 63rd Grammy Awards. Everybody can visit our hotel and can be our guests. Yet, we plan to target those who love traveling and hotels and to create services they want. In addition, various promotions related to the local community will attract residents and workers to the hotel."
Diverse and unusual events seem likely at the Fairmont. What are your strength and attraction points as a MICE destination?
"Foremost, airport access. It takes just 20 minutes from Gimpo Airport and only 50 minutes from Incheon Airport. Next, convenient access to what the hotel offers. The hotel has a total of 13 conference halls as well as meeting rooms of different concepts and sizes, which allows us to customize space usage to the event's size and characteristics. Gallery 7, in particular, is a special space for private meetings and events. There are seven different meeting rooms with an area of 212㎡, accommodating up to 100 participants. That makes Gallery 7 an appropriate space to hold small and medium-sized business conferences or family gatherings. The biggest meeting space, Azaleas, is equipped with a private kitchen, dining area, and product display space, the perfect venue for a private event like a brand launch."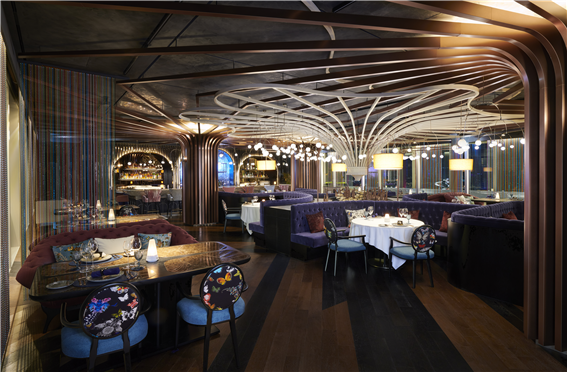 Mariposa, the restaurant on the top 29th floor, seems to be the 'ultimate gift' to the hotel guests. The interior looks as if the whole of Europe has moved there. The finest cuisine created in collaboration with local artisans is most likely to be a 'must' experience.
"Modern European restaurant Mariposa's unique interior was inspired by the butterfly. Its rooftop terrace commands an open Hangang River view and Yeouido city center view. Mariposa means butterfly in Spanish. Furniture and objet with butterfly motifs are placed throughout the restaurant, evoking a dreamy atmosphere. The food is prepared with local produce from carefully selected farms and fresh seafood from the Noryangjin Fisheries Wholesale Market. You can enjoy such fare with incredible wine. At the terrace on either side of the restaurant, you can enjoy a fantastic panoramic view that extends across the farthest reaches of Seoul city."
In the first month since its opening, Mariposa has already received excellent reviews for its food quality and flavor. Its European cuisine is a contemporary interpretation of fresh produce from the neighboring Noryangjin Fisheries Wholesale Market.
"Mariposa is one of the most attractive spaces in the hotel, commanding the panoramic view of the Hangang River and city center of Yeouido from the rooftop terrace. It is a perfect place for a cocktail in a comfortable setting with colleagues after work or with friends after shopping. We will continue our new and rare F&B beverage promotions that those customers have yet to experience them. We are about to sign a business agreement with a local farm for the top-grade caviar expanding our high-class menu offering. We also look to take customers on an exotic gourmet trip with reasonably priced Champagne and caviar pairing menu."
Fairmont Seoul opened despite the COVID-19 pandemic. Is there an operational strategy proprietary to Fairmont?
"We are optimistic about the long-term outlook of the hotel industry. Recent Korea Tourism Organization's study shows travelers are still passionate about travel. They show high interest in a new traveling format, such as 'living a month' in a destination or working from the hotel. Emphasis on hygiene and safety is on the rise. Accor, the Fairmont hotel's operator, launched the 'ALL SAFE' program to ensure customers feel comfortable. ALL SAFE is a program that reinforced existing hygiene processes and safety standards. Fairmont Seoul follows the ALL SAFE hygiene protocol and is making every effort to ensure hygiene and protection against COVID-19. We will adhere to the government's guidelines and put customer safety first."
What do you expect from SMA and Seoul Tourism Organization this year?
"'Every challenge comes with an opportunity.' As this quote suggests, we should keep our positive thinking in these peculiar and challenging times. Facing the COVID-19 challenge together, we will maintain our communications and cooperation with Seoul Tourism Organization and Seoul MICE Alliance to seek measures to promote MICE and create new businesses. Furthermore, we will strengthen partnerships with other SMA members to develop Seoul as a global MICE destination in the post-COVID era. Also, we expect to continue to attract MICE events."
[Fairmont Ambassador Seoul]
·29 Floors
·326 Rooms
·195 parking spaces
·Conference rooms: Grand Ball Room(675㎡, 280 seats), Gallery(85㎡, 30 seats), Red·Ume·Pino (146㎡, Height 3m, 90 seats)
·Amenities: Fitness Center, Swimming Pool, Sauna, Spa, Lounge, Restaurant, and Rooftop bar