[SMA Insider] 'Voice Works'. Video subtitle startup takes the global stage by storm in just three years. Written interview with Sangheon Lee, CEO of VOITHRU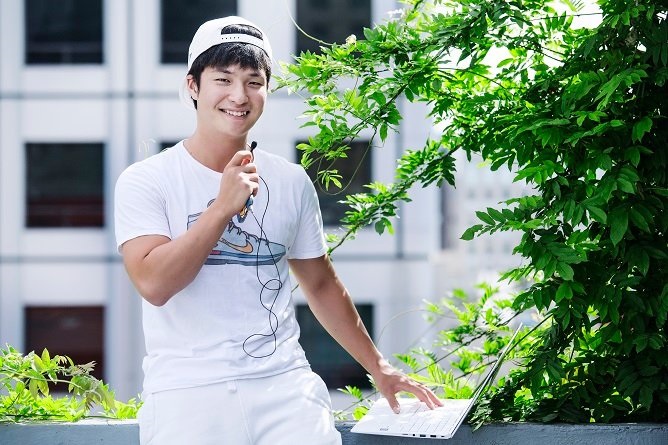 ​Helping a deaf friend in his senior year of university led to the startup business
A new paradigm of video translation JAMAKE launched
Core technology 'low cost, fast delivery' Over 1,000 creators as its client base
Aiming to be No.1 caption & translation service in the YouTube-video media era
VOITHRU, a video subtitle solution startup, was set up in 2017 by Sangheon Lee, CEO (picture), when he was in his senior year of university. The entrepreneurial inspiration came while helping a friend with a hearing disability. For deaf and hard-of-hearing people, online video content was of nouse without the caption. How can we enhance accessibility online and offline? Any other way to translate foreign language content quicker and easier? Lee's questions were relevant to more than deaf and hard-of-hearing people.
Not long ago, appearing on TV was a distant dream. Today, anyone can appear on screen to make their case and tell their story. The subtitle is indispensable for video content. Lee set out to find a way to offer subtitles easier and faster. In 3 years, VOITHRU's client base grew with over 1,000 creators, including household names in the media and broadcast industry, personal broadcasters, webtoons (similar to webcomics), web novels, andmulti-channel networks. Video subtitle solutions have spread across the world at high speed as VOITHRU's technology. VOITHRU is now called 'Epicurean Translation Service.' How fast, accurate, and low cost is its service todeserve such a nickname? How has VOITHRU achieved such success in such a short time? Early this month, a written interview questionnaire was sent out to CEO Lee to find out more.
- You have created a program used all around the world in 3 years. Please share more about the background.
"VOITHRU was established in 2017 to help deaf and hard-of-hearing people using voice recognition technology. Back then, it was challenging for deaf and hard-of-hearing people to access offline and online lectures. We wanted to solve that issue using technology. As such, the name VOITHRU was coined by abbreviating 'Voice-Through.' In 2018, we combined our core technology with translation service to launch JAMAKE, a new paradigm of thevideo translation. We have continued to improve our technology and expanded ourscope. We identify ourselves as a company that has transformed to help our clients go global by connecting cultural content end-to-end. "
- The 'video era' that the COVID-19 pandemic has brought forward is in full swing. How vital roles do you think subtitles play in the video content?
"Our day starts and ends with content. It is no longer strange to see a child watch YouTube videos while having a meal. At the end of a rough day, we unwind ourselves by watching the bright small screen in bed. The coronavirus cut down face-to-face opportunities but gave golden opportunities to the content industry. More content goes global more rapidly. Having difficulty understanding English content has become a thing of the past. Nowadays, English is given, and French and Spanish contents are easy to get by. Korean content is also reaching globally. Not just enjoying but also creating and sharing content has become less challenging. Anyone can create videos with their hand held devices. It takes only a couple of clicks to share the videos. In the era of increasing communications enabled by the convenient exchange of messages, language is the alpha and omega. You may grasp an idea of the video from facial expression and tone of voice without understanding the language. However, language is the best medium to deliver details - clear meaning andnuance. The role of translation becomes more crucial when people speak different languages, or communications become more frequent. Today, once the language issue is overcome, the cultural content can be made available globally."
- VOITHRU is famed to offer 'Epicurean Translation Service.' We believe that your content strategy significantly contributed to this reputation. First, your AI caption system JAMAKE creates a Korean caption, which translators in Korea and abroad translate into foreign languages. It isquite an unfamiliar service for those who have not used it before.
"The truth behind 'AI base' is that JAMAKE's AI helps translators to work more efficiently. Examples are pulling out only the partthat needs a subtitle or correcting minor mistakes humans often make, like autospell-check. We also continue to develop our proprietary editor to provide translators with a trouble-free environment where they can focus on translation. That is how we can achieve both the quality of translation and a shorter delivery time."
- Foreign language translation is a profession of high caliber, hence inaccessible by ordinary people. VOITHRU has 1,500 translators in Koreaand abroad. How do they work with you?
"First, we have translators take an exam on their language. Only 1% of the candidates pass the exam. Those who pass the exam work when they want to. Some of the translators take jobs from only VOITHRU. Top 5% VOITHRU translators make more than KRW 7 million per month."
-Who uses VOITHRU?
"A total of 1,053 creators are using VOITHRU. Multi-channelnetworks such as DIA TV, SANDBOX, COLAB, TREASURE HUNTER, LEFERI, and DMIL andindividual YouTubers like Chuther (1.45 million subscribers), Haegreendal (2.1 million), SuriNoel (1 million), and HOODBOYZ (1.36 million) are on our client list. Broadcasting companies like KBS, MBC, SBS, JTBC, CJENM, and Yonhap News Agencyand webtoon/web novel publishers like Safe House, RIDIBOOKS, COPINCommunications, D&C Webtoon Biz are also using our service.
-You have been focused on the trend of video subtitles closely. You identified the trend that foreign users shifted their attention from K-Popand K-Beauty content starring Korean stars to Vlogs of regular Koreans. There must be a technical trend as well as content-wise.
"We should look at the global content trend. 'Mukbang' has become a widely used term, and Vlogs of Koreans are viewed globally. Korean webtoons and web novels are offered on various platforms around the world. 94% of Bighit Entertainment's Weverse viewers are foreigners. New formats of videoand platforms pop up globally. Korean drama Sweet Home made it to the Top 10 on Netflix last year, which shows how competitive Korean content is in the global market. The current trend of translation is that demands for translation increase from different genres, formats, and platforms."
-We can say the core competitiveness of VOITHRU's video subtitle content lies in 'Low cost, fast delivery.' If that can be easily attainable, alot of others would have already done that. What is VOITHRU's secret?
"Translation is difficult for those who need a translation. Since clients do not know the target language, they cannot gauge whether the translation quality is good. As a result, clients have no choice but to trust translation providers blindly. Does it make the life of translators easy? Notnecessarily. Particularly cultural contents can be easily mistranslated by aslight change of nuance in translation. It is more difficult to translate and easier to make mistakes. When the content is a series, consistent translationis challenging. Translation does not finish at once.
Iterative revisions are necessary to ensure the translation genuinely conveys the meaning of the original content. This process itself takes up a tremendous amount of resources, but it is not the end. For video, time code should be considered to synchronize the subtitle, and for webtoons, the translation should be type set to fit in the image. VOITHRU will establish a new standard in this daunting translation market. Only VOITHRU strives to set up the new paradigm of cultural content translation and invest in technology to facilitate translators' work. Last but not least, it is our differentiation and strength to try to catch what style of translation the client wants and deliver to that end."
-Suffice to say, video subtitles are essential in the MICE industry that covers business meetings, exhibitions, tourism, and events. With the increase in non-face-to-face events, foreign language subtitles for videosat international conferences and events are expected to become a default. Nowadays, simultaneous translations are used mainly. But if VOITHRU's technology is widely known in the MICE industry, it will be very attractive and competitive for the areas such as post-event video editing and digital signage (outdoor/indoor POPs).
"The COVID-19 pandemic has highlighted the significance ofvideo in the non-face-to-face MICE industry. VOITHRU joined Korea MICE Association and Korea Tourism Start-up Association and is making efforts to foster the video business in the MICE industry that is swiftly leaning towards non-face-to-face settings like Seoul MICE Alliance. We have signed MOUs with several MICE companies to understand the MICE industry better. If I may say so myself, VOITHRU is emerging as a leader in the video subtitle field, with ourfast delivery of high-quality subtitles. We started providing subtitles for MICE. We supplied subtitles for the post-NextRise conference video last June, Come Up 2021-2021 conference, KME (Korea MICE Expo) 2020 video, and P4G Conference video. VOITHRU's competitive edge comes from the system and experience that allows prompt identification of appropriate subtitle professionals through close communications and delivery of optimal output under comprehensive management. We plan to carry on our supporting role to bring the language barriers down in the MICE industry by leveraging our ample experience of providing subtitles under the all-in-one system, which includes proofreading and incorporating the client feedbacks."
-What do you expect from SMA and Seoul Tourism Organization (STO) this year?
"We intend to deepen our understanding of the industry and learn business opportunities with Tourism and MICE companies via the new networkwith SMA and Seoul Tourism Organization. VOITHRU, which specializes in translation for YouTube subtitles, video platforms like OTT, and webtoons/ webnovel contents platforms, is unfamiliar with the tourism and MICE industries. We will expand our knowledge in the MICE industry through close cooperation and communications. Conversely, VOITHRU will provide insights into the content subtitles for the MICE industry."
-Closing comments?
"The coronavirus is still lingering and constraining business activities of many companies. I see the critical path for STO and SMA members to carry out business with foreign partners is to bring down the language barriers. If you have any questions about document translation and video subtitle production, please feel free to contact us. Also, please witness our cooperation with STO create synergy going forward."