[SMA Insider] Jeon Jae-sik, CCO of "Space O" in Insa-dong, Seoul's Unique Venue entering the MICE market with "creative Korean food"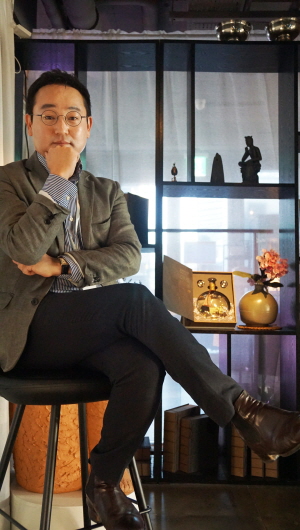 Refreshments, dishes, liquor… "Forget the Korean food you eat every day"
"multi-purpose cultural complex" serving as a stepping stone linking tradition and modernity
"food and beverage, important to deliver value and experience with a unique story"
"Traditional refreshments of my style", "the luxury of seeping magnolia and barley grass tea served traditional refreshments at a place with a wonderful city view", "a gorgeous feast of Korean food", "happy time with loved ones on a romantic rooftop place!" These are social media reviews posted by those who visited "Space O", a trend-setting Korean restaurant cum multi-purpose cultural complex nestled at the heart of Insa-dong, Seoul. Refreshments, dishes, liquor, snacks…all very Korean. But, looking at the posted photos of splendid night views, enticing lighting, and refined teacups, they seem to be taken at a top-notch western restaurant. Space O defines its food as "creative Korean food" instead of fusion. When you go there and see, hear, and feel for yourself, you will instantly recognize what their creative variations are. We've sat down with Jeon Jae-sik (picture), CCO of Space O, to see what newness he will bring to MICE with his creative Korean food.
- Please tell us about Space O.
Space O is a multi-purpose complex and "O" in Space O means "oh!", "yipee!" or "whoopee!". "O" is also how number five is pronounced in Korean and it conveys the message that Space O is a place satisfying all of your five senses. In the early days, we had a small number of patrons who were aficionados of Korean liquor and food, but recently our customer base has widened covering diverse age groups from 20s to 50s. We are confident that we can diversify our customer base if we can appeal to the palates of diverse groups. We could do so by tailoring Space O to suit the purposes of different events, showcasing traditional Korean culture in a novel way. Recently, we are receiving inquiries from Busan, Jeju, and overseas businesses. We will first come up with more solid content and plan for expansion joining hands with partners that share the same philosophy and vision."
- Space O is recognized for its value as a cultural complex where exhibitions, meetings, banquets, and performances of various sizes can be held along with meals, unlike typical restaurants that focus on meals. In that sense, Space O is a rare unique venue that embraces Seoul'sunique style, storytelling, and sustainability. I am curious about how you came up with the idea of designing the restaurant as a cultural complex.
"There are already so many good restaurants. Now, the food and beverage business is transforming from a place serving food and beverage to one offering various experiences as well. Insa-dong is a familiar neighborhood to me as I've visited the area since middle school to attend exhibitions or buying teacups. I thought it was a pity that Insa-dong is becoming a place distant from our daily lives as more and more places are turning to stores selling typical souvenirs for foreign tourists. Then one day, a complex called "Anyoung (Hello) Insa-dong" was created and I got an offer to become a tenant. I accepted the offer without hesitation. I wanted to create a place where uniquely Korean liquor, food and new Korean culture come alive in Insa-dong, a neighborhood that represents Korea's traditions and cultural heritage. A multi-purpose cultural complex serving as a stepping stone linking traditional and modernity with traditional Korean food, liquor, and tea! Isn't it wonderful?"
- If there has been any change in customer trend since the pandemic, what would it be?
"Every sector is faced with various challenges, but challenges can be turned into opportunities. Whereas "dining out" was focused on eating and drinking itself, now the "value-based experience with a unique story" is increasingly important. Fortunately, as we've been focusing on providing our customers with storytelling-based dining experience right from the beginning, our customer base has been diversified and expanded."
- Space O was named in the list of Seoul's representative Unique Venues selected by the Seoul Tourism Organization last year. It means Space O has been recognized for its strength as an attractive venue for MICE thanks to its spatial characteristics. However, I believe there is more to such nomination than the value of the place itself. What is particularly notable is your attempts to reinterpret traditional Korean food, liquor and ingredients in a modern way by fusing them with foreign cuisines.
"Sometimes customers ask if we are a fusion Korean restaurant. We tell them we are serving "creative Korean food". Rather than mixing different things up without a particular identity, we try to introduce new Korean cuisine focused on Korean produce. Of course, we do it in a creative manner. To do so, we start from researching our traditional culture and historical texts. Humanities is a reliable starting point. We place the greatest importance on the pairing, or harmony, among Korean food ingredients, tea and liquor found in old literature and way of living. We've often come across situations where each ingredient may be somewhat plain by itself, but when itis combined with other ingredients, it creates a perfect harmony…. One of our signature menu items "Korean tapas" is a good example. Gangneung Chodang Tofu served with dried and fried seaweed from Wando island has been well received among customers for its fresh texture and taste."
- One last word…
"We are constantly trying to promote the beauty, taste, and class of Seoul. We are preparing a cultural content curation mall that will be available virtually aswell as physically. We want to propose a "K-lifestyle" that encompasses all areas of life and culture, shaping what we eat, what we wear and where we live based on our tradition. Building upon global interest in our cultural content such as BTS and the film Squid Game, I plan to make Space O and our offerings a healthy and happy lifestyle and culture for the future that we propose to people around the world."