The possibilities of 'academic conferences in hybrid format' demonstrated by GBCC10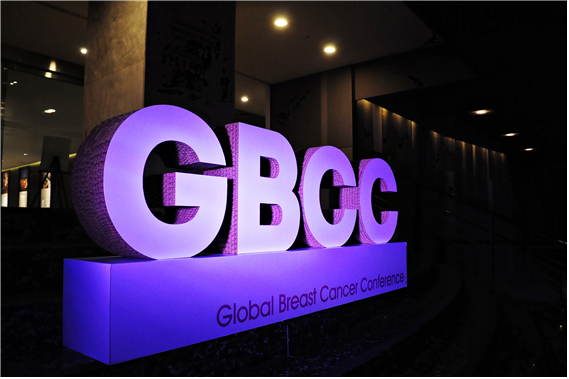 'The 10th Global Breast Cancer Conference (GBCC10) was held at Grand Walkerhill Seoul from April 8th to 10th.
As many telethermographic devices as CCTVs were installed
Dedicated broadband line was installed through the wall of the conference hall
Designated backup connectivity points for foreign speakers in preparation against 'broadcast failures'
'1700+ attendees from 38 countries' attended 185 guest lectures
The largest number of 'abstract' submissions, first time that foreign abstracts were greater than those from Korean
Setting the standard of an academic conference in a hybrid format
An international conference held in Seoul earlier this month presented a new possibility for the MICE industry which is currently stagnant due to COVID-19. A noteworthy case by active illustration that events can be more than video conferencing and can be held offline while remaining compliant with the government's COVID-19 guidelines. The conference is regarded as a success story not only in COVID-19 preventative measures but also in live streaming without a glitch.
From April 8th to 10th, 'the 10th Global Breast Cancer Conference and Korea Breast Cancer Society Conference' was held at Grand Walkerhill Seoul in a hybrid format, combining exhibitions, meetings, and live online streaming. More than 1,700 experts (230 or so academics) from 38 countries shared the latest research information.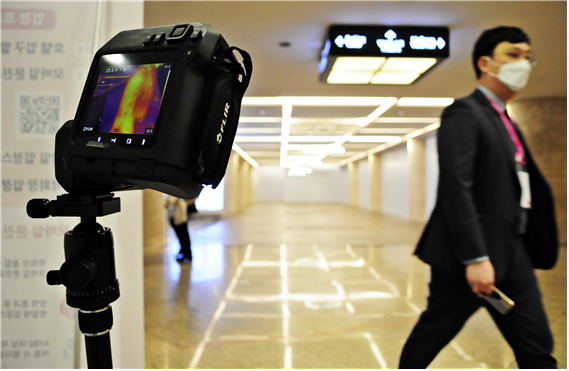 a real-time on/offline monitoring system at the event venue
「Go Beyond Cure of Breast Cancer」
GBCC prepared for its 10th conference this year in anticipation of going beyond Asia's best to becoming a world-class academic conference. In the COVID-19 environment where the exchange of people and information is limited, GBCC raised expectations for seeking after not only breast cancer treatment but also after the quality of life and improvement of health through the academic conference. GBCC10's slogan 'Go Beyond Cure of Breast Cancer' was created in the same vein. The modifier 'the world-class' is applicable to GBCC for its dedication to lead the global academic conference in the aspect of MICE, which matches its stature and scale by planning and executing the online/offline hybrid event.
The host (Korea Breast Cancer Society) and GBCC Secretariat(Partner INTERCOM Convention Service) have prepared a 'Perfect Hybrid' eventsince last year's conference was postponed due to the COVID-19 outbreak. They put the highest priority on COVID-19 preventative measures. As 42 medical andequipment companies ran booths receiving visitors for three days, it was necessary to implement containment measures in real-time. Offline attendees had to answer and submit online self-diagnosis questionnaires before they entered the event venue, and their temperatures were measured again at the entrance of the event.
Basic containment tools such as telethermographic devices, thermometers, hand sanitizers, and masks were placed in as many locations as CCTV installations around the hotel. Thermal imaging cameras were installed throughout the attendees' potential paths to prevent on-site contraction. Meals and drinks were served according to COVID-19 guidelines. No attendees or staff were seen without masks or allowed to lower their masks below their noses or chins.
As such, the prevention and safety steps against COVID-19 were taken as a real-time on/offline monitoring system at the event venue. The next critical success factor for the hybrid event was the real-time on/offline integrated system that would engage the participants. Partner company INTERCOM Convention Service designed the interior construction for the event hall to ensure real-time transmission of the video conferences without a glitch. To install a designated fiber optic LAN cable at the old hotel, INTERCOM made a hole through the wall with the permission of the hotel. For overseas speakers, their local internet connection had to be factored in. INTERCOM prearranged connection points and rehearsals for foreign speakers in the same connection conditions and duration. Elaborate contingency plans, including fixed lines for voice phone connection in case of an interruption, were laid out to minimize broadcasting accidents.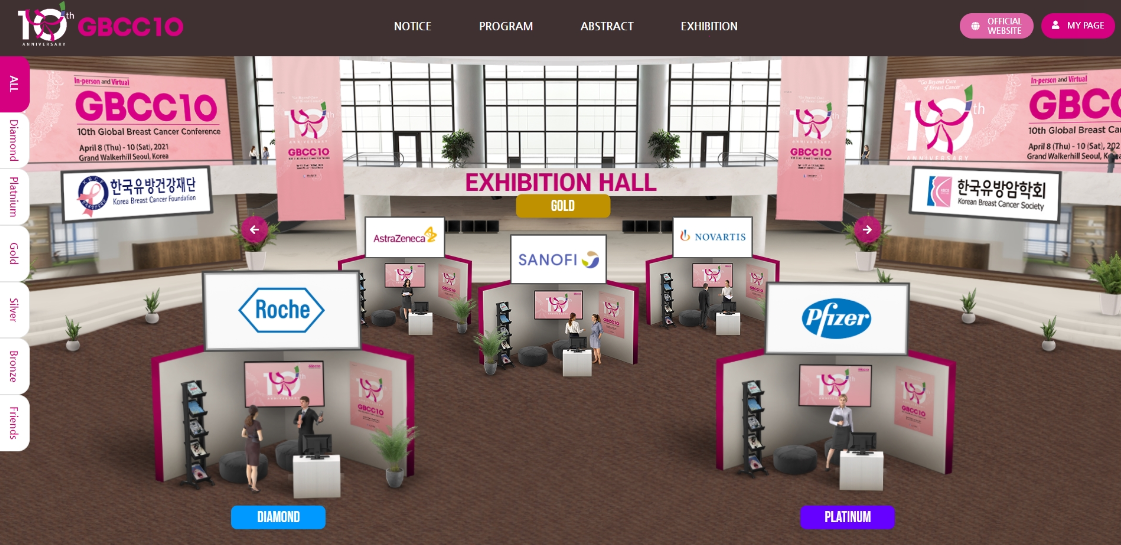 During the last four months leading up to the event,
weekly YouTube channel broadcasting, social networks, and gift boxes attracted participants.
GBCC also continuously offered diverse events to engage both online and offline participants. For example, gift boxes containing souvenirs and name tags were posted to foreign participants who could not come to the venue, so they felt to be part of the event and became excited about the event. Communications with participants through social networks like Instagram or Facebook helped counter the limitations of an academic conference in a hybrid format.
The YouTube channel was also opened early. Since December last year, GBCCTV broadcasted new uploads every Thursday. 'Sketch' clips, where previous GBCC organizing committee members and keynote speakers talked about behind-the-scenes, and 'Pre-season,' which is a preview of GBCC main speakers' presentations, showed a steady increase in the number of views. There were various videos, from pleasant and popular content to in-depth studies from breast cancer experts.
Online exhibition booths using VR technologies were built with more 3D effects. Participating companies uploaded leaflets and promotional video clips in their own PR style. Visitor events at the sponsor booths added to the sense of being there. In addition, the 'Virtual Running Challenge,' which encouraged participants to run and upload their running photos, hence improving their health and involvement, was viewed as successfully serving up fun for a good cause.
These varied efforts were translated into achievement through the number of abstract submissions for the academic conference. A total number of 406 abstracts (197 Korean and 209 overseas) were submitted, the highest in the history of GBCC. For the first time, there were more overseas submissions than Korean ones. This GBCC was a hybrid event, but more actively participated than ever with 185 guest lectures in 72 sessions. Executive Vice President of INTERCOM Convention Services Jaemin Seok, who headed this GBCC event, said, "We did our best in prior preparation since a hybrid event is a real-time event combining online and offline. To demonstrate a real hybrid event, we applied more people and resources than our previous offline events." He expected the conference to be 'the standard of an international academic conference in the Post-COVID era.'
GBCC is a 'Made in Korea Academic Conference' organized by the Korea Breast Cancer Society (Co-President: Sejeong Oh, Chairperson: Cheol Wan Lim) and sponsored by the Korea Breast Cancer Foundation (Director: Dongyoung Noh). It has earned a global reputation in the related field since opening its first conference in 2007.