Hostedby Seoul Tourism Organization on Virtual Seoul Platform on July 21-22 
​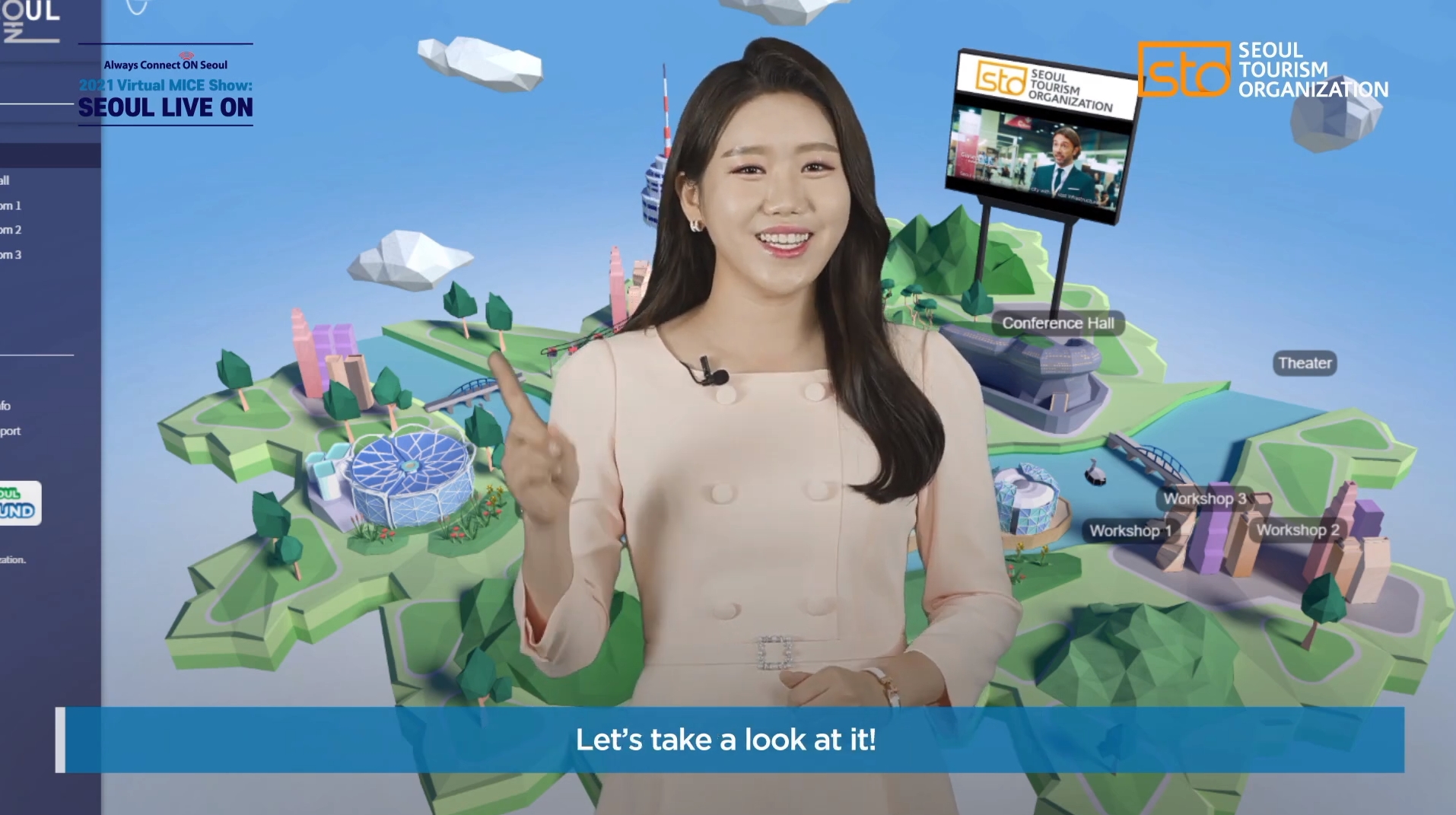 Hosted by Seoul Tourism Organization on Virtual Seoul Platform on July 21-22
Attended by '107 companies' related to business meeting and incentive groups
81 foreign companies participated, triple the Korean participants
'Fruitful' online networking and experiences
'Virtual Team Building' and VR experience opportunity
The transformation of the global MICE destination Seoul in the COVID-19 pandemic is noteworthy. Seoul is the prepared global MICE destination, where all offline, online, and hybrid events are catered. It has proved its quality as a 'safe event destination' to people in the MICE industry, hosts, and participants. Last year, Seoul gave the global MICE industry a pleasant surprise by introducing 'Virtual Seoul', it is virtual MICE platform that intelligently incorporated Seoul's infrastructures. It also upgraded teambuilding game content to make it available online, offline, and hybrid events, assuring Seoul is the exciting MICE destination. That is why the MICE industry at home and abroad showed great interest in this event showcasing Seoul's improved MICE infrastructure in preparation for the post-COVID era.
"Always Connect ON Seoul!"
'2021 Virtual MICE Show: Seoul LIVE ON' that Seoul Tourism Organization hosted on the Virtual Seoul platform on July 21-22 received even more attention from abroad than home. Under the slogan 'Always Connect ON Seoul', this virtual MICE show successfully proclaimed to the world that Seoul is never off and always on, before, during, and after the COVID-19 pandemic.
Seoul's emphasis with 'ON' at this event is of particular interest. It implies that Seoul's online MICE infrastructure, which is meant to overcome the limitations of the non-face-to-face requirements in the COVID-19 era, is almost complete, and Seoul now can offer a broader choice to event hosts at home and abroad. The long-term plan to reinforce Seoul's competitiveness as a global MICE city in the post-COVID era is also behind. Taking advantage of the IT prowess, Seoul has hosted online, offline, and hybrid international events safely and seamlessly. Seoul's proprietary 'Virtual Seoul' platform developed last year has been utilized in various international events, starting with the 2020 UIA Associations Asia-Pacific Roundtable.
It is well known worldwide how Seoul has swiftly responded to changes and how much has been achieved from last year. 107 Korean and foreign companies took part in this year's first virtual MICE show targeted at business meeting and incentive groups. Among the participants, 81 companies were foreign companies, confirming the potential of Seoul's MICE business. They were buyers from eight countries, including Malaysia, Indonesia, and the Philippines, where demand for business meeting and incentive trips is high. Networking, severed bythe prolonged COVID-19 situation, has resumed through one-on-one video business consultation. 26 Seoul MICE Alliance(SMA) members attended the event assellers.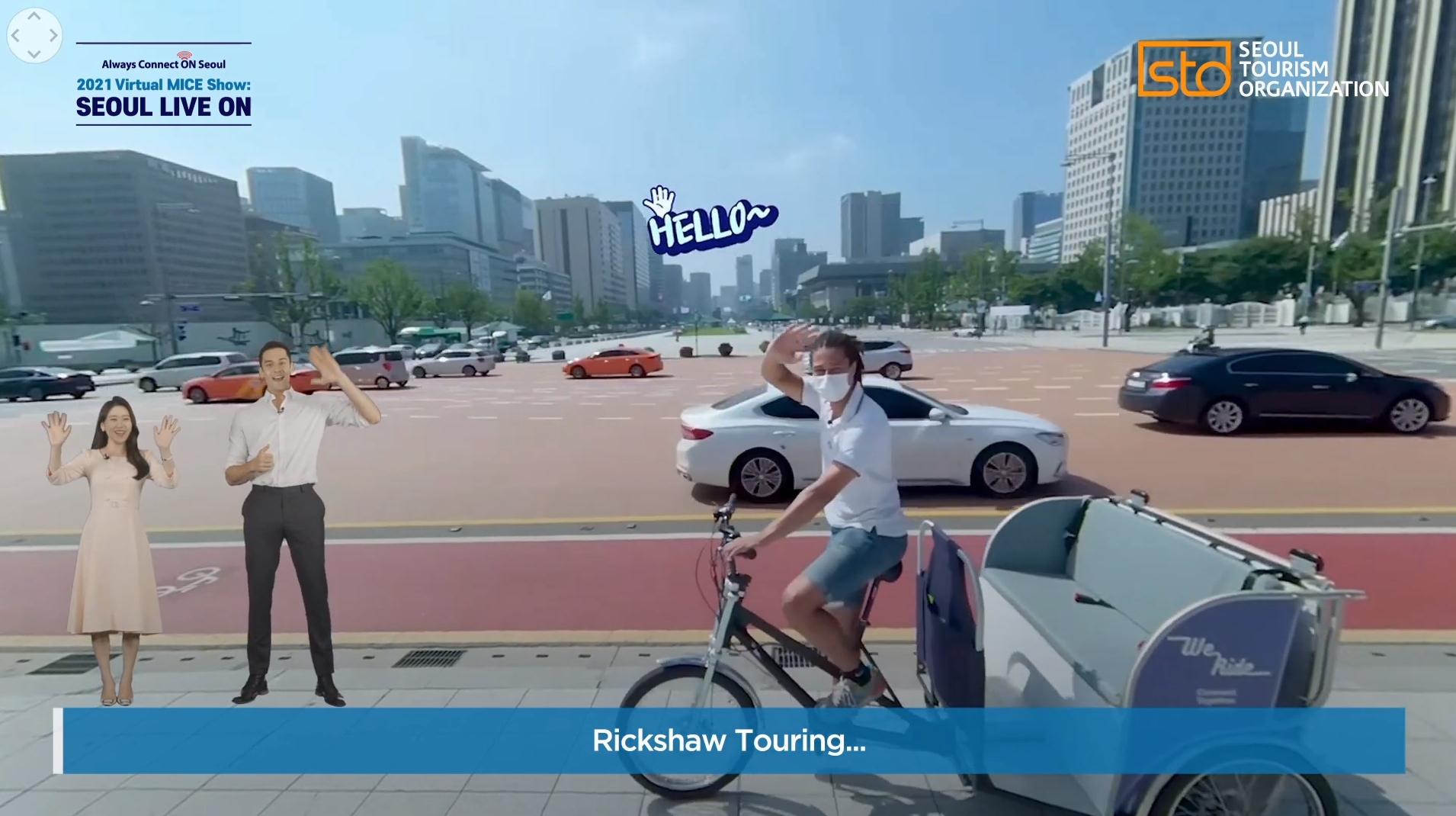 Seoul Tourism Organization prepared two sessions: 'Seoul Brand Showcase', presented by famous TV person Julien Kang and announcer Seung-HeeLee, and 'SMA Pitching', which introduced strong points of various SMA members. The Seoul Brand Showcase session was themed 'Sustainable Transformation ON.' It presented how Seoul's tourism and MICE have continuously transformed themselves in the coronavirus outbreak and introduced the 2021 PLUS SEOUL program that explores new supports offered by the city. The SMA Pitching session promoted unique attractions of five members via 'live commerce' format and handed out their products via events.
Foreign business meeting and incentive trip buyers showed particular interest in virtual content such as various online teambuilding programs that enables people to experience what they can do in Seoul even when not physically visiting the city. Seoul MICE online experience had assembled an assorted content kit including kimchi pancake making and traditional Korean knot bracelet making. The program that allowed VR visits to Seoul's MICE venues is appraised as an effective way of showing various aspects of Seoul. MICE teambuilding game 'Virtual Seoul Playground' is Seoul's unique MICE gamification content launched in 2021. It facilitated networking among participants at the event while they were virtually experiencing Seoul.
Dohwi Kwak, acting director of MICE Supporting Team of the Seoul Tourism Organization, said, "It is regrettable that the business meeting and incentive group sector is still suffering much due to the COVID-19 pandemic. But this virtual MICE Show laid out an opportunity to communicate among MICE professionals at home and aboard and offered a productive time to prepare for MICE events in the next normal era.