Recently, the Virtual Seoul platform was upgraded to "Virtual Seoul 2.0". 
​reduces the burden on the MICE industry and raises Seoul's competitiveness
equipped with virtual exhibition and PSA (buyer-seller meet) functions
allows organizers to "customize" the platform
"more fun" with added features like stamp tours and gamification elements
free of charge platform support for online event organizers
A hybrid event that converges online and offline audience has become the new norm in the MICE industry since the outbreak of the COVID-19 pandemic. However, it is easier said than done to develop and deploy technologies that help host a hybrid event to cope with this unexpected change. Moreover, accommodating both online and offline audience for a hybrid event will double the cost for event organizers and operators.
Last year the Seoul Tourism Organization introduced "Virtual Seoul", a 3D virtual meeting platform, with the aim to alleviate the burden of MICE businesses associated with building their own platform and to advertise Seoul as a representative city of the MICE industry. The Virtual Seoul platform, a city marketing tool, was created based on the results of surveys on types of online events held such as webinars, live streaming, and video conferences (Zoom, etc.) and on what elements are needed to be incorporated into the platform for each event type.
The Virtual Seoul platform was unveiled at the 8th UIA (Union of International Associations) Round Table Asia-Pacific in September last year. The round table marked an important event that presented new possibilities for advertising the host city even in a virtual event setting with "city marketing" strategy.
Recently, the Virtual Seoul platform was upgraded to "Virtual Seoul 2.0" that features greater user accessibility and convenience. A notable change is the addition of the Contents Manager System (CMS). The system enables event organizers to customize the platform by selecting functions that fit their needs without the assistance of IT staff.
Event organizers can access the CMS and make necessary configurations with ease such as selecting a virtual venue suitable for their event, uploading the logo and banner of the event, setting the conference time, and broadcasting the event at a set time. User convenience has been greatly improved as well. The platform is added with attendee and speaker management features, allowing organizers to send out real-time messages to attendees and providing technical support to attendees unfamiliar with virtual events.
In addition to the existing e-conference function, virtual exhibition and PSA (1:1 buyer-seller meeting) functions have been added to the platform, greatly expanding the scope of events that can be held via the platform. Virtual Seoul 2.0 allows organizers to create as many exhibition booths as needed, to broadcast the event and to create business opportunities through a buyer-seller meet. The upgraded platform also provides a function to view and download key data sets such as the number of attendees, the number of viewers, and the number of visitors per booth in real time. Organizers can also use the stamp tour and gamification features to induce more engagement from attendees and make visitors stay longer on the platform.
The number of 360-degree-angle 3D virtual venues has increased to nine. Seoul Plaza (open stage), Seoul Tourism Plaza (business meeting room), COEX (exhibition hall), Nodeul Island (outdoor exhibition hall) were added to the platform that currently features Changdeokgung Palace (conference hall), Some Sevit (board room), Seoul Botanical Garden (networking lounge), DDP (video theater), and Namsan Seoul Tower (PR booth). Equipped with exhibition and PSA (1:1 buyer-seller meeting) matching functions, Virtual Seoul is reborn as a "multi-platform" in its true sense capable of online conferences, exhibitions, business consultations, and networking.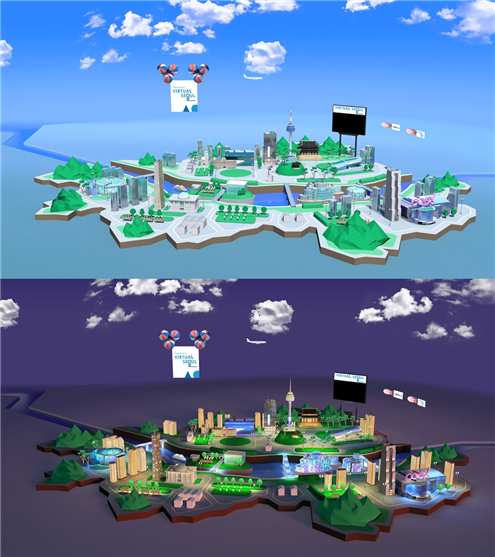 △Main screen of Virtual Seoul 2.0 that looks more vivid and realistic than the previous version thanks to more sophisticated graphics and a background that turns into a night image at 6:00 pm
​

With added functions and convenience, Virtual Seoul 2.0 has served many hybrid events, large and small, such as Seoul International Travel Mart & Seoul International Travel Mart for Medical Tourism (STIM & SITMMT), the World Coffee Leaders Forum, the Seoul Tourism Cooperation Startup Demo Day, and the 7th ROK-China Economic Cooperation Forum.
In particular, the Seoul Tourism Cooperation Startup Demo Day was held the second time on the Virtual Seoul 2.0 platform this year following last year's event hosted on the Virtual Seoul 1.0 platform. Each of the 24 participating businesses was given an account to the Contents Management System that they could use to decorate their exhibition booths. They customized their virtual exhibition booths to best express their corporate identity and characteristics, differentiating themselves from the rest of the pack.

△Demo Day video (left) broadcast live at Seoul Plaza and exhibition booths decorated by participating companies using Virtual Seoul's contents manager system
​

About 200 online participants accessed Virtual Seoul and viewed the demo day event held at Seoul Plaza. The event was simultaneously broadcast on the official YouTube channels of the Seoul Tourism Organization and of Virtual Seoul. Judges and venture capitalists toured the exhibition booths and left digital business cards and questions, which were delivered to and answered by participating startups. Meanwhile, 1:1 chat for more in-depth discussions was held at Seoul Botanical Garden, set up as a networking lounge.
​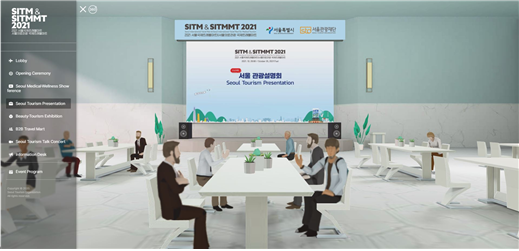 △The SITM&SITMMT opening ceremony held at Some Sevit (board room)
​

The Seoul International Travel Mart (SITM) & Seoul International Travel Mart for Medical Tourism (SITMMT) event is a prime example of how various facilities offered on the Virtual Seoul platform such as the conference hall, the virtual exhibition hall, and the video theater can be best utilized. In particular, the platform's simultaneous session function was used to provide simultaneous interpretation service. Upon entering the event venue, attendees were asked to choose whether to listen to the session in Korean or in English. On the day of the opening ceremony held at the Floating Island Convention Center on the Hangang River, onsite programs such as a Seoul tourism briefing session, a Seoul medical and wellness shopping conference, a talk concert, and a beauty and tourism product exhibition were held. Along with these onsite programs, the buyer-seller meet was held online via the official event website and the Virtual Seoul platform. A medical tourism corporate presentation session held at Some Sevit on-site was also held virtually at the same time at the virtual version of Some Sevit (board room) in Virtual Seoul.
Six medical tourism-related companies established online booths in the COEX exhibition hall and showcased their services, promotional videos, and brochures to visitors. At the DDP rooftop garden, a talk concert was held with a makeup demo and a fashion show to add excitement and spice up the online event.
The 7th ROK-China Economic Cooperation Forum was held on October 29 at the Shilla Seoul in the form of an e-conference centered on discussions and lectures. The opening ceremony and keynote speech session were held under the theme of "Our Sustainable Future" at Seoul Plaza in Virtual Seoul with only a limited group of people invited to attend in person due to the pandemic. Officials from the Gwangju Metropolitan Government, Chengdu of Sichuan, China, and Tel Aviv of Israel made virtual presentations on their city projects. In the afternoon, a discussion session was held with speakers attending online from abroad. The session was held at the Changdeokgung Palace conference hall decorated with images and videos featuring the forum using Virtual Seoul's customizing functions.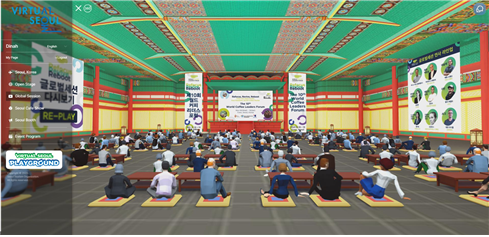 △World Coffee Leaders Forum held at the Changdeokgung conference hall
The World Coffee Leaders Forum that celebrates its 10th anniversary this year was jointly held along with the Seoul Cafe Show. As it was a paid conference, the Virtual Seoul platform was configured to allow only paid visitors to log-in and access the virtual conference venue. The World Coffee Leaders Forum accepted registration both for on-site and online attendance. Due to social distancing rules on-site attendance in the COEX conference room was limited to 49 attendees whereas there was no capacity limit for online attendance. The forum brought together coffee industry leaders to share expertise on current market trends, issues, and response to crisis through a hybrid event and successfully created in the online event the same immersive experiences attendees would have in on-site events.
The opening ceremony and keynote speeches were held at the open stage of Seoul Plaza and individual lecture sessions were held at the Changdeokgung Palace conference hall. Eight partnering companies operated virtual exhibition booths in the Seoul Cafe Show. When interested attendees clicked on one of coffee machines showcased in the virtual booth, they were taken to the e-commerce page of the maker. The forum served as a good example of how various functions of the Virtual Seoul platform can be used in real event settings.
Although events held on the Virtual Seoul platform varied in their nature, organizers continue to experiment with the platform in various ways. As the platform continues to advance, it may do more than partly replacing offline events. There may be new and more exciting use cases such as renting a virtual venue for a meeting or a business trip without linkage to any offline events, or serving as VR tourist information center. If these applications become widespread, new experiences can be created that are available only at a virtual platform.
Kim, Jihyun, MICE Planning Team Manager at the Seoul Tourism Organization said, "Virtual Seoul is an all-inclusive event solution capable of conferences, virtual exhibitions, buy-seller meet, gamification and networking. It enables organizers to host an event and collect required data sets without too much hassle. Going forward we will expand Virtual Seoul's use cases to reduce the burden on the MICE industry associated with building a new platform and to carry out city marketing in a new way in the 'living with coronavirus" era.
The use of Virtual Seoul does not incur any platform usage costs such as server fees and platform editing fees. Anyone can use the platform for free to host an online or hybrid event. An application for the use of the platform can be submitted on the Seoul MICE website (miceseoul.com/vsp), and inquiries can be made to the Seoul Tourism Organization (vsp@sto.or.kr).