ACOMS 2022, held at Osstem Implant Research Institute in May. A Hybrid Symposium that impressed the world.
ACOMS 2022, a medical symposium held in a hybrid format using MICE metaverse platform Virtual Seoul 
· 1,000 online and offline participants from 30 countries
· "Virtual Seoul" eradicated any doubts over online events
· "Experienced the IT prowess of Korea... Want to return"
The largest Asian organization of oral and maxillofacial surgeons, the Asian Association of Oral and Maxillofacial Surgeons (Asian AOMS, President Hee-Kyun Oh), has concluded its 15th international congress on May 28 with a big round of applause from the participants from Korea and abroad. It was a successful case of an international medical symposium held in a hybrid format centering around face-to-face meetings. With this success, ACOMS 2022 may have paved the way for hosting the next congress. The organizer went beyond the conventional purpose-built meeting facilities at the conference center or hotel and utilized an affiliated company's infrastructure. Its proprietary high-quality real-timestreaming service and Virtual Seoul 2.0, the MICE platform developed by the Seoul Tourism Organization, leveraged at a lower cost, contributed to the success.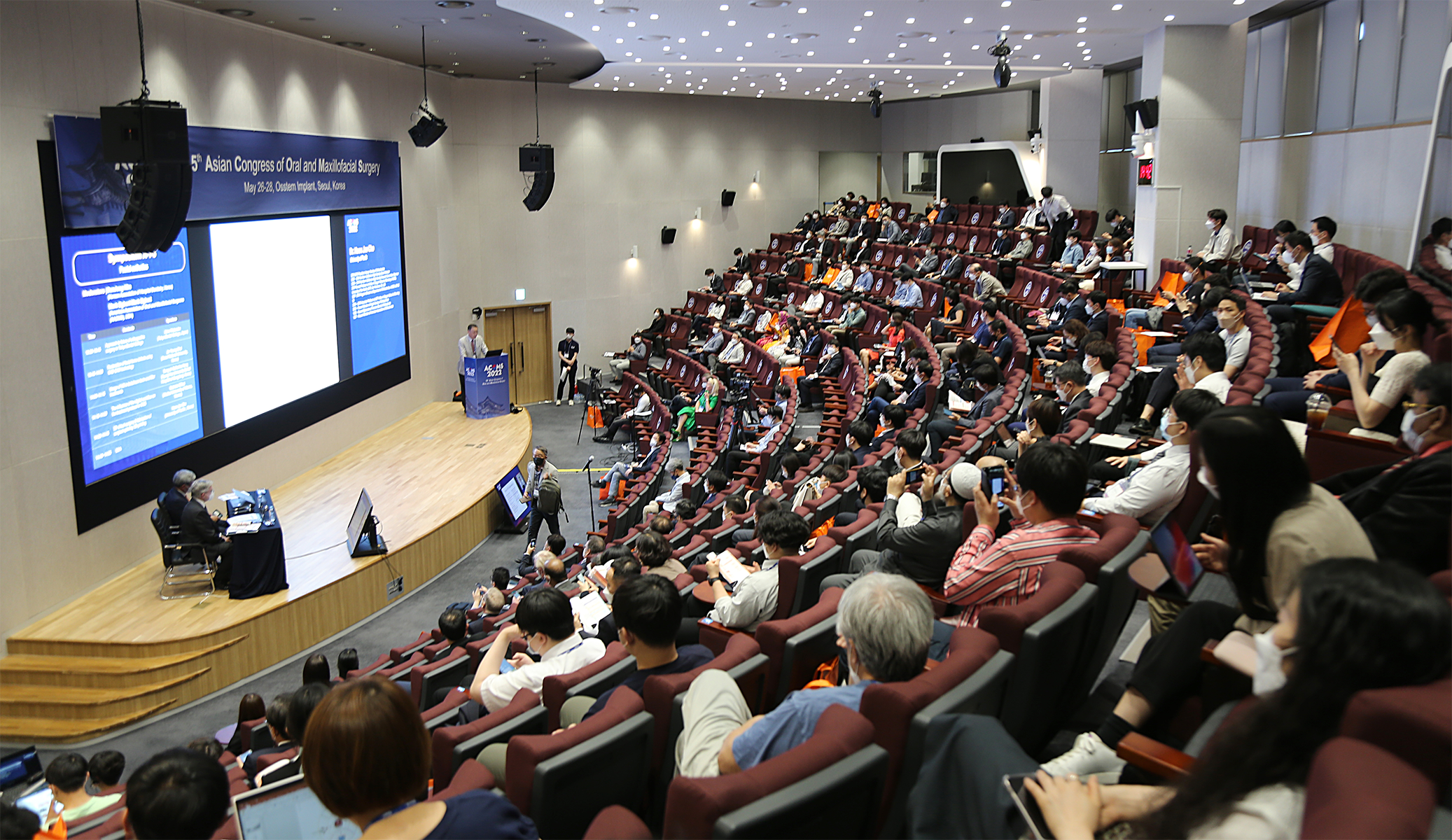 △ Picture of the Asian Congress of Oral and Maxillofacial Surgery(ACOMS), an international medical symposium
'Back to Basic, Go to New Normal' as the main theme
Spectacular success 22 years after ACOMS2000 in Jeju
The Korean Association of Oral and Maxillofacial Surgeons (KAOMS, Chief Director Hyung Jun Kim) hosted this international symposium in a combination of online and offline formats at the OsstemImplant's (Gangseo-gu) headquarters and Courtyard by Marriott Seoul Botanic Park from May 26 to 28. A participant attested, "The immersive live online streaming enabled effective and meaningful academic exchanges overcoming the national boundaries and travel restrictions. It was like putting the slogan into practice."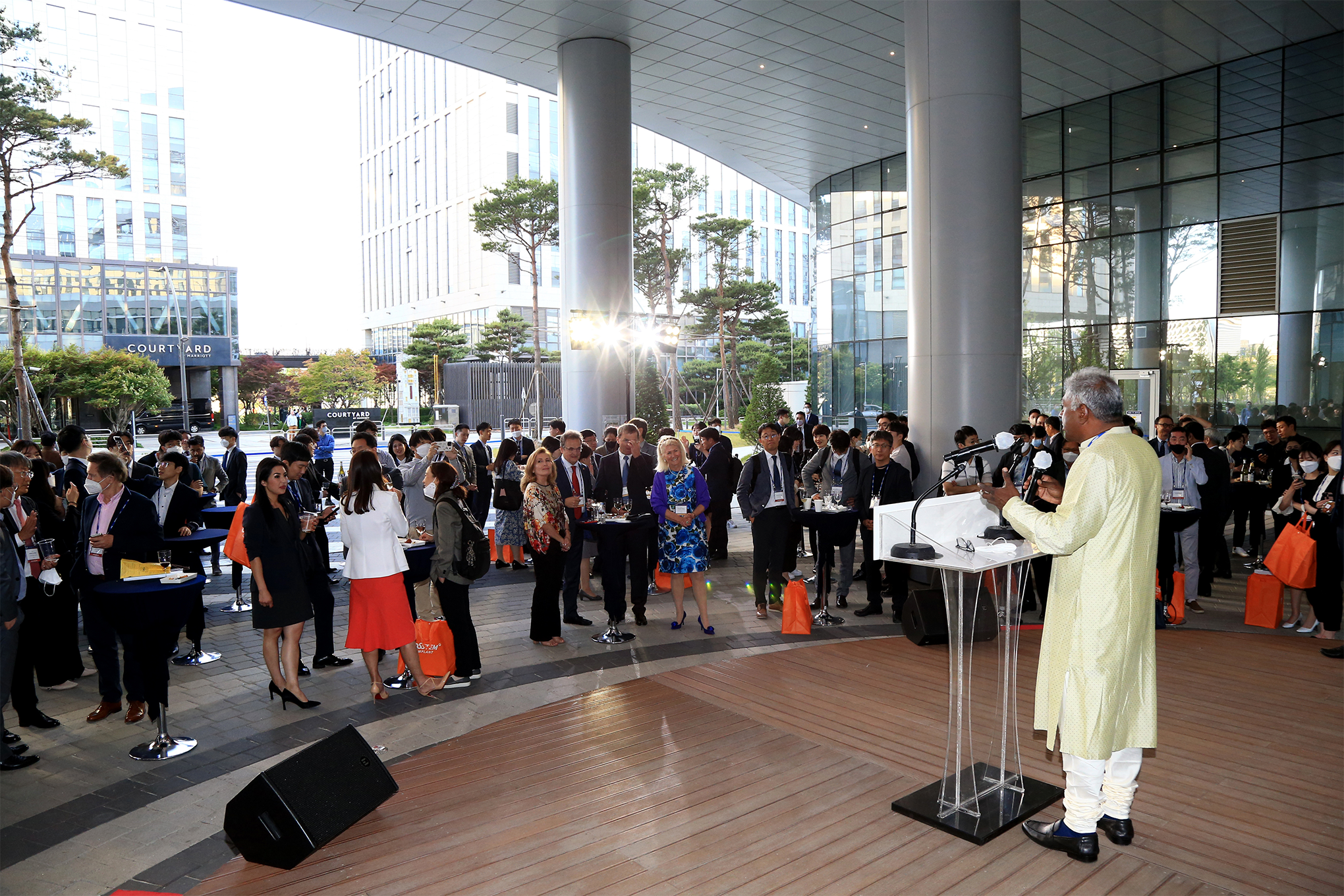 △ Outdoor event of Asian Congress of Oral and Maxillofacial Surgery(ACOMS)
116 symposiums and guest speeches, 250 oral presentations and e-posters
Answers to the question, "Can it be done?"
It has been 22 years since ACOMS last visited Korea for ACOMS 2000 in Jeju. The members and the medical equipment industry people were eager to find out how South Korea would organize a hybrid event despite the pandemic as Korea is known to be advanced in medical, IT, and culture. It was not an easy challenge to broadcast both online and offline events in live and recorded formats. During the three-day ACOMS 2022, a total of 116 guest speeches and symposiums, as well as 250 oral presentations and e-posters, were delivered to 1,000 participants from 30 countries.
"The COVID-19 pandemic forced ACOMS 2020 Singapore to be held a year later in an online format. Consequently, we had to consider whether to postpone ACOMS 2022 to the following year. We had to untangle a series of issues from venue selection, hybrid event technologies, to the way we run the symposium.", reflected Hyung Jun Kim, Chief Director of KAOMS. The organizers mulled over how to incorporate the face-to-face meetings as much as possible while the online format was inevitable. A solution turned up unexpectedly: unusual venues for online and offline events. The idea was to host offline events at the Osstem Implant headquarter and online events on the Virtual Seoul 2.0 platform. The Osstem Implant headquarters is near the airport and reachable by the Airport Express train. In addition to the excellent accessibility, it has a large auditorium with a capacity of 365 people and ten seminar rooms. Accommodations and a business district (restaurants near Magongnaru station) are in the vicinity. During the COVID era, the Osstem Implant built Denall Studio with multi-source live streaming facilities and technical expertise, laying a solid foundation for the MICE hybrid infrastructure.
For the online format, Virtual Seoul 2.0, the Seoul Tourism Organization's proprietary MICE-specific platform, was identified as a cost-effective tool. Those who could not attend the venue in person could sign into Virtual Seoul 2.0 from Korea and overseas, explore the virtual event hall, set up business meetings, participate in seminars and have Q&A sessions. The most significant advantage of Virtual Seoul 2.0 the organizer experienced was that it allowed them to watch the recorded programs again, rather than streaming "live" shows.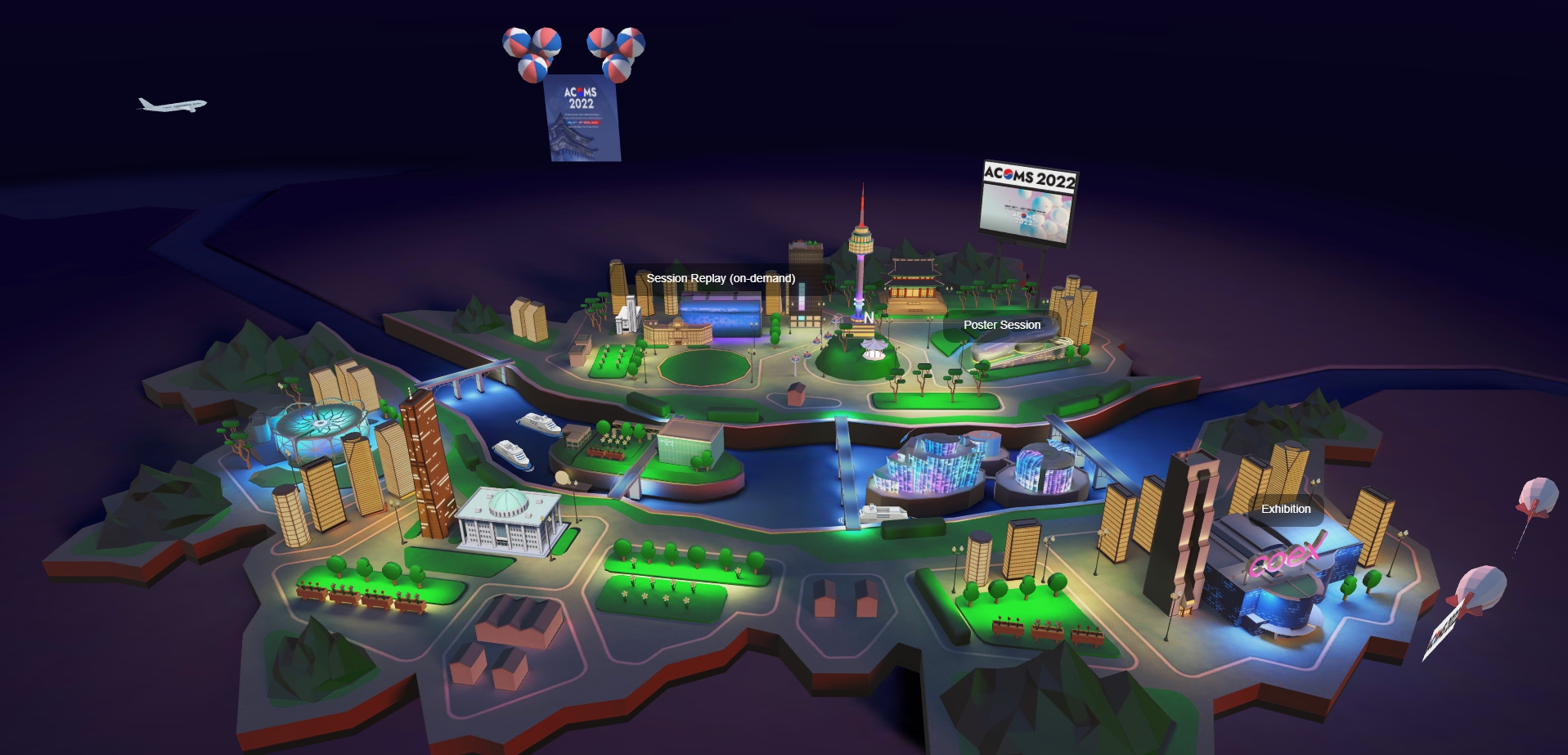 △ ACOMS 2022 held on 'VirtualSeoul', an online MICE platform developed by STO
Chief Director Kim said, "Virtual Seoul allowed not only the online participants but also those who were on-site to watch the live-streamed presentations via their smartphones or laptop computers. Particularly, foreign participants were astonished to find that there was only a couple of seconds delay between the actual presentation and online streaming."
ACOMS 2022 has achieved success against all odds and left a great impression on foreign participants. Here are some quotes from foreign participants that the organizer passed on. "I have experienced and confirmed the IT prowess of Korea that I have just heard about.", "I learned the cultural diversity of Korea from social programs. It was amazing.", and "I hope Korea hosts the symposium again. I really want to visit again."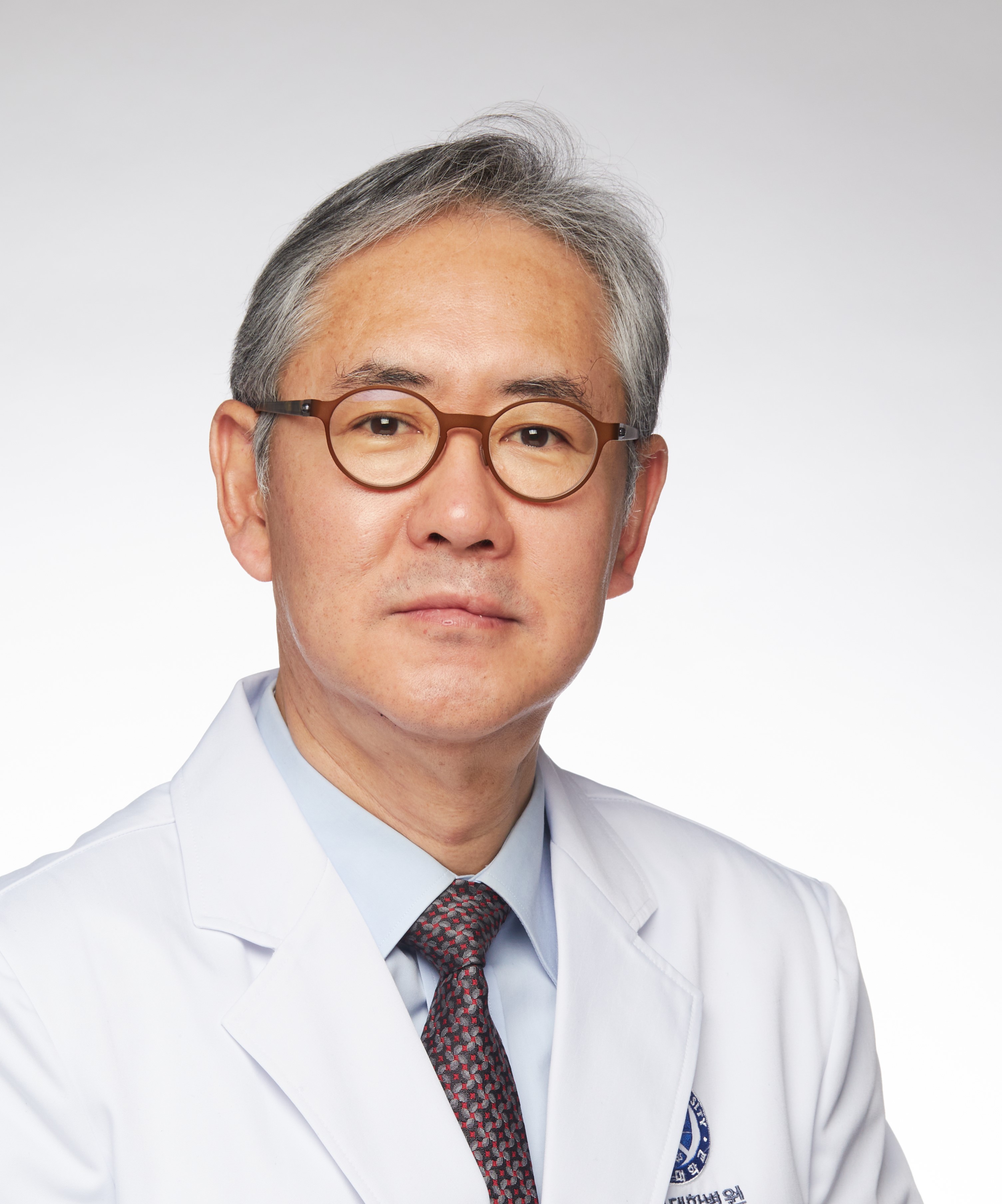 "We found this good thing only now...will take full advantage of 'Hybrid' format, including Virtual Seoul 2.0.
[Interview] ACOMS 2022 Organizing Chairperson Hyung Jun Kim, Chief Director of KAOMS
ACOMS 2022, recognized as a success story of the international symposium in a hybrid format hosted in Seoul, went through a rough patch at the preparatory stage. The biggest variable, COVID-19, forced the venue change and threatened to postpone the event right before the opening. Different COVID-19 rules by different countries made it difficult to define who would be attending online and in person.
The success factors the organizer listed above were risk factors in the preparation. It was a risk to use the meeting infrastructure of a company instead of professional conference facilities. Hosting an online event using the MICE platform (Virtual Seoul 2.0) that was never used before added to the uncertainty. We met Hyung Jun Kim, Chief Director of KAOMS, and asked how the event was prepared and what the success factors were.
- Congratulations on the success of ACOMS 2022. Please introduce ACOMS 2022.
"ACOMS is a large-scale congress by the Asian Association of Oral and Maxillofacial Surgeons, which has over 3,000 members from 16 countries and deals with oral and maxillofacial illnesses. The theme of ACOMS 2022 was "state-of-the-art." Advancements in materials and mind sometimes lead you to gloss over the "basic." The slogan "Back to Basic, Go to New Normal" suggests we succeed the old, yet adapt to the fast-changing times. In other words, "basic" means analog, and "new normal" means digital. Better treatment and research in this aging population are possible only when we observe and learn more carefully."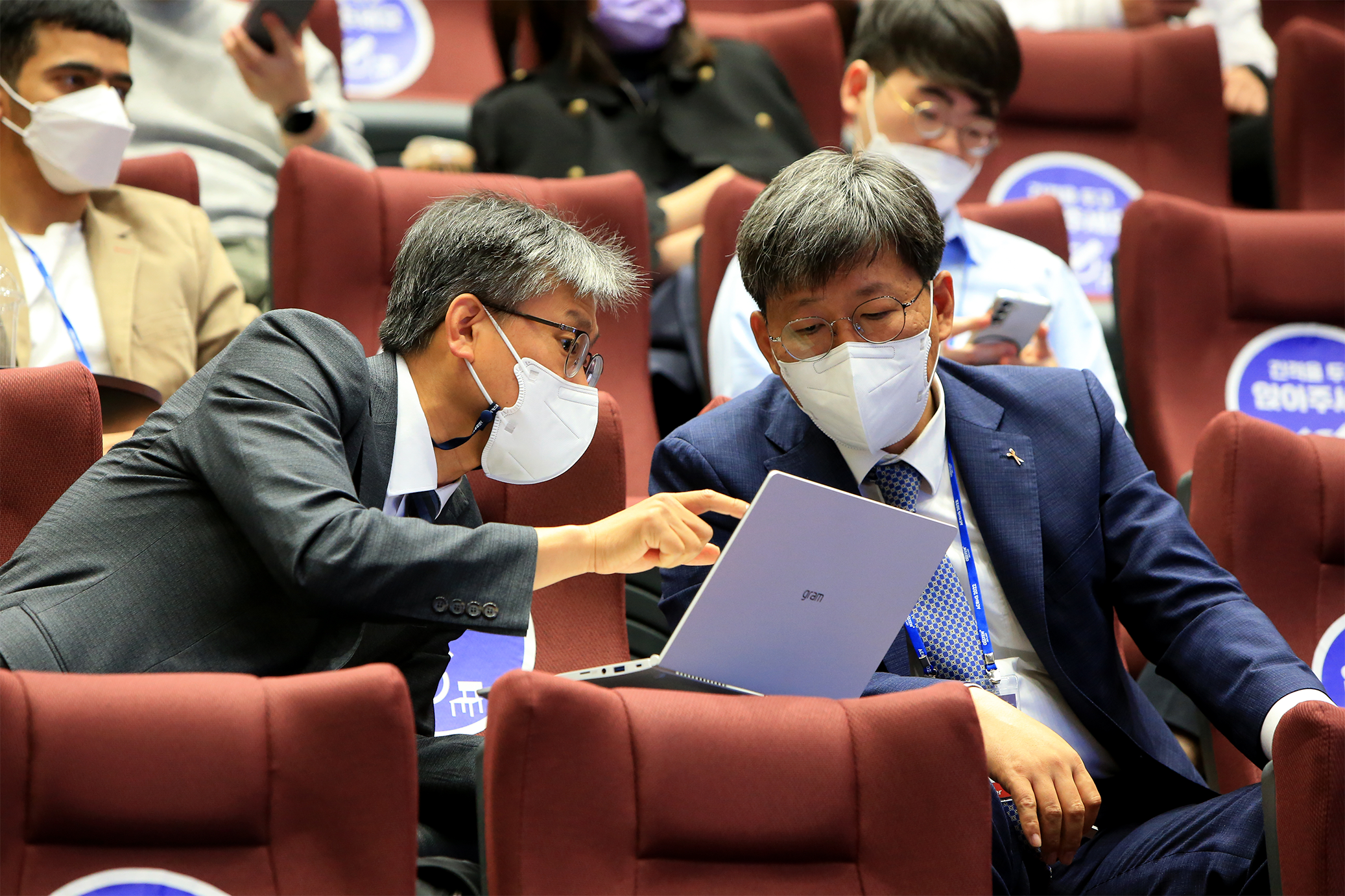 △ Participants of Asian Congress of Oral and Maxillofacial Surgery(ACOMS)
-This is the first ACOMS in 22 years after the year 2000. For an international event held in a hybrid format, it was noteworthy that Osstem Implant's headquarters was the venue, and that its proprietary streaming technology managed to handle the event.
"ACOMS Singapore was held last year, a year delay from the original schedule, and only in an online format. Due to the uncertainty of the COVID-19 situation, we also had to consider whether to postpone ACOMS 2022 to next year and whether to prepare offline programs at all. After long deliberation, we decided to go ahead with the hybrid format, but we did not have much experience in such a format. We searched for a venue that could accommodate both online and offline events and found Osstem Implant. Osstem R&D Institute had a large auditorium and small-and-medium-sized seminar rooms. Especially, Osstem Implant's Denall TV had the capability of live streaming and broadcasting on Virtual Seoul 2.0. Other strengths includedits vicinity to Marriot Hotel, Botanic Garden, and Airport Express."
-What aspect did you focus on most in this event?
"How to perform live streaming smoothly. A high-quality streaming system was critical, and the Virtual Seoul 2.0 platform enabled the delivery of live streaming as well as recorded broadcasting after the sessions finished. We found the metaverse platform on Virtual Seoul 2.0, and it was a significant discovery that we could use it at a negligible cost. I believe that was what won the biggest praise internally. Our agency recommended Virtual Seoul 2.0 to us. Before that, we did not even dream of trying a metaverse platform. However, the simulation showed that was the best option."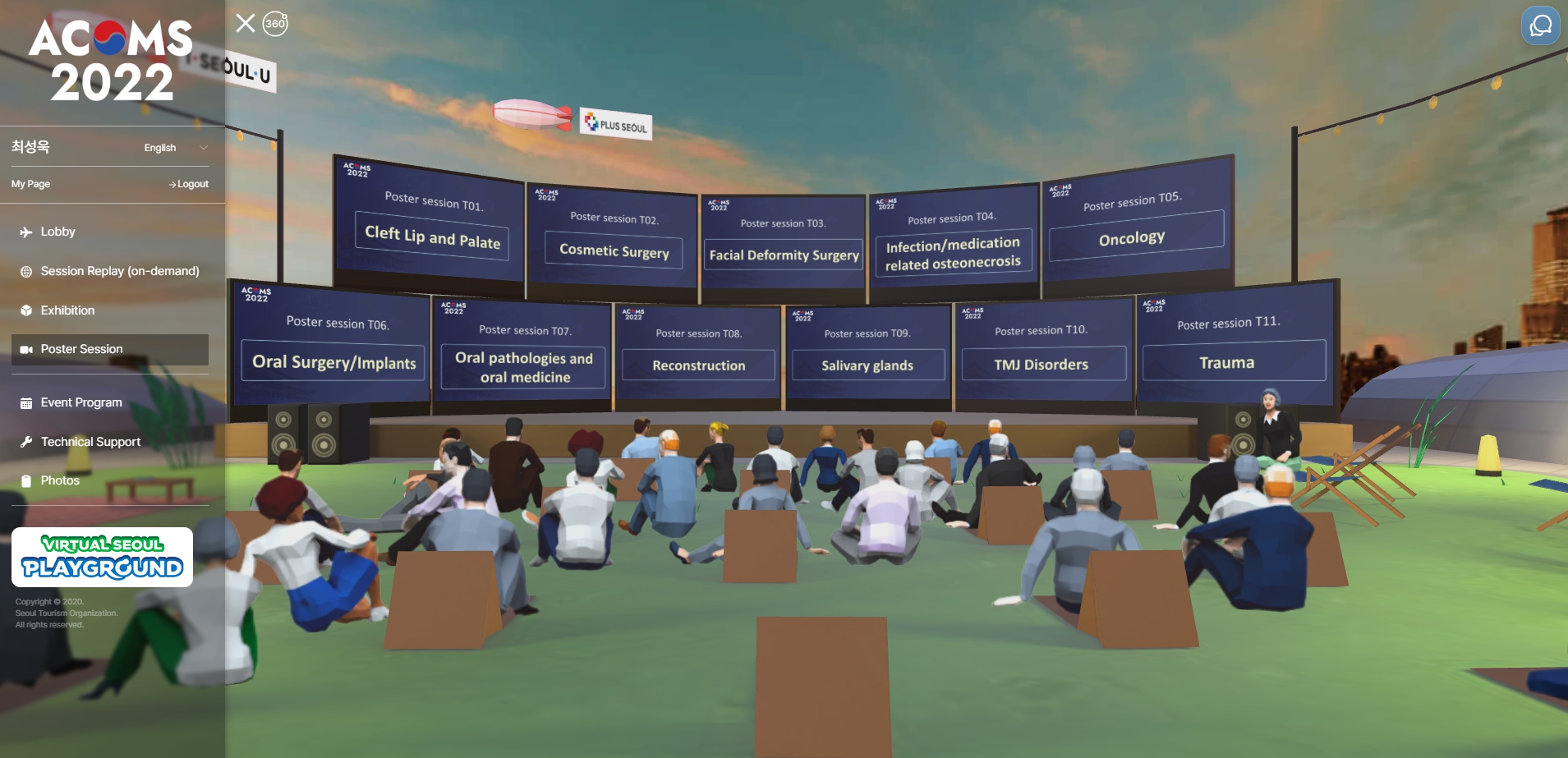 △ Picture of ACOMS 2022 held on MICE metaverse platform 'Virtual Seoul'
- It was very encouraging to see medical professionals from around the world attend face-to-face meetings and the conference while the COVID pandemic was turning into an endemic. What was the mood at the venue like?
"Participants looked so happy. They exchanged their research in groups, took a walk together at a nearby park, and had delicious meals together. It was a great breather for them. At nights, foreign participants went to restaurants in the neighborhood to try the famous Korean fried chicken and beer. There was a quick Seoul tour. Participants showed great interest in K-pop. Some older members were briefed by their children about it. Some participants wanted to visit the Noryangjin FishMarket. Seafood seems to be a favorite of Europeans, Americans, and Indians. In Korea, you are allowed to touch a live fish and eat it!"
-What was the program most liked by foreign participants?
"The presidential dinner was held on a cruise on the Hangang River, as one of the social events. We wanted to break away from the stereotypical venue, like a hotel. We rented a cruise, and about 150 people attended. A cruise dinner is quite common in Europe, but we were not sure how it would be received in Asia. However, participants were impressed by how large and wide the Hangang River was and enjoyed relaxed conversations in their casual dress. They put their arms on each other's shoulders and took memorable photographs."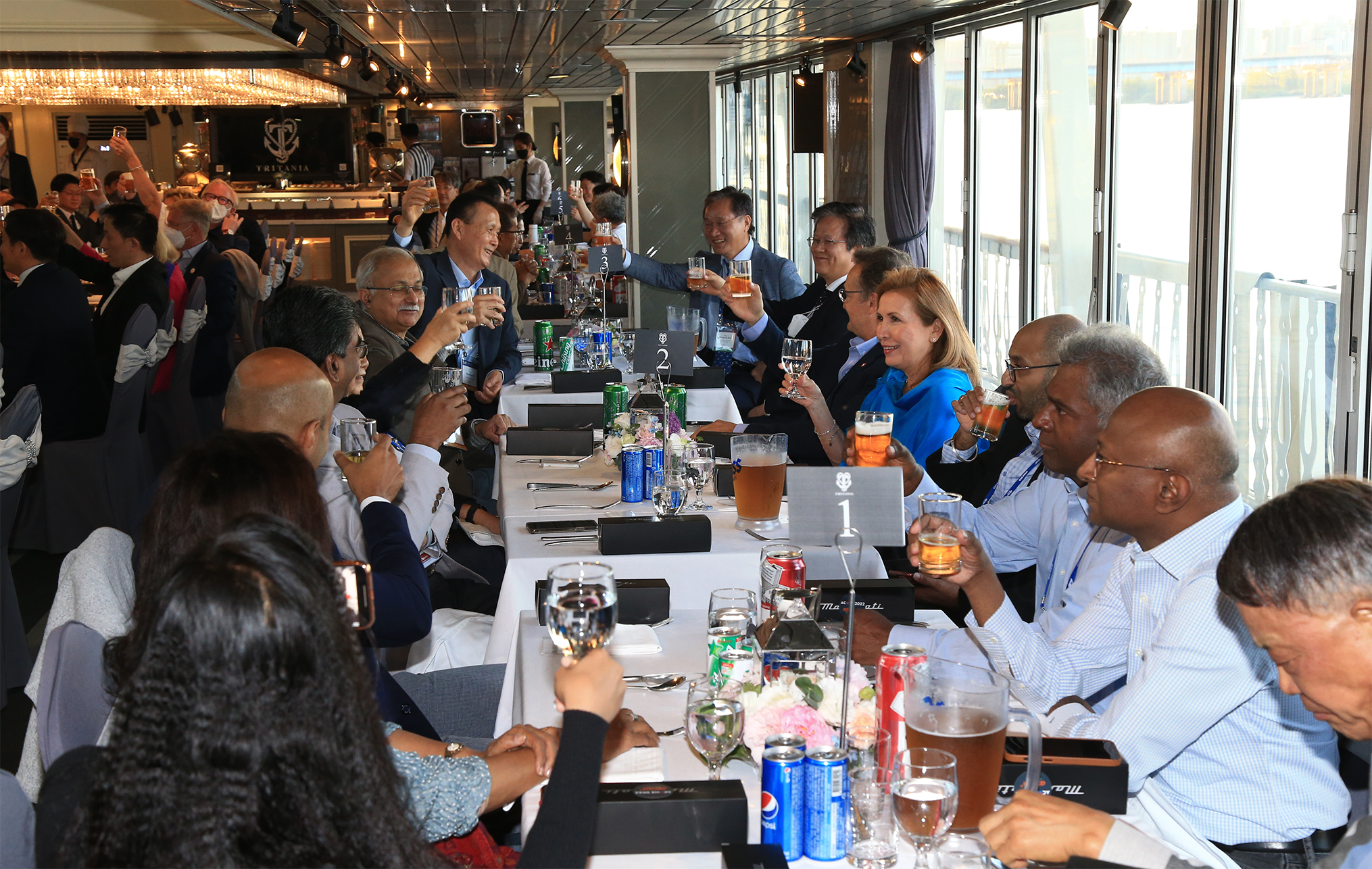 △ ACOMS 2022's social event being held on a cruise on the Han River
-Both organizers and participants were satisfied. Will you continue the event in a hybrid format?
"At an offline event, you can attend only one seminar when there are four seminars held at once. If it is a hybrid event, however, you can attend a seminar and participate in its Q&A session. Then, you can view the other seminars you could not attend using the VOD service. Participants can get more out of the event. We learned how the hybrid format has such a great advantage. We are most likely to continue in a hybrid format. It costs more than all offline events, but in the grand scheme of things, it is about the same if you consider the transportation and accommodation costs for all 1,000 participants. If you can attend the symposium from your lab, there is cost-saving, isn't it?"
-I assume the status of KAOMS has been elevated?
"Asian and European participants were impressed by the Korean IT capabilities. They were amazed by the ability to see the event in real-time by logging into Virtual Seoul 2.0 via their mobile devices while attending a seminar at the venue. We displayed Virtual Seoul 2.0 on the main screen of the seminar rooms. Social programs enlightened them about the cultural diversity of Seoul and Korea. We heard that they hoped we would host symposiums again. Our association plans to actively leverage the hybrid format in training programs such as fellowship and short-term courses, conferences, and seminars."