The secret to the rapid growth of KBW with almost '10,000 participants' in its 5th year
KBW2022 had over 100 global blockchain leaders engaging in heated discussions for a week 
· Diverse events taking place all over Seoul between August 7-14 including Seoul Parnas Hotel and Dongdaenum Design Plaza (DDP)
· 'IMPACT' attended by 8700 people on-site with 42% of foreigners
· 30 influential speakers deliver speeches including Vitalik Buterin
· 'FactBlock said, "KBW will become the largest global blockchain event"
Korea Blockchain Week 2022 (KBW 2022) wrapped up on August 14, which saw over 100 global leaders of the industry engage in heated discussions to discover the new business markets for a week, and was expected to become 'one of the top 3 global blockchain events in 2023.' The in-person event which made a comeback after two years of hiatus was attended by over 8700 people with more than 3700 foreigners being accounted for 42% of the total participants. The annual event turned in a very large attendance of experts and the public despite the ongoing COVID-19 situation and the admission fee.
KBW 2022, one of Asia's largest blockchain events, was held for a week from August 7 through August 14 all over Seoul including the Grand InterContinential Seoul Parnas Hotel, DDP, Some Sevit and Jamsil Sports Complex. It was a magnificent festival which filled summer of the city with enthusiasm for blockchain. In a word, KBW 2022 served as a huge platform and public forum created under the theme of blockchain.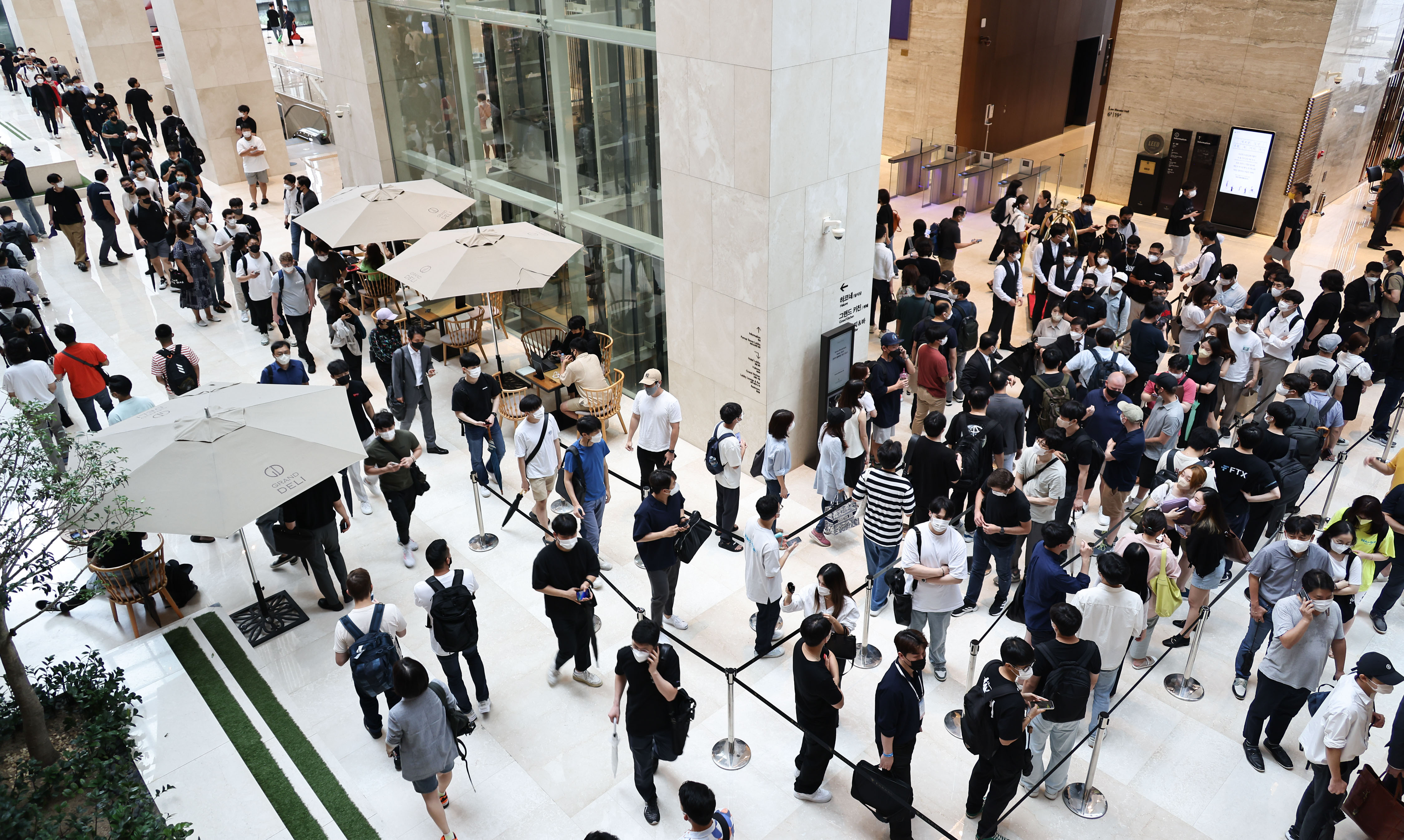 △ Participants lining up at the registration desk (photo by KBW)
In particular, 'KBW2022:IMPACT', the main conference of the KBW, caught even more attention than the organizers had expected. KBW 2022 held at Grand InterContinental Seoul Parnas (Gangnam, Seoul) between August 8 - 9 was attended by more than 8700 people despite Seoul experiencing some torrential rain. The week-long event saw 130 influential speakers in the blockchain industry take to the podium. With three to four conferences taking place simultaneously, each conference hall was densely packed with participants. The enthusiastic crowd spilled out into the hallways and listened to the lecture standing. While the audience fixed their gaze at the speakers, the speakers constantly heated up the excitement with witty remarks.
The most anticipated event of the Week was 'Post Merge: Next Step for Ethereum' which was the opening speech on the first day by Vitalik Buterin, the co-founder of Ethereum. Vitalik predicted "the scalability of blockchain will be significantly improved after an update to proof-of-stake(Pos) scheduled in September" and added "this will make the payments using cryptocurrencies more prevalent within two to three years."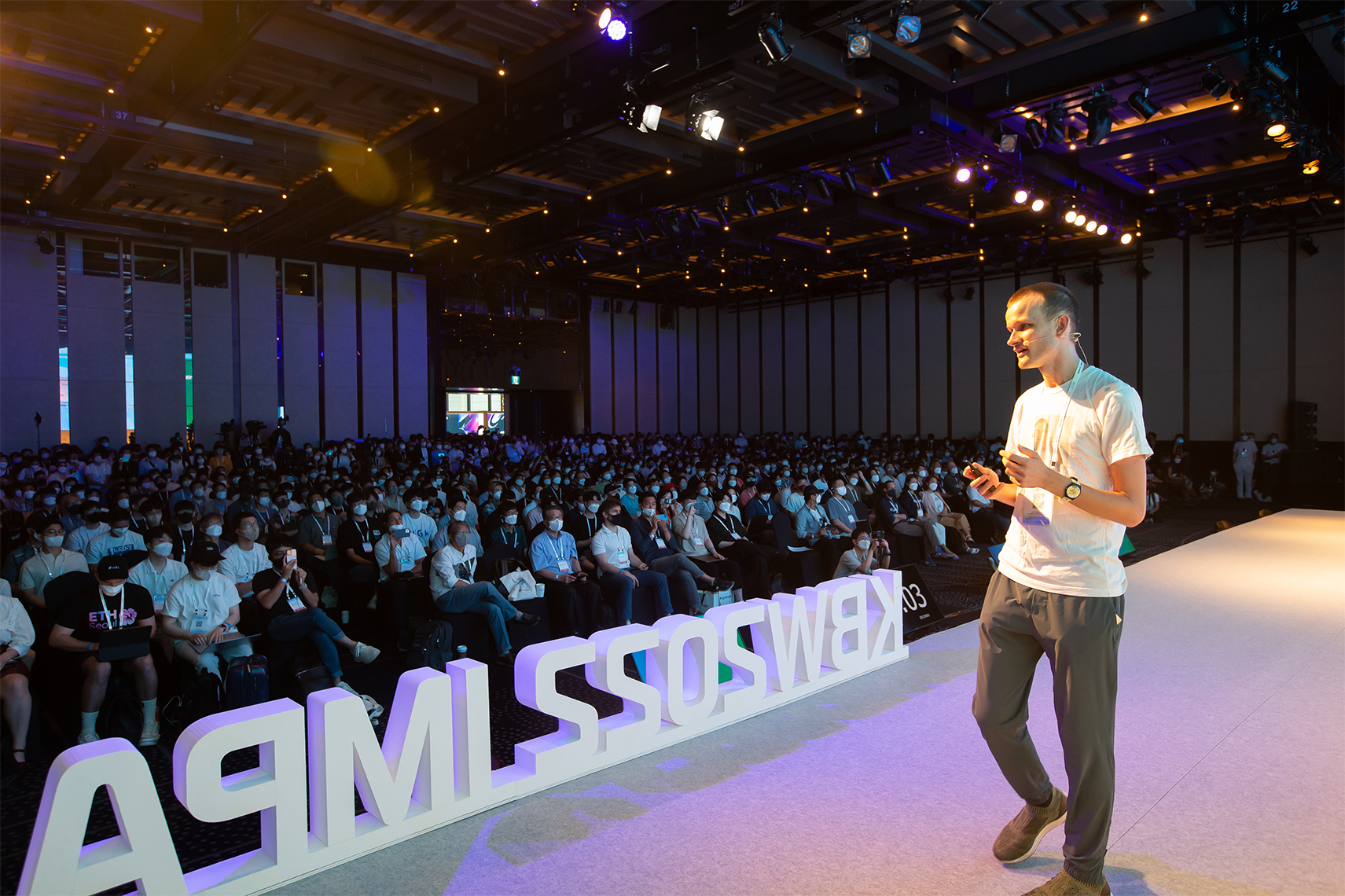 △ Vitalik Buterin, Founder of Ethereum, giving a speech (photo by KBW)
During the event, domestic and overseas business leaders and experts in the gaming industry which had joined the ranks of the blockchain pioneers also raced to present their optimistic insights. Henry Chang, the CEO of Wemade presented his vision to create an open blockchain gaming platform, saying that "its own blockchain platform Wemix aims to be the top global open blockchain platform within three years." Sam Seo, the director of the Klaytn Foundation known to have a technical edge for popularizing blockchain, said, "we will try to solidify our position as a global Layer-1 platform. We are currently focusing on blockchain games to build an environment that can incorporate blockchain into the metaverse."
A diverse range of global blockchain companies also participated and received attention. Johnny Lee, GM of Solana Foundation and Matt Song, head of product and partner development, gave a presentation under the theme of "the Role of Blockchain and Web 3.0," while Animoca Brands Chair Yat Siu said, "Asia has the possibility of leading the area of web 3.0." Polygon Co-founder Sandeep Nailwal (online session), Ava Labs (Avalanche) Co-founder Kevin Sekniki, and Nansen Co-founder Alex Svanevik also delivered online and offline presentations.
In addition to the main event, KBW2022: IMPACT, various side events were lined up for the week, including KBW Official Hackerhouse (August 9-10), Seoul Connect (August 10), Adoption: KBW Institution Day (August 11), Impact NFT Gallery (August 12) and BlockParty (August 12).
Seon-ik Jeon, founder of FackBlock and Korea Blockchain Week, said, "KBW is a festival that is designed to allow global business leaders in the industry to share their insights and discuss the future technology. It has established itself as a global blockchain event beyond Asia."
Speakers offered expenses only for standard hotel rooms and flights
'What value can KBW give to its participants?,' a challenge KBW needs to address
Marking its 5th anniversary this year, KBW 2022 was organized and hosted by the blockchain community builder FactBlock, and IMPACT, the main conference, was co-hosted by blockchain venture capital Hashed. Blockchain hedge fund ROK Capital participated as a partner to support its global network events. The success of the annual event, which is now looking ahead to "become one of the world's top 3 blockchain events" in its 5th year, is attributed to a strong cooperation between partners and the voluntary registration of participants.
Partners actively took advantage of the global network to explain the aim of KBW to speakers and business leaders in the industry and encouraged their participation. Such constant behind-the-scene endeavors by the KBW team to encourage cooperation and participation played a pivotal role in making KBW more attractive to experts, industry leaders and the public with interests in blockchain.
In fact, over 130 world-class speakers attended this year were offered expenses only for flights and standard hotel rooms. They were not paid for speeches. It might be thought of as a sort of talent donation, but the majority of speakers view the event as a chance to promote him/herself or their products in a venue where a great number of blockchain experts gather to share the latest news.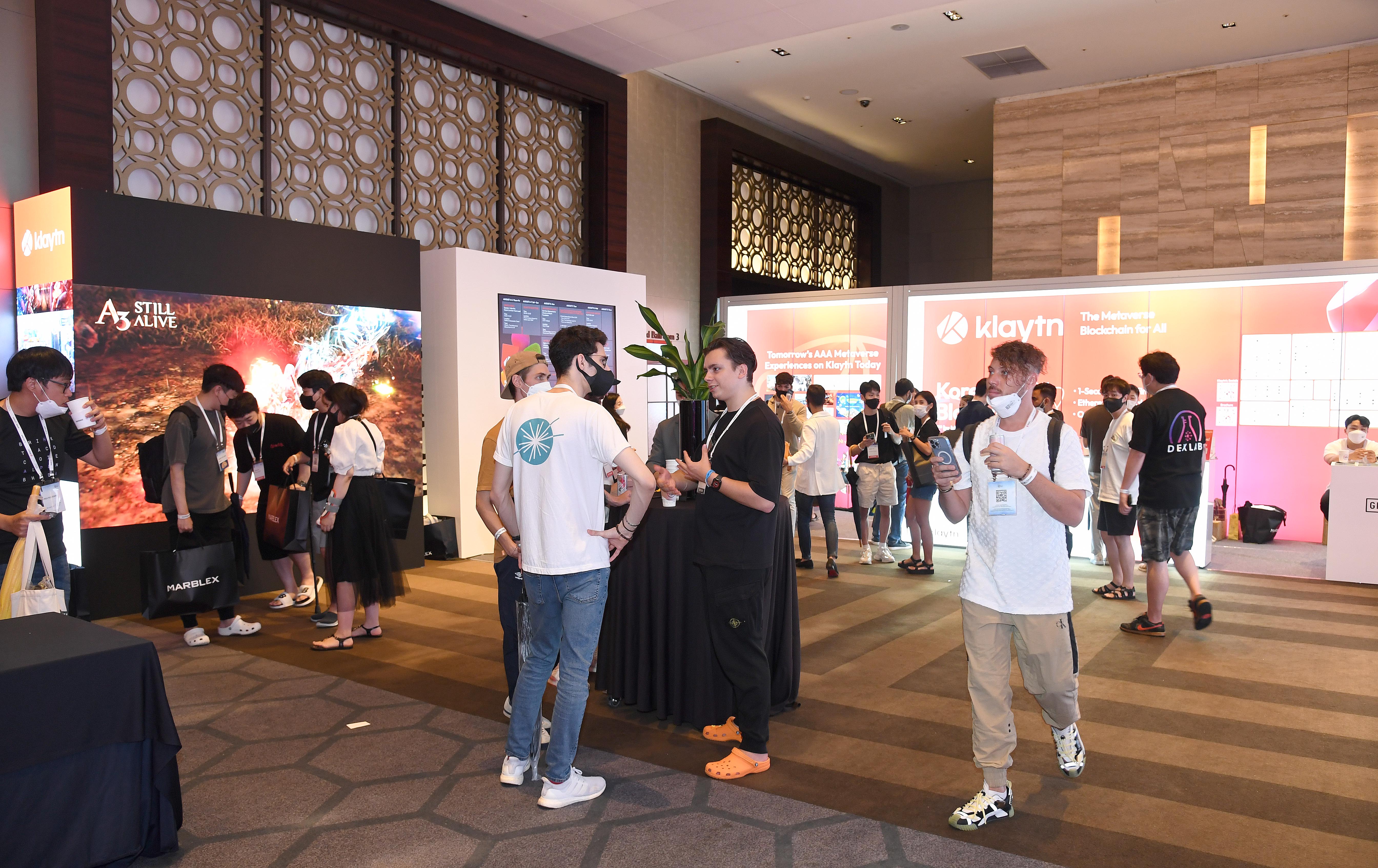 △ KBW2022 booth (photo by KBW)
KBW adopts an approach of returning the lecture fees to the blockchain community, which would normally be paid to speakers. It has focused on growing a platform by developing diverse events and attracting participants. By doing so, it was able to achieve rapid growth as a global event in a short period. This resulted especially in the trust in KBW and expectations among participants for a healthy and transparent market through a varying range of events that share information on the blockchain industry.
FactBlock CEO Seon-ik Jeon shared his thoughts on the rapid growth of KBW:
"If you have a good agenda, you can invite good speakers. The greater the number of audience an event has, the greater the chances that the speaker feels encouraged to give a better speech. In order to attract a large number of people, you must be able to offer great value constantly. By doing so, a virtuous circle of content can be created."
"Focusing only on main events will invite foreign speakers but not foreign audience."
[Interview] Seon-ik Jeon, CEO of FactBlock, an organizer of KBW 2022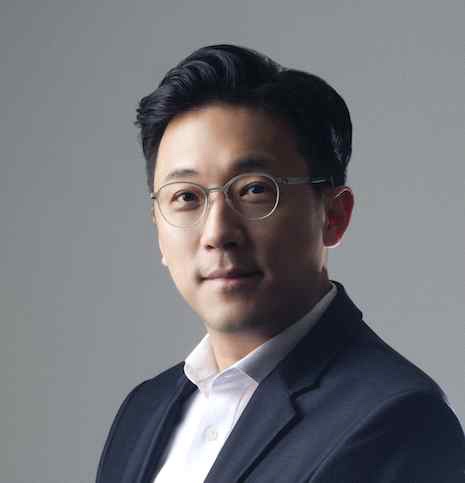 △ Seon-ik Jeon, CEO of Factblock
· No 'audience' flies to Korea only for conferences
· Speakers, audience, businesses voluntarily participated
· 'Globalization' possible by adding the concept 'Week' to the conference
· The secret to the success of "MICE Innovation" with the new 'blockchain' industry?
"Around 2017, I stayed in Tokyo as a correspondent and was surprised to see people making payments using bitcoins in a country where credit cards were not even prevalent. I believed that the blockchain industry would become mainstream. I thought that it would be possible to share information transparently and place Korea at the center of the Asian market by holding conferences and events with global leaders as it was before the blockchain market opened in Korea."
KBW started from the question by a correspondent. Jeon then met with a varying range of blockchain founders who were performing Asian marketing activities in Japan to collect information on the blockchain industry. In the following summer, he launched "the first KBW" in Korea.
KBW was an annual "week" event but attracted more than 4000 people in the first year. The event saw continued growth each year and eventually in the 5th year, it caught the attention of the domestic and international media. It is now looking to achieve the 10,000 mark in the number of participants. Jeon is a pioneer of the MICE market that can be enjoyed by both the public with interests in blockchain technology and the world-renowned experts. On August 9, the day after the opening of KBW 2022, we had the chance to meet him and ask about the secret behind the success.
-KBW celebrated its 5th year anniversary. Please tell us about KBW and FactBlock, the organizer of KBW.
"In 2018, when South Korea actively opened its doors to blockchain, the nation experienced a number of social issues (mainly due to its use solely for investment purposes). It was not even uncommon for some people to adopt the 'spray and pray' strategy. It was regrettable that the philosophy of blockchain was degraded. Then I figured out a way to reduce the damage and tried to create a venue for exchange of the latest information by inviting blockchain experts to Korea. FactBlock, a blockchain community builder, is a product of such efforts. To put it simply, KBW and FactBlock share the objective of expanding the base of the blockchain industry through a healthy community."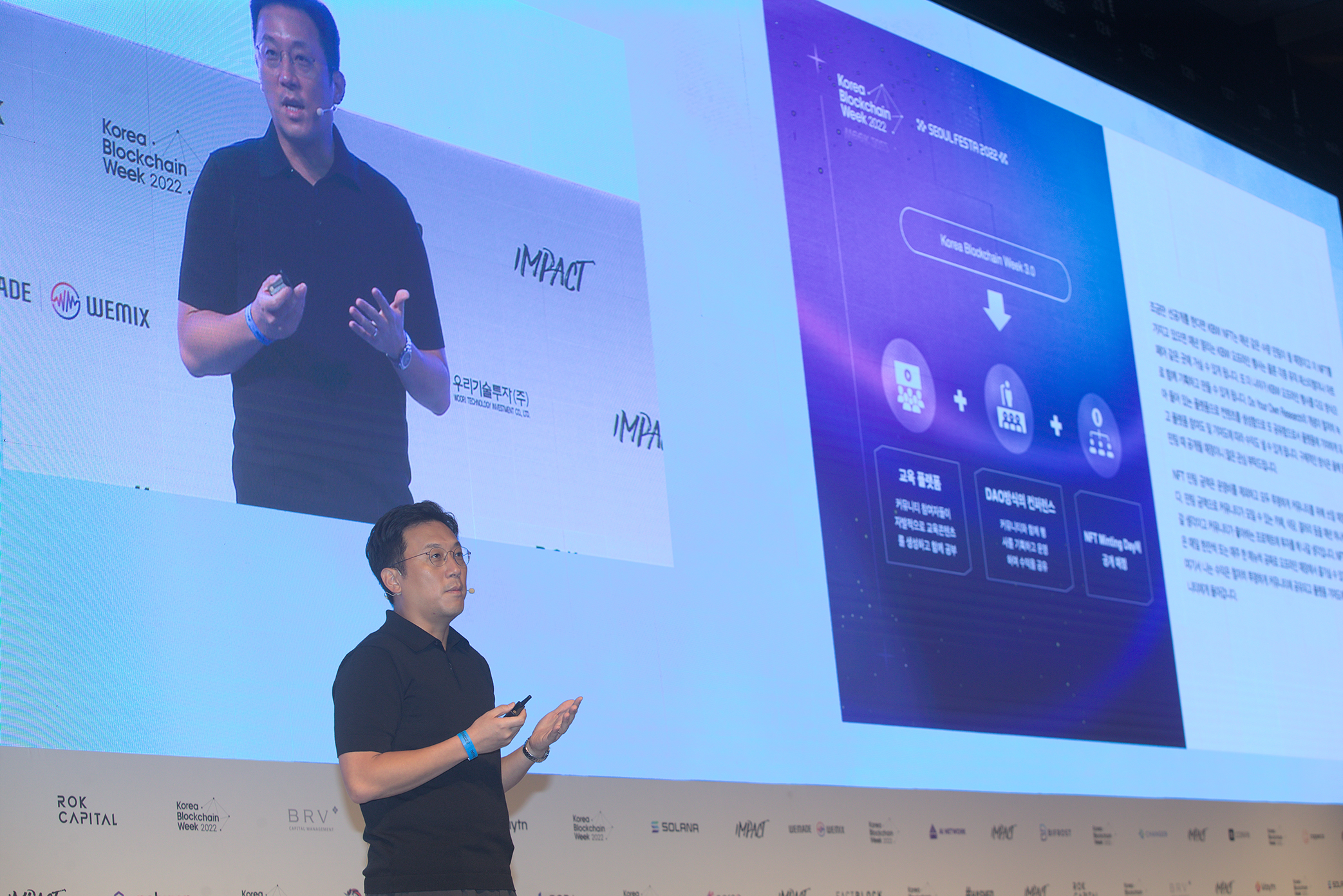 △ Seon-ik Jeon, CEO of Factblock, giving a speech (photo by KBW)
-What do you think is the centerpiece of KBW?
"Rather than picking a specific event, I would like people to understand the basic concept of KBW. KBW is aimed at offering a stage (platform) for a week with the theme of blockchain. We intended to allow a variety of new events to converge voluntarily on the platform. This year marks the 5th anniversary and we have a total of 97 events to be held on the platform. FactBlock is scheduled to run a total of 6 events on each day. In particular, the global conference "IMPACT" is considered the "centerpiece of KBW." We invite only the speakers that the audience wants to see and value our communications with the participants. Furthermore, Hacker House and the EDM festival, Block Party, are also the event you don't want to miss."
-The number of speakers is close to 130 and each of them is the best in the blockchain industry. Is there any secret to inviting great speakers?
"I couldn't have done it on my own. This year, we were supported by the global network of Hashed and ROK Capital. In addition, we are receiving a positive response from foreign speakers as Korea is considered a country with advanced technology and beautiful culture. We've seen a substantial increase in the number of 'speakers who wanted to visit Korea' and accepted our invitation without hesitation due to their empathy for KBW's philosophy. In terms of the secret, I'd like to point out the strictly separate management of speakers and sponsorships. Speakers are selected after long content planning meetings while sponsorships are sought via the websites, contrary to other events doing on-site visits. Thankfully, a number of organizations offered sponsorships voluntarily."
-You are a former journalist and organized KBW based on your experience in running various events. In particular, you focused on the difference between Korea and other countries in the consumption patterns and their perspective on the MICE industry.
"America has large events that attract the attention of the global world such as CES and South by Southwest. Then, it occurred to me that Korea didn't have such events and I wanted to give it a try. And I found out the reason for the absence of global events in Korea, which was the 'lack of global attention'. Before BTS, the world didn't pay much attention to Korea. But in 2018, when the blockchain market was opened, the keyword analysis of Google trends showed that crypto ranked first in the related searches, followed by blockchain. I was pondering over what this really meant."
-What was your solution?
"What we had to do first was to create MICE that could garner much attention of people and evoke a keyword associated with 'Korea.' In fact, there aren't many words associated with Korea generating a lot of searches. That's why each and every event is equally important. For instance, imagine that you make a plan that allows a participant to attend a single MICE event in Korea and go back to his/her country. In such cases, you can invite foreign speakers but not 'foreign audience'. Speakers would come for an event and return to their countries as it is usually the case, but audience wouldn't pay for a trip to Korea simply to attend an event that runs for a day or two. That's why we added the concept of 'week' to the event so that the audience can fully enjoy Korea for a week. Luckily, I think the concept of KBW resonated with the audience from the beginning."
-How was the result?
"In terms of the offline events only, in the first year they attracted more than 4000 people with foreigners accounting for over 50% of the total participants. That was the time we saw the highest number of foreign participants. In the second year, of over 6000 participants, foreigners took up 47%, and this year, 42% of the total participants of 8700 were foreigners. Given that the endemic has yet to be declared, the figures are significant. KBW has now solidified its position as a global event where foreign speakers and audience can listen to quality lectures and enjoy traveling in Korea."